Dazzling audiences at Covent Garden for five years, the Royal Ballet principal tells Anna Winter about the differences between dancing in Russia and the UK and why she doesn't care what the critics write about her
---
Prima ballerina Natalia Osipova is sitting on the edge of a grimy bathtub, figuring out how she'll have her eyeballs removed. Covent Garden this is not. Instead, the Royal Ballet principal is in rehearsals for choreographer Arthur Pita's The Mother – a reworking of Hans Christian Andersen's flinty tale of maternal sacrifice – which debuts at the Edinburgh International Conference Centre in late December.
Despite the gruesome subject matter, the mood in the rehearsal studio is light-hearted and exploratory, with Osipova jokily encouraging co-star Jonathan Goddard to dash off triple pirouettes and sky-scraping extensions in between acts of eyeball-snatching.
It's not the first time that Osipova and Pita have worked together on macabre dances. Last year she starred in his adaptation of novel-turned-silent movie The Wind for Covent Garden's main stage. In 2016 he created Run, Mary, Run for Osipova's first self-curated evening at Sadler's Wells, a pulpy doom-laden duet that featured her then boyfriend Sergei Polunin and capitalised on their status as ballet's most explosively talented couple.
Some critics were unimpressed, however, bemoaning Osipova's apparent squandering of her bravura balletic gifts on lesser contemporary fare. Undeterred, she returned to Sadler's in September this year with another mixed bill that combined spiky, earthbound new works with dreamy classicism and showcased her feted partnership with American Ballet Theatre principal David Hallberg.
For the 32-year-old Russian, who left the Bolshoi in 2011 to join St Petersburg's smaller Mikhailovsky Ballet before relocating to London in 2013, the decision to shape her career and pursue contemporary work isn't so much a choice as a necessity.
"It's natural for me," she says, speaking via a translator while perched on an old mattress amid scattered props at the side of the studio. She's bashful about her English but sometimes breaks out into animated phrases. "I've always admired contemporary dance, maybe even more than classical dance, and contemporary dancers seem more natural to me, they look more like human beings – like real life. In classical ballet there are certain rules. I can't be an ordinary contemporary woman, I can [only] be a princess – pointe shoes, pointe shoes. It's a little bit…" She pulls a wry expression.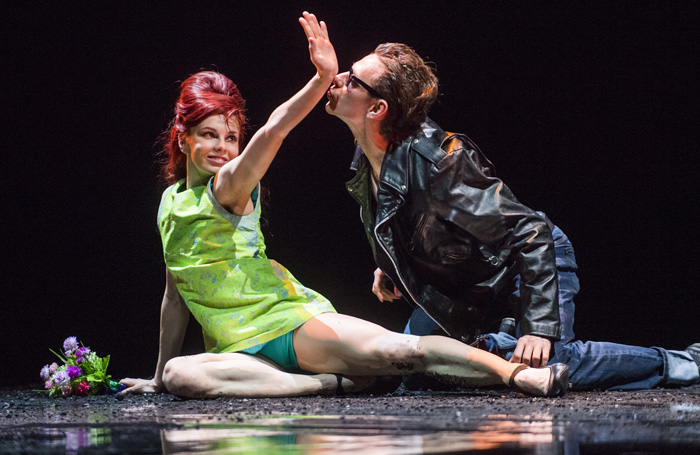 "I try to put more realism into the classical roles like Giselle, Juliet, or Tatiana in Onegin. But there are always rules. And sometimes I hear when rehearsing classical parts: 'You're too emotional' or 'You're too strong' or 'You're too much'. But it's my energy, it's my natural energy. And I can't hide my natural energy. So contemporary gives me possibilities. I'm in the process of searching and finding my ways to explore my talent."
The intensity of Osipova's talent has made its mark on the Royal Opera House stage. She has lent a poignant and palpable instability to the role of Giselle that makes psychological sense of the character's infamous 'mad scene', imbued feral power into the filigree delicacy of Swan Lake's Odette and shaded Mayerling's Mary Vetsera with delirious sexual frankness. Meanwhile, she's originated roles in neoclassical works by choreographers such as Christopher Wheeldon, Wayne McGregor and Alistair Marriott.
It was this diversity of roles, particularly the MacMillan repertoire, that drew her over from Russia. "I felt I'd lose a lot if I stayed with the Bolshoi. I'd continue to dance Don Quixote and Flames of Paris but I wanted other, more dramatic roles."
Natalia Osipova: Pure Dance review at Sadler's Wells, London – 'dramatic intensity and dreamy partnerships'
Her restlessness coincided with a change in leadership. In 2011 Sergei Filin replaced Yuri Burlaka as Bolshoi director. "I felt the atmosphere wasn't good for me anymore," she says. Osipova credits Alexei Ratmansky – the company's director until 2008 and now one of the most illustrious names in classical choreography – as "the one who noticed my talent and helped me", kickstarting her rise in a company dominated by dancers in the leggier, more traditional Russian mould.
Nowadays Osipova is settled in London with a new boyfriend, ending speculation about Polunin. She plans to adopt a dog soon (perhaps a Newfoundland, "big like a bear") and speaks happily of life in the Royal Ballet. "I love the atmosphere, it's very healthy and during the five years I've been here I've never had a bad situation or a conflict."
Osipova is best friends with fellow principal Lauren Cuthbertson, with whom she shares a dressing room. "She helped me a lot after I moved to London with the language and everything. It's great because she's also a prima ballerina but there's no competition between us: I always feel happy for her success and she's happy for me as well."
Continues…
---
Q&A:

Natalia Osipova
What was your first professional theatre job?
Corps de ballet at the Bolshoi Theatre in Moscow.
Who or what was your biggest influence?
I'm very grateful to my parents who pointed me towards ballet. I've been lucky to work with great teachers and choreographers such as Alexei Ratmansky. It's hard to separate my life from art because I'm always inspired by music or images, which give me strength to live and create.
What's your best advice for ballet dancers?
If you don't love your work with all your heart, maybe it's best to choose something else. Always develop your personality. Never stop: always grow and go forward, transform. You can have talent, but you must always learn new things and never stop. You should develop your skills, never become fixed and closed off and crazy. Never lose the flame that you have in yourself. If you feel you are losing it, you need to search for new things that can bring it back. Always listen to yourself. If you feel things can be done in a new way, follow that, so it's natural.
If you hadn't been a dancer, what would you have been?
Maybe I would go into sport or the theatre and become an actor. When I was a child, I thought about becoming a doctor but when my father explained how many years I'd have to study, I changed my mind. Another thing is that I love animals very much and I wanted to help them, especially homeless animals. I was always feeding homeless dogs and cats with food from my parents' kitchen. I sometimes feel I love animals more than people.
Do you have any theatrical superstitions or rituals?
All showbusiness people do. I have some clothes that bring luck. I don't take photographs before a show.
---
Osipova's London successes have come with certain caveats from critics, who have disparaged her Bolshoi-scale attack in English rep, particularly in the restrained and lyrical works of Frederick Ashton. Does she feel the pressure to adapt her style, to be more 'English'? "I try to take the best from the English dancing school but nobody pushes me. That would be stupid because audiences like me as I am. In some roles, of course, it's very important. Sometimes I have to work hard to achieve the necessary result."
Critics don't faze her, however. She says: "I'm used to it. I've been criticised a lot since I was a child. They've called me a gymnast, a jumping deer, a caricature face, everything horrible. I work the way I think I should work, and I don't care what you think of me. You may call me whatever you want – it will not impress me." She adds with a chuckle: "Usually I don't read critics, but my mother does and sometimes she tells me stuff. When they write good things about you, of course it's pleasant, but if you're not yet satisfied with what you're doing then it doesn't help.
"If they write something bad but intelligent then that might help, but if it's just stupid things, calling you offensive names…it's just another opinion, nothing else, someone else's taste."
Osipova cites the roles of Giselle, MacMillan's Juliet and Tatiana in John Cranko's Onegin as being among her favourites – "I don't believe people who say they love all their roles" – but she's still curious about what else is out there. She's drawn to Mats Ek's choreography and has never worked with Hamburg Ballet director and choreographer John Neumeier. "That would be a dream. His work is so psychologically deep and different, plus he has several shows based on Russian literature, which is interesting. I'd love to dance his Little Mermaid."
Meanwhile, she's keen to test herself out as a choreographer. "I'd like to start this journey and make a 20-minute piece based on a woman's love for a man, based on the character Solveig from Peer Gynt."
The relative lack of female choreographers, especially in ballet, has been a prominent issue in recent years. What does she make of it? "I've been thinking a lot about this fact. Perhaps women originally had no confidence to express themselves and thought they should somehow listen to what men say, but nowadays we're very emancipated and if a woman wants to do choreography then she can freely try."
She won't be drawn, however, on the impact of political tensions between the UK and Russia on her life and work. "I'd prefer not to talk politics. I'm an artist. I don't like it when artists start to speak about politics and get involved and pretend they understand everything. I have my personal opinion, of course, but I'll keep it to myself."
---
CV: Natalia Osipova
Born: 1986, Moscow
Training: Moscow State Academy of Choreography – Bolshoi Ballet School
Landmark productions:
• Don Quixote, Bolshoi Ballet (2005)
• The Firebird, American Ballet Theatre (2012)
• Giselle, Royal Ballet (2014)
• Connectome, Royal Ballet (2014)
• Woolf Works, Royal Ballet (2015)
• Strapless, Royal Ballet (2016)
Awards:
• Prix Benois de la Danse (2009)
• Golden Mask awards for In the Upper Room (2008) and La Sylphide (2009)
---
The Mother opens at the Edinburgh International Conference Centre on December 21: eicc.co.uk and transfers to London in June. For details of Natalia Osipova's future performances with the Royal Ballet, see: roh.org.uk/people/natalia-osipova