If you didn't know what Timothy Sheader did for a living you might think he was a trendy young academic, with his fashionably tousled hair, full beard and sensible jumper. In the eight years he has run Regent's Park, Sheader has reinvigorated London's premier open-air theatre by thinking outside the box, tackling difficult shows like Ragtime, Lord of the Flies and The Crucible, and introducing designers such as Soutra Gilmour, Jon Bausor and Katrina Lindsay to find new ways of exploiting the natural environment.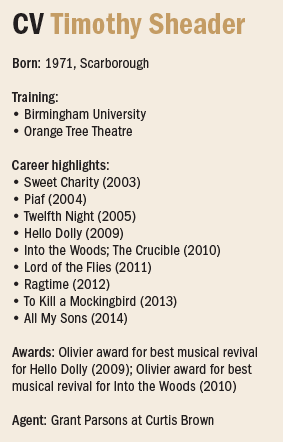 When we meet he is in the early stages of rehearsing Peter Pan, making its debut in the Park, presumably because no previous incumbent could envisage a way of making Peter and friends fly without flies.
So how exactly do Sheader, co-director Liam Steel and designer Bausor intend to get them airborne? "We've installed a system that uses counterweight bouncing with bunjee ropes," he explains. "Everything is exposed so you can see all the workings, and the performers have to be totally in tune with one another, which creates a surprisingly strong emotional impact."
Clearly this will not be like any other Peter Pan you've ever seen. Sheader describes it as "a reimagining of the play", using adult actors only because they are telling the story through the prism of the First World War. He says: "This came out of the research I did into Barrie and the writing of Peter Pan. It turns out that the eldest of the five Llewellyn boys, George, was killed in the war in 1915, so this is the centenary year of his death."
Sheader grew up in Scarborough in the 1970s, not far from the Stephen Joseph Theatre, famous then as now as the creative base of Alan Ayckbourn and all his works. Already keen on acting in school productions – "I wasn't terribly good, just bossy and forthright" – Sheader fell in love with the magic of theatre on school trips to the SJT. "I remember sitting in the back row, being fascinated by the stage lights, how they faded to black then they'd come back up to reveal a new scene on the stage. It was just the most magical thing."
I love big shows in big spaces
Having got into Birmingham University to study law and French, he abandoned theatre in term time to concentrate on his studies, working backstage at SJT and the Theatre Royal York during the holidays, and shadowing Nicholas Hytner on the 1992 production of Carousel at the National. After spending a year in France as part of his studies, he decided against pursuing a career in law – "Even though I quite fancied showing off as a barrister" – and fired off a thousand letters to theatres and directors in pursuit of a life in the theatre.
He was eventually taken on as a £40-a-week trainee director by Sam Walters at the Orange Tree Theatre, Richmond, in 1997, where he turned his hand to anything and everything.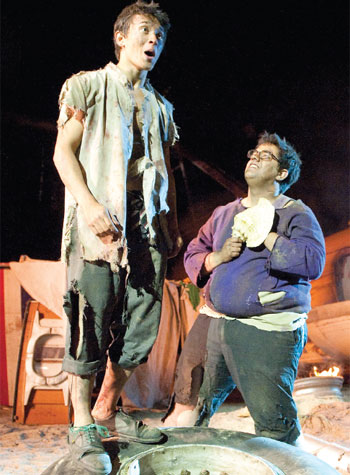 "At first I tore tickets and worked in the box office, quietly absorbing what was going on around me. I wasn't in a rush. I did a whole year as an assistant, then in my second year I was given things to direct. I did three theatre in education Shakespeares, a short play by Susan Glaspell, and a musical. It was such a lucky break and I can trace everything I've done since back to that time."
Walters recalls a "keen, bright, practical young man", who impressed him during rehearsals for Wild Wild Women, the musical, by taking each actor in turn aside and "giving them a kind of one-to-one tutorial". Walters felt he was someone who might "have the right stuff to run a company one day".
By his mid-20s, Sheader had mostly worked in theatres in the round and he admits that he still has misgivings about working in conventional proscenium arch theatres. "It has never quite been my thing. I find it harder creating shapes and pictures in pros arch theatres. Theatre in the round always made more sense to me, possibly because I grew up with it."
He moved from the cosiness of the Orange Tree to the monolithic Royal Shakespeare Company, assisting Elijah Moshinsky on a tour of Richard III (with Robert Lindsay in the title role) that finished up in London. They asked him to stay on as an assistant director but after two years he felt the time was right to start making his own work.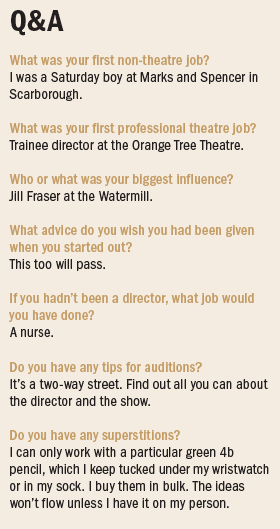 The late Jill Fraser, wife of James Sargent, then the RSC's head of touring, offered Sheader a directing job at the Watermill Theatre. "It was to do The Clandestine Marriage as a promenade show, so it was half indoors, half outdoors, my first open-air show you might say. I'd been to see a show at the Watermill (one of John Doyle's cabarets) and I was transported by the space. I ended up doing five shows for Jill. She was a massive influence on my development as an artist. I trusted her judgement implicitly. I loved her and the world she created at the Watermill. She'd give me notes at her kitchen table, and it could be quite scary sometimes."
In the years that followed, he got the opportunity to return to the Stephen Joseph Theatre, scene of his childhood epiphany, to direct two new plays, under Ayckbourn's watchful eye.
He also got to direct his first big musical, Sweet Charity, at the Sheffield Crucible, then under Michael Grandage, which went on to win the UK Theatre Award for best musical in 2002. The rights weren't available to transfer it to London, but to Sheader's amazement he got a call from American producers Barry and Fran Weissler, inviting him to direct it on Broadway, with the film actor Marisa Tomei in the title role.
"I went off to New York, all wide-eyed and bushy-tailed, and workshopped Sweet Charity with Marisa Tomei for six weeks, then equally suddenly we were both fired because the writers of the show, Neil Simon and Cy Coleman, decided they weren't interested in a new production, they wanted to see a revival of the original production. That wasn't what I was hired to do. It was my first experience of how your vision and wish to do something different can get you into trouble. It was bruising at the time, of course, but I've maintained a good relationship with the Weisslers and I'd love to go back one day and do a musical there because nobody does musicals like they do."
(He came close to realising that dream in 2012, when his award-winning production of Into the Woods transferred to the Delcorte Theater, Central Park, for a season).
A chastened Sheader returned to the warm embrace of the Sheffield Crucible and a revival of Pam Gems' Piaf, with Anna-Jane Casey (also his Charity) giving another stellar turn, which took his mind off the Broadway trauma.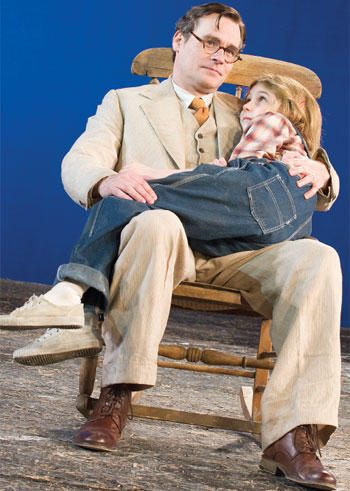 "I'd never considered running a theatre at that time," he says. "I didn't have that level of ambition, or forward planning. My only thought then was how lucky I was to be doing the thing I loved."
His first working encounter with Regent's Park was directing Twelfth Night at the behest of the then artistic director, Ian Talbot, in 2005 – Talbot announced his retirement the following year after 20 years at the helm. Sheader recalls: "During the run of Twelfth Night I came in one evening and sat right at the back of the auditorium. There was this wonderful sense of communality, great swathes of laughter and pleasure wrapping round me. It was so beautiful and present and exciting. So when the job came up in 2007, I didn't hesitate. I went for it."
It is a mark of the man that he only wanted the job if he felt the theatre's board would back his vision to the hilt. "It wasn't a case of dictating terms but I did firmly believe it was a two-way thing. I sought assurances that the board would go with me and my vision, and that they would be open to change. To facilitate what I could bring to the job, I needed their support. There had to be a will for change."
In the event, the change was steady rather than seismic. His first season featured the musical Gigi and Romeo and Juliet, choices one might have expected under Talbot's regime. It wasn't until 2009 that you began to discern a shift, with the substitution of The Importance of Being Earnest for the traditional Shakespeare. It was risky, given the frequency with which Wilde's trivial comedy for serious people is revived, but Sheader's choice was more than vindicated by the 96.5% capacity business.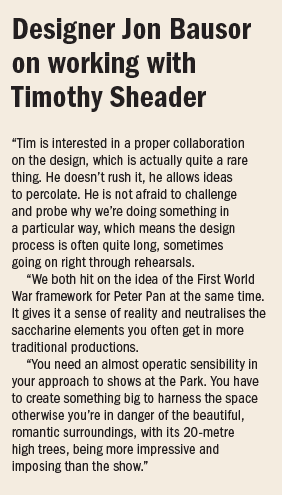 "People think I've dropped Shakespeare from the programme altogether, but I haven't. I just believe that there is other classic work that can benefit from a telling outside, such as The Crucible and To Kill a Mockingbird. You might discover something new in other works by staging them in this unique way."
He also restructured the programming, so that one show now plays consecutively after another, rather than the old repertoire system which he felt made it difficult to create the kind of big, bold theatre he favours. "I wouldn't have been able to do high concept shows like Into the Woods and Lord of the Flies under the old system. The space lends itself to visual spectacle and I felt the repertoire system was limiting that. I wanted to create interest in each individual show, rather than the Regent's Park brand."
That sense of anticipation and excitement is precisely what Sheader has aroused with his award-winning reinventions of Lord of the Flies, Into the Woods, Ragtime, Porgy and Bess, Crazy For You et al, creating shows that are crowd-pleasing as well as artistically innovative in the context of the Park. The box office success of these and other shows enabled them to install smart new dressing rooms and on-site offices last year at a cost of £3 million.
No amount of success can mitigate the vicissitudes of the weather, but Sheader seems determined to remain positive about its tendency to sabotage his best efforts. "You can't be too precious about these things," he shrugs. "You have to accept that ultimately you are not in control of the final product, so you must celebrate the uniqueness of each live performance. Luckily, Park audiences love a weather event, like the time we had to mop the rain off the stage before the cast of Crazy for You went into a tap routine. Seeing a show at the Park is the nearest theatrical equivalent of going to a football match – you simply don't know what the outcome will be."
Still only 44, I wondered what he had learned about himself from doing the job?
"That I love doing big shows in big spaces, that the consistency of working in one space can be exciting and liberating, when you are striving to transform that space through the stories you tell. It's the first time I've managed other people, other artists, which has been a journey for me. I'm really enjoying working alongside William [Village, executive director], we balance each other well and I value the relationship. I think I'm a completely different artist as a result of doing this job."