The National Youth Theatre is often described as the best drama school we never had, but it has always fulfilled a very different role from the country's drama schools.
"We don't teach, we learn," is how artistic director and chief executive Paul Roseby sums it up. Now entering his 10th year at the helm, Roseby has been busier than ever this summer preparing for the NYT's 60th anniversary season, which includes five newly commissioned plays, two West End premieres, a regional debut and a star-studded gala night at the Shaftesbury Theatre that took place this month.
The NYT was the world's first nationwide youth theatre, and it's a model that has since been replicated in various forms across the world. Since 1956 it has survived innumerable funding and financial crises, pulled back from the brink of dissolution by the goodwill of both public and private benefactors.
In 2012 it came as close as it's ever been to shutting up shop. Financial troubles had left it with debts of £650,000. Luckily for Roseby and his acolytes, it was also the year of the London Olympics, and the NYT was booked in to produce welcome ceremonies for the world's athletes. Funding bodies, including the Arts Council, came to its rescue.
"If it had happened in any other year, I think the organisation would have closed down," Roseby recalls.
Chastened by the experience, he resolved to generate more core funding as opposed to project funding. "We've learnt to build up our reserves to support the core. It's still the thing that keeps me awake at night because you never know how much is enough and you never know how long private benefactors are going to want to support you."
Roseby became involved with the NYT in 1984, aged 17, after he moved to London from his native Norfolk. Then, it was still under the control of founder-director Michael Croft. Roseby stuck around for four years, becoming Croft's assistant. "It was a life-changing thing for me," he reflects. "I could always communicate and get on with people. You could say I was old before my time."
Roseby's subsequent career included jobs in retail, TV advertising and radio reporting, before landing his first break as a guest reporter on the ITV show Schofield's Quest in 1994.
The organisation boasts an impressively broad list of alumni. Theatre critic and The Stage columnist Matt Trueman spent "two utterly formative weeks" at NYT's headquarters in Holloway Road in his mid-teens. "You think you've joined a youth theatre, and you have, but you've also enrolled in a life school," he wrote in a blog. "NYT members meet people from different walks of life, different cities, different social strata."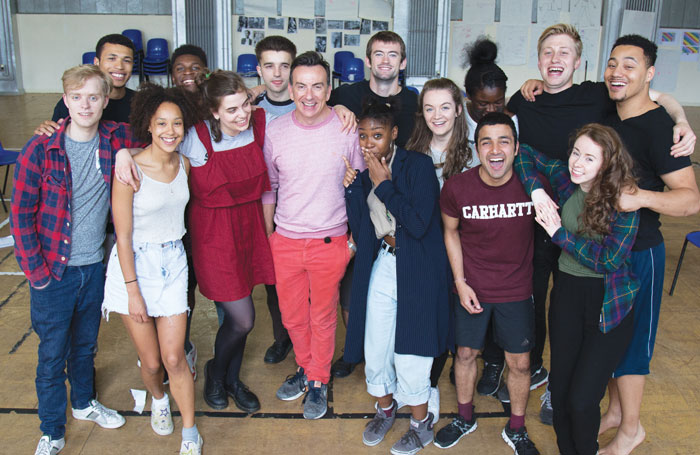 The organisation has always prided itself on its diversity, both social and ethnic, never more so than under Roseby's leadership. The 2016 membership is 55% female, 72% from outside London and 22% from black, Asian and minority ethnic groups. "It breaks down those social barriers because it is genuinely classless," he says. "If you start at the NYT with a chip on your shoulder, you leave having lost it."
This year's programme reflects that diversity at every turn. It includes the world premiere of The Reluctant Fundamentalist by Mohsin Hamid; a new music theatre version of The Tempest by Rebecca Lenkiewicz, marking the company's first visit to the Royal and Derngate, Northampton; a devised double bill at London's Arcola exploring mental health issues; a debut season of new plays at the Finborough in London; a UK schools tour of two plays aimed at fostering opportunities in the arts; and a nine-week rep season of three plays at the Ambassadors Theatre in the West End, which includes an adaptation of the Man Booker shortlisted novel, Pigeon English.
Such a busy and exotic schedule will surely cancel out any residual bad feeling from last year's debacle over Homegrown, the devised show Roseby chose to withdraw less than two weeks before it was due to open. Its creators were inspired by the real-life defection of three London schoolgirls to Syria in 2015 to join Islamic State. At the time, Roseby issued a detailed statement explaining why he had taken the unprecedented step of pulling the show.
Twelve months on, he stands by that decision: "It wasn't ready, and it just wasn't up to our standards. The drama was offstage, not on. The last thing any of us wanted was to pull a show with a cast of 100. But sometimes that's what you have to do, and I stand by the decision to cancel it."
With hindsight, could he have done more to facilitate the co-creators of the show, Nadia Latif and Omar El-Khairy? "I'm not going to get personal about it," he says firmly. "We are a company that takes risks, and we will continue to do so. I'd be the first person signing any petition to support the right to free expression. But the producer's job is to ensure that the show is ready to be witnessed by an audience, and I had to make that call.
"What happened with Homegrown was never going to stop us from doing what we do. We all learn from those experiences."
Continues…
---
Q&A: Paul Roseby
What was your first non-theatre job? Selling clothes door to door.
What was your first professional theatre job? Playing Willy in Blue Remembered Hills for the touring company Terra Firma.
What do you wish someone had told you when you were starting out? To be yourself and mean it.
Who or what was your biggest influence? Betty Berry, the make-up lady from the school production of Oliver! in which I played Fagin.
What's your best advice for auditions? Know your audition pieces backwards, and always learn out loud.
If you hadn't been a director or chief executive, what would you have been? An architect.
Do you have any theatrical superstitions or rituals? No. If I went down that route I'd never get up in the morning
---
The story made national headlines and Roseby came in for a lot of flak for what was perceived by some as an act of censorship. No stranger to controversy, Roseby also received national newspaper coverage in 2014 for his radical view of drama teaching in schools. In a nutshell, he said studying GCSE drama served no useful purpose and it would be better for drama to be more generally integrated into the teaching of all subjects.
"Why I said it, and why I still stand by it," he says now, "is that I would like to see drama in schools having the same status as sport. Everybody should be doing it. Attaching a simple qualification to it is not the whole answer. We've got to widen our understanding of the value of drama in schools, take the practical side of what theatre is and apply it to all subjects."
His comments were interpreted by some arts educationalists as implying that schools should phase out their drama teaching. "That's the last thing I would have said, that we no longer need drama teachers. I'd like drama teachers to be given more status in schools, not less, so that they can influence and roll out cross-curricula learning."
Roseby has also spoken out about the value of expensive, formally structured drama courses, calling them a waste of money. "You learn whether you cut the mustard by being in front of an audience," he told The Guardian, implying that a summer season or two with the NYT is as valuable as a three-year course costing £30,000.
Whatever the arguments for and against drama training, there is no doubt that thousands of young people have benefitted from what the NYT has to offer over its 60-year history, whether they went on to enter the profession or not. For those non-sporty teens seeking physical or artistic expression within a like-minded group, it has been a lifeline.
Michael Croft's original idea in 1956 was to encourage tolerance as well as talent, awareness of others and loyalty to the company ethos. Above all, Croft believed, it should offer a spell of what he called heightened living, however brief, to young people who had little else going for them. Roseby has kept faith with those noble objectives, and taken them forward in challenging times.
---
CV: Paul Roseby
Born: 1966, Rochford, Essex
Training: Drama course, City College Norwich; National Youth Theatre, 1984-88
Career: Touring with Terra Firma (as actor); presenter and director on TV and radio; artistic director and director of the NYT since 2006
Landmark productions: TV: The Really Useful Show (1996-97), The Great Escape (1997-98), Office Rage (1999) • One to Win (2000), When Romeo Met Juliet (2010), Generation Sext (2015) Radio: Fabulous Flops (2004-08) Theatre (NYT): Silence (2007), The Merchant of Venice, Beijing (2008), The Story of Our Youth (2016)
---