Cynthia Erivo is contemplating the abrupt closure of the musical I Can't Sing! in May last year. The show lasted just six weeks in the West End, and looking back on it today evokes mixed emotions from its star.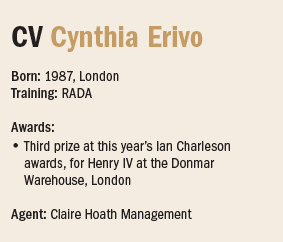 On the one hand, she recalls the shock and sadness that was felt by both the cast and crew, who were given just two weeks' notice to prepare for unemployment.
On the other, she recognises the opportunities that the show's sudden closure threw up for her and her fellow cast members, who suddenly became available for other projects.
Reflecting on the experience today, Erivo is clear that her forthcoming stint in the Broadway musical The Color Purple would not have been possible had I Can't Sing! continued its run.
"Those of us that were in the show are now doing amazing stuff," she says. "Had it not closed, I wouldn't be going anywhere. The musical would have been on until November and I wouldn't be able to do The Color Purple. That is as simple as it is, really."
She adds: "In that respect, there is that cliche of the 'silver lining'. Everything happens for a reason. And from I Can't Sing!, I have gone on to do amazing stuff – Henry IV at the Donmar Warehouse, A Midsummer Night's Dream in Liverpool. I have had a ball. So I have seen some good in it."
That doesn't negate the sadness that the entire cast and crew felt at the time.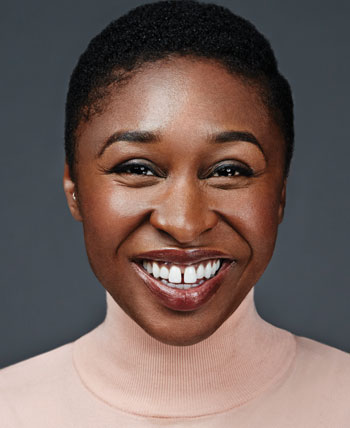 Erivo recalls the shock that everyone involved in I Can't Sing! felt on the day they learned it would be closing.
"When you have an idea of when something is supposed to finish, and it ends a lot sooner, it's a massive blow," she admits. "For me, more than anything, I was worried about the people on it. So many people were out of work, not just on stage, but crew, front of house, ushers, everyone. To me, that is bigger than a show closing. That's people's livelihoods."
As she's already pointed out, however, the show's sudden end was not necessarily a bad thing for Erivo.
She flies to New York to begin rehearsals for her Broadway debut in The Color Purple in September, with the show itself opening in November.
The performer earned rave reviews for her stint as Celie in the musical when it ran at the Menier Chocolate Factory in July 2013. The Guardian claimed she carried the show "with grace and sly charm", while others praised her "belter of a voice".
Despite having appeared in other musicals before then, such as Sister Act and The Umbrellas of Cherbourg, it was The Color Purple that brought Erivo wider acclaim.

"You sense when something is special, but you don't know how special it is until it's in front of an audience," Erivo says. "We felt it was special, but when we did that first night, we knew it was."
The version of the production that will open on Broadway later this year is based firmly on the Menier's.
It is being adapted slightly for Broadway, but the essence of the London show will remain.
"They [the US producers] loved how stripped back it was and how simple, as it took you right to the story," Erivo says.
The actor refuses to say how long she has been contracted to appear in The Color Purple in New York, but says, with a wry smile, that she's "preparing to be there for a while".
So UK producers may need to prepare for an Erivo-free period.
"I've been here a long time, so it will be nice to experience something else," the performer says, adding: "But I will always remember here. And besides, my accent will give me away. What happens when I go to America is I sound really English. Most people would start sounding American, but I do the opposite."
Erivo grew up in London, living in the south-west of the city until she was 15, before moving east.
Her mother, a health visitor, knew that Erivo would be a singer from an early age.
"She had this baby book about me, and in it there was a section asking what she thought her child would be," Erivo recalls. "At the age of two, she wrote that she thought I would be a singer and an actress. I don't know why she wrote that down, but she said I hummed while I ate."
It was her mother, she says, who told her that no matter what she did, she must always work hard.
"And watching my mum work hard made me do the same," she says.
Recognising her daughter's talent, Erivo's mother tried to help the young singer nurture her skill, encouraging her to try as many things as she could. At school, she was put forward for roles in musicals, and she joined a youth drama group at the age of 11.
Singing, Erivo says, is a natural thing for her. While other students chose the piano at GCSE, Erivo's instrument of choice was her voice.
"I discovered at the age of five that I could sing and I realised people liked it," she says. "The sound that came out made people happy, so I kept doing it."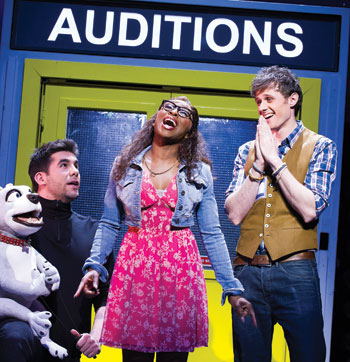 Despite her talent for performing, Erivo didn't initially think about taking it further after school. Instead, she took up a place to study music psychology at the University of East London. However, she soon found that the course wasn't stimulating her.
"I was bored," she admits. "I was passing everything really easily and wasn't going to lectures. When I got to the end of my second year I thought, 'I can't do another year of this'. I was getting the results I wanted, but nothing else."
Around the same time, Erivo bumped into the director Rae McKen at Theatre Royal Stratford East. Erivo had worked with McKen some years earlier while playing Juliet in a youth production of Romeo and Juliet at the Young Vic in London.
McKen told Erivo that she should consider training to be an actor, and that she should be applying to RADA.
"She forced me to do it, and managed to get me to fill out all the forms," Erivo says. "And the rest is history."
Erivo was accepted on to a three- year course at RADA and subsequently ditched her university degree. She hadn't told her mum she was dropping out of university, only revealing the truth once she had been accepted at drama school. "I'd worried about her reaction, but she was over the moon I was going to RADA."
Erivo explains she specifically wanted to go to RADA to hone her performance skills. Singing was something she could do already, but she was keen to make sure her acting was "at the same level".
"At RADA, I could keep the singing up and focus on the acting, so when I came out I would be able to combine the two," she says. "And today, when I do musicals, I never think of them as one thing. I think of them as two things – singing and acting – that I can join together."
It turns out that Erivo's year group at RADA could not have been better suited to her. It was unofficially dubbed "the year of the musicals".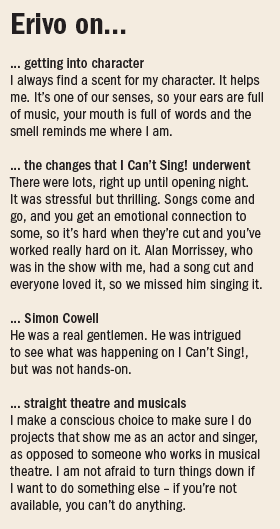 Her fellow 2010 graduates included Phoebe Fox, James Norton and Alexandra Roach.
"My year group was strange," she recalls. "We had an eclectic year of very musical people. People who played the guitar, or had lovely voices.
"We did Company for our musical show. They try and do one a year anyway, but this was different as it was a full-on musical. But at RADA, they tried to encourage you to do things that are right for you."
And, having grown up singing, Erivo would not have been happy had she not had the chance to use her voice.
"I needed to sing," she says. "It feels odd when I am not. If I don't stretch the muscles, the same way as if I don't stretch my acting ones, it feels strange."
Following her training, Erivo went straight into work, landing a role in Marine Parade by Simon Stephens at the Brighton Festival. In the production, she played a 14-year-old having sex for the first time with a 21-year-old.
"It was full on, " she says. "I had never played anything like that before, and there was a thrill of getting into the nitty gritty of a play like that and to be trusted with it straight out of drama school."
From there, Erivo performed in a play at the Theatre Royal Stratford East, called I Was Looking at the Ceiling and Then I Saw the Sky, with songs by John Adams.
Touring work followed, after which she landed a part in Kneehigh's The Umbrellas of Cherbourg in 2011, and – despite only having one singing line in the show – she was spotted by casting director Will Burton, who introduced her to David Grindrod. This resulted in her being cast in a tour of Sister Act.
A role in new musical Lift at the Soho Theatre followed, before Erivo landed the role in The Color Purple. It's a show she looks back on with fondness.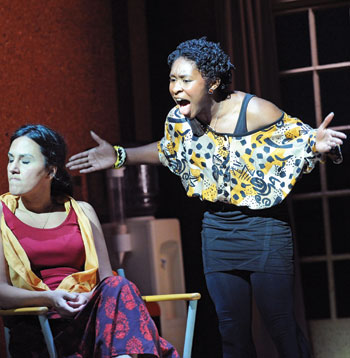 "We had such a good time, and it was not just about the play and the songs, but really about the people doing it," she reflects. "We became a little family."
Before taking the show to Broadway, Erivo is keen to do a number of projects that she calls "fun, cool work".
One of these is the Jason Robert Brown show, Songs for a New World, which is currently running at the St James Theatre. It's a show Erivo already has a connection with, as she performed it at RADA with a friend.
"We wanted to put it on in the bar, so we did," she explains. "And it went down really well." So well, in fact, that Erivo landed an agent, Claire Hoath, from the show. Hoath remains her agent today.
It was Hoath who suggested Erivo take a holiday before The Color Purple on Broadway begins, knowing that – left to her own devices – Erivo wouldn't take one. She's a self-confessed workaholic. So after Songs for a New World, Erivo plans to take her first break in two and a half years.
"If I didn't, I would do myself an injustice, as once I am out there on Broadway, I know it will get really busy," she says. "So I have forced myself to go away."
It's hard for her to do, but necessary. She recalls a time in Sister Act when she had to come off stage because she had overworked herself.
"I did 150 shows straight. Then my body just said no."
Her voice, she says, just "cut out". She managed the first show on a two-show day, but had to let the second one go.
"My musical director came to me and said 'You need to take the next one off' and I just bawled," she recalls.
"It always takes someone else to say 'Cynthia, you just have to stop'. You have to drag me off stage kicking and screaming."
Songs for a New World runs at the St James Theatre, London, until August 8