"The History Boys was a massive part of my life." When Samuel Barnett talks about his time in Alan Bennett's iconic production for the National Theatre, he practically beams. Part of the original cast, he played the gentle-hearted Posner from 2004 to 2006 on stage as well as in the film version of the play.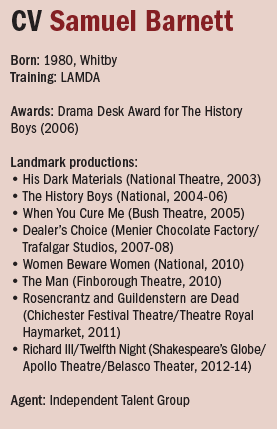 "The people in that show became my family. And it was in that role I started to really learn my craft. Drama school is amazing, it teaches you so much about how the industry works, but it's the work itself which teaches you your craft: timing and delivery and subtlety. And I was able to learn from great actors like Richard Griffiths and Frances de la Tour, I was able to watch them across those 500 shows."
Barnett continues to beam when he talks about the places his fellow cast members – Jamie Parker, Russell Tovey, Sacha Dawan (whom he recently acted with again, "It was odd to act opposite someone who is a friend; we kept corpsing") – have gone in the years since, all the things they've achieved. "Everyone's done so well. The History Boys was a platform for every one of us. It's a continuing source of pride when I see these guys doing so well – we grew up together in this industry."
He's back at the National this month for Simon Godwin's production of George Farquhar's late Restoration comedy, The Beaux' Stratagem, in which he plays Thomas Aimwell, a man of means who has burnt through his money and now has to devise a scheme to allow himself and his friend, Frank Archer, to continue living the high life in London. Aimwell is a character, says Barnett, who "really acts from his heart – he's out to marry someone rich but Aimwell falls in love at the drop of a hat. That's what attracted me to the part: he's very impulsive, he's really present, emotionally he turns very sharp corners very quickly depending on what's going on at a given moment".
Farquhar's play has been revised by Godwin and Patrick Marber. "It's a lot more accessible and a lot more fun. While it's a traditional production in some ways, it feels really quite modern to me. We're definitely not going for the courtly version of a Restoration comedy – it has an earthiness. The characters are real and grounded – they're driven by wanting to better themselves."
In this tale of men on the make, gamblers, schemers, it strikes me that it is not too far removed from Marber's debut Dealer's Choice, in which Barnett played the character of the feckless Carl when it was revived at the Menier Chocolate Factory in 2007. He agrees. "Aimwell is Carl 10 years on – he still ends up frittering his money away."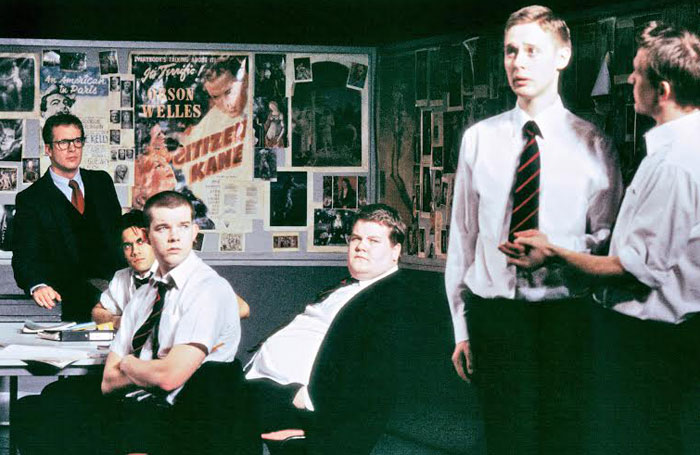 Barnett last performed at the National in 2010 in Middleton's Women Beware Women and is incredibly happy to be back. The building has gone through some changes since he was last here. "There's a new feeling of openness about this building now," he says.
One of the best things about working at the National, he says, is the level of resources available. "You don't have to compromise and that's a joy, and yet what's still at the heart of the National is this belief in the magic of theatre."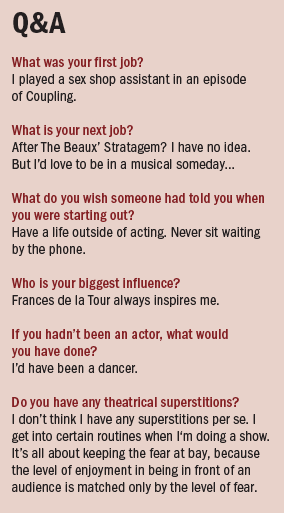 With Godwin, he also feels in safe hands. "This is a massive piece – there's dancing and singing and fisticuffs, there's so much going on, and he's steered it like a steamship, with humour and grace, and clarity – he gives you this very clear roadmap for each scene. I never feel lost working with him."
Barnett has performed in the Olivier twice before, in Women Beware Women and in His Dark Materials, back in 2003. "It can," he says, "be a tricky space in terms of making contact with the audience." He feels as if he's done his best work in spaces such as the old Bush Theatre. "I adore those small intimate spaces where you really do feel like you can look people in the eye. It is a different kind of technique, I think. You can give what is a very televisual performance, people can see every flick of your eyes. In the Olivier, it's not that you need to be bigger in your performance, but perhaps more driven and more intense – though I don't think there are any hard and fast rules."
Alongside The History Boys, he cites James Graham's The Man, which he performed in 2010 at the Finborough, as one of his favourite experiences. He already had a creative relationship with Graham, starring in The Whisky Taster and When You Cure Me, and The Man, a delicate, fragmented and emotionally charged exercise in storytelling, made beautiful use of the tiny Finborough space.
"I felt like if I could do a one-man show, I could do anything. It was terrifying. I've never been an actor who can cry on cue – on TV I'm more than happy to use a tear stick to start me off and, in the theatre, well, you can take a run at it, but even so, it's either there or it's not, the emotion. But every single time, when I performed The Man, I could go there – sometimes I couldn't help it. That was a really new experience for me, to feel so vulnerable and out of control on stage. People seemed to really respond to that show and connect with it."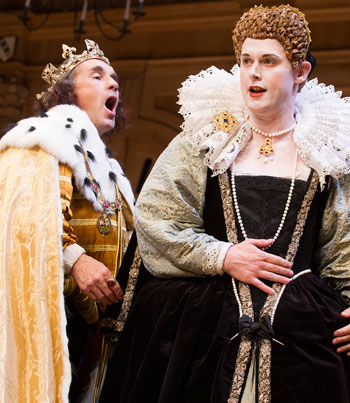 More recently, Barnett played Elizabeth Woodville opposite Mark Rylance's Richard III, first at the Globe, then in the West End, and finally on Broadway. The act of putting on a costume is so central to the acting experience, he says. In Richard III, he was fully corseted. "It took a while to get used to that. I felt quite panicked by it at first, because my breathing was restricted, but eventually your corset moulds itself to you and it breathes with you – though it takes time."
Although that's an extreme example, it's not dissimilar to his experience on The Beaux' Stratagem. "Here the style is all about the silhouette. I'm having all my costumes tailor-made – so you can't put any weight on, because it's all about shaping your figure: high collars, big shirts, and very" – his voice goes up a notch accordingly – "tight breeches."
This process of transformation applies both to modern dress and 18th-century costume. "When you put that costume on, you feel different. You carry yourself differently. And all the things – the collars, the sword, the boots – contribute to making you feel your status. Even in modern dress, that's true – we all, unconsciously or not, choose our status. And then there are the wigs. When I put the wig on for The Beaux' Stratagem, I don't even look like me anymore – and that's an exciting feeling."
Talking of where he'd like to see his career take him, he says: "It's such a cliche, but I do have a Hamlet in me. I'm too old for Romeo now, which is gutting, but I have hopes for Hamlet."
More immediately, he's nervous and excited by the prospect of performing in a series of cabaret slots at the St James Theatre alongside – "Musical theatre leading man megastar" – Jamie Parker. He admires the way Parker straddles the divide between dramatic and musical theatre.
"I know so many people in musical theatre and straight acting who would like to cross that line and do both, but not many people manage to do it. It's often the case that people don't imagine you can act if you do musical theatre and they don't imagine you can sing if you do mainly straight theatre, and this is something which really annoys me. It's nonsense. Singing gives you real direct access to people's emotions and I've seen some of the most truthful acting while watching musicals."
The Beaux' Stratagem is at the National Theatre, London, from May 19-September 20