As Rachel O'Riordan knows, there are many ways into the theatre industry. "I didn't have a very traditional path into the business," she explains, on a break during the casting of her latest production. The Irish-born artistic director of Sherman Cymru in Cardiff originally trained as a dancer. She landed a scholarship to White Lodge, the Royal Ballet School, but while there she came to realise it wasn't for her. "I was good, but not the best. I wasn't good enough."
So she went back to Belfast, where she ended up completing her A levels at night school "because when you're training as a dancer, the academic side of things isn't that high on anyone's list". After completing her degree in English and drama at Queen Mary University of London, she worked for a while as a choreographer and movement director. "It was hard to make a living, though." Another rethink followed. "I knew I wanted to direct but – it seems mad now – I genuinely didn't know how to get into that, so I went back to Northern Ireland and did a PhD in Shakespeare – again this sounds mad – thinking that might help."
During this time, in 2002, she set up her own theatre company, Ransom. Together with her husband Richard Dormer, she produced a play called Hurricane – a one-man show inspired by the story of snooker legend Alex Higgins – which Dormer also performed. "It was the first thing I'd directed, it drew a lot on my dance training. It did really well and I feel as if I jumped a few steps. All of a sudden I was a director."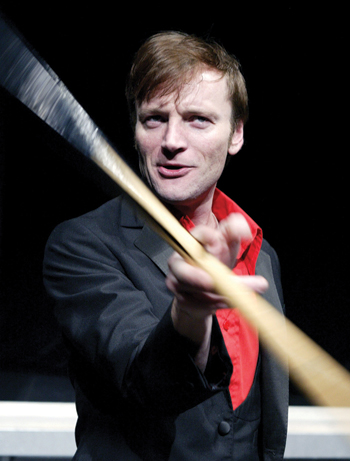 "Hurricane was a funny one," she says. "I directed it with the bravura of someone with no real experience. I just went at it. And I think people had never seen a monodrama like it before, because it was so full-on. There was something about both the subject matter and the way we did it: it was very emotional, very raw, and not really about snooker as such, but about addiction and celebrity and the difficulty of being from a working-class environment and being catapulted into a world you know nothing about, making this jump from the backstreets of Belfast to being on the telly. How do you deal with that? And then you add addiction into that and the fact of being from Northern Ireland at that time, and what that meant politically and socially. It was heartbreaking – there was something about it that just ripped people up. We assumed it wouldn't have a life outside of Northern Ireland, but once we took it to Edinburgh we realised there was something about it, the heart of it, that people really responded to."
Hurricane was a huge success. Following its Edinburgh run, it transferred to the Soho Theatre, London, in 2004 and then to the Arts Theatre. It then toured the UK before a run Off-Broadway. O'Riordan was then in the position where she had to think about how she might continue to have a career in directing. So she kept Ransom going in Belfast while embarking on a career as a freelance director at the same time. She directed work at Hampstead Theatre, the Royal Exchange in Manchester, and with the Peter Hall Company, while with Ransom she was "very focused on new writing", commissioning work by playwrights including Leo Butler.
"It was a really exciting time and I think we really did make some contributions to the cultural landscape in Belfast. New writing in Northern Ireland needed something to happen to it. It was quite staid, nothing was moving. We also ran a programme called Writers on the Edge for female playwrights during that time. Because at the time there were lots of writers in Northern Ireland who were highly regarded – Brian Friel, Owen McCafferty – but no women. It felt like quite a glaring omission, so we set the project up to address this."
There reached a point, in 2010, when O'Riordan "just got this sense I wanted to be in a building". She explains: "I liked the idea of companionship and teamwork, of colleagues, of seeing the same people every day. I loved the idea of being part of something, part of a community."
She applied for, and got, the job of artistic director at Perth Theatre, the oldest producing theatre in Scotland. It was, she says, a beautiful theatre, but not in the best shape when she took over. "It had lost its way. I was really lucky that they took a chance and hired me, because I hadn't run a building before."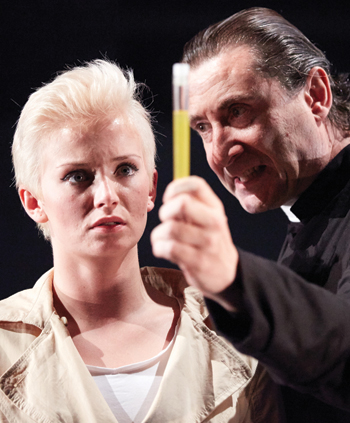 During her three years at Perth, she really enjoyed being part of the Scottish scene. "There's something very satisfying about the way theatre operates in Scotland, there are a lot of producing theatres, there was a lot of discussion and talking about programming with other artistic directors, it was quite a collaborative environment. And you felt like you were making theatre for Scotland.
"I think perhaps Wales is still searching for that sense of identity in its theatre," she says. "I spend a lot of time in London now that I'm at the Sherman, whereas I didn't when I was in Scotland. London felt a lot further away when I was there, in more ways than one."
She adds: "It's important to remember that the identity of contemporary Welsh theatre is one which operates in both the Welsh and English languages; this is a fascinating state of play and writers and theatremakers often work in both languages and bilingually. Wales has a very strong, rooted cultural identity, and this is something that I am excited to share more widely outside the country."
O'Riordan strikes me as someone who commits fully to every project she embarks on, who solves things, who fixes things. Her greatest test in this regard came when she was appointed artistic director of the Sherman, taking over the role from Chris Ricketts. She had only just started in the job, in early 2014, when the City of Cardiff Council confirmed it was removing its annual funding to a number of arts organisations, including the Sherman. The theatre lost its entire £160,000 grant. "We tried to fight the decision but I was brand new and there was nothing we could do. It was a real shame. I started at the Sherman on quite a down-note. There had to be cuts and restructuring and job losses. It was not the way I would have wanted to start.
"I was determined to make sure we could still produce work. Everything I did was designed to make sure we didn't become a receiving house. We cut everything to the bone. I had no literary manager. We didn't have many of the things most theatres have, we still don't. It's not sustainable in the long-term, but we needed to put emergency measures in place. It was about survival, really."
To this end, O'Riordan began her inaugural season by directing a production of Romeo and Juliet. "I did a lot to bring an audience back in, particularly a young audience. We'd lost our connection with our audience, but they came back. It's not my favourite Shakespeare, but it did what we needed – it got people through the door."
Slowly things began to improve, but it took an awful lot of work. "I'm not going to lie, it's been a slog," she says. "I'm not sure I could start over and do it all again. Turning around something that's not working takes extraordinary energy. But I've been blessed to have some people working alongside me who are phenomenal, Julia Barry [Sherman's head of marketing and customer relations] being one of them, but also our production manager and our head of finance, they've really put their backs into things."
Continues…
---
Q&A: RachelO'Riordan
What was your first job? In a shop called Dunnes Stores in Ireland. Loads of us from school worked there part-time. We were terrible.
What is your next job? Directing the new Sherman co-production with the Royal Exchange Theatre, Bird by Katherine Chandler. My job is Sherman Cymru for now.
What do you wish someone had told you when you were starting out? That being a director isn't always having all the answers. It's okay to not know something, sometimes. It doesn't mean you are letting people down. I used to be terrible for thinking I had to know it all.
Who or what was your biggest influence? It was my dad [poet and novelist Robert Anthony Welch] who taught me to think boldly in regard to literature and interpretation. I read a lot, and very broadly, and that's down to his influence at an early age I think. Also, I am always influenced by actors and writers.
If you hadn't been a director, what would you have been? A journalist or something to do with animal welfare.Do you have any theatrical superstitions? All of them. It drives people mad. I'm always making people leave the room, turn around three times…
---
As well as producing, the Sherman has played host to work from all the major Welsh companies. "We've got the National Theatre of Wales coming in. We've got Music Theatre Wales coming in. I see us being a major – the major – producing theatre in Wales, the natural home for some of our major companies, and the place where new work can be generated. We have a company-in-residence. We have a bilingual company, who work in verbal and non-verbal theatre in Welsh and English. We have a playwright-in-residence, Katherine Chandler. Everything I've done has been about trying to forge a stronger identity for the Sherman, to make it clear who we are, because I think that had become blurred."
The Sherman is currently included in the Arts Council of Wales portfolio of revenue clients for the next funding round.  But it – along with the rest of Wales – is waiting on final figures. They've just appointed a new executive director, Adam Knight, who will be starting in April. "That's quite a big move for us. He's coming to us from the Playhouse in Edinburgh – and he's got a big job on his hands. He'll be able to take us to the next step."
The production that really cemented the Sherman's reputation under O'Riordan was Gary Owen's furious, accusatory Iphigenia in Splott. It received a five-star review in The Guardian during its original run at the Sherman in May last year before being presented as part of the British Council Showcase during the Edinburgh Fringe. Despite playing for only a week, it touched a nerve with audiences and won actor Sophie Melville The Stage award for acting excellence for her magnetic performance as a socially marginalised young woman living in a suburb of Cardiff ravaged by austerity measures.
The play went on to win Owen a UK Theatre award for best new play, and now both Owen and Melville are nominated for Wales Theatre awards. A transfer was also secured to the National's Temporary Theatre. It's the first play from Wales ever to transfer to the National Theatre, O'Riordan tells me, slightly incredulously.
Owen was on commission to the Sherman when O'Riordan took over. He'd yet to write the play when they first met, but he'd had an idea of what he wanted to say. Iphigenia was written relatively quickly after that. When he presented her with the first draft, O'Riordan says she got "that tingle that you get". She remembers thinking: "Oh God, this is good." This was borne out when they first put it in front of audiences at the Sherman. "It was just after the election, and the reaction was," she pauses, remembering, looks up at me, "it captured something." Ken Skates, the deputy minister for culture, sport and tourism, was in, she recalls, and he was the first on his feet. "You never quite know if a play is going to do that, so it was incredible. It's a Cardiff story, it's rooted in Cardiff, but it's universal."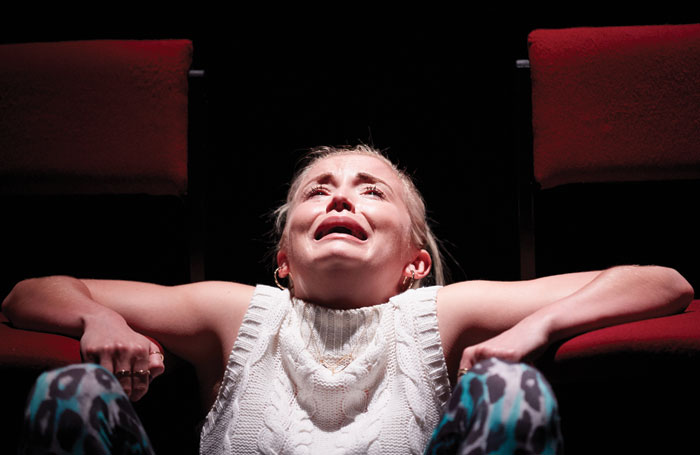 There's a moment towards the end of the play where Effie, the character played by Melville, turns her gaze on the audience, where – having dragged them to hell with her – she fixes them with her stare and asks them to see her, to recognise all she's gone through, all she's lost. It's a potent, angry moment, an overt call to action. During the performance I saw, the atmosphere in the room when this happened was incredibly charged.
The play's shift into direct address is part of its power. It's an unashamedly, explicitly political piece of theatre. "I think anything that takes a group of people in a room and shakes them up and makes them think has the power to make change. It's not that it's going to topple the Tory government or anything, but the seismic shifts happening in individuals, they're what counts. That's what theatre can do – create these ripples in someone's soul."
"I've got so much ambition for the Sherman," she tells me. "Cardiff is a capital city after all. Wales isn't a region, it's a country. We're not a regional theatre. The Sherman has a responsibility to the people of that country to make work that is relevant to them. It doesn't mean the work has to be Welsh, although obviously that's part of it, but it has to be good, it has to be of an international standard. I want the Sherman to be completely synonymous with Cardiff. I want the people of Cardiff to feel ownership over it. I want us to take our place alongside the Sheffield Crucible and the Everyman in Liverpool and share that ambition with our audience."
Next up, O'Riordan will be directing a co-production with the Royal Exchange in Manchester of Sherman writer-in-residence Katherine Chandler's play, Bird, which won the judges award at the Bruntwood Prize. "I am constantly impressed by audiences' faith in new work and I think that's increasing, the way people are responding to new plays and new stories." As with Iphigenia in Splott, Bird is a story about a young, vulnerable woman. "Those stories never used to be front and centre and now they are," she says, "and I'm proud that at the Sherman, we're part of that. We need more work that looks at the world sideways, not through the gaze of the establishment. We need to see how the world looks through those eyes."
Bird premieres at the Sherman before transferring to Manchester, and O'Riordan sees this kind of collaboration as vital. "It increases the visibility of Welsh work. We've got to get our playwrights out there and show them off. And this way it means that we'll have another production on its feet while Iphigenia is touring. Isn't that fab, considering where we were, not even two years ago?"
---
CV: Rachel O'Riordan
Born: Cork, Ireland, 1974
Training: Royal Ballet School (as a dancer)
Landmark productions: Hurricane, Assembly Rooms, Edinburgh (2003), Soho Theatre, London (2004) and Arts Theatre, London (2004), Everything Is Illuminated, Hampstead Theatre (2006), Over the Bridge, Waterfront Studio, Belfast (2010), The Seafarer, Perth Theatre (2013), Iphigenia in Splott, Sherman Cymru (2015)
---
Iphigenia in Splott runs at the National Theatre until February 20, before a UK tour. Bird runs at Sherman Cymru from May 13-28, before a run at the Royal Exchange, Manchester, from June 8-25.