When you think of Tooting, the south London suburb at the bottom reaches of the Northern Line, you don't instantly think of theatre; but thanks to the dedicated passion of one local actor-turned-producer, it is now a place with a theatrical pedigree – even though it still doesn't have a dedicated performance space. Instead, the Tooting Arts Club, founded by Rachel Edwards in 2011, lives a peripatetic existence, staging productions in found spaces that are sometimes derelict, sometimes working.
Edwards had trained to be an actor at Guildhall School of Music and Drama after attending a state school in Tooting: "I didn't pay much attention to studying, but I was always in the school plays so I thought I'd try drama school," she tells me with a bubbly candour. "But I was never overly ambitious and never very strategic about acting. When I got to Guildhall, I realised everyone had sacrificed their lives and moved country to be there. I spent a year and a half in a kind of denial about what I was doing there."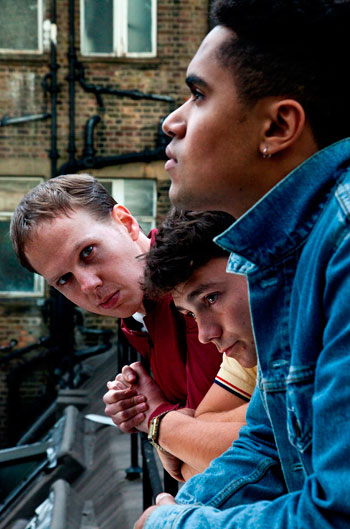 After she graduated, she got an agent (and is still represented by one) but, she says: "I was never acting enough for it to be that interesting, and I never wanted it enough to sacrifice my life to do it. It's a ridiculously tough profession, so I have huge respect for actors and I love the community of acting." 

Instead, she found herself channelling her creative energies in a different area. "I wanted to be more creative and do something different," she says of the decision to form Tooting Arts Club. "It's an area where I grew up and I where I still live, and I felt it needed some kind of arts provision – it's a fantastic, vibrant community to live in, but it's a cultural wasteland. I was also sick of having to go to Kilburn or wherever to see shows, so probably laziness was a huge motivator."
On the contrary, creating theatre in a local area, as Edwards has done, was anything but lazy. She freely admits that she doesn't overthink anything in her life, and is driven first and foremost by instinct. "That's a great thing for having vision, but it's a bad thing for budgets. My boyfriend said the other day, 'You only do now'." She has mastered, without having to work at it, one of life's greatest challenges: how to live in the present.
That chimes with her most ambitious project to date, when Tooting Arts Club produced Sondheim's epic musical Sweeney Todd in a tiny working pie and mash shop in Tooting called Harrington's, on the Selkirk Road (the pub the company did its first-ever show in is in the same street. "I'd gone there with my dad as a kid and it was always a place of fascination to me. And when I walked past it on the way to the pub every night, I started thinking of Sweeney Todd, which I'd always loved and seen many times."
How did she persuade the pie shop to come on board with the idea of turning it over to a show every night? "I was so scared to ask them initially – I'd pinned my hopes on doing it there. So I was terrified that they would say no, but I was also terrified that they'd say yes and call my bluff and I'd have to do it." They obviously said yes – and so did the barber shop across the road, which in a blissful act of synchronicity, became the box office and bar. "When I asked them, they opened this back door in to an empty room and said you can have the bar in there! Sweeney Todd was all like that, one green wave – that's what taxi drivers call it when they get a series of green lights, and this felt like that. Everyone said yes."
Sondheim himself actually turned up to see it. Was she intimidated by that? "I was delighted and terrified, but as a producer, you get used to managing things a moment at a time. When I heard he might be coming, I said, let's deal with that when he comes." He cancelled his first planned visit when he was poorly, but "then the rumour was that he'd come on the very last night. I didn't quite believe it, and thought he probably wouldn't. But then he just turned up in an Addison Lee cab with his partner, Jeff."
Sondheim told Cameron Mackintosh about what he'd seen – and then the show was West End bound to a space that Mackintosh offered, rent-free, in an empty restaurant between the Gielgud and Queen's Theatre that he owns. "Richard Johnson rang me and told me Cameron had had an idea to do it there – and told me to come and see it. I said I'd come tomorrow, and he said 'How about now?'." The entire pie shop was meticulously recreated inside it, and with the seating upped from the original venue's 32 seats to 69, it opened on Shaftesbury Avenue – and was a sell-out hit. "It was capitalised for £75,000, and broke even at 86%, so it wasn't exactly a sexy investment opportunity but we played to 97% business and we actually turned a profit."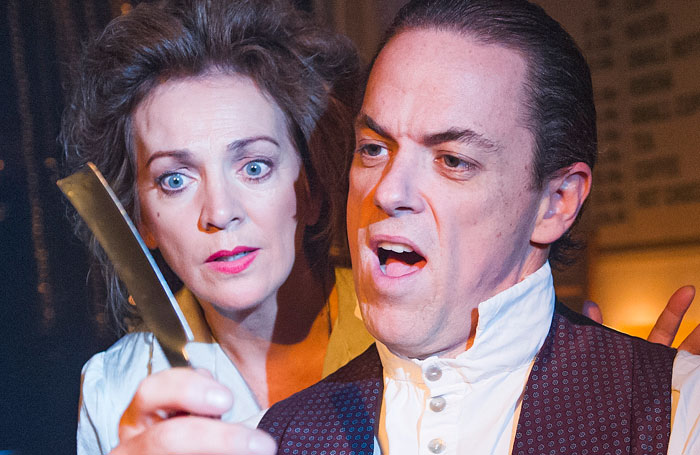 From the very beginning, Edwards raised financing and balanced the books sufficiently to actually pay the actors who appeared in her shows, and for Sweeney Todd on Shaftesbury Avenue, they were paid £450 a week each. "The first two shows we did were a bit on a wing and a prayer – we did big fundraisers and gig nights to pay for them." But from the third show onwards they sought, and got, arts council project funding, so the business model was that a third of the financing came from that, another third from ticket sales, and the last third from bar sales.
Sweeney Todd definitely got Edwards – and her associate Bill Buckhurst, who has directed four of Tooting's shows so far – noticed. But how are they going to top it? They are revisiting Tooting's third show, a revival of Barrie Keeffe's Barbarians that they first did in 2012 in an empty site in Tooting that had been a youth enterprise scheme, and are setting their revival at the former Central St Martin's art school building on Charing Cross Road. "The play is set in 70s London, and Central St Martin's was a hotbed of punk and creativity. The Sex Pistols played their first gig there, and the soundtrack of the play is the Clash, the Jam and the Sex Pistols."
So placing the play there gives it an authentic resonance. "I hate shoehorning plays into spaces or it becomes site unspecific theatre. It can feel like a distraction. I'm quite conventional in my tastes, but there's something about kicking around London trying to find spaces." She's now having to go beyond Tooting to find them: "It's my ambition to always start things in Tooting, but it's difficult to produce site specific theatre in a very narrow postcode – you exhaust the possible landlords and spaces quickly, so I've had to broaden my search. But this is still a Tooting show because it began here."
Rachel Edwards: CV
Born: 1978, London
Training: Guildhall
Awards: Sweeney Todd won the best musical award and Edwards the best producer award at the Off West End Theatre Awards. Edwards has also been nominated for the Hospital Club's h.Club 100 award in 2015.
Landmark productions: Barbarians, now at Central St Martin's, Sweeney Todd, Harrington's, Tooting, then Shaftesbury Avenue
Agent: Kenny Andrews at Brown, Simcocks and Andrews
Q&A
What was your first non-theatre job?
I was a barmaid in a local pub.
What was your first theatre job?
I was in a touring production of The Diary of Anne Frank that Jonathan Church directed.
What is your next job?
Sweeney Todd may have another life.
What do you wish someone had told you when you were staring out?
Ground yourself in the practicalities of the operational side of the theatre – and study a budget a little harder.
Who or what is your biggest influence?
As an actress, I was obsessed with Prime Suspect and Helen Mirren – she's so naturalistic and such a strong woman.
What is your best advice for auditions?
Know your material and even if you don't like the play, pretend you do. Enthusiasm always goes a long way. If people don't know what they're reading or don't seem remotely enthused by the project, what's the point of them being there?
If you hadn't been a producer, what would you have been?
I'd like to write and have written a play, though its not yet been produced.
Do you have any theatrical superstitions?
The only one is the Scottish play. I get a little twitchy if that goes awry.
What are your three top tips for aspiring producers?
1. Nail down the finances and always build a big contingency into your budget – 5% is never enough, so go for 10%.
2. Trust your instinct around the whole process – it was your idea, so never outsource your original vision too much.
3. Develop a good working relationship with your director and invest in that relationship so that it becomes a real partnership – if you don't get that right, the pendulum swings between you for who is boss and it becomes a power struggle.
Further reading
Tooting Arts Club website/Twitter: @tootingartsclub
2012 interview with Rachel Edwards
The Stage interview with Rachel Edwards (March 2015)