The scene is a cramped interview room adjacent to the National Theatre press office. Enter Peter Wight, bearing a plate of fish and chips from the NT canteen. During the course of our conversation he has about two mouthfuls because, like almost every actor I've ever interviewed, he has plenty to say. Wight may not be a household name, but he is one of those 'oh, it's him' actors who pop up in things all the time, whether it's a cameo role in the 2005 Pride and Prejudice, a supporting role in Electra with Kristin Scott Thomas at the Old Vic last year, a downtrodden shopkeeper in The Paradise, or a bent copper in the superb TV sitcom, Early Doors.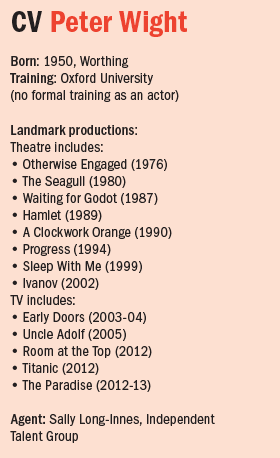 The British seem to excel at producing actors like Wight, with the range and intelligence to switch from Greek tragedy to broad comedy in the blink of an eye.
The fact that he had no formal training as an actor – "Shh…they haven't found out yet," he jokes when I bring this up – certainly hasn't held him back, although he is at pains to tell me that he served a long apprenticeship in London fringe productions, children's theatre and regional rep in the 1970s before giving a stand-out performance in The Seagull, directed by Mike Alfreds, in 1980.
Growing up in Derbyshire with theatre-loving parents, Wight was exposed to Derby Rep and Nottingham Playhouse in his formative years, and started acting with the amateur Derby Shakespeare Company in his mid-teens. He was, by his own account, hopelessly star-struck.
"Derby Rep was very influential for  me and I loved seeing particular actors coming back in different guises. There was an actor called Roger Heathcott who fascinated me. He wasn't well known or anything, but I remember so well seeing him as George in a production of Who's Afraid of Virginia Woolf.
"Once I got into my late teens, I used to travel to Nottingham Playhouse on my own to see a matinee. It was this beautiful, gleaming place, buzzing with excitement. I'd sit in the foyer pretending to read  a book, actually watching actors like  TP McKenna, Norman Rodway and Peter Eyre being loud and theatrical in the bar. John Neville was the last thing in theatrical glamour. They were like gods to me at the time. That's what I wanted to be. I wanted to be on the stage, part of a company."
A bright student, he won a place at Oxford to study English. "I became quite disillusioned with the scholarly life, but it did enable me to do a lot of theatre. There were some interesting directors in my year – Charles Sturridge, Brian Gilbert, Elijah Moshinsky. They all acted at Oxford and went on to direct later."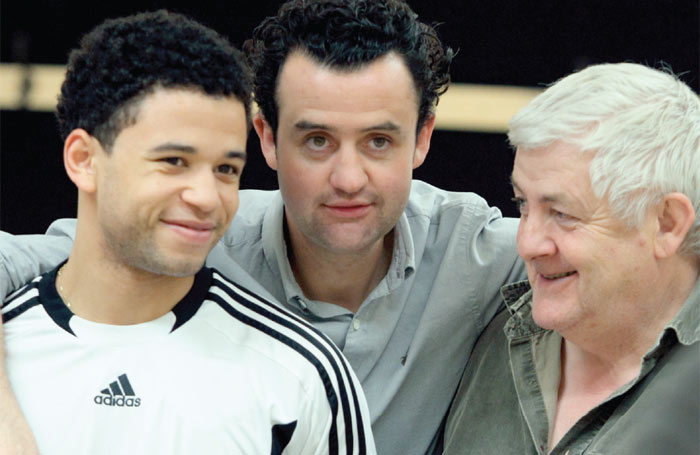 After graduating, Wight went to the US with a student production and stayed there for a year, acting and directing. When he returned to the UK, he applied to do a one-year course at Bristol Old Vic Theatre School, but they could only offer him the three-year course. "I didn't feel I needed to do three years as I'd already done a lot of acting, so I decided against the drama school route and got stuck in instead."
The turning point for Wight was working with Alfreds, founder of the company Shared Experience and much-respected mentor to a generation of actors.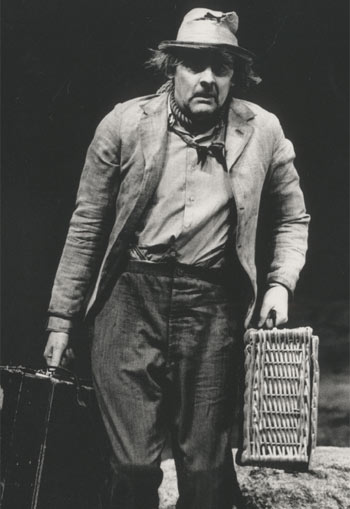 "He'd seen me in a German play at the Crucible and offered me a role in The Seagull at the newly opened Almeida Theatre, Islington. It was a real watershed for me because he taught me to be serious about acting, all the stuff I would have done at drama school, only in miniature. Mike was heavily influenced by Peter Brook, and his basic credo is summed up in the title of the book he wrote, Different Every Night. He'd say, 'Right, I want it to be different tonight', and you'd be thinking, 'Oh my god, what am I going to do?' But actually, if you're really grounded in the character and the play, it frees you up to explore different things. It could be stressful but also  tremendously stimulating. He was a great believer in the power of the actor."
The other director Wight was greatly influenced by at this time was Michael Boyd, later to become artistic director  of the Royal Shakespeare Company, with whom he did many shows.
Chekhov loomed large for Wight in the mid-1980s, with another production of The Seagull, this time in the West End, and a run of Chekhov's Women, in the distinguished company of Vanessa Redgrave and Rachel Kempson, in which he was "the token man". Towards the end of the decade, he made his first appearance at the National, as Lucky in Michael Rudman's production of Waiting for Godot, with Alec McCowen and John Alderton as the tramps.

Wight has returned to the South Bank many times since, and is now appearing  in the new Patrick Marber play, The Red Lion, a three-hander set in the changing room of a non-league football club. A  talented young player has joined their ranks, but there is disagreement between the club's cynical, charismatic young manager (Daniel Mays) and its grizzled former manager (Wight) about how the boy's best interests should be served.
"It's basically a titanic struggle between me and the Danny Mays character over this talented young player," explains Wight. "I have the integrity of the club  at heart but I'm a loser. Danny's character is a cynical chancer but his methods have worked well for the club.
"We had the former cricketer Mike Brearley, who is now a therapist, come in to talk to us about the play's psychological implications; his reading of it was that Danny and I were effectively co-parenting the boy in a rather self-interested way. We've talked a lot about our relationships with our fathers in rehearsal, and the values they tried to instil into us. It's been one of those shows where you could go on rehearsing for weeks on end, because it keeps revealing layers of truth and insight."
These days Wight is sufficiently well established for directors and casting directors to know what they're getting, but he says in his early years he was fiercely proactive about looking for work – writing letters, arranging to meet people etc.
"I believe it is important for young actors starting out to do all that," he says. "It's always worth putting it out there if you feel a real connection to a director or a piece of work. Even now, when I don't really have to do that any more, I will drop somebody a line if I'm a big fan  of their work, not in the expectation  of anything but just because he or she knows I exist, and knows that I am  interested in what they're doing."
Now in his mid 60s, does he worry about how ageing will affect his employability? "No, I can't say I'm dreading getting older because there are parts that come with age that I find really interesting. I still enjoy what I do enormously. Acting is great  fun as well as being a serious business."
The Red Lion runs at the Dorfman Theatre, National, London, until September 30