Making the decision to cut a favourite part of your creative project, whether for clarity of storytelling, to remove a joke that doesn't work or simply for reasons of length, can be extremely difficult. Writers, poets and theatremakers tell Lyn Gardner about why they've done it and when they've stood their ground
---
Earlier this year, spoken word artist Steven Camden, aka Polarbear, wrote on Twitter: "Sometimes you just have to look at 37,464 words, listen to the voice in the folds of your gut, click edit, select all and delete." A few minutes later he added: "Salute all the fallen words. The dead foundations for better towers. The kindling for the flames. Essential and forgotten. Thank you."
Killing 37,000 words of a project takes real courage, but all artists – in whatever form they work – know there are occasions when the only thing to do is to press the delete button. Sometimes, as in Polarbear's case, it's because you've gone on an entirely false trail and the solution is to trash the entire thing.
But sometimes writers and makers end up having to delete the work they really love, or bits of their shows they adore, for other reasons. As novelist William Faulkner said about writing, but is applicable to all creative endeavours: "You must kill all your darlings." That said, killing your darlings can be really painful because you love them so dearly.
Tamara Harvey is artistic director of Theatr Clwyd and the director of Laura Wade's Home, I'm Darling, a show that goes into the West End early next year. She and Wade – who were at university together – developed the play over a number of years. She says there was a joke in the script that always made her and Wade giggle because it referred back to their college days. But when they got the show in front of an audience "it tripped the scene and didn't raise a smile".
Harvey says: "That was a darling we had to kill. For us that bit was like having a secret handshake in the show, but theatre isn't a private members' club and it just had to go for the greater good."
'I wonder if auteur directors are asked to kill their darlings. Does anyone ever say to Ivo van Hove: 'Could you just cut 10 minutes?' Director Tamara Harvey
Like Polarbear, playwright Stef Smith found herself recently reaching for the delete key. She decided to restart an already part-written play from scratch, not because she had stopped loving the initial work but because it had been overtaken by events. In 2017, she had started on a commission for Edinburgh's Traverse Theatre and then set it aside to concentrate on other plays. It was a play about a politician who is outed for his abusive behaviour towards women. But when she returned to the original draft, she realised that a play she had begun writing before #MeToo happened had gone from "being zeitgeisty to being parasitic".
Smith says: "It really wasn't an easy conversation to have with myself, but I knew that my play, which had been about what could happen, now looked like a play about what had happened. The world was a different place, so I knew I had to go back to the drawing board and start again. It was necessary, but it was also hard."
Realising you are going to have to kill something you have worked on over a long period can be particularly difficult when collaborating with someone else. Earlier this year, during an interview with Dennis Kelly about his play Girls and Boys at London's Royal Court, he told me about the growing pains of his hit show Matilda the Musical – written with Tim Minchin – which had a very long development process.
"I didn't know what I was doing at first. I had never written a musical. It went through lots of drafts," he said. "It was a challenge. Early drafts were closer to the book, and there was a character, Hortensia, who I suddenly realised I was letting do all the action and I had to demote her, so Matilda could step in and be more active. Tim had already written Hortensia two songs that he really liked, so it wasn't easy. Fortunately, he was very gracious about it. But it was a difficult moment for both of us."
The playwright and dramaturg Gillian Greer, whose play Meat recently made the five-strong shortlist for Theatre503's international playwriting competition, says that often "a darling is a beautiful pearl that sits in the wrong place". She believes such lines, or moments, in a play are often connected to the original inspiration for writing the work, but "what it was that made you put pen to paper in the first place becomes less important as you write the play and it starts to become something different through the process of writing."
'The biggest fear of any dramaturg is that you are going to strangle the play' Playwright Gillian Greer
She's had to kill a few darlings of her own. Meat originally had what she describes as "a twisty timeline, and without that timeline I would never have started writing the play. I loved it. But an astute reader told me it was a darling I had to slay, so I did. They were right."
"Killing your darlings," says the poet and theatremaker Hannah Jane Walker, whose work includes I Wish I Was Lonely and the Oh Fuck Moment, "can be exhilarating, because doing it can mean that you care more about the audience's experience than your own ego." She describes it as "a kind of joyful savagery" because "if it works, you get past yourself to something else, and how often do we get to say we get past ourselves to something we did not know we had?"
She adds: "I can't think of a situation where killing darlings hasn't made the work better, hasn't made me think more about the audience members and their experience than about me."
Degrees of separation
But Walker, with her "joyful savagery", may be the exception rather than the rule. She once killed an entire show and gave the grant back to Arts Council England, much to the funding body's bemusement. But for others, the destructive act comes with lingering regret.
A few weeks ago, Daniel Bye, who has made a number of superb solo shows including The Price of Everything, Error 404 and Going Viral, wrote on Twitter: "Just cut one of my favourite bits of a new show I'm working on because apparently it's really similar to something in another show I haven't even fucking seen."
When we speak a couple of days later, he describes the image and I immediately recognise the other show. But does it really have to go? Lots of people, like Bye himself, won't have seen that other piece and the context will be entirely different. Nobody is going to think he stole from a show he hasn't even seen, and in any case, he came up with his image in a rehearsal room much earlier in the year and long before this other show was seen in public. But Bye is adamant it can't stay, even though he feels its loss acutely.
Darlings are sacrificed on many altars. Maybe it's a joke, as happened in Home, I'm Darling, or an image that fails to land, or something that gets in the way of the storytelling. Sometimes it is just about length. After all, most theatregoers have left a show at some stage saying: "That would have been so much better if it had been 15 minutes shorter," and very few come out declaring "that would have been great if only it had been 20 minutes longer".
Whatever the reason, "editing," Stef Smith says, "makes me double down on my craft. You have to be ruthless. Often the things I end up cutting are in a poetic register and I realise that what I'm in love with is the language, not the drama."
But while many concur that killing your darlings is frequently a good thing, making a script or show tighter and making for a superior audience experience, not everyone agrees.
Theatremaker Chris Goode is one, arguing that while material you are attached to as a writer or director may not always serve the best interests of the work, killing your darlings has turned into an orthodoxy that theatre might do better without.
Chris Goode: Everything I know about theatre, I learned first from Derek Jarman
"I'm fortunate enough to be asked to read a lot of plays, often by emerging playwrights, and I'm frequently surprised by how bloodless they are, how drab the language is, how passionless the argument – despite very often being accompanied by a covering email that professes the urgency and excitement of the project. Reading those scripts is like wandering the corridors of a deserted building. You think: 'What happened here?' And then you realise: there's been a massacre of the darlings."
Knowing when not to cut
Goode argues that "as a maker, the moments that become 'darling' to you are hugely significant indicators of what it is you really want to do. In those moments there is a glimpse of something that might otherwise feel almost unobtainable. And perhaps, yes, those are sore-thumb moments that stick out and look self-indulgent by comparison with whatever surrounds them. But it feels like a peculiarly British sort of Roundhead self-denial to go around deadheading your most audacious blooms. Why not, instead, raise the level and the pulse of everything else to 'darling' altitude? Let the whole thing be 100% darlings."
Director Rebecca Atkinson-Lord, previously artistic director of Ovalhouse in south London, has seen what a massacre of the darlings can do to a play. When she first read Joseph Wilde's Cuddles, which she went on to direct, it included a scene in which bloody tampons are discovered under the bed of its teenage vampire protagonist. When she read a subsequent draft, that moment had been changed to something far less startling.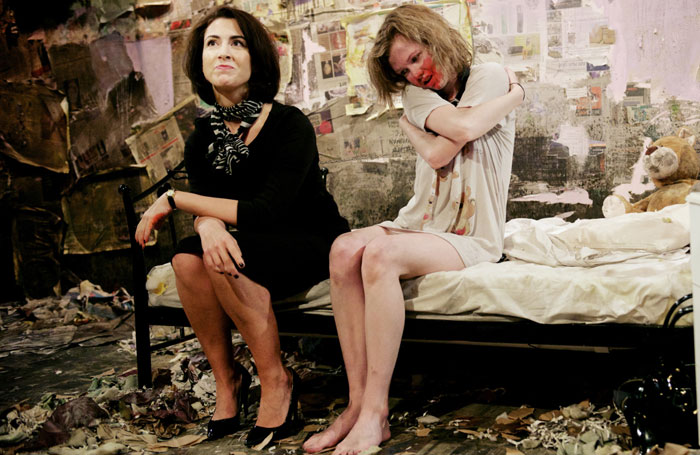 "It was because other people who had read it had gone: 'Ugh', so Joseph had killed his darling. But the play needed that moment of revulsion," Atkinson-Lord says. She argues the lesson is that writers "should be careful who they listen to", and they need to stay brave.
Looking back at her time at Ovalhouse, the director adds that she learned not to go on killing sprees with other people's darlings but rather "to ask the questions that you want them to ask themselves. Your job is to support artists to make the work they need to make, and sometimes at the start of their careers they need to make bad work."
The art of a good question
Tamara Harvey also cautions that when advocating the murder of somebody else's darlings, people should remember that what they are proposing might just be wrong. "It's not a science, it's a hunch," she says, and points to Kate Wasserberg's revival of Terry Johnson's Insignificance at Clwyd in 2016.
"Kate had chosen a piece of music for the show and I felt it was wrong. But she was adamant that it should stay. It was one of her darlings. I trusted her, so I didn't push it, and I'm glad I didn't because it got mentioned in the reviews. It has made me check myself. By all means have the conversation but, in the end, you need to remember it's their show not yours, even if it's in the building where you are artistic director."
Playwright Greer agrees that asking questions, rather than dictating, is the way forward. "You can unseat a darling that shouldn't be there or is in the wrong place by asking why it is there. The art is knowing when to keep on probing and when to stop."
Greer recognises Goode's description of the "bloodless" play and admits that in trying to help writers with their craft the danger is that "a play that comes in raw and untrammelled loses its original voice and ends up homogenised". She says new plays take such a long time to reach the stage, and that by then so many people will have given notes on it that the danger is individual darlings will all have been massacred along the way and what you are left with is "a Frankenstein play in which everybody has dipped their finger".
Theatre503's artistic director, Lisa Spirling, discovered that working with playwrights and directors at the start of their careers made her realise that artists shouldn't be too quick to kill off their darlings. "They often need to put a play in front of an audience before they decide what they should kill," she says.
"Sometimes killing isn't necessary, but what is really needed is a rewrite. It's often the audience response that makes them understand that much more clearly than me or someone else giving notes. So yes, sometimes killing darlings is the best thing to do but don't do it too soon because you might kill all that is bright and bold about the play."
All the directors I spoke to talked about how any killing of other people's darlings must be done with enormous tact and kindness. But Harvey also makes the point that as an artistic director you have to think not just about the good of the individual show but also about what's best for the building.
"As an AD you are constantly figuring out the extent to which you note other people's work. You've programmed the show and picked someone as a director and it's their gig and of course you should champion them. But you also have to remember that our theatre will be there long after the show has finished, and that person has gone on to the next job."
In her first season at Clwyd, Harvey programmed a production of Cyrano de Bergerac. "It was beautiful, very beautiful, but it was very long. I asked the director to make cuts, but he didn't, and I didn't push it. I respected his artistic vision. But I should have pushed because the overtime payments were massive, and they impacted on the budget for the rest of the year. In failing to kill his darlings I ended up having to kill lots of other people's darlings later in the season. It was a big lesson and I learned it the hard way."