The Royal Shakespeare Company has gone through some big crises during its lifetime, but it is now in a buoyant place. During the last financial year, it sold more than 1.8 million tickets for 28 productions and co-productions, with shows in Stratford-upon-Avon, the West End and on Broadway, as well as touring for 70 weeks across the year. The company is operating at a surplus, and is using some of those funds for a strategic investment fund that includes financing the 'Live from Stratford-upon-Avon' cinema broadcast. Since 2013, these have taken its productions not only nationally, but internationally, and most crucially, are being shown free in schools.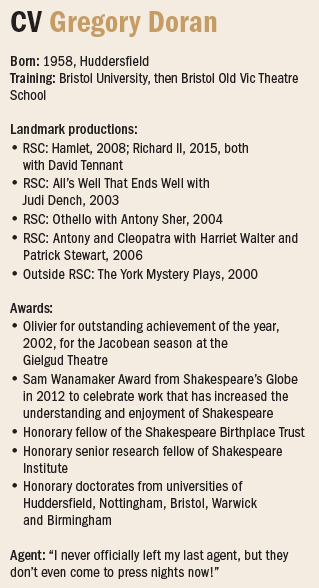 It is no wonder that quiet confidence emanates from Gregory Doran's computer-free office (he works on an iPhone instead) at the RSC's Covent Garden base, just off Shaftesbury Avenue and a block away from the West End home of its transfer of Matilda – the Musical. On the coffee table (made like a set piece from Matilda) is a copy of The Daily Telegraph from the day before we met: on the front page is a picture of RSC understudy Sam Marks delivering the St Crispin's Day speech from Henry V in a service at Westminster Abbey to commemorate the 600th anniversary of the Battle of Agincourt.
"Henry V is buried there, and when Sam came out from behind the high altar in costume, it was like the ghost of Henry V," he says. "Our company was shown around the abbey to look at the tomb. When the abbey was empty for a year after the dissolution of the monas-teries, robbers stripped all the silver off the tombs, including a representation of Henry V's head. And when they came to replace it in the 1970s, they made one modelled on Laurence Olivier."
Doran's production of Henry V has just transferred to the Barbican from Stratford-upon-Avon, part of the evidence that Shakespeare's play seems to resonate anew for each generation. "Of all the plays, I've never known one that is always as appropriate for its time. When Olivier did it, he cut 1,500 lines and did it as a morale booster, and the film version was released in 1944 that coincided with the Normandy landings. Peter Hall did it at the height of the anti-Vietnam War demonstrations. When Adrian Noble did it with Kenneth Branagh in 1984, and then Branagh did the film, it was in the wake of the Falklands War. When Nick Hytner did it [at the National], it was after the invasion of Iraq. In the first scene, the Archbishop of Canterbury is supplying a dossier to Henry V to justify him invading France.
"So the play is sometimes done as a patriotic rallying cry or as a critique of war. In fact, it is both and neither of those things. And doing it now at a time when we're not at war, what is interesting is seeing the spectrum the play works on. In Westminster Abbey, Robert Hardy – who turned 90 the same day – did the speech before Agincourt, and what you see is Henry getting into an argument about the justification for war. You see the heroism, but it is also being undermined. The play has long been a barometer of the public mood about war."
History provides us with a mirror to understand where we are today, and so do plays: "There's a difference – Shakespeare wasn't writing documentaries, he was writing plays for his period. But those metaphors he created get reapplied by every generation."
And now Shakespeare's own place in history is about to be celebrated, with next year's 400th anniversary of his death. "Those big dates don't come around very often, so it's a very important year. We wanted to celebrate the 400th anniversary, but rather than just put on a big jamboree, we wanted to work out for ourselves what our target and strategy was. Why were we celebrating Shakespeare? How were we going to mark it? How would we assess whether we were successful?"
And the answer? "What we decided was that bringing new audiences to Shakespeare would be our target, and each strategy is in some way related to that." One of the centrepieces is a production of A Midsummer Night's Dream that is being subtitled 'A Play for the Nation', and is being co-produced by the RSC with 14 amateur companies from around the UK. "It is engaging with both the amateur world and the education world, and with two parts of our work that don't get their heads above the parapet very often, education and learning. We are putting it all together with a production of perhaps Shakespeare's most accessible play, and it feels like a really good way of engaging new audiences with Shakespeare."
The production, directed by deputy artistic director Erica Whyman, will feature 84 amateur performers and 580 schoolchildren, alongside 18 professional actors, touring, after Stratford, to partner theatres around the country. The amateur actors will play the mechanicals, while Titania's fairy train will be played by local schoolchildren. The involvement of amateur actors is, of course, highly appropriate, notes Doran: "The play is surely a love letter to amateur theatre – you know that he knows who Quince is, if it is not himself, and we all know Bottoms – people who want to play every role."
The BBC will be following the production's progress, with a series of documen-taries to be shown on local news channels in each city it plays, and one that brings them all together for a network viewing. "It's been a total joy – you remember what it was like doing this when you weren't doing it for a living," he remarks.
Doran, who trained and worked as an actor before becoming a director, has never appeared in A Midsummer Night's Dream, but tells me it was, in fact, the first professional show he ever directed: "I directed it for a community college in upstate New York. I don't remember much about that production, except one guy coming up to me with a US copy of the play and asking me if Shakespeare's first name was William. I said it was – and he said, 'but it says on the cover it is by Pelican Shakespeare'."
Doran seems to have been born to direct Shakespeare, and came to love his work at a young age. He speaks with awe and reverence of seeing Eileen Atkins as Rosalind in As You Like It at Stratford in 1973 (it also featured Maureen Lipman as Celia, David Suchet as Orlando, and Richard Pasco as Jaques). Doran was just 15 at the time.
When he went to Bristol University to study English and drama, he set up his own theatre company to present Shakespeare. He tells me: "We managed to get a huge amount of money from an international computer company – £20,000, which in 1979 was extra-ordinary, to tour." He also learned an important lesson: "I realised that all university students thought that drama students were technique-bound, and all drama students thought that university students had no technique and were too cerebral. So I knew I had to find out what this technique was, and did a postgrad at Bristol Old Vic Theatre School."
He was still planning to become a director, rather than an actor. "I went up to Nottingham Playhouse to be on their trainee director scheme and they told me they had a job three months hence, 'but why don't you act and do small parts in the meantime?' "
So he did, graduating to assistant director. "Juggling both balls as actor and director seemed a really difficult thing to do – if they thought you were a director, [they assumed] you weren't committed to acting, and vice versa. I realised that there were a lot of younger actors I'd cast before I cast me. Directing felt like a craft that was more suited to my skill set, and there were less people doing it, I thought, at the level of craftsmanship that Shakespeare required. I read a piece by Flaubert, where he said that most people end up in life doing what they do second best. The trick is to know what you do best and then to do it."

So that's what he was determined to do. "But then the RSC invited me to come to Stratford to act in 1987." It would prove to be a life-changing moment – not only did he meet Antony Sher, who would become his husband, but after a season as an actor, he became an assistant director with the company. "As a director, you very rarely get the opportunity to see other directors directing. You see the results of it, but you don't see how they do it. But at Stratford, I was able to work as assistant director to John Caird, Terry Hands, Bill Alexander and John Barton, and see how they did it."
He learned a lot from them – John Barton, for instance, told him, "Don't worry about Macbeth and Lady Macbeth – they'll sort themselves out. What you need to do is work out the small roles and how to engage them," he remembers.
And then, after Adrian Noble took over as artistic director, Doran pitched a production of his own to direct Homer's Odyssey, and did so in 1992. He also started directing outside the company, including a production of Titus Andronicus with Sher in the title role, in Sher's native Johannesburg in 1995, which was subsequently seen at London's National Theatre. Doran returned to the RSC in 1996 to direct Henry VIII, with a cast that included Paul Jesson, Jane Lapotaire and Ian Hogg. This landed him an associate directorship at the company.
The RSC has been his principal theatrical home ever since, and across nearly 20 years he's weathered quite a few of its storms. He recalls the debacle of the musical Carrie that went to Broadway in 1988, where it closed after just five performances: "When Terry [Hands] came back from Broadway licking his wounds, he said to me, 'I thought Carrie was a Greek tragedy, but it wasn't – it's a Jacobean tragedy'."
Terry Hands was succeeded by Adrian Noble as artistic director, who pursued his own mega-musical (as Trevor Nunn and John Caird had achieved with Les Miserables, and become very wealthy men), by going outside the company to direct Chitty Chitty Bang Bang in the West End. Noble resigned from the RSC three days after it opened. Doran remarks: "It's hard not to see that as a cynical move, and no one was expecting him to resign when he did. He was vilified, but what he was trying to do was to respond to the ecology of that particular time."
That included some potentially disast-rous decisions, including taking the RSC out of the Barbican and rendering it homeless in London, depending on the kindness (and availability) of West End houses instead to showcase their work.
"I remember the moment when Adrian resigned. I had just opened Much Ado About Nothing at the Haymarket with Harriet Walter and Nicholas Le Prevost, and I'd already gotten to know the mice in all the theatres up and down Shaftesbury Avenue as we played various venues there. I was about to go into rehearsal for The Island Princess, and Michael Boyd had just opened The Tempest at the Roundhouse. The other associate directors, Steven Pimlott and Michael Attenborough, had just left [to go to Chichester and the Almeida respectively], and the then-chairman Bob Alexander phoned Mike and I up and told us, 'we need you to throw your hats into the ring' to take over."
Doran and Boyd found themselves rivals for the job. "I remember sitting in an office in Stratford with him, and asking him how he felt, and he said, 'I feel like one of the 10 green bottles left hanging on the wall.' Later, I was looking for first night presents in a junk shop in Stratford, and I found two green bottles – made in Stratford in the 19th century, and I bought them and gave one to Michael and kept the other one. I said to him, 'let's see who accidentally falls!'."
When Boyd won the job over Doran, he made a smart and generous move: "The first thing he did, to his credit and to my delight, was phone me and say he would accept the job if I did it with him and became chief associate director. And he was absolutely the best man for the job. We were chalk and cheese and did completely different things."
Doran was the classicist who liked working with star actors. "I brought Judi Dench and Patrick Stewart and Harriet Walter back to the company." Boyd was keener on establishing long-standing ensembles. "I disagree with Michael about what an ensemble is. When Peter Hall set up a group of actors who would commit to the company for three years, it was led by Peggy Ashcroft and Paul Scofield – any ensemble needs to be led."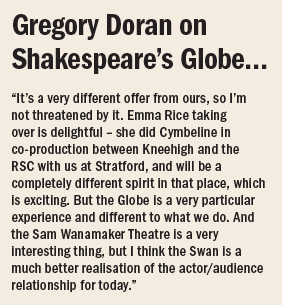 And Doran duly brought many former RSC stars back to lead the company. Many of them, of course, had begun their careers with the company and were returning alumni. "Terry Hands once said that the RSC doesn't need stars – it makes them. I'm preparing a Shakespeare gala for next April that will be broadcast by the BBC, and it's true – almost anyone who is a major actor in this country – Mark Rylance, Roger Allam, Fiona Shaw, Alex Jennings, Simon Russell Beale – all refer back to Stratford as family." (He could have also named Kenneth Branagh, Ralph Fiennes and countless others).
That process of making stars continues today: look at Alex Hassell, the current Henry V, or Jonathan Slinger. And Doran himself is an example of a talent nurtured from within the company who has gone right to the top of it. After Boyd announced his resignation from the company three years ago, it was finally Doran's turn: "I realised I had to be serious about it, and if I didn't get it this time, it would be the end of my career at the RSC. Having seen Terry, Adrian and Mike do it, all with their different emphases, I had a clearer idea of what I thought the priorities for the company should be. I knew that the Other Place in Stratford had to be reopened, we had to sort out London, and get the company back to focusing on the spoken word and the excellence of the delivery of what we do. That had to be an absolute priority."
The Other Place is now reopened, and part of a plan that enables actors coming to Stratford "to cross houses and do a variety of genres. It is a very different experience playing different scales of houses, and to be able to play a modern play alongside a Shakespeare play."
As for sorting out London, the solution was a real surprise, but it has worked surprisingly well: their main London home is once again the Barbican. "I felt we had maybe burned our bridges with them, but when we were preparing Richard II and discussing where we could take it after using the full panoply of opportunities available in our main house at Stratford, Jeremy Adams, one of our producers, said, 'what about the Barbican?'"
He admits that some of the problems that took the company away from the Barbican in the first place are still there: "The backstage leaves a lot to be desired, especially when you come from Stratford, where all the dressing rooms face the Avon, to go to the Barbican, where even the number one dressing room faces the ramp to the underground car park. But I feel we have a very good relationship there now. I don't think the RSC should have a 52-week presence in London, and in terms of repertoire, the ideal timing is to play the long summer season in Stratford, then come to the Barbican. But what I'm also hoping to do is build the density of what we do in London, and not just the Shakespeares."
Doran's production of Death of a Salesman (with Sher, Harriet Walter and Alex Hassell), Angus Jackson's of the new play Oppenheimer, and Jeremy Herrin's Wolf Hall double bill all transferred to West End theatres (with the latter playing another former RSC London home, the Aldwych, and then going to Broadway). Following the current transfer of Henry V to the Barbican, it will be joined there by the return of Richard II (with David Tennant) and Henry IV Parts I and II (with Jasper Britton in the title role and Sher as Falstaff) to the theatre where they've previously been seen.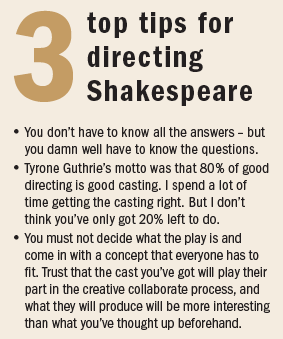 The making of this history cycle has been different from the RSC's last one from Michael Boyd, though Doran generously recognises that Boyd's cycle "was his crowning glorious moment". But Doran adds, "I wanted to do something slightly different. I started with Richard II as a great lyric verse tragedy in its own right, not as a prequel to Henry IV or Henry V. But I have no idea how you do Henry V unless you've also done Henry IV. How do you do the death of Falstaff if you've not been through that journey?"
He speaks keenly of the RSC history with this tetralogy of plays. "We often do them at significant moments. The 1932 Elizabeth Scott Theatre in Stratford opened with them. They were done for the Festival of Britain in 1951, with Richard Burton; and in 1964 for the tercentenary of Shakespeare's birth. At this point, when we are debating national identity a lot, the plays seemed good for us to do in terms of trying to forge that debate."
There's still a debate, of course, on what the RSC is for and how far it should reach. "We have a Stratford home; we need a London base, and an international presence," Doran asserts. To the latter end, his history cycle is also going to New York's Brooklyn Academy of Music, and will also play in China, where it will not only be presented with its RSC cast but subsequently also recreated in Shanghai with Chinese actors.
The company is also working through the entire Shakespearean canon again. "We will be doing a Live from Stratford broadcast for every single one, so people across the country and the world can see them, too," he says.
Even as the company has been preparing for potential cuts of between 25% and 40% to its state funding in the imminent government settlement, it is reaching more people than ever. Doran wears the responsibility lightly, though: "I have a fantastic team around me – Erica Whyman and [executive director] Catherine Mallyon make it a very happy ship."