"I think about oxbow lakes a lot." My conversation with Barney Norris, though contained in time and space, sat on a sagging sofa in the cacophonous bar of east London's Arcola Theatre, roams all over the UK. Before we even sit down he's pointing out the archive posters of old Gay Sweatshop plays which hang on the walls behind us and he speaks about these, and everything, with energy and delight.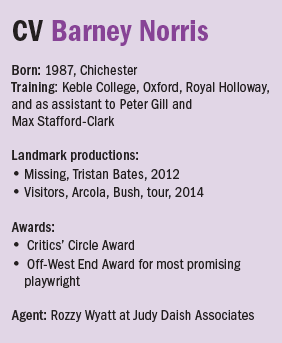 Norris is in the second week of rehearsals for his new play Eventide, the follow-up to his first full-length play Visitors, which won him the Critics' Circle Award and the Off-West End Award for most promising playwright. Set in Salisbury Plain, it was a gentle but often piercingly moving piece of writing exploring the relationship between a long-married couple as their health begins to fade.
Eventide is less about the past and memory than Visitors, he says, but in many ways it is part of a creative continuum. Norris is passionate about reflecting certain lives and experiences on stage that he feels are under-represented elsewhere. Geography plays a part in this. Both Eventide and Visitors are set in the same part of the UK.
"Personally, I feel quite unlocked by wandering around the Hampshire/Wiltshire borders and trying to articulate what lives are like there – that's very much what I'm trying to do."
Eventide is set in a pub, not unlike the one in which Norris used to work. "I was struck by the priorities people had; I wanted to stage that quite distinct culture."
His father was a church organist and so he spent a lot of his childhood around churches. "It's a fascinating world and until ever so recently it was so central to our culture – for my parents and grandparents' generations the church created a central set of rituals that was part of who they were."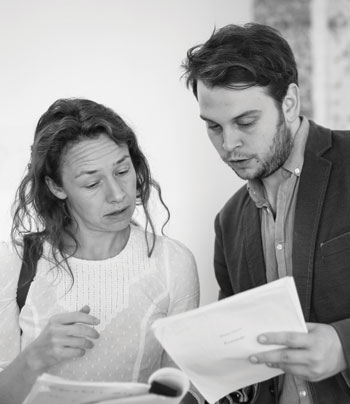 But he also wanted to write a play that is a reflection of rural life now. "You select a community and you drink them up and you attempt to represent them on stage. So their concerns become your concerns and the play's concerns. When the dairy farming strikes took place, I thought, 'This is a world people need to be talking about now because there is a minimal level of agricultural self-sufficiency that must be sustained, or we starve'."
Norris is also the co-director of touring company Up in Arms, which he founded with school friend and director Alice Hamilton because they felt "there weren't that many outlets for this way of life to be reflected in the popular discourse". They wanted to address that absence.
There's also a political element. "One way of engaging with and challenging the growing cultural dominance of certain right-of-centre political parties and their xenophobic articulations of Englishness is by staging the cultures that they fail to represent and saying: 'You don't speak for me.' Just because I grew up in a village doesn't mean I want us to close our borders or a return to some mythical 1950s social structure. This play, I hope, is a way of extending a conversation into the heartland of the enemy."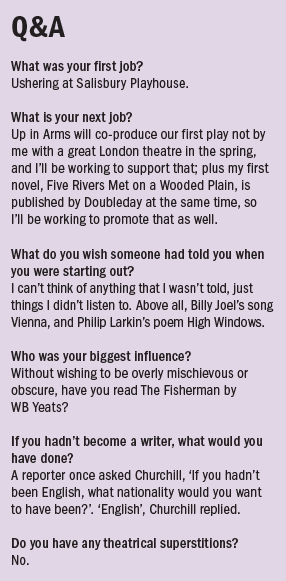 Norris was interested in writing from a young age – "in year nine, I wrote a story called The Nihilistic Pigeon", he jokes – but it was Simon Callow's book Being an Actor, and particularly its exploration of work by companies such as the socialist Joint Stock, which opened him up to the political possibilities of theatre.
"There are people in Salisbury, where I grew up, who vote Labour but I think I've met them all. Politics doesn't really exist there."
He and Hamilton went to the same youth theatre and continued to make plays together at Keble College, Oxford. "We wanted to get out on the road and stage conversations, to emphasise the validity of people's lives."
The success of Visitors means they can raise more money and tour more. "It's a huge step for us. We can reach more people more easily now." Their next play as a company won't be written by Norris. He sees Up in Arms becoming a set of social and cultural values rather than just a platform for his writing. "That's a really exciting next step for us."
He speaks with awe and fascination about working with Robin Soans and Linda Bassett, and the "diligence and focus" of the whole cast of Visitors. Bassett commented once, he says, on how strange it was coming off stage, because she expected to walk into the kitchen and instead walked into the dressing room. "She is capable of these huge imaginative feats – it's like she's living it."
"The action of a play should be emotional at its core," says Norris. "I want to be moved when I go to the theatre – I want to make work that makes people want to call someone, for the audience to spends a couple of hours with your brain, and at the end of it for their lives to change a little bit, because they call their mum or remember to tell their partner: 'I love you' – I think that's an amazing thing."
Eventide is at the Arcola Theatre, London, from September 23-October 17