Andy Nyman is, by his own reckoning, first and foremost an actor; but he's also well-known for his offstage support – as co-writer and collaborator – of many of Derren Brown's stage and TV shows. His work with Brown includes Miracle, which has just ended a sell-out run at the West End's Palace Theatre and now resumes a UK tour.
So for a few weeks over Christmas, Nyman was present in the West End twice over: in spirit at the Palace Theatre, helping Brown to conjure his unique brand of theatrical magic, and in person at the Wyndham's Theatre, casting an even darker comic spell as an assistant executioner in Hangmen, Martin McDonagh's latest theatrical dramatic trick, which has transferred from the Royal Court Theatre, London. He has taken over his role from Reece Shearsmith – another multifaceted comic actor and writer who once took over from him in the West End production of Nyman's own co-written play Ghost Stories, so they're used to following in each other's footsteps.
A year ago, he was also responsible for another Christmas double theatrical header – he was simultaneously appearing in the Menier Chocolate Factory's production of Assassins, while at the same time Ghost Stories was running in London for a second extended season at the Arts Theatre, which ended last March. So he's a man whose career regularly stretches in several directions at once.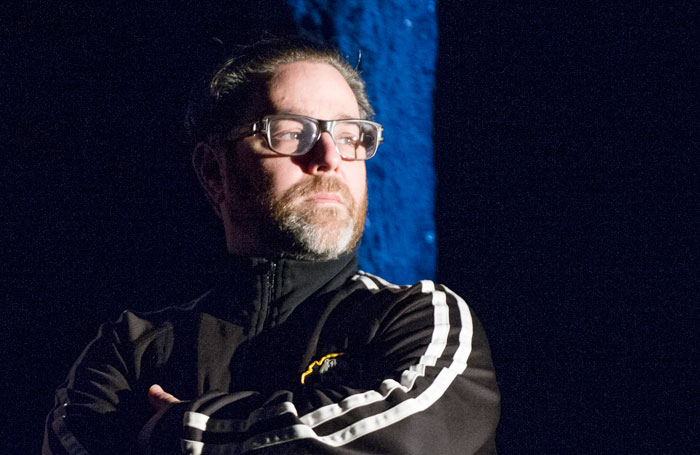 For some 16 years, he has worked alongside Brown to help him hide some of the tricks of his trade – and the first conjuring trick that Nyman executed was to make himself disappear.
As he tells it: "It's just an amazing happenstance how it all fell together. They'd asked me to be Derren – when they were putting together the Channel 4 show, Andrew O'Connor offered the show to me, but I said I was an actor, not a magician or conjurer. He and Michael Vine took me out to dinner, and I said I would write and direct for whoever they found. Then, thanks to Jerry Sadowitz, they found Derren, whom I'd actually seen at a magic convention – and like everyone else in the room, I thought he must be using stooges. But he wasn't, and doesn't – it was all about his amazing sideways thinking. And that's what has made our relationship so fruitful. In some respects, we are very, very similar, but in others we have hugely different tastes. So it's a brilliant marriage of Derren's sideways approach and my love of very old-fashioned material that is out of favour – I'll look at this stupid toy and think, isn't it amazing; and then him thinking it could be something else, so it becomes a new thing."
Their last TV series together was The Events in 2009, a series of specials that included one in which Brown correctly predicted the Lottery draw; by then they had long hit the jackpot for creating television astonishment. The same year saw them collaborate on their third live show, Enigma, which received an Olivier nomination, while the one before it – Something Wicked This Way Comes – won the Olivier award for best entertainment in 2006.
They then took a break, with Brown's next show, Svengali, created without Nyman.
"I needed time away to give us both a breather," Nyman confesses. "After 10 years together, we couldn't see the wood for the trees. But we came back together for Infamous [in 2013]. I felt very strongly that we had to not use the same template. Enigma used the formula we'd found over all those years, and in a non-arrogant way it felt like that was the best version of that formula in completion. So when I came back to do Infamous, it felt like it was important that it didn't feel exactly the same, but should feel more grown-up and personal, and that – within the showbusiness of it – there should be an honesty, too. So Derren spoke about being gay and his dad's illness. Derren, of course, has grown and changed immeasurably over the years as a performer, and so it was an exciting opportunity to do that. We've carried that on into Miracle, which is very much agenda-driven."
Brown's shows always create a journalistic challenge, given that critics are urged not to reveal anything about their content for fear of spoiling the surprises for future audiences. But for Nyman, there's an even bigger challenge to creating the shows: "The challenge is always to be completely different but exactly the same," he says, referring to the fact that audiences come with particular expectations – which need to be accommodated but also played with. "He's not like other magicians out there who can go to the magic catalogues, and say they'll have one of those, float there, produce a card there, and push a woman through here. With Derren, it's a blank page every time – which is both a gift and a nightmare."
The shows are unquestionably a profitable side-line for Nyman, and he admits: "It has totally liberated and changed our family's lives – not just financially, but also the mental well-being of having the freedom, which is a rare gift for an actor, to do only the work I choose to do. Looking at my CV, I'm so lucky – all I ever seem to do is good work. That isn't all I get offered to audition for, but because of my work with Derren I can say I'm not auditioning for everything."
Not that this has changed just because of having more personal wealth: "I was exactly the same when I had my first job demonstrating magic at Hamleys toy shop," he says. He did that job rather than work for nothing on the fringe or in underpaid regional theatre, because it gave him choices and freedom. And it also allowed him time to practise an offstage passion for magic, which his oldest friend Jeremy Dyson (a long-time writing member of The League of Gentlemen) first introduced him to as a teenager.
Continues…
---
Q&A: Andy Nyman
What was your first non-theatre job? Demonstrating magic at Marvin's Magic in Hamleys.
What was your first professional theatre job? In The Gingerbread Lady at Watford Palace with Sheila Steafel, directed by Lou Stein.
What's your best advice for auditions? Enjoy them – it's not an exam, and we love acting, that's why we're actors, so treat it as a performance for a small audience. They want to give you the job, they want you to walk in the door and solve their problem. I've been on both sides of that door. Work hard at auditions, but also know you could work hard and be perfect and brilliant but still not get it. That's just what the job is – your job isn't a professional actor, your job is a professional auditioner. The acting is the thing you love; that's the easy part, but the audition is the job.
If you hadn't been an actor, what would you have been? I wanted to be a singing impressionist. I love variety. I always adored Mike Yarwood as a kid and Joe Longthorne's act.
Do you have any theatrical superstitions? Nope. There's enough real-world pitfalls without inventing new ones to worry about.
---
Is it a competing passion with acting?
"No, it has never been one in my head – acting is my career, my number one love. With all the love in the world I have for magic, if I couldn't do it anymore, that would be a shame, but not the end of the world. That's not what I feel about acting. Magic has always been secondary to the joy of getting a phone call to say: 'Do you want to meet Matthew Dunster and Martin McDonagh?'"
He's referring to the director and playwright, respectively, of Hangmen, which he is now appearing in.
"When Reece knew he couldn't do the West End because he had filming commitments, he very kindly told the Royal Court that they should see me for it. I'd done a reading of a new play for them, so I was known to them – it had only taken me 30 years to get on to their radar, but it's a big radar, so I auditioned."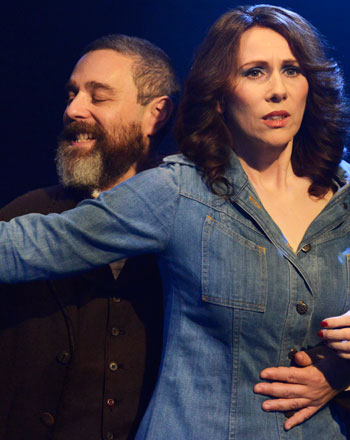 He admits to serious nerves approaching it. "I don't get nervous normally, but I've never been so nervous as I was going for that audition. I'd seen the play at the Court, and the last time I'd felt that was seeing Mojo there – fuck me, it was something amazing, I thought. What a brilliant, extraordinary play; not only was the play sensational, but it had the perfect writer with the right grit and steel in him, the perfect design and a cast that totally connected."
His own challenge was to bring himself to the role. "Reece was brilliant, but it was very important to me not to just go in and do what he did. Somewhere in the DNA of the role was the ghost of Reece – and they'd seen it eight hours before with him and seen it land. Now I was going to fuck it up for them or make them go back to basics with someone who had to discover it."
In fact, he has triumphed. And he says now: "It's an absolute joy every night. What a comedy, what a thriller, what a farce, what a historical commentary the play is."
Nyman is clearly a content man: "I'm very blessed," he says, and talks proudly of his daughter Macy who has just graduated from LAMDA and had her first job at Bolton's Octagon Theatre, also over Christmas, in The BFG. "It was an amazing moment in a string of endless proud moments to see her in it. The business has changed so much since I left drama school, but she's done what we did and left drama school and went to the regions. There's something so joyous that she's gone off and done that, because you learn so much that way."
But he isn't blinded by the pure romance of the stage, and we conclude by touching on the ongoing debate over actors' salaries, and the low wages they are often offered, particularly on the fringe.
"When I did Assassins at the Menier Chocolate Factory, I had to put my money where my mouth was to do it. I was offered a TV series at the time which I turned down to go to the Menier, where I had to subsidise the art myself. I feel very strongly about how badly actors are paid, and there's no excuse for it. I was offered something at Southwark Playhouse for £100 a week, which is a disgrace. They couldn't get to pay the people who are building the set that little, and they're not buying the paint at that price. I don't know what you do to change it. Equity are brilliant, but they're only as strong as their members, and so many things are non-Equity. I'm sure that if we were to sit in this room with the producers of those shows, they wouldn't be saying: 'Let's make millions off these pricks' – it's not malicious. They'd tell us that they can't afford it and that they don't make any money, either. But the first place they can save money is by not paying the actors, and that's not right."
---
CV: Andy Nyman
Born: 1966, Leicester
Training: Guildhall School of Music and Drama
Landmark productions: Ghost Stories, co-wrote, co-directed and starred in original production (2010), Abigail's Party, Menier Chocolate Factory and Wyndham's Theatre (2012), Assassins, Menier Chocolate Factory (2014-15), Hangmen, Wyndham's Theatre (2015-16)
Awards: Best actor for Shut Up and Shoot Me at Cherbourg-Octeville Festival of Irish and British Film (2006), Olivier award for best entertainment for Something Wicked This Way Comes, with Derren Brown (2006)
Agent: Lou Coulson Associates
---
Hangmen runs at the Wyndham's Theatre, London, until March 5