Monday morning at the Riding House Cafe is business breakfast meeting o'clock. As cafes go, it's very London 2015: Shoreditch chic cleaned up for the mainstream. The sofas are retro orange leather. Taxidermied squirrels clamber over the wall-fitted lights. To our left, discussing departmental budgets, are two businessmen in blue suits and white shirts worn without ties. Alex Poots is dressed identically – but with a lightweight suit cut for summer.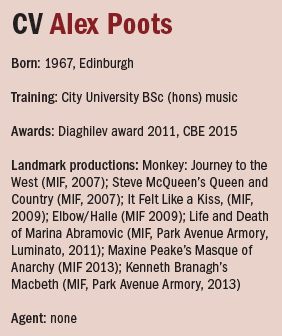 Despite his salt'n'pepper hair – significantly saltier now than when he started – there is still something boyish about the artistic director of Manchester International Festival. He's had a George sborne close crop along the way, replacing the Bob Monkhouse flop he had when he founded the festival and, at 47, he seems much younger for it. The freshness, though, is in his face: a chorister's smile at odds with heavy, hooded eyes. As we're talking, I remember one profile likened his looks to Gordon Brown. The eyes have it.
If Poots fits in, it's because he's both commanding and pragmatic – not the usual breed of aesthete or dreamer we arts journalists are accustomed to. He has had a marked impact on the world. Since 2007, Manchester International Festival has more than doubled in size, up from £5 million to a turnover of £12 million, and it has radically changed the city's cultural life for the better. Along the way, he's invited artists such as Damon Albarn, Marina Abramovic, Rufus Wainwright and Tino Sehgal to the city. This year's festival, with Albarn's musical Wonder.land, Wayne McGregor's new ballet Tree of Codes and a celebration of Manchester's club culture, will be his last. He's off to run New York's new Culture Shed next and he hopes to bow out on a high. "It's quite an ambitious festival."
Arguably, music has dominated the decade and MIF's most remarkable evenings have been tuneful: Bjork, Elbow working with the Halle Orchestra, Albarn (again) and his operas Monkey: Journey to the West and Doctor Dee. Poots' background is in music, first as a performer, but soon managing acts for Factory Records, the Queens Hall in Edinburgh and festivals such as Meltdown and his own, Flux.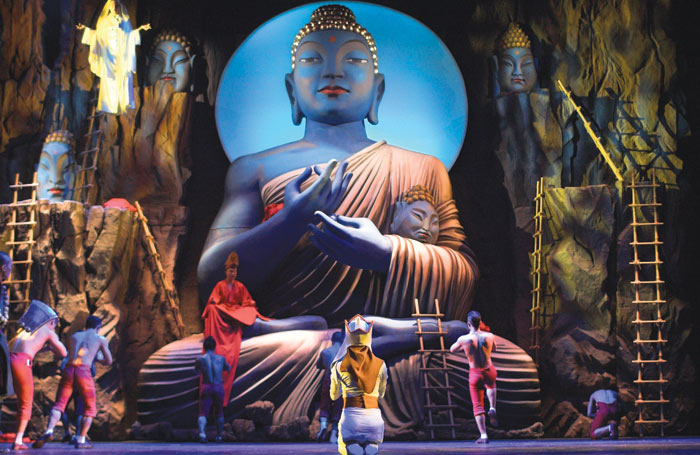 Theatre is not his strongest suit, but I'm not expecting him to start with a caveat – namely that it took four festivals to deliver a play, Kenneth Branagh's Macbeth. "It didn't occur to me until we were actually in Manchester, in the disused church for the first preview. I realised that I'd not been through that process before."
The defence takes me aback: I had Johnny Vegas's Interiors (2007), Punchdrunk's work with Adam Curtis (2009), Victoria Woods' musical-ish That Day We Sang and The Life and Times of Marina Abramovic (2011) down as theatre. Alright, he says, Macbeth was "the first kind of straight play. We've always done theatre, but it depends how you define theatre".
Even so, it's not his artform of choice. He sees it as "a rarefied thing" and, though he's appreciated and loved plenty of plays, Poots "couldn't see a way in as a presenter. If you don't feel a certain facility for something, it's probably best to wait".
What changed? "I went to see Ruth Wilson in Anna Christie at the Donmar and I just loved it." He would later put Rob Ashford, its director, together with Branagh for Macbeth. The pairing worked so well they're reuniting for Branagh's forthcoming West End season.
Poots has a knack for matchmaking: Punchdrunk and Adam Curtis, Elbow and the Halle Orchestra, Norris and Albarn – the list goes on. He's always sought to think beyond strict classifications and conventional categories.
At 37 Poots was sounded out about creating a new festival in Manchester. Having grown up in Edinburgh – festival central – and started his career under Frank Dunlop and Brian McMaster, that side appealed. Manchester, less so. "I always thought that if I stayed in Britain, I'd stay in London. It's the number one city in Europe for culture and I couldn't really see a move outside it."
Perhaps that emboldened him to issue demands. "I said: 'Could that investment be doubled? Would you have no control over the money? Would you make it very artistically high risk and hand over complete control to the artistic director? And would you delay it by a year?' They said yes." He thinks big and talks with a say-what-you-see simplicity – a useful combo.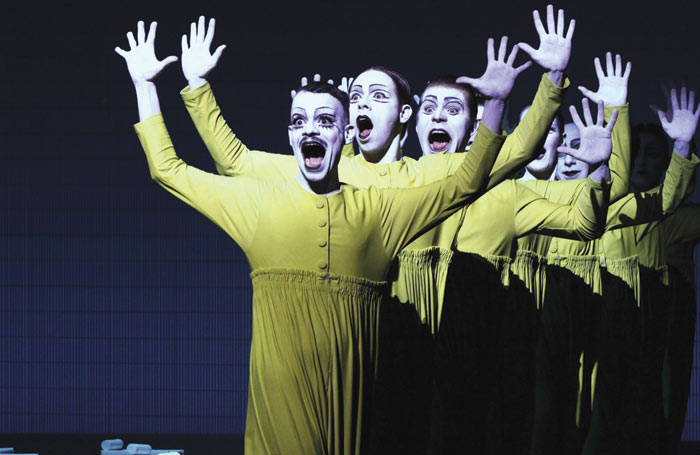 His big call, thereafter, was that the festival would consist entirely of new work – virtually unprecedented for a biennial event of its scale. As a producer, Poots has always looked to the new, first in music, then in dance and visual arts, but he was all too aware that audiences didn't always share his enthusiasm. "Only aficionados go to old films in the cinema. The masses go and see new films and yet they wouldn't go to a new composition or a new play."
That's changed – particularly in theatre and particularly in Manchester. MIF has played its part in that. Poots demurs. "The Tate Modern has played a much bigger part."
However, Poots hasn't just delivered new work. He's delivered innovative new work – hence all those collaborations.
"It's two things," he explains. "One, you sit down with an artist and say, 'Look we're not in a venue, what would you like to do? We have a city. We can do something in a theatre or a cupboard – whatever's right for the work you want to make.' The other thing is my real interest in supporting artists to evolve their art form." He's fond of the word impresario – an old-fashioned term for such a moderniser.
Sarah Frankcom, artistic director of the Royal Exchange, talks of "the festival effect". At the Exchange, new work now outsells revivals. "It's created a hunger for new work and new ideas," she enthuses down the phone. "Audiences are more interested in being surprised." Over at Home, Manchester's new cultural arrival, the artistic director for theatre Walter Meierjohann reckons MIF laid the foundations for the entire arts centre and its experimental theatre programme in particular.

Manchester – George Osborne's so-called 'northern powerhouse' – is riding high. How much, I ask, has the festival had to do with that? Poots shoots back straight away: "To be clear, MIF is not a regeneration project in my eyes." He pauses. "It might be in the city's, but I'm not in this for the economic impact." Nonetheless Poots is very much aware of its importance – even if only secondarily. In 10 years, despite the recession, Manchester City Council hasn't cut the festival by a penny. They've part-funded Home and renovated the Whitworth art gallery.
Now, MIF is to get its own £78 million venue, the Factory. Replacing the old Granada Studios, it will be a flexible 4,500 capacity (or 2,000-seat) space in the mould of the Park Avenue Armory – Poots' other artistic directorship, spawning several co-productions – or the Turbine Hall. "It's the last bit of the jigsaw. No one can say that Manchester isn't a three-dimensional city."
Some have complained that £78 million could go a long way when spread around the country and distributed at grass-roots level. Poots swerves all-out into politics. "It's the wrong thing to pick that argument with," he says, citing the disparity between London and the rest of the country. "It's just so disproportionate."
The point is that Manchester merits its leg-up. "We have the biggest student population in Britain and it leaves. Businesses need to choose Manchester and they will do so if it's got a great work ethic, great infrastructure and if CEOs want to live there." Seven million people live within an hour's drive, he stresses. "I don't see why Manchester doesn't deserve it. As long as you've got the money to make an investment, you can do virtually anything in that city.
"Other cities can have the same, but they need to make their arguments and they need to get their leaderships in gear, because only then will the economy grow."
Manchester International Festival runs at various venues until July 19