Burke and Hare
"Frenetic and darkly comic"
Reviews
Dec 3, 2018
Jermyn Street Theatre, London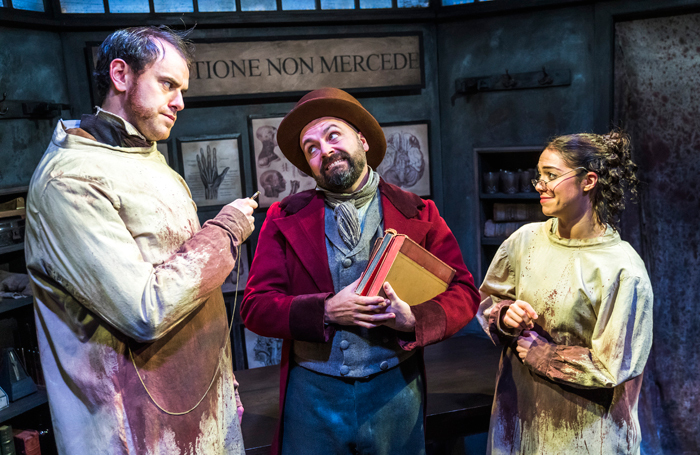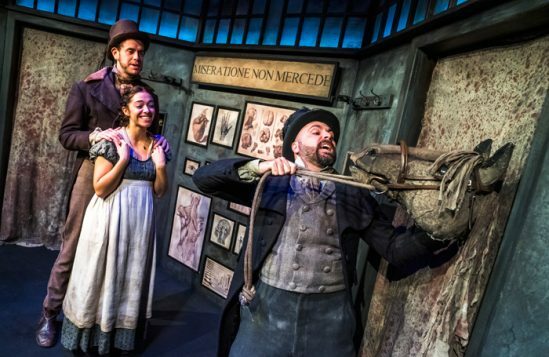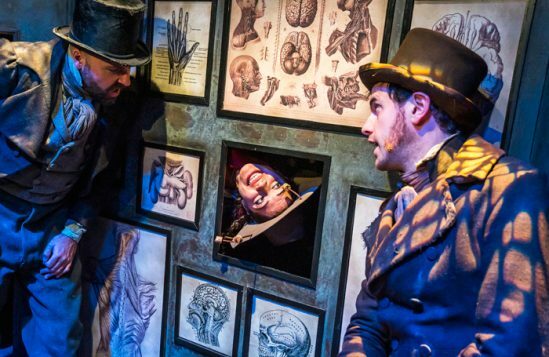 Pitch-black and wickedly funny, Jermyn Street Theatre's seasonal offering Burke and Hare (first performed at the Watermill earlier this year) is a madcap three-hander about the notorious real-life murderers who sold the bodies of their victims to surgeons for dissection in 19th-century Edinburgh.
The hard-working cast members flit rapidly between costumes and outrageous accents, playing the villainous Irishmen of the title, rival physicians, the doomed residents of Hare's lodging house and a host of other characters. Hayden Wood's slightly daffy Burke contrasts with his portrayal of the coolly calculating Dr Knox, and Katy Daghorn transforms effortlessly from Dr Monro to the scheming Mrs Hare. While everyone gets to play besotted anatomy student Frederick, who can't pronounce his Rs, Alex Parry delivers a tour de force as every member of the extended family of Burke's fiancee.
Tom Wentworth's writing pitches the title characters' nefarious deeds as a thrilling yarn rather than a cautionary tale. Quickfire changes, asides to the audience and rousing musical interludes lend the show a vaudevillian flavour and Abigail Pickard Price's precise direction has clearly paid off: slick slapstick timing ensures the pace continues at a lick.
The colourful antics play out with Toots Butcher's deceptively austere wood-panelled operating theatre set with its ironic Latin motto "Miseratione non mercede" ("From compassion, not for gain") prominently displayed.
Though justice catches up with (one of) the protagonists in the end, the circumstances by which Hare and his wife escaped the hangman's noose are never really explained. But that does little to detract from the knockabout glee of this bloodthirsty antidote to pantomime.
---
---
Production name
Burke and Hare
Venue
Jermyn Street Theatre
Director
Abigail Pickard Price
Set designer
Toots Butcher
Costume designer
Toots Butcher
Lighting designer
Harry Armytage
Cast
Alex Parry, Hayden Wood, Katy Daghorn
Production manager
Lawrence T Doyle
Company stage manager
Kerrie Driscoll
Stage manager
Anastasia Booth, Lizzy Gethings
Producer
Jenny Wren Productions, Jermyn Street Theatre, Watermill Theatre
Verdict
Frenetic and darkly comic vaudevillian account of the notorious Edinburgh murderers