When Deborah Bestwick took over as artistic director of the radical south London theatre and youth arts organisation Ovalhouse, her plan was to stay for a few years, gain some experience of running a building, then return to directing. It didn't quite work out that way – more than two decades later and she's still there.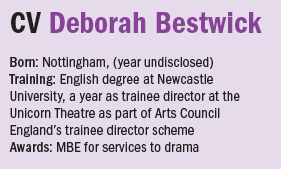 "There was always something new and the next thing happening here, and the next challenge to make Ovalhouse work. And if I'd have got bored or felt the need, then I would have moved on. But I suppose you get trapped into your mission, and a long time ago actually I recognised – along with the board – that for Ovalhouse to fulfil its potential it needs more space and we need to be in the heart of a thriving town centre."
That dream may soon be realised as part of a regeneration plan for Brixton town centre that also includes 300 new homes, a culinary school and a street gym.
"It's absolutely tremendous. Not only are they giving us a site to build the theatre on but they're also giving us the site next door to manage this crazy workspace," Bestwick says. "They're really building a multi-integrated hub and providing a workspace and office space for other arts council-funded companies and companies who are not arts council-funded but are making a tremendous contribution to work in schools and work in the community."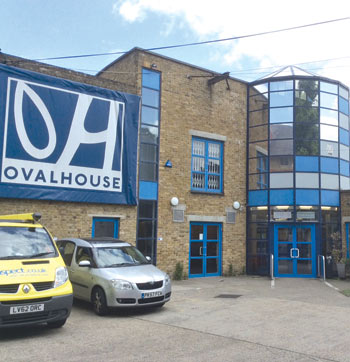 Participation has been a key focus of Bestwick's since early in her career. Having read English at Newcastle University – where writer-in-residence Edward Bond was a major influence – she went straight into theatre, going from front of house to wardrobe to stage management, until finally trying her hand at directing under the tutelage of artistic director Nicholas Barter at the Unicorn Theatre.
"I was dreadful then. I did some awful things, a couple of awful productions that he must have winced at."
Maybe so, but Bestwick clearly didn't take too long to get the hang of it, because she was soon made associate director at the Tricycle Theatre, where Nicolas Kent threw down a challenge.
"On my first day he said, 'I've got to do children's theatre and a young people's programme. I don't know anything about it, I don't think I like it, so I need somebody who's going to fight me for the space to make it happen, because if it doesn't happen I won't have a successful theatre.'"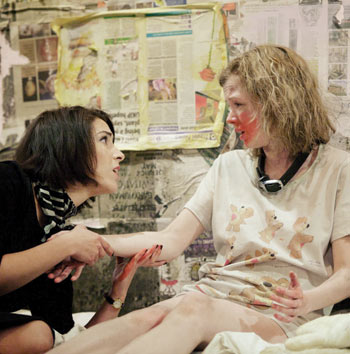 From there, Bestwick went to London Bubble, where the focus was grassroots community engagement, followed by the Half Moon Young People's Theatre, where she pioneered bilingual theatre in schools.
"I realised that it was in young people's theatre that a lot of the big developments in theatre methodology and practice were being made really. All the talk about cross-casting for instance, or diversity – the word 'diversity' wasn't used then – but that was all happening in young people's theatre, both young people's theatre and TiE, but it wasn't happening in mainstream theatre," she recalls.
"I continued to specialise in young people's theatre because of the interest in how young people's theatre was extending its language for all of theatre."
It was through her work with Half Moon that Bestwick first came across Ovalhouse. The director says her role – and that of the entire team at the theatre – is to "support other people to do their thing here and support their careers and allow them to influence Ovalhouse".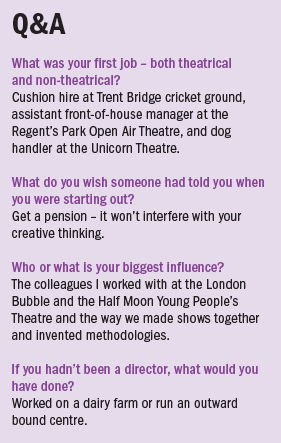 "Ovalhouse has never been just a theatre", she goes on. "Not that anything is just a theatre, but Ovalhouse has never been solely a theatre. At different times it's been integral in the support of huge social movements, it's always been a place where new methodologies have been developed, whether they're experimental theatre forms or participatory pedagogy and methodology. It's always been a place that's offered as much socially as it has artistically, as politically, as financially, as practically, as a roof over people's heads."
Bestwick was awarded an MBE in 2013, which she accepted, despite being a "rabid, old-school socialist at heart", because she knew it was the theatre's "users and stakeholders" that had put her up for the honour. She still feels a bit embarrassed about it, even so; only once Ovalhouse has moved into its new home in Brixton will the director feel truly deserving of the accolade, she says.
The move won't just mark the next chapter in the life of the company, but the next chapter for Bestwick too. "A new building will need new people in the end. And I will never lose my enthusiasm for Ovalhouse, but you sort of see it through and then I suppose once you get the new building it's like the kids have left home, so you start a new life – only the other way round."
Bestwick won't reveal anything about her "secret plan" for life beyond Ovalhouse other than that it involves "young people and international exchanges around theatre and drama". But she's clearly excited about the adventures that await her – and if she achieves half as much in her new project as she has in this one, the world of participatory theatre has a lot to look forward to.