The space is amazing. Let's deal with that first. The new Secret Cinema venture takes place in a space on a scale not dissimilar to the Turbine Hall at the Tate Modern. It is dizzyingly huge and also, fittingly, full of secrets.
But the space is only one part of the story. As ever with previous Secret Cinema projects this is as much an event, a destination, as it is a film screening, with the recreation of key scenes and the world-building arguably on an equal footing to the showing of the film itself.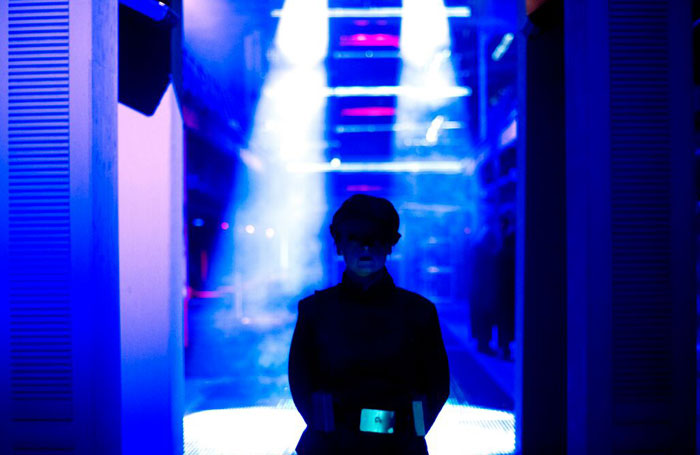 The company has scored something of a coup in securing the rights to The Empire Strikes Back. This is their most ambitious project to date, with a site apparently twice as large as the one used for last year's Back to the Future – and a price to match. It's impossible not to discuss this iteration of Secret Cinema without mentioning cost – standard tickets are £75, while tickets for the under 18s are £50.
The experience begins before you even arrive on site. There are a range of online preliminaries which you can engage with should you see fit: a shadowy Rebel X website, where you receive your in-world identity – Mercenary, Starfighter, Jedi – and a dress code. Proper dressing up is encouraged and the level with which some people embrace this is part of the fun; of course you can cobble something together from the back of your wardrobe, but there is also a Secret Cinema store from which you can purchase Jedi robes for an extra £40 if that's the way you want to go.
It also feels like there's far less audience agency than there was in recent Secret Cinema outings, like, say, their recent take on Miller's Crossing, which allowed audiences to explore and interact with a Coen Brothers-inspired world in exciting ways.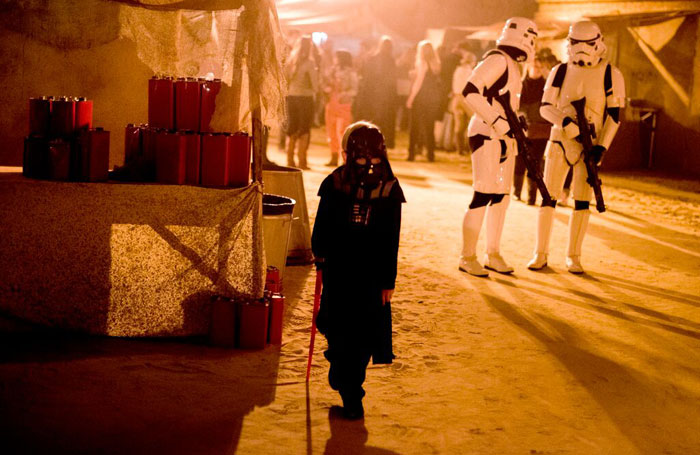 The pressure to spend and then spend some more is high and Secret Cinema has taken the logical next step and turned Tatooine into a market place, part medina, part east London foodie hotspot.
The pre-screening build-up, drawing mainly from A New Hope, contains at least one exquisite moment destined to make affluent 30-somethings wet themselves in pleasure, while the synchronised lighting throughout the film screening itself is beautifully done. But other parts of the production more closely resemble an episode of the Crystal Maze.
The sheer size of the space means it can feel oddly underpopulated. It's full of people but can feel a bit empty, at least that is until the dance floor fills up at the end of the night.
It's also hard to ignore the instances where the attention to detail abruptly falls away, particularly when it comes to matters of money, with tepid cans of beer for £4 a pop and staff wielding chip and pin machines like lightsabers. There's fun to be had here, a lot of fun, but it comes at a price.