Parakeet
"Frustratingly shapeless coming-of-age story"
Reviews
Aug 7, 2019
Roundabout @ Summerhall, Edinburgh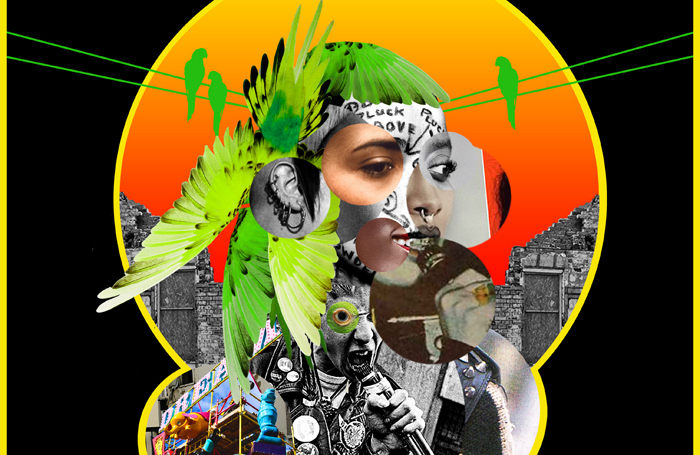 According to the RSPB, there are about 8,600 breeding pairs of parakeets in the UK, mainly in south-east England, and no one really knows where they came from.
Parakeet, the new gig-theatre show from youth-focussed company Boundless Theatre and Kent-based Boom Shakalaka Productions, is a coming-of-age story in which a lonely Margate teenager finds friendship and purpose as she tries to protect a flock of the exotic birds from the tree-felling designs of Thanet council.
Written by Brigitte Aphrodite with music by Quiet Boy and dynamic direction from Laura Keefe – reuniting the team behind 2015's My Beautiful Black Dog – it's a show with a big heart, a vibrant, genre-bending score full of throbbing harmonies and heavy beats, and three entertainingly wacky performances from Lula Mebrahtu, Isabel Oliver and Michelle Tiwo as a trio of punkish, dreaming adolescents.
Beyond some vague aspirations to "rediscover the new spirit of punk", Aphrodite's trippy script has very little to say and somehow manages to go about saying it very clumsily. The three characters are so ill-defined as to be practically interchangeable, and it's never clear what drives them, or even where they are. The music is nice, but the story is shapeless. This Parakeet entirely fails to fly.
Our critics pick the top shows to see at Edinburgh Festival Fringe 2019
Venue
Roundabout @ Summerhall
Book writer
Brigitte Aphrodite
Lighting designer
Sherry Coenen
Sound designer
Eoin Furbank, Harry Johnson
Cast
Brigitte Aphrodite, Isabel Oliver, Lula Mebrahtu, Michelle Tiwo, Quiet Boy
Producer
Boom Shakalaka Productions, Boundless Theatre
Verdict
Frustratingly shapeless coming-of-age story from writer-musician duo Brigitte Aphrodite and Quiet Boy