Oklahoma!
"A startling reimagining of a classic musical"
Reviews
Oct 8, 2018
St Ann's Warehouse, New York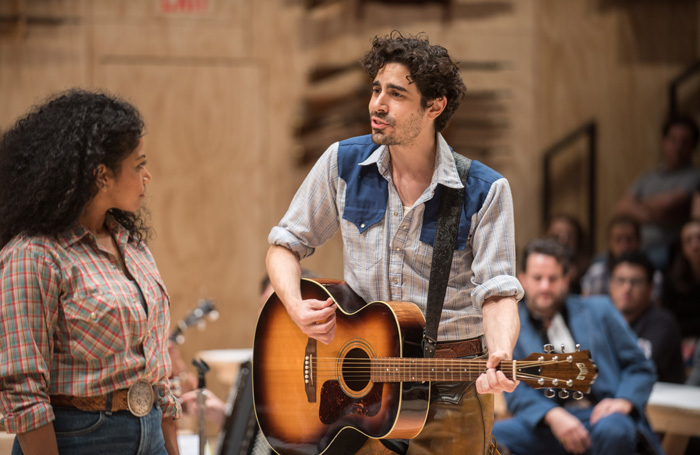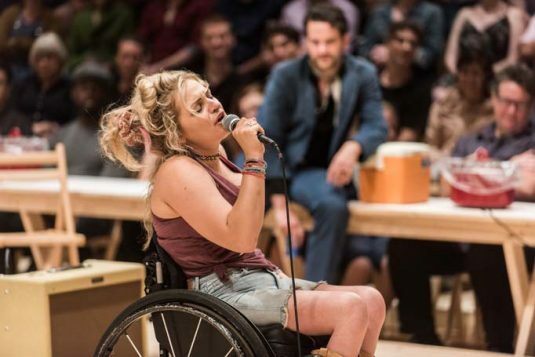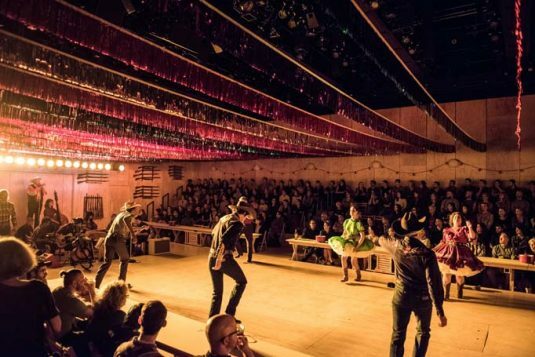 In his startling, minimalist reimagining of Oklahoma!, director Daniel Fish foregrounds the carnality and violence that has always formed part of this classic musical.
It's a thrilling jolt. Fish's production examines the ugliness of an American community, a timely indictment of American "justice" and a bracing reminder of the power of art to reflect society.
Fish's traverse staging locates the musical in a plywood barn decorated with fluttering bunting, guns, and steaming crockpots of chilli. The characters wear modern dress and saturated lighting indicates shifts from fantasy from reality.
While Curly (Damon Daunno) and Jud Fry (Patrick Vaill) both desire Laurey (Rebecca Naomi Jones), she's torn between them.
Jones' Laurey can be inscrutable, unsure whether she wants to settle down with anyone. An exuberant, modern dance dream sequence emphasises this. Laurey's chemically-induced, terpsichorean id (rivetingly performed by Gabrielle Hamilton) rides imaginary horses in an equestrian girl gang. She lunges legs akimbo towards the two men. But she wrestles with herself the most — pivoting and thrusting.
Daunno oozes longing and wistfulness with an unexpected pony-like gentleness. Vaill's teary Jud is more of big-talking basement incel than an instigator and Mary Testa's big-hearted Aunt Eller eventually comes to terrify.
New musical arrangements complement these fresh angles on familiar material. Clanging electric guitars resound through the dream dance. The on-stage seven-piece band lends a slowed-down tempo and softer sound to the musical's best known songs. Fish's use of tension-building silence, a cappella numbers, and total blackouts, further unsettles things.
---
---
Musical director
Nathan Koci
Choreographer
John Heginbotham
Set designer
Laura Jellinek
Lighting designer
Scott Zielinski
Cast
Anthony Cason, Damon Daunno, Gabrielle Hamilton, James Davis, Mary Testa, Patrick Vaill, Rebecca Naomi Jones
Stage manager
Jason Kaiser
Producer
Bard Summerscape, Eva Price, St. Ann'S Warehouse
Verdict
Dark, sensual, superbly performed minimalist production that captures the unsavoury core of America