Mamma Mia! The Party
"Sets new standards for immersive dining shows"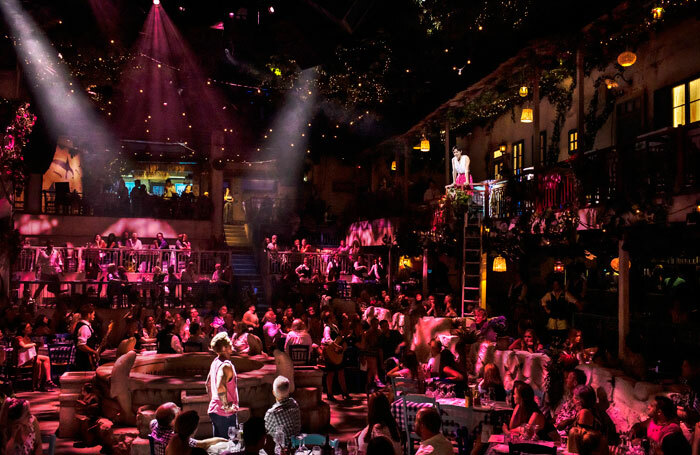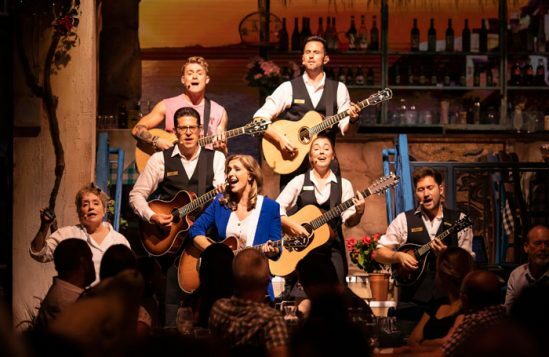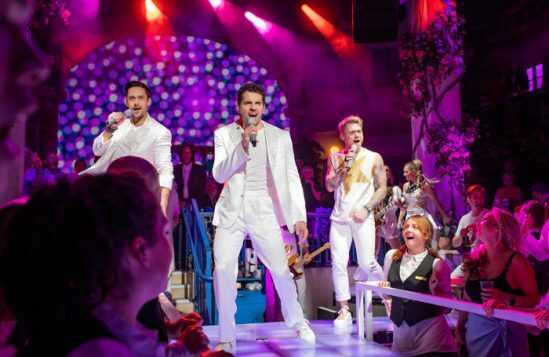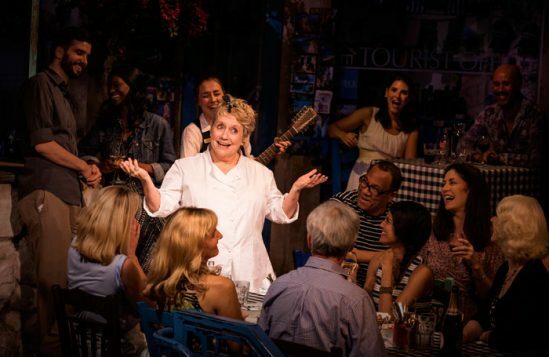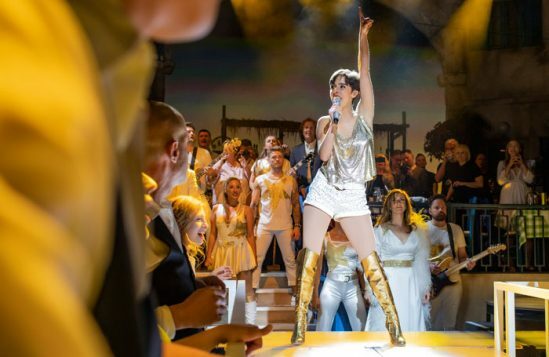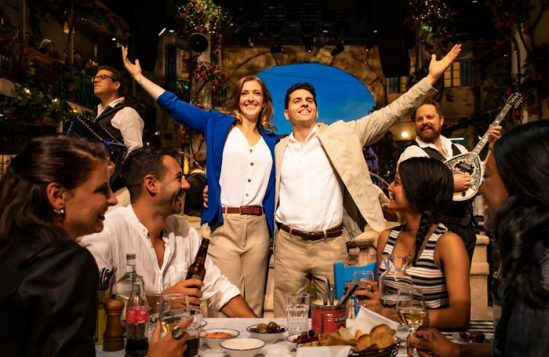 The fictional plot: ex-pat Kate (Steph Parry) worked in the costume department of the Mamma Mia! movie when it was filming on Skopelos in 2007. She fell in love and married entrepreneur Nikos (Fed Zanni), and now together they run an Abba-themed restaurant on the idyllic Greek island.
Mamma Mia! The Party – by Bjorn Ulvaeus, Calle Norlen and Roine Soderlundh – may have a pantomime-like book but it's witty and engaging, thanks to Sandi Toksvig's help with script adaptation.
Story aside, this production simply raises the bar for all other immersive dining experiences. The attention to detail is meticulous, from the table settings to the clouds of bougainvillea hanging from every wall.
Bengt Froderberg's set design places the partygoer in a large, authentic Greek taverna with the action taking place all around. Sound designer Gareth Owen works a minor miracle allowing everything from intimate love scenes to a full-on Waterloo chorus sound crisp and clean throughout. To complement this, Patrick Woodroffe designs a lighting plot that slips seamlessly from starry Mediterranean night to mirrorball pyrotechnics to terrific effect.
It's not just the belting vocals from Zanni and Parry that fuel this party. The staff are equally engaged, whether they're serving up a three-course meal or joining in with one of Stacey Haynes and Roine Soderlundh's choreographed set pieces to the relentless Abba soundtrack.
There is nary a weak link in this latest venture by producer Ulvaeus, and even if the ticket price appears steep there's value for money at every turn.
Mamma Mia! review at Edinburgh Playhouse, Edinburgh – 'the ensemble is as tight as the lycra'
---
---
Production name
Mamma Mia! The Party
Composer
Bjorn Ulvaeus, Benny Andersson, Stig Anderson
Book writer
Bjorn Ulvaeus, Calle Norlen, Roine Soderlundh, Sandi Toksvig
Lyricist
Bjorn Ulvaeus, Benny Andersson, Stig Anderson
Director
Roine Soderlundh, Stacey Haynes
Musical director
John Donovan
Choreographer
Roine Soderlundh, Stacey Haynes
Set designer
Bengt Froderberg
Costume designer
Annsofi Nyberg
Lighting designer
Patrick Woodroffe
Sound designer
Gareth Owen
Casting director
David Grindrod
Cast
Aj Bentley, Fed Zanni, Gregor Stewart, Julia Imbach, Linda John-Pierre, Pauline Stringer, Steph Parry
Technical
Amanda Murray, Martin Rodges
Production manager
Stuart Tucker
Producer
Bjorn Ulvaeus, Ingrid Sutej
Verdict
Ebullient Mamma Mia!-themed party night sets new standards for the immersive dining experience