Macbeth
"Lurid, raucous and bloody"
Reviews
Mar 5, 2019
Watermill Theatre, Newbury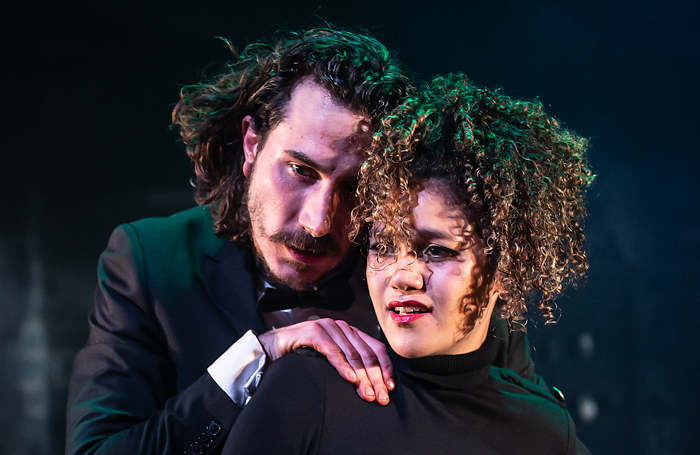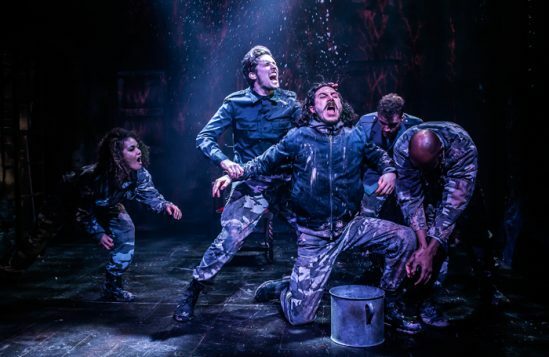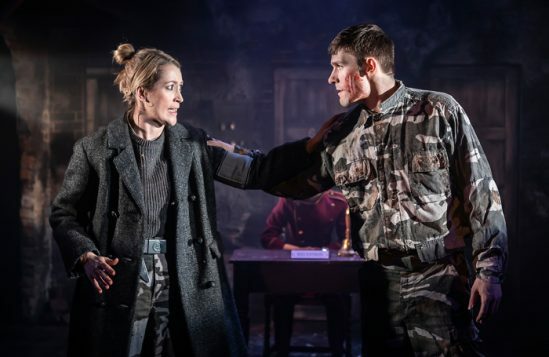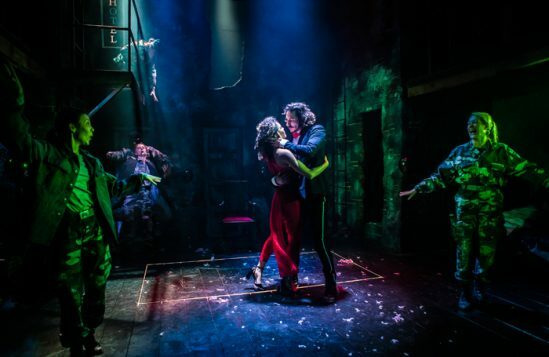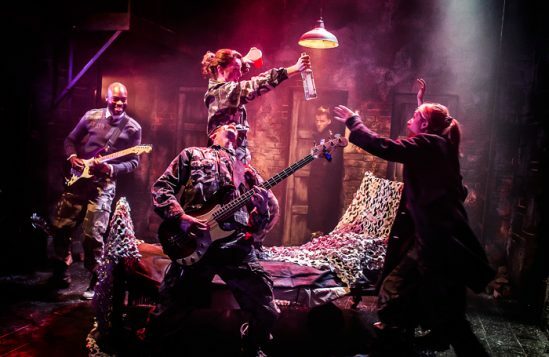 Kitsch and off-kilter, this tightly adapted take on Shakespeare's classic story of regicide and reckless ambition feels surprisingly cheerful. Watermill artistic director Paul Hart applies his typically buoyant style to the grim tale, lacing the show with black humour and energising, melodic music.
Arranged by Maimuna Memon and played live by the company, these tunes cover dreamy doo-wop and rock'n'roll, their swagger and style juxtaposed with the show's slick, choreographed brutality.
Drawing on Jazz Age decadence and gothic opulence, Katie Lias' dark, kaleidoscopic design imagines Glamis as a burned-out hotel, all bullet-riddled brickwork and flickering signage. It's an unlikely, occasionally unwieldy collision of aesthetics, but by and large it congeals into an appealingly unwholesome whole. Video projections by Louise Rhoades-Brown populate every shadowy nook with spectres, skeletal tree branches, and vividly red blood that dribbles down the walls.
Billy Postlethwaite's Macbeth is a genial gentleman soldier, laughing off the prophesies whispered to him by malevolent spirits in the shape of his dead comrades. As events spiral out of his control, though, his easy confidence begins to look increasingly desperate.
Lillie Flynn is compelling as a tough yet introspective Banquo, letting her loyalty blind her to looming disaster. Emma McDonald's Lady Macbeth snaps between charming hostess and unhinged schemer, pacing about the space like a trapped animal. Meanwhile, Eva Feiler does strong work as the faithful Porter, sharing fearful glances and sympathetic smiles with the procession of doomed guests she guides across the threshold.
Behind the scenes at the Watermill, Berkshire's producing powerhouse
---
---
Author
William Shakespeare
Dramaturg
Danielle Pearson
Movement director
Tom Jackson Greaves
Lighting designer
Tom White
Sound designer
David Gregory
Video designer
Louise Rhoades-Brown
Cast
Billy Postlethwaite, Emma Mcdonald, Eva Feiler, Lillie Flynn, Max Runham, Mike Slader, Offue Okegbe, Peter Mooney, Sally Cheng, Victoria Blunt
Stage manager
Kerrie Driscoll
Producer
Watermill Theatre
Verdict
Luridly gothic design adds to the atmosphere of this raucous and bloody Macbeth