Just So
"Gentle but joyful revival"
Reviews
Dec 11, 2018
Barn Theatre, Cirencester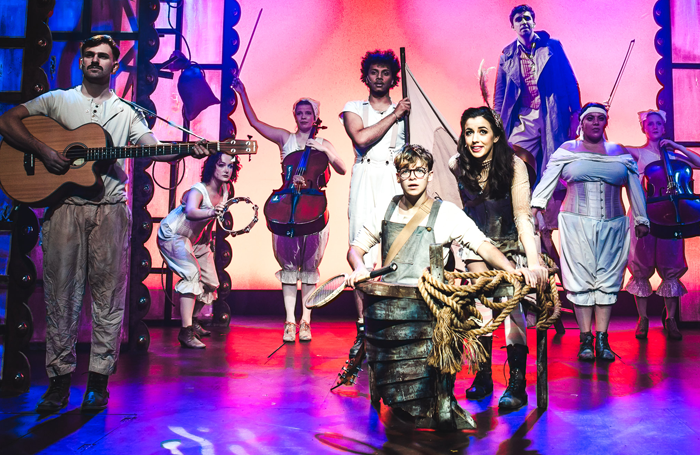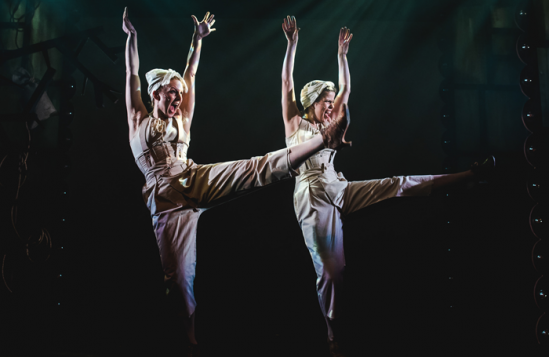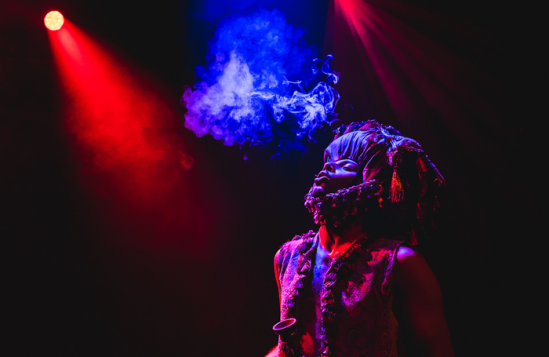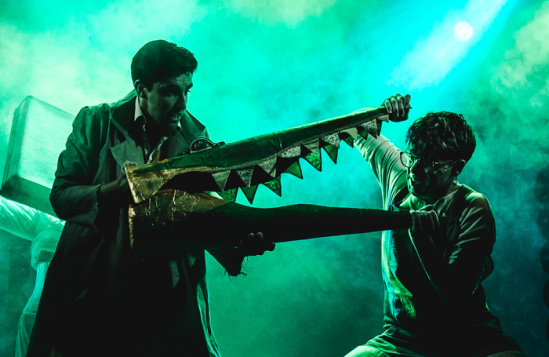 Capping off the Barn Theatre, Cirencester's first season with an enthusiastic musical revival, Just So puts a warm, light-hearted spin on Rudyard Kipling's moralistic stories of Lamarckian evolution.
Director Kirk Jameson keeps the energy at a high pitch, packing the mostly-bare stage with a maximum of instruments and performers, keeping them playing, dancing, and climbing the walls throughout.
Sam Rowcliffe-Tanner's lighting is a dream, with luxurious, luminous flashes of pink and peach capturing the cast in dramatic silhouettes, while atmospheric swirls of green and blue evoke the changing landscapes the animal protagonists pass through. A neat trick with chiaroscuro paints an all-white zebra in stripes for the first time.
Playing live, the company convincingly tackle Nick Barstow's new orchestration, pulling off skippy jazz beats, music hall melodies, and soaringly operatic vocals, though Anthony Drewe's lyrics – borrowing from Kipling's verbose wordplay – feel lost in the mix.
Michaela Stern does good comic work as a bolshy Rhino, but shows off a powerful singing voice as well, belting out bluesy number "Thick Skin" with confidence. Matthew Kelly enjoys himself in a pre-recorded segment as amusingly hammy giant crab Pau Amma, while Molly Lynch provides some welcome variation in the show's emotional tone with downbeat deadpanning and a heartfelt rendition of delicate track "Wait a Bit," as the flightless Kolokolo bird yearning to spread her wings. Meanwhile Lewis Cornay is all guileless innocence as the Elephant's Child whose knack for posing awkward questions ends up changing the world.
Musical director
Nick Barstow
Orchestrator
Christopher Jahnke, Nick Barstow
Choreographer
Joanna Goodwin
Set designer
Ryan Dawson Laight
Costume designer
Ryan Dawson Laight
Lighting designer
Sam Rowcliffe-Tanner
Sound designer
Chris Cleal
Cast
Matthew Kelly, Duncan Drury, Dylan Wynford, Evie Rose Lane, Grant Urquhart, Imogen Halsey, Kiran Patel, Lewis Cornay, Michaela Stern, Molly Lynch, Rosalind Ford
Company stage manager
Zoe Leonard
Stage manager
Heidi Jo Heard
Producer
Barn Theatre By Cameron Mackintosh Ltd
Verdict
Gentle but joyful revival of George Stiles and Anthony Drewe's family-friendly musical