Dorrance Dance Triple Bill
"Tap-fest loses its sparkle"
Reviews
Nov 15, 2019
Sadler's Wells, London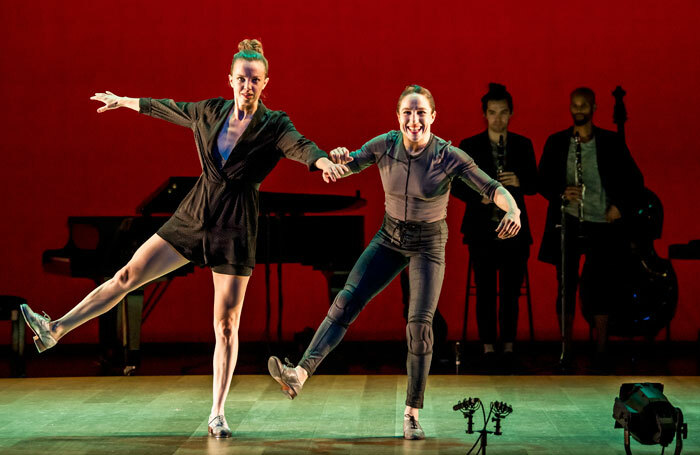 From the industrial stomp of Tap Dogs to the sole-shifting beats of Savion Glover, tap dancing continues to evolve. Michelle Dorrance is in the vanguard of tap experimentation and her New York-based company boldly goes where few tap shoes have gone before.
Although this latest showcase is brief at 70 minutes, it doesn't quite have the distilled invention and consequently the impact of her earlier show ETM: Double Down, seen here in 2017. The two short curtain-raisers are agreeable and executed with humour and skill.
Jungle Blues depicts the entire company slow tapping and sole sliding through a smoky juke joint to Jelly Roll Morton's eponymous tune. Characters emerge, spiky girls and drunken men, to create duets out of the general melee – a fragment of street dance here, a subliminal flicker of tango there. It borders on chaos before snapping back into perfect synchronicity.
Three to One is an amuse-bouche with three pairs of legs spotlit – one (Dorrance) wearing tap shoes and the outside two barefoot. They dance and tap in combined rhythm, creating a sonic sandwich until the outsiders break away into full body athletic street dance, all curving torsos and rythmic limbs. Eventually Dorrance is left alone as if on an unlit street and nervously taps back into the darkness.
The UK premiere of Myelination is problematic. Accompanied by a superb live band, the dancers shift through a variety of modes and sequences – some devised, others improvised – that recall other forms, notably street dance and flamenco. While the individual segments are often fine, the entire piece lacks coherence and the gear changes between the sequences are sometimes brutal. Street dance dominates at times, mainly through the figure of b-girl Ephrat 'Bounce' Asherie, although Matthew 'Megawatt' West provides the best tap-dancing antidote. The momentum becomes more elastic as it progresses and the final scenes with dancers criss-crossing the stage in different sonic shapes lead into the glorious tap-fest that we've been waiting for.
Production name
Dorrance Dance Triple Bill
Composer
Aaron Marcellus, Fred 'Jelly Roll' Morton, Prawn Til Dante, Richard D James
Choreographer
Michelle Dorrance
Costume designer
Michelle Dorrance, Amy Page, Mishay Petronelli
Lighting designer
Kathy Kaufmann
Sound designer
Christopher Marc
Cast
Byron Tittle, Elizabeth Burke, Leonardo Sandoval, Michelle Dorrance, Nicholas Van Young, Warren Craft, Christopher Broughton, Claudia Rahardjanoto, Ephrat 'Bounce' Asherie, Matthew 'Megawatt' West
Production manager
Christopher Marc
Verdict
Michelle Dorrance's tap fantastic loses its sparkle