Brainiac Live
"Explosive school holiday fun"
Reviews
Aug 5, 2019
Garrick Theatre, London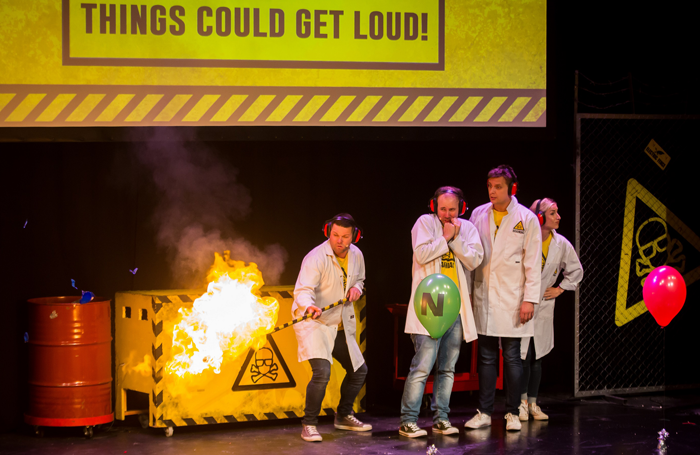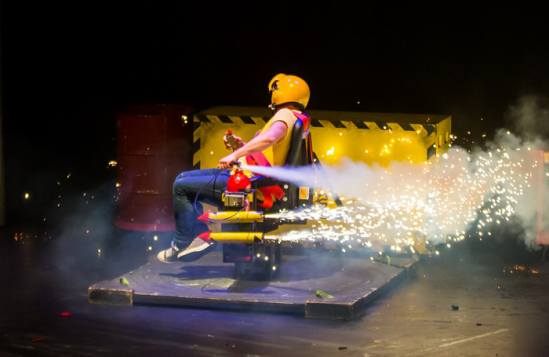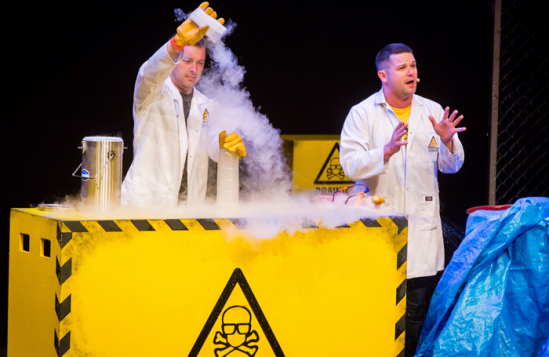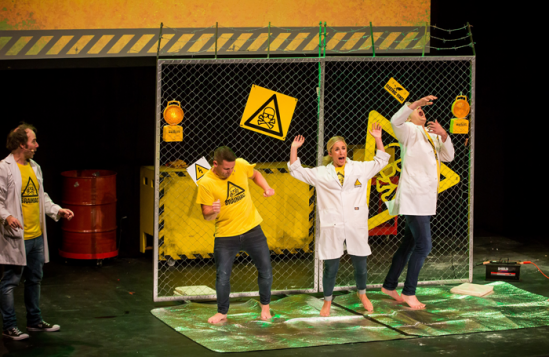 Based on the long-dead TV show of the same name, Brainiac Live has toured the globe with its stage show for young audiences since 2008. Its perpetual appeal is obvious: blowing things up with a feigned disregard for safety. It begins with a bang and ends with an even bigger bang, and, in between, the Brainiacs spin around on chairs at speed, launch socks with rockets, run through plasterboard and grab an electric fence.
The four-strong presenting team of Rik Warren, Gareth Leighton, Maggie Frazer and writer-director Andy Joyce bound around their eye-scorching, hazard-tape daubed set as if fuelled by energy from their experiments. As they explode and electrocute, the quartet's naughty aunt and uncles personas – a hyper one, a goofy one, a daft one and a sensible one – bounce off each other beautifully, although some of the characterisation feels dated for 2019.
The pace is relentless. Prop changes are disguised with interesting onscreen quizzes and a genuinely funny skit about misheard song lyrics. Things get satisfyingly brash at times, too, courtesy of the kind of mildly risque banter that has a six-year-old agog and parents rolling their eyes.
The only thing Brainiac Live lacks is science. There's not the slightest hint of educational finger wagging, and audience members – young and old – can expect to leave none the wiser as to how any of the experiments worked. But that's what makes this perfect summer holiday fare: it leaves the brain work for another day and delights in the big bang.
Peter Pan review at Troubadour White City Theatre – 'joyful and funny'
---
---
Production name
Brainiac Live
Lighting designer
Glyn Edwards
Sound designer
Stage Services
Cast
Andy Joyce, Gareth Leighton, Maggie Frazer, Rik Warren
Production manager
David Muir
Stage manager
Dean Burne, Sabena Williams
Producer
Dan Colman, Mallory Factor, Rupert Gavin, Trafalgar Theatre Productions
Verdict
This frenetic foursome serve up explosive school holiday fun with a real bang