Not only was she once the highest-paid female entertainer on both sides of the Atlantic in the 1930s, but for at least three decades Gracie Fields, who started out as a Rochdale millworker, attracted the kind of adulation that is reserved these days for titans of pop such as Beyonce and Lady Gaga.
Her memory has been kept alive by the Rochdale-based Gracie Fields Appreciation Society. A new show about her life, Our Gracie, written by Philip Goulding and starring Sue Devaney, also a Rochdale native, is now opening at Oldham Coliseum at the behest of its artistic director, Kevin Shaw.
"Originally Kevin and I had talked about adapting JB Priestley's screenplay for Sing As We Go, probably Gracie's most popular film, as a stage show," Philip Goulding explains, "but we couldn't get the rights, so we reverted to doing a show celebrating a great showbusiness pioneer, using elements of her professional life to illustrate her personal life."
Like a lot of big female stars of the mid-20th century, Gracie Fields had more success in the spotlight than out of it. Her first husband cheated on her, the second died of a heart attack at 50, and she nearly died of cancer herself in her early 40s. Her third and final marriage, to a Romanian engineer, in her adopted home of Capri, was much more of a success, lasting for 27 years until her death.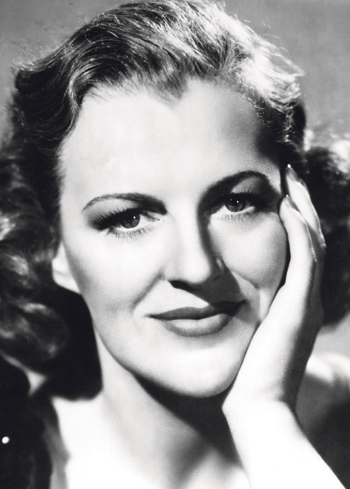 As a child growing up in the mill town of Rochdale in the early years of the 20th century, Fields didn't need much encouragement to burst into song, and by 13 she was billed as "Young Gracie Stansfield, Rochdale's own girl vocalist" at the local theatre, where her showbusiness-loving mother was the cleaner.
By 1915, aged 17, she was appearing in a musical revue in Manchester, Yes I Think So, starring a London comedian named Archie Pitt, who plied his protege with champagne and promised he would make her a star. He began to manage her career and they were married in 1923 at Clapham Register Office. They appeared together in the revue Mr Tower of London, which ran in London for five years and did, indeed, make Fields a star.
She made her film debut in 1931 in Sally in Our Alley, which contained the song Sally, her signature tune for the next 40 years, despite the fact that it was written for a man to sing. She went on to make a dozen other films as well as countless recordings. By the late 1930s she was a household name and one of the highest-paid entertainers in the world.
Her marriage to Pitt ended in divorce because of his infidelity. In the same year, 1939, she underwent two major operations for cervical cancer and spent months recuperating in her newly acquired villa on the isle of Capri.
Once recovered, Fields launched herself into a gruelling round of morale-boosting concerts and personal appearances for the war effort, both at home and abroad. In 1940 she married the film director Monty Banks (real name Mario Bianchi) and they settled in Santa Monica to avoid Banks, who was Italian, being interned as a resident alien in Britain.
Banks died suddenly in 1950 and Fields married for a third time, to Boris Alperovici, a Romanian living on Capri. She lived out her remaining years on the island, returning to the UK for TV specials and personal appearances.
The premise of Our Gracie is that Fields has returned to England in 1960 to publicise her autobiography and is persuaded to collaborate on a show dramatising parts of her life story.
Goulding says: "The idea here is that the actors in the theatre company have created this script along with Gracie, so they may at times be up to mischief. Gracie was well aware that the public had been fed distorted and unfair versions of the truth about her life. I didn't want to simply trot out the Gracie Fields story in a standard way. By allowing her to tell her own story, we're concentrating on what was possibly her greatest gift – her ability to connect with a live audience."
Sue Devaney will play Fields from her teens through to her 60s – "it's daunting but we're getting there", she told The Stage during rehearsals – and a talented company of six actor-musicians will be playing 36 characters, including George Formby, Edith Piaf, Laurence Olivier and Liberace.
Much of Fields' wealth derived from the dozen or so films she made, but she was the first to say she did not enjoy film-making. Her greatest love was always live performance.
When she died in Capri in 1979, aged 81, Rochdale Football Club showed its respect with a two-minute silence. The people of Rochdale wanted their cherished star to come home for burial but she had expressed a wish to be buried on Capri. Her husband Boris said: "Rochdale was the home of Gracie by the will of God. Capri is the home of Gracie by the will of Gracie. She is Caprese."
Not put off by this, Rochdale Council is working on a Gracie Fields tourist trail with purple plaques at places of significance to her life around the town, and a new statue of her will be unveiled this summer.
Our Gracie opens at Oldham Coliseum on March 4
If you'd like to read more stories from the history of entertainment, The Stage Archive offers access to all back issues of the paper from 1880 to 2007 and is available from £15