It is 22 years since Malcolm McKee and Christopher Luscombe had the idea for The Shakespeare Revue, which started out as a hastily assembled Royal Shakespeare Company fundraiser at the Swan Theatre in Stratford-upon-Avon.
To their amazement, Adrian Noble, then artistic director of the RSC, told them afterwards that he could see it working in the West End.
So, bolstered by Noble's endorsement, the two friends set about expanding and developing it into a full-length show. This meant acquiring the performing rights to myriad sketches, poems, songs and prose pieces from a whole range of writers, from Tom Lehrer to Victoria Wood, Stephen Sondheim to Alan Bennett, Cole Porter to Michael Green.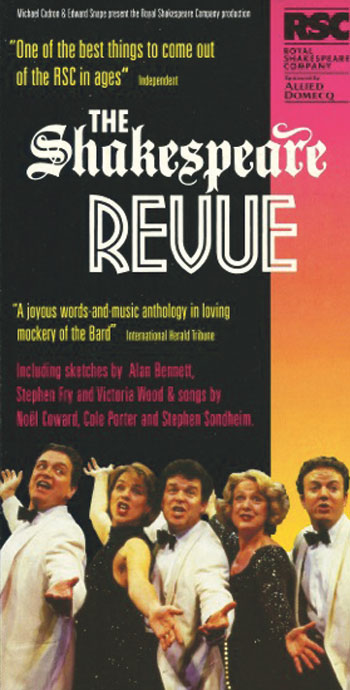 Publisher Nick Hern expressed an interest quite early on, so they had to think about publishing rights at the same time. Being able to use the RSC imprimatur proved to be an incomparable short cut to acceptance.
"Everyone said yes to us," recalls McKee, a prolific actor, writer and composer. "We were blocked by agents in a couple of cases but in this event we always managed to bypass the agent and go straight to the creative. The most problematic was a Monty Python sketch, The Man Who Speaks in Anagrams, because their copyright is very heavily guarded. They did give us permission to perform it, but with the caveat that on no account must anyone else be allowed to.
"Some years later, Chris was directing Spamalot and got to know Eric Idle, who had actually written that sketch. When Chris mentioned it he just said breezily, 'Oh, don't worry about that, it's fine.' "
Their search for material for a full-length show took them, among other places, to the manuscript collection at the British Library and Brinsworth House, the home for retired variety artists in Twickenham. It also led to them rummaging around in June Whitfield's attic in Wimbledon.
The show's London debut took place at the Pit at the Barbican, then the RSC's studio base, in 1994, where it ran for 12 weeks.
"The run at the Pit enabled us to decide what worked and what didn't, how to shape it and how to fill in the gaps. We commissioned new material from Maureen Lipman, Dillie Keane, Adele Anderson and Stiles and Drewe, who came up with a brilliant number about RSC backstage staff who didn't really like Shakespeare very much but depended on him for their living."
They also found that topical material, while popular with audiences, always had a use-by date. A sketch about Michael Jackson longing to play Othello had to be dropped after the pop star's sudden death.
"In many ways Chris and I see it as a homage to the revues of the 1950s and 1960s that fell out of fashion. It's a real mix of the old and the new. There is a music hall song from the 1890s, and a very funny sketch by Stephen Fry and Hugh Laurie, Shakespeare Masterclass. The fact that the show has endured for so long proves that audiences still love revue when you put it in front of them because it is fast-moving, funny and full of variety. What's not to like?"
Producer Michael Codron, famous as a producer of revues in the 1960s, transferred the production from the Pit to the Vaudeville in 1995, where it played 14 weeks. Codron then joined forces with fellow producer Edward Snape to take it on tour, initially in the UK, but subsequently to Europe and the US.
"Americans absolutely love their Shakespeare," says McKee. "We were invited to play it in Oregon in the late 1990s, and then toured it on and off for the next five or six years. We tended to play a lot of universities, with their wonderfully endowed theatres. They didn't get the music hall song at all, and Perry Pontac's sketch where Lady Bracknell quizzes Othello had to go because they don't really get Oscar Wilde either.
"I'd never toured before because I've always been so busy and committed at home [McKee has been playing Graham Ryder in The Archers since 1996], so The Shakespeare Revue was really my introduction to the world of travel. I've been all over the world with it, dashing from place to place."
Producer Ian Liston of Hiss and Boo also mounted a production in 2006. The current tour is presented by Kenny Wax, who has also had a long association with the show, and Cambridge Arts Theatre.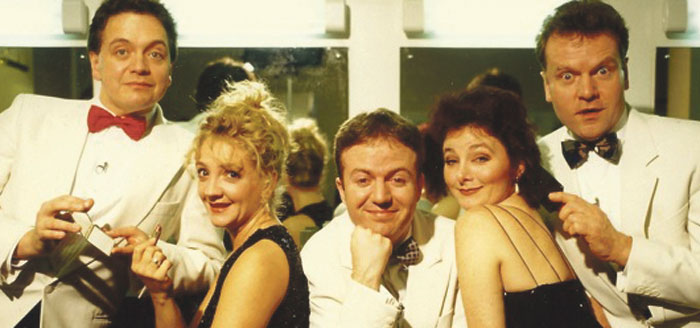 As well as theatrical engagements, the revue is performed at corporate events, tailored according to the client's needs. McKee says these corporate gigs are "a bit hit and miss", with the performers often feeling the audience would rather be propping up the bar.
Has the show ever bombed really badly?
"Not really," says McKee, recoiling at the prospect. "Even with a small audience it is always people who have chosen to be there. You do get a bit nervous when you turn up at a venue to find a huge poster advertising a Queen tribute act as the next attraction. I remember playing to a huge venue in Blackpool once and there were 35 people in the audience. But they were determined to enjoy themselves and turned out to be one of the best audiences we ever had."
Of course, Shakespeare isn't everyone's cup of tea and the idea of being surrounded by people chuckling knowingly at arcane references to the canon would have some of us making an early beeline for those pre-ordered interval drinks.
So, how well do you need to know your Shakespeare to enjoy the show?
"You certainly don't need any deep knowledge of Shakespeare's complete works," says McKee. "Everyone knows more about Shakespeare than they think. He is such a gigantic figure in British culture that almost everyone will know that Hamlet was a guy in black tights who spoke to a skull, that Macbeth met up with three witches on a blasted heath, that Romeo climbed up to Juliet's balcony, and that Henry V waved a sword, shouting 'Once more unto the breach, dear friends'.
"If you know these few Shakespeare basics then you will get maximum entertainment value from the show. It's a bit of fun at the end of the day."
Now this much-loved show is back on the road, using the 400th anniversary of Shakespeare's death as an excuse, with McKee returning to the role of director, musical director and accompanist after a long absence ("I've had to learn it all over again"). Members of a fresh, young cast are "bringing their own ideas and energy to it", as McKee puts it. He will share the MD role on the tour with Oli Jackson.
"I'm proud of the fact that Chris and I have helped to resuscitate revue, for which there is clearly still an audience," says McKee. "You just need versatile actors and first-class material."
---
Production: The Shakespeare Revue
Co-devisers: Christopher Luscombe, Malcolm McKee
Producer: Kenny Wax Ltd, Cambridge Arts Theatre
Tour dates: Devonshire Park Theatre, Eastbourne, from August 3-5, Cambridge Arts Theatre, August 9-20, Malvern Theatres, August 30-September 3, Theatre Royal Bath, September 19-24, Yvonne Arnaud Theatre, Guildford, October 5-8, Richmond Theatre, November 7-12, Theatre Royal Brighton, November, 21-26, Glasgow Theatre Royal, November 29-December 3
Director: Malcolm McKee
Choreographers: Jenny Arnold, Nicola Keen
Lighting designer: Ric Mountjoy
Musical director: Oli Jackson
Cast: Alex Scott Fairley, Alex Morgan, Jordan Lee Davies, Anna Stolli, Lizzie Bea
Rehearsals: St Luke's Church and WAC Arts
Budget: £48,000
---