If there weren't already enough theatres on London's South Bank, it's about to get a little more crowded. Take a walk down by the Thames in the coming weeks and you may pass a mostly white, alien dome slap-bang outside the Southbank Centre, every reachable bit of canvas covered in vibrant graffiti.
This is the Good Chance Theatre, and, until four months ago, it was pitched in the Calais migrant camp more commonly known as the 'Jungle', where it was run for and with refugees.
The theatre was the brainchild of playwrights Joe Robertson and Joe Murphy, who only 14 months ago were in Manchester finishing off their latest play: a story about a refugee woman and her new life in the UK. Struck by the inescapability of the refugee crisis and determined to help out in some way, the pair travelled to the camp last year and realised they had to build a theatre.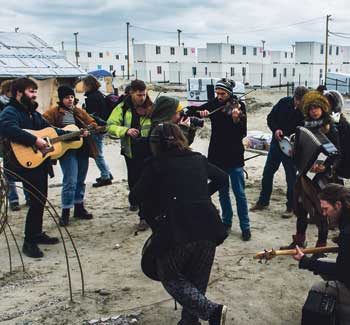 "Because what the Jungle needed," Robertson tells me, "was a cross-cultural, shared space that brought all the nationalities together."
But it didn't just appear overnight. After their first trip to Calais, the Joes – as everyone refers to them – returned to the UK and "passed the hat" around the theatre world. They called on contacts they knew – Sonia Friedman, Stephen Daldry, David Lan, Ian Rickson – and some they didn't, including the Royal Court's Vicky Featherstone, asking for any help they could provide.
Support flooded in, the Royal Court and the Young Vic offered volunteer teams and Daldry even offered a van. "At that moment, everybody in theatre and the arts was thinking: 'How do we respond to this mammoth crisis?'," Robertson says. "And we just touched it, that sentiment, and everyone said: 'Right, let's do it.' "
After buying the dome for £5,000 from "the eBay of second-hand tents", the Joes went back across the channel to erect the theatre in September. Refugees in the camp flocked to help, and, when finished, stuck around for an after-party. Murphy says it was "unlike anything" he had experienced: approximately 300 people were inside the tent, dancing, singing national songs, rapping – and there were more on the door trying to get in.
That first night became a template for the community feel the theatre aimed to offer. Morning to night, the building was open for people to participate in drama, music, writing, painting, poetry, mime – initially facilitated by the Joes, later by refugees who came with their own ideas.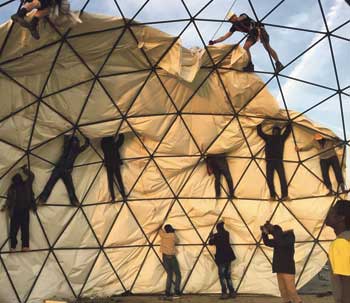 Even people who didn't want to get involved needed the theatre, according to Robertson. "Not everyone wants, in that situation, to write a poem or sing a song," he explains. "But in that camp there are so many things you have to do. You have to queue for food, you have to queue for clothes, tents and blankets, otherwise you're not going to survive. So to have a space you don't have to go to, but you can choose to go to if you want, is important."
Looking back on his first impressions of the camp, Murphy admits he expected it to be "more desperate". "Which is not to say that it wasn't," he adds, "but I didn't expect there to be as much sharing, laughter, smiling, humour… as much hope, as we found."
"If we're being really basic about it," Robertson says quietly, "I don't think we expected to find human beings there."
Word got around, and a huge number of companies offered to perform and host workshops at the theatre – Kneehigh, Cheek by Jowl and Shakespeare's Globe among them. The latter added a date in Calais to its global Hamlet tour, performing outdoors to a crowd of hundreds. Robertson says it struck a deep chord.
"What's Hamlet about? It's a man who's lost his parents, he's in a desperate situation, he's facing hopelessness… that is the story of the Jungle," he tells me. "There was one boy, Norullah… he was an unaccompanied 16-year-old. His parents had been killed by the Taliban. He was obviously going mad, because it's such a terrible, terrible place for children to live. So the theatre really was a lifeline for him where he could actually come and be with people, and talk." A pause. "He is Hamlet," Robertson claims. "He is the closest person to Hamlet I have ever met in the world."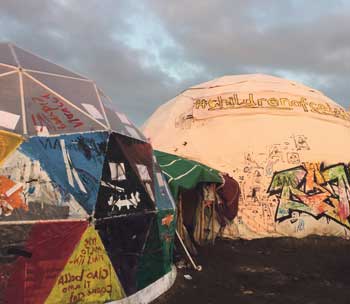 With no experience of running a building, and the theatre's popularity rapidly snowballing, did either Joe worry it would get away from them? "I don't remember feeling like that," Murphy answers slowly, "because we never thought that it was ours. That's really important. It belonged to everybody in a really fundamental way."
Robertson agrees: "We were just running and we weren't stopping. If we'd have stopped, I don't think we would have been able to get back up again. The Jungle moves so quickly and we were also dealing with major evictions and major riots, and many, many people we knew and worked with everyday were getting hit by cars on the motorway."
Whenever there were clashes between police and the camp's residents, the Joes were prepared for a flood of people to seek out the "safe space" theatre as refuge. "And sure enough, everyone would come in and just start to paint. And that was what we were there for."
A few times, the battles got so close that tear gas blew into the theatre. "Everyone cried a bit," Robertson says, "but we were safe in that area." At this point, Murphy cuts in. "By the end, that was different," he mutters, bitterly.
"By the end," Robertson sighs, "the police were at the front door."
The theatre itself was safe from eviction; the refugees living in the camp were not so lucky. The French interior minister promised the camp clearing would be done "progressively, by persuasion and with respect for people's dignity". And then the bulldozers came.
In March, Murphy told The Stage the camp had become a "war-zone". There was only room for around 750 more people in the government's shipping container camp. More than 2,500 people – nearly 300 of whom were unaccompanied children – had nowhere to go.
Continues…
---
5 things you need to know about Good chance theatre
1. A circus tent was initially considered, but deemed too garish for the camp and too culturally specific.
2. The company Robertson and Murphy bought the dome from, Noisy Toys, came with them to Calais, helped set it up, and also provided lights, flooring and a sound system.
3. The tent was forced to move within the camp several times. Murphy said building the tent was as important as running it because "it was a communal thing, everyone was part of it".
4. The theatre founders lived in the camp, while they paid for volunteers to stay in static caravans off-site.
5. Robertson and Murphy didn't run the theatre alone. Royal Court community producer Chris Sonnex became a core member of the team, alongside others including head of volunteers Jo Ostrom and director Daniel Raggett.
---
Even now, the pair speak about it with thinly veiled anger. "We were fine, we would never have been evicted – it's just that the whole community around us was," Robertson says, simply. "People couldn't access us. They couldn't get through the police lines."
"It was an unworkable situation," Murphy adds. "And we took the really, really tough decision to dismantle the theatre."
So, in March, the dome came down – but not without a promise to return. "We knew we would be back in Calais, because we saw the difference we made," Robertson says, with frank determination.
The theatre's founders promise it will be rebuilt in the container camp "very, very soon". But their work doesn't stop in the meantime. They pitched the dome at Glastonbury Festival in June, and are working on a virtual reality film with the National Theatre using 3D footage filmed in Calais.
Then there's Encampment: a nine-day arts festival outside the Southbank Centre that will see the theatre pitched right by the River Thames.
Refugees from Calais who made it across the UK border will be among performers taking part in music, dance, theatre, spoken-word events and debates, alongside renowned refugee artists from around the world.
Murphy and Robertson have been workshopping a new play with refugees they knew in Calais. "So there's a lot on," Murphy concludes, redundantly.
How does it feel to reunite with these refugees – in some cases, with their friends? "Absolutely 100% right and amazing," is Murphy's instant reply. Robertson elaborates: "There couldn't be any other way for it to work. If we did Encampment there without them, it wouldn't be the Good Chance."
Some will have questioned the use of an arts centre where people's lives are often in direct peril, particularly in a climate where theatre is often seen as a very middle-class luxury. But Murphy argues it is essential to make us feel human.
"If you believe that theatre is important in our lives, then you have to believe it's important for those people. There's no difference between those people as human beings and us," he says.
"The radical move was calling it a theatre," Robertson adds, "because we could have called it an arts centre. Theatre does sometimes have a difficult reputation, and we wanted to show that theatre exists in many kinds of places. It doesn't have to be in London, or even in the regions. It can go anywhere."
Encampment runs outside the Southbank Centre, London, from July 30 to August 7
---
Profile: Good Chance Theatre
Artistic directors/founders: Joe Murphy, Joe Robertson
Audience figures: 300 capacity inside tent; the venue worked with approximately 1,000 refugees each week
Number of employees: Between 10-15 freelance workers, charity now transitioning to a staff team
Funding levels: £250,000 raised to date
Website: goodchance.org.uk