Ask Tom Morris, artistic director of Bristol Old Vic, about his theatre or the city of Bristol, and he is all joie de vivre and enthusiasm. But if the conversation turns to the arts cuts or the future of regional theatre, though, his concerns are obvious.
Running the oldest continuously working theatre in the country, Morris has a multi-million-pound refurbishment under his belt, and a theatre that is well-loved by its community, both locally and further afield. He is, however, fighting artistic and financial battles that are all too familiar to directors up and down the country.
He clearly loves his "extraordinary" home, but is candid about its financial state. "Bristol Old Vic is operating on the margins of viability and is precariously underfunded. What we do have is a strong brand, a lot of affection from the theatre community and the local community, and a platform from which we can raise funds. We can celebrate the extraordinary creative energy of other organisations in the city which don't have that brand or reputation – the ideal for me is that BOV becomes a gateway through which anyone can explore the amazing things that are going on in the city."
[pullquote]If I stop thinking about running this theatre and start thinking about the arts infrastructure in Britain in 10-15 years' time then I am really worried[/pullquote]
Venture outside the city, though, and things are less rosy. "Somerset has withdrawn all its arts funding and the Brewhouse has gone from Taunton, so we're trying to take more of our work out regionally. Lots of the opportunities around here for artists are happening at a time when there's less going on outside Bristol. The creative potential in the region is in danger because the infrastructure has been removed."
Morris is scathing about culture minister Ed Vaizey's response to concerns about the cuts. "Ed Vaizey says there's no impact on new writing. Fin Kennedy says there is. Ed Vaizey asks him to prove it. Fin Kennedy does [with his report, In Battalions]. Ed Vaizey says 'I'm not really bothered about new writing, I've got other things to worry about,' end of conversation. What Kennedy's saying is true, of course. If you've got less money, you have to manage your risks really prudently and, inevitably, one of the risk areas is new writing."
Bristol Old Vic, he says, is not exempt from these pressures: "For a big show, the box office target is absolutely terrifying. It has to pay for itself and if it doesn't then suddenly we have a hole in the budget of, say, £200,000. Of course you have to be very, very careful with your risk. We put our risk into the small-scale, with things like Bristol Ferment, where the difference between a sell-out house and a tumbleweed house is manageable, because it's only 50 or 100 people in a studio theatre."
Morris reiterates several times that Bristol is a wonderful city in which to work and create work: "There's a gravitational field which seems to pull artists to the city. It brings in people who want the space to think a bit differently, not just in the cultural sector but in business too, there are all sorts of quirky and left-field entrepreneurs."
The city certainly has a healthy number of artists, musicians, writers and theatre-makers for its size. Perhaps Bristol is regaining its reputation as an international city? Morris agrees: "I went to see a demo by some guys called AntiVJ who are experimenting with digital projection. I met them afterwards and was really surprised that they were French – they were in Brittany and heard that if you have an entrepreneurial or different idea then Bristol is the city to go to.
"There's a sort of trend-bucking economic resurgence in Bristol, which George Ferguson – the new mayor – clearly attributes to the creativity and the arts stuff. Bristol council, as we moved towards cuts, amazingly, made a small increase in its cultural budget."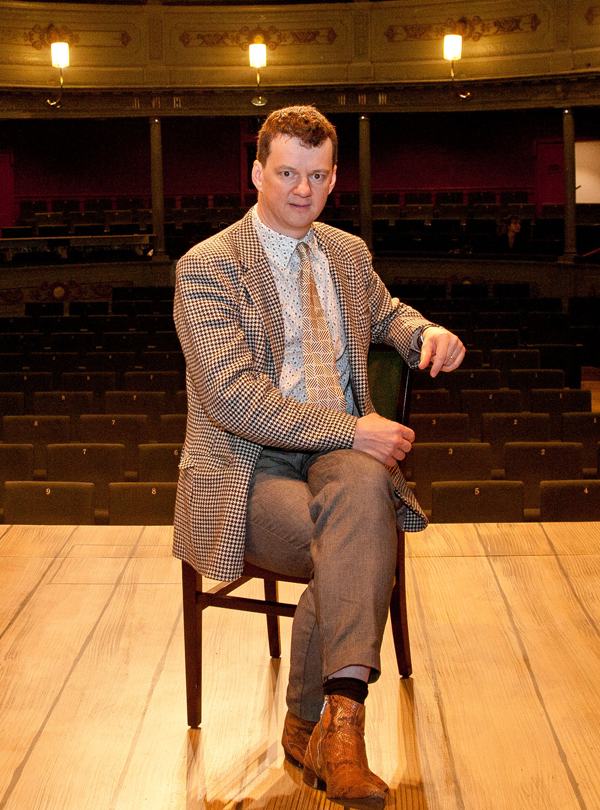 There are practical reasons for Bristol's artistic vibrancy, too, most notably its relatively low living costs. "The economic reality is that there is no longer a properly embedded culture infrastructure which is going to give continuous employment to people who graduate in whatever art form, but in Bristol there is a lively scene of people professionalised in different ways – people making work and making money, but as creative entrepreneurs not just artists looking for jobs." Morris also praises the "ongoing conversation" that he and Bristol Old Vic have with other venues, organisations and artists throughout Bristol, and beyond: "Without that kind of collaboration we couldn't make the work we do. It makes it very exciting, but if I stop thinking about running this theatre and start thinking about the arts infrastructure in Britain in 10-15 years' time then I am really worried. Arts cuts are the same across the country and the world, and I'm really worried."
Looking to the future, Morris reckons one of two things is likely to happen: "Either George Osborne will win the argument and there will be further cuts, and the arts will either be punished disproportionately or cut the same as every else; or Vince Cable will win the argument – with [Conservative universities minister] David Willets and others supporting him, because it's not just a party issue – and there will be some radical thinking about which bits of public expenditure stimulate economic revival.
"It really goes back to that argument about why a society should invest in its arts and what a society might hope to get from that. There are things about social benefit and human well-being that are true, of course, but at the moment the argument that has the most sway is the one about the arts' economic impact, not just in terms of turnover, but in terms of the stimulation of local and national economies."