Imelda Staunton and I have a bit of history. In 1998, I was en route to a meeting at the Donmar Warehouse, where I was helping to programme an inaugural cabaret season that later became Divas at the Donmar. I was going to talk to the Donmar about ideas of whom to book for the season, when I wandered into the record shop Dress Circle in Covent Garden, which used to specialise in musical theatre.
Staunton happened to be there. I promptly invited her, on the spot, to be part of the season – and what's more, she immediately agreed. Today, she quips: "I still hang around that place, but nothing has happened."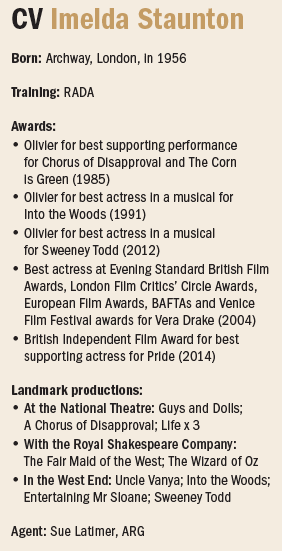 It wasn't the first time we'd met, though. In the mid-1980s, I was producing a student production of Guys and Dolls at Cambridge's ADC Theatre. Staunton had been a Hotbox Girl and understudied Julia McKenzie as Miss Adelaide in the National's famous 1982 production, later taking over the role.
When we were in the middle of rehearsals for the show, Staunton passed through Cambridge's Arts Theatre in a tour of a play. I dropped a note at the stage door to ask if she'd come to rehearsals to share some notes with our Miss Adelaide. She duly did, and we even got a photograph of the two Miss Adelaides together to use in our programme. It was a characteristically generous gesture on the part of an actor who has become one of our leading theatre, film and television performers but still somehow manages to avoid the showbiz glare that normally accompanies starring-role status.
But then Staunton, it seems, is forever getting unexpected invitations that lead to interesting places. In 2011, she starred in Sweeney Todd at Chichester Festival Theatre (for which she won her third Olivier award when it transferred to the West End the following year). As she tells it: "That all happened because of a man I met on a radio show. I get all my best breaks like that."
The man in question on this occasion was Michael Ball, and he was hosting his regular BBC Radio 2 show, for which Staunton came in as a guest. "He put a record on and then said to me, 'I want to ask you something, but not right now'. I told him to ask me straight away. He said he wanted to play Sweeney Todd and asked, 'Do you fancy doing Mrs Lovett?'."
She jumped at the chance. She'd played in Sondheim before, starring as the Baker's Wife in the original 1990 London production of Into the Woods, for which she won an Olivier. But despite that pedigree, she says: "I knew I could never make it happen myself, so thank God Michael suggested it to me."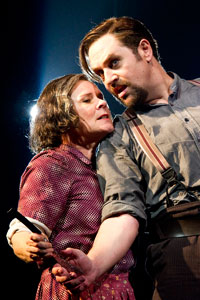 And that, in turn, led directly to her playing Mama Rose in Gypsy, the 1959 musical with lyrics by Sondheim for music by Jule Styne and a book by Arthur Laurents. After its successful, widely acclaimed run at the CFT last autumn, the production transfers to the West End on March 28, at the Savoy Theatre. Staunton says that after seeing her Mrs Lovett, "Sondheim said to me: 'You have to play Rose'. My response was, 'Do I?'. It was a huge burden, yet also a fantastically challenging one that I'd be furious if someone else was taking on".
She knew something of what was involved: "I'd seen Patti LuPone do it twice, and she was phenomenal. So I thought, 'I don't need to do this now – that's how you do it'. But I'd never thought I had to play her anyway. I never think that of anything. Maybe I'm just lazy."
That's the last thing anyone who has ever been near Staunton would say. She's determined, disciplined and utterly rigorous. Talking of the experience of working with Ball on Sweeney Todd, for instance, she told me three years ago: "We absolutely adore each other, because we know we work very hard. All I'm interested in is getting it absolutely right, and he's the same: it's all about doing whatever it takes to get there."
She says now that Ball took some of the pressure off her and the show: "We knew we had him and that if the rest of us were all rubbish, at least he'd be alright!" Ball, who also won an Olivier for his efforts, was more than alright: "When I was standing behind him and he was singing the Epiphany, I used to wonder to myself: 'Does anyone know what it feels like to stand here, being so close to the magnitude of his talent?'."
That ferocious frisson of a performer totally owning a role also poured from the same stage last year when Staunton took to it to deliver a blazing rendition of Rose's Turn, Mama Rose's own dramatic epiphany of lost opportunities and regret. This time, though, she says the stakes were a lot higher: "This was unknown territory for us. Expectations were so high that we had so much further to fall."
She received encouragement and good advice from LuPone. "She said, 'I hear you're going to play Rose. You'll sing the hell out of it, but the only thing you need is vitamins.' Bloody right. I know I have to be really well for this. There are notes I have to hit. There are big songs, as opposed to Sweeney, where you can do Sprechgesang and duck and weave a bit."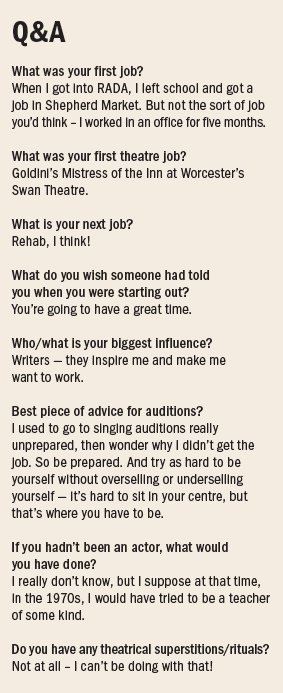 For the first time since her days at RADA, she went to see a singing teacher, Mark Meylan. "I thought, 'I can sing, I don't need one'. But boy was I wrong. He's really made it possible for me to sing this, and I wish I'd done it before now." She credits the show's musical director, Nicholas Skilbeck, for suggesting it: "He's unbelievable, too. He's remarkably articulate, like a poet somehow, but his precision and work ethic is what I love. He lets nothing go."
Today, she is fortifying herself with lots of calories – as we have tea in the kitchen of her West Hampstead home, she offers me a slice of cheesecake and has one herself, then a second of carrot cake. "I've got to stock up my energy for the next eight months," she says.
It's not just a big sing, though. It's also a big shout. "Apart from the songs, when she's not singing she's always shouting at someone," Staunton quips.
Mama Rose, who is determined to put her own daughters on the stage after her own ambitions are thwarted, is often called a monster. "If he was a male character, he'd be a hero; but because she's a woman, she's called a monster," notes Staunton. "But she just wants what is in her mind the best for her kids. Of course, she's also doing it because, as she says, she was born too soon and started too late. She didn't have it – "you either got it or you ain't", as the show also says. That's what hurts. That's showbusiness, and that's what you've got to deal with. People say its cruel. But I think it's cruel to work in an office on an internship – it's only highlighted because you can be exposed so greatly on stage. People living lives of quiet disappointment is just as cruel."
Rose's trauma is also that she has been serially abandoned: "First by her own mother, then several husbands, and her daughter June. You can see why she's a strong woman. But there's a big danger of making your children, whether you're an actor or a doctor, live the life you wanted."
Staunton and her actor husband Jim Carter (whom she met when they both appeared at the National in Guys and Dolls in 1982; they married in 1983) have a daughter, Bessie, now in her second year at Guildhall, so also following an acting career.
"She's got a headstart, because she feels very comfortable in the world of acting, whether the theatre or on a film set. It took me years to be that confident," says Staunton. But she's also cautious: "It's not an easy road being an actor, and I worry that there might be comparisons, which I'll just loathe, because she's everything I could never be: she's gorgeous, 5ft 9in, with legs up to there."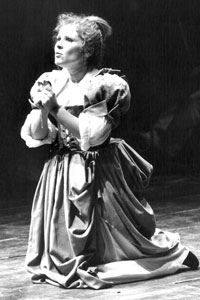 Unlike her daughter, Staunton had no theatre in her background at all. Born of Irish immigrant parents in Archway, north London, and educated at a local convent school, she says now: "I only started going to the theatre when I was 17. But we had an elocution teacher at the convent called Jackie Stoker. I started doing drama classes with her after school. I did the school plays and liked doing them. She said to me, 'You will be auditioning for drama school, because that is what you'll be doing'. I knew I wanted to be an actress, but I had no idea how to be one or what you did to become one."
The fact she ended up at RADA, one of the world's best drama schools, is, she says, partly thanks to the fact that "I didn't get into the others". She also auditioned for Central and Guildhall but was rejected. Asked today for her top tip for budding actors, she answers: "Do not take rejection personally. Ever."
She has gone on to lead an incredibly varied career that began in theatre and has since spanned an Oscar-nominated performance in the title role of Mike Leigh's Vera Drake, playing the scene-stealing role of Dolores Umbridge in Harry Potter and the Order of the Phoenix and a featured role in Matthew Warchus' recent film Pride, as well as TV roles such as Miss Pole in Cranford.
"Vera Drake changed everything," she says, "Ask any actor who works with Mike Leigh. You only want to work that way afterwards. It's full-on, yet liberating and so easy."
Staunton has a way of making acting look easy, too. But it's not all plain sailing: Gypsy should have happened a year before it did, but was postponed.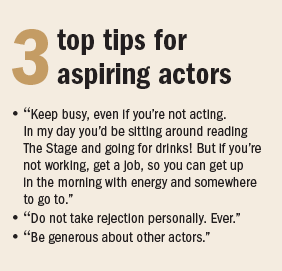 The reason? "I don't think I was famous enough," says Staunton. "I'm not a big enough name to open in the West End." It was only after the rave reviews at Chichester that it is being taken there now. "When it fell through, Sondheim and I sent each other sad little emails. I said, 'Are you really pissed off?'. And he replied, 'Yeah, I am'."
But she's relieved now that it turned out to be a year later than they originally planned. When it fell through, Staunton and her director Jonathan Kent cast around for something else to do instead, and they came upon Good People, a play they staged at Hampstead Theatre that then transferred to the West End's Noel Coward. "It was a great play and a thrill, and a very good warm-up for Gypsy," she says. "It was a bit of a bugger when it went straight to the West End because I thought I was going to get three months off. But actually it was good, stamina-wise, to do it."