The benefits of the great Victorian boom in theatre construction are still being felt today. These buildings were not only made to last, but also to keep their patrons safe.
This was largely because of the vigilance and ingenuity of the architect Frank Matcham (1854-1920), who designed more than 150 theatres and music halls in his extraordinary 50-year career, from the mighty 2,558-seat London Coliseum to the exquisite 499-seat Theatre Royal Wakefield. It was not unusual for him to work on eight projects at a time.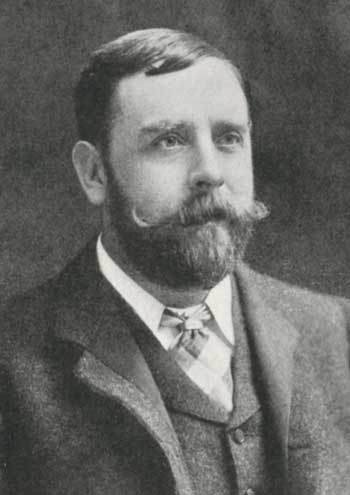 Honouring his memory is the Frank Matcham Society, formed in 1994. It keeps a watchful eye on the remaining 25 Matcham theatres still operating as performance venues, while appreciating the architectural merits of others. With members all over the country, it is not easy for them to get together on a regular basis but newsletters, email and a substantial yearly journal keep them all connected.
New chairman Mark Fox, of Really Useful Theatres, says: "What binds us together is a great love of theatre and theatre buildings. We try to organise events in the places where there are most members, and we also try to organise an overseas trip once a year."
Last year 25 members took a trip across the Irish Sea to the Isle of Man to examine the restoration of the Gaiety Theatre, one of the island's few architectural gems.
In recent years, the society has become involved in a local campaign to save the fabric of Brighton Hippodrome – one of Matcham's early circus buildings, but empty since 2007 – the fate of which still hangs in the balance. Its present owner, Academy Music Group, has plans to reopen it as an entertainment venue.
The £10 million refurbishment and expansion of London's Victoria Palace Theatre is another scheme of interest to the society, as it aims to adapt and upgrade an iconic Edwardian building for future generations.
"By increasing the size of the stage and the space around the stage, the Victoria Palace will be able to present bigger and more technical shows," says Fox.
So how did Matcham manage to combine a prodigious output with such high aesthetic standards?
It hardly needs saying that he was a work-aholic who found it difficult to turn anything down, whether a commission to build a new opera house or to refurbish an existing building. Having taken over a thriving London-based architectural practice in his early 20s, following the sudden death of his father-in-law, he was evidently also a tireless self-improver who learnt on the job.
Frank Matcham designed theatres
"He kept up with the technological developments of the day and incorporated them into his designs," says theatre historian Mike Sell, who has written extensively about Matcham. "The coming of gaslight and electricity in the late Victorian age changed the ethos of theatre-going and Matcham was willing and able to take advantage of that.
"He was a jobbing architect who took jobs as they came up, but people were in awe of him because he worked so fast, often doing rough architectural drawings on site on the back of an envelope. He had a way of cutting through the flannel and getting to the nub of a problem."
Yet Matcham was also a master of embellishment. He knew how to give theatres the wow factor, inside and out, that was required by the rich men who commissioned them. For the London Palladium, for instance, he envisaged a grandiose entrance consisting of six Corinthian pillars supporting an imposing pedimented portico topped by statues of mythological figures.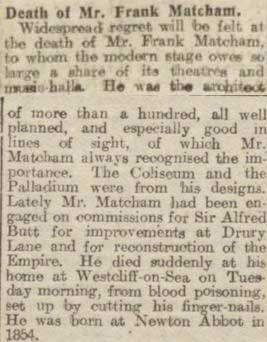 Not every innovation was successful. For the London Coliseum he designed a mobile lounge intended to convey VIPs from the entrance directly to their box at the back of the stalls. It blew a fuse on the night Edward VII was meant to christen it, and was never seen again.
Matcham travelled around the country extensively, either by train or, latterly, chauffeur-driven Daimler-Benz (he didn't drive), which had a specially installed cigar box in the rear. He played the violin, enjoyed amateur dramatics with his family and friends, and was by all accounts a devoted if frequently absent husband and father.
"His family life probably suffered as a result of his prodigious workload," says Sell. "His wife doesn't seem to have travelled with him on his trips. But I think the family became more of a priority when he became a grandparent."
It is gratifying to know – and for Matcham's descendants to know – that his endeavours are still being enjoyed, appreciated and maintained today. As Simon Callow wrote in his review of John Earl's 2005 book British Theatres and Music Halls: "The theatre building should be an entertainment in itself, an environment out of the usual run, an invitation into the world of the imagination."
Matcham's extravagant and ornate style may be redolent of a different age, but his theatres are part of our cultural heritage and they still have the power to lift our spirits and engender a childlike sense of expectation.
For more information, visit frankmatchamsociety.org.uk
If you'd like to read more stories from the history of entertainment, The Stage Archive offers access to all back issues of the paper from 1880 to 2007 and is available from £15.