As Tennessee Williams' little-revived play Summer and Smoke transfers to the West End, its star, Patsy Ferran, tells Natasha Tripney how she initially hated the character, what it was like working with Angela Lansbury on her first job, and which production changed her life
---
When Patsy Ferran first read Tennessee Williams' 1948 play Summer and Smoke she took an instant dislike to the character of minister's daughter Alma.
Though she would go on to play the role to great acclaim at the Almeida Theatre earlier this year, and is now revisiting the part in the West End, initially she was unconvinced by a character she saw as "annoying and a bit of a wet fish".
Ferran was equally cold on Alma's love interest John. "I thought he was horrid, mean for the sake of being mean." The actor was not alone in her scepticism of the play. Williams' infrequently performed play is not regarded as one of his great works and previous productions have met with muted receptions.
Summer and Smoke review at Duke of York's Theatre, London – 'Patsy Ferran's extraordinary performance'
Director Rebecca Frecknall, however, had always been fascinated by the play – she had already directed it once before in 2012 at Southwark Playhouse – and was determined to crack it.
Read our interview with Rebecca Frecknall
It was only when she got Ferran into the rehearsal room that they realised the actor's copy was of Williams' revised version and lacked the play's prologue, a scene that explores the characters' first meeting at the age of 10 and explains both John's later bitterness and Alma's fixation with him. For Ferran, the prologue provided the key to Alma's character.
After reading the play in its entirety, she "did this amazing 180". The character of Alma went from being "someone I didn't really like to someone I completely identified with".
This is what Ferran likes best about the rehearsal process, she tells me. She adores these moments of revelation – the act of unpacking a character. The process of sitting around a table and dissecting a play is, she says, her "sweet spot".
She speaks about the character of Alma with clarity and passion and clearly relishes the opportunity to analyse a play as much, if not more, than she likes going on stage, which, she says, she still finds "nerve-wracking".
Alma, she explains, is a character who feels the need to live up to other people's expectations of her. "She has this anxiety about her role in the world." That's something a lot of people can relate to. The character is also something of a rarity: a young woman who is "multifaceted, complex, messy, funny, vulnerable. I love playing her so much. This sounds so wanky, but there's real truth in her".
Ferran knew from a young age that she had the ability to make people laugh. She wasn't the class clown though, she stresses, but was good at entertaining her friends. She attended an all-girls school in Weybridge, Surrey, and played only male roles on stage. "I learned to enjoy being goofy, manly, ugly."
This also meant she never felt under pressure to be particularly feminine. "I found a love for being ugly on stage. It's quite liberating." Though when she says 'ugly' it sounds as if she means unattractive according to a restrictively narrow definition: gawky, silly, imperfect, interesting.
She never had a plan to be an actor. She grew up in a Spanish-English family, had a knack for languages and felt it was the career path she should follow.
But at the same time she loved the world of theatre and wanted to be part of it. So she applied for drama at university and in her third year, "bit the bullet" and auditioned for drama school. She figured if she didn't get in that would be the end of it, but instead landed a place at RADA. Ferran told herself that she would be "a struggling actor for five years and then quit and do a real job".
Then, while still at RADA, she landed a small part in Michael Blakemore's production of Blithe Spirit in the West End and ended up performing each night alongside Angela Lansbury, Janie Dee and Jemima Rooper. Though her role was small, she got to "spend every day in rehearsals watching amazing actors do their thing and get paid for it".
Continues…
---
Q&A: Patsy Ferran
What was your first professional theatre job?
Noel Coward's Blithe Spirit at the Gielgud Theatre.
What's your next job?
Chekhov's Three Sisters at the Almeida.
What do you wish someone had told you when you were starting out?
Stop worrying. Don't forget to enjoy the moment.
Who or what was your biggest influence?
I have many. Probably too many. Difficult to choose.
Do you have any theatrical superstitions or rituals?
A long, luxurious pre-show warm-up. A chocolate treat post-show.
---
She was spoilt on that first job, she says: "There was a standing ovation almost every night." And as the baby of the company, she was looked after. Lansbury, she says, "is one of the most gracious human beings I've ever met, gentle with a twinkle in her eye, ferociously funny and hardworking. I hope if I'm still acting at 80 I have her humility".
At this point, Ferran repeats some advice from her agent. "Actors have very little control of their lives and are at the mercy of everyone else's yes and no – the only thing you can control is your work ethic and your attitude. Work hard and be a nice human being. I genuinely live by that."
Ferran went on to play Jim Hawkins in the National Theatre's production of Treasure Island directed by Polly Findlay. "We never talked about it as a feminist piece. Polly and Bryony [Lavery, who adapted the book] wanted Jim to be a girl. The essence is still the same. If girls came to see it and thought 'I can be the hero of my own story' that's great."
Getting to work at the National was a dream for Ferran, because as a teenager she had visited on school trips and the work she saw inspired her – she admits to feeling like a 'fan-girl' around Nicholas Hytner. Ferran then worked with Findlay again on The Merchant of Venice for the Royal Shakespeare Company and as Celia in As You Like It, at the National.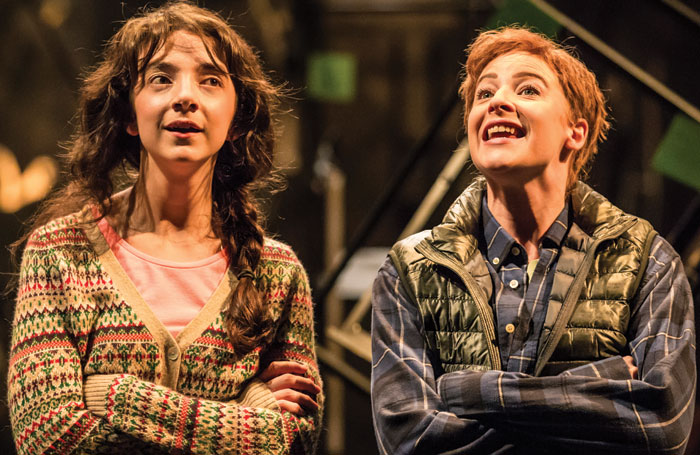 On screen, Ferran plays servant girl Mercy in Sky's Jamestown, about a group of settlers in Virginia. Initially filming felt alien and she was worried she wouldn't warm to it, but after a long run on stage she says she aches to be back in front of a camera.
The experience that really taught her something about her craft and herself, however, was starring in My Mum's a Twat, Anoushka Warden's autobiographical one-woman show about growing up as the daughter of a member of a cult. Ferran performed the 80-minute monologue twice nightly in the Royal Court's Jerwood Theatre Upstairs in January.
No male actor would apologise for taking up time on stage
Performing a one-woman show is hard, she says, really hard. One of the biggest hurdles for her was not apologising for taking up the audience's time. Ferran struggled with this at first, sometimes rushing through the play as a result. Then Vicky Featherstone, who co-directed the show, told her: "No male actor would apologise for taking up time on stage". It took a while for this to bed in, but towards the end of the run Ferran, who had always sought the audience's approval and the validation of their laughter, realised she no longer needed it in the same way. "I wasn't apologising any more."
The show was more than just an acting job to her. "It taught me something about myself – that's life-changing. I will always love those women for asking me to be a part of that."
Though Ferran speaks about her process with eloquence and carefulness, she still apologies for inarticulacy and "brain-farts". It's a gendered tendency and a hard habit to break. Her awareness of the way she presents herself to the world extends to the way she dresses. She favours oversized clothes and, though she will wear dresses and heels on occasion, it has to be on her terms. "I want people to see me as a human rather than as a walking vagina."
Next year she'll be reuniting with Frecknall for Three Sisters at the Almeida – she had a hankering to play Chekhov and was delighted when the director asked her to play Olga as it's not the role she would have imagined for herself. But first there is the West End run of Summer and Smoke.
In Ferran's hands, audiences are given an extraordinary window into the character with something as simple as how she undoes a single button on her blouse. "The play is quite delicate and slippery," she says. "It's not as visceral as his other plays. It's all about little looks and touches."
---
CV: Patsy Ferran
Born: Valencia, 1989
Training: RADA
Landmark productions:
• Blithe Spirit, Gielgud (2014)
• Treasure Island, National Theatre (2014)
• The Merchant of Venice, Royal Shakespeare Company (2015)
• As You Like It, National Theatre (2015)
• Speech and Debate, Trafalgar Studios (2017)
• My Mum's a Twat, Royal Court (2018)
• Summer and Smoke, Almeida (2018)
Awards: Jack Tinker Award for most promising newcomer at the 2015 Critics' Circle Awards for Blithe Spirit
Agent: Deborah Willey at Independent
---
Summer and Smoke is at the Duke of York's Theatre, London until January 19, 2019