When Sean Holmes took over the Lyric Hammersmith six years ago, he laid out his ambition to turn it into a kind of "National Theatre of Hammersmith." At the end of this month, the theatre reopens in full, following a three-year, £16.5 million capital project and, for the first time, he's got the facilities to match that aim.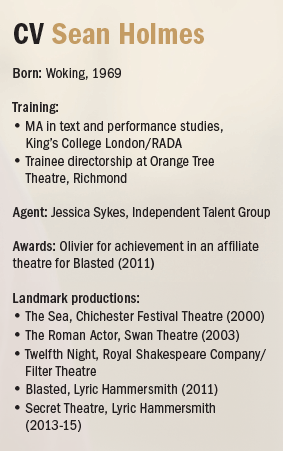 Before he and I sit down, I get a quick tour of the refurb. The scale and scope of it comes as a shock – so much so that the temptation is to talk of the 'new Lyric Hammersmith', rather than its new extension. Where the old bar used to be – it was little more than a hole in the wall, remember – there are now some sleek wooden steps, up which is a set-up beyond the means of any other producing theatre in the country.
It's like a state-of-the-art drama school. There's a large rehearsal room, filled with natural light; a sizeable dance studio with wall-to-floor mirrors; a film studio complete with green-screen technology, and a swish 60-seat screening cinema. Upstairs, there are soundproofed music practice rooms and a full-blown recording studio. The 'digital playspace' is a computer lab with an in-built video-wall. There's a sensory studio designed for young children and users with disabilities. All this on top of an open-plan office, break-out meeting spaces and new wardrobe and workshop facilities.
What with all the flurrying novelty of the last two years, during which time Holmes has led the Lyric's buccaneering Secret Theatre Company, it's easy to forget that everything was geared towards this – a major transformation that utterly changes the theatre's capabilities. The extension feels like an asset, not just for the Lyric itself, but for London theatre as a whole.
You could say the same of Secret Theatre. Holmes kicked the project off with a big, bolshy speech in June 2013, in which he told a roomful of industry types that "maybe the existing structures of theatre in this country, while not corrupt, are corrupting." He then proceeded to try and disrupt as many of them as possible – forming an in-house ensemble of actors and creatives, deploying gender- and colour-blind casting as default, keeping show titles secret – almost to prove to British theatre as a whole that there are other ways of doing things. Some things worked. Others didn't. But there's no denying the value and valour of the attempt.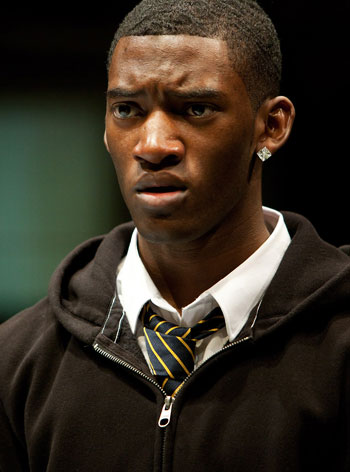 As we walk through the building, searching for somewhere to perch (furniture hasn't yet been delivered), Holmes wears a huge smile. He's clearly, and understandably, excitable about its possibilities, but in a completely outward-facing, generous way. "Our dream would be that in 10 or 15 years' time, the nature of London or British theatre has changed because of the varied people who come through this building and see the potential of theatre."
The Lyric Hammersmith has two sides. It's a producing theatre, geared around that idiosyncratic Frank Matcham proscenium, built in 1895 and moved, brick by brick, to its current site in 1966. But, as Holmes says, "the other side is a long commitment to working with young people in all sorts of different ways."
Holmes' tenure has often brought the two together. Vivienne Franzmann's Mogadishu and Simon Stephens' Punk Rock put teenagers onstage, while the Lyric's own young company performed Morning, also by Stephens, on the main stage and in Edinburgh. Holmes has also programmed rarely staged syllabus staples such as Sarah Kane's Blasted and Edward Bond's Saved.
The extension aims to serve its youth work. Holmes is clear that the Lyric is "not planning to become a drama school", rather that the facilities will "massively expand" the Lyric's education, outreach and participation programmes at a time when funding cuts have forced others to reduce or, in some cases, drop theirs entirely. It could – indeed, should – become a real artistic hub for west London.
"We're going to have all sorts of different young people coming in, experiencing different art forms, moving from one to another, meeting people that they'd never have met before," says Holmes. "Imagine what could come out of this."
He's particularly enthused by the implications for diversity. "Everyone in theatre is fiercely aware, rightly, that we still lag behind in terms of being truly representative – particularly in London." The Lyric, he says, is better than most, but still a long way short. A community resource such as this, with access and affordability at its heart, has the potential to alter that for the next generation.
Holmes is, however, keen to stress that the Lyric will remain, first and foremost, a producing theatre. "That's why we've kept the auditorium exactly the same," he says. "You don't want to become an arts centre – with all due respect to arts centres. It has to be a producing theatre with its own clear identity."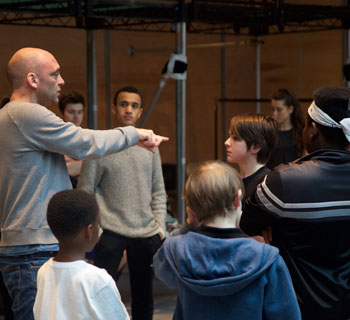 Holmes often talks of the Lyric in those terms – about uniqueness, provocation and raising the profile. "We are and need to be a theatre that people can't ignore," he says. There's a certain machismo in that, but then Holmes is nothing if not blokey. With his stocky build and close-shaved pate, he'd fit comfortably into any cast of Bouncers, but there's an irrepressible humility about him too. He's also notoriously – though not, I should stress, irresponsibly – fond of a post-show pint.
In fact, it's partly thanks to the pub that he's in the job. Umming and ahhing over an application in 2008, he got home from the pub one night and hammered out a draft application. "I was actually a bit drunk," he laughs, heartily, "but I woke up the next day and, surprisingly, it wasn't a load of rubbish. It was like, 'Oh, that's interesting. I've obviously been thinking about this and I clearly want it'."
Why so? "It's the theatre I felt most like an audience member in, not somebody who works in the industry." The work had "the odd rough edge" to it and he liked the energy of the place; the puckish, slightly punky feel but also the edge of old-school populism. He's gone on to extend both: Secret Theatre on the one hand, an annual panto on the other. "I could really feel that the narrative was making sense. I made sense as a potential artistic director."
With 550 seats, the Lyric's main house is significantly larger than, say, the Donmar, Royal Court or Almeida. "On a bad day, it's really depressing," says Holmes, but that doesn't mean the place tends towards safe programming. Quite the opposite. "We make money at the box office by doing things that are unexpected or leftfield. You have to take risks to succeed. It's that simple."
Holmes grew up in Egham, just outside London, and got into theatre at school, studying it at both GCSE and A level. "It wasn't in my background. My dad's family are in construction. I was a weird, bookish kid."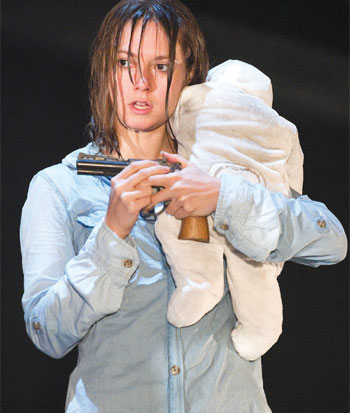 He was directing by the time he got to university. Stephens – a regular collaborator over the last decade – was in the year below Holmes at York, though the two never met as students. "He was something of a legend in our drama society," Stephens tells me. "Partly because loads of people really fancied him; partly because his work was meant to be really, really good."
After an MA came a traineeship at the Orange Tree in Richmond, under Sam Walters. He's not the only AD to have done so: Timothy Sheader, Rachel Kavanagh and Dominic Hill all spent a year there, while James Brining worked in the education department. "Sam took people who were pretty raw, and you just got thrown into a working theatre." Holmes spent his Saturdays manning the box office (mostly hungover) and worked front-of-house shifts. Few apprenticeships are as pragmatic and hands-on. "The year I was there, they had a permanent company," he suddenly remembers. "It was Sam's dream."
Before turning AD, Holmes had spent the previous 15 years working as a freelance director, guided by an aim "to do what I wanted to do, things that really interested me". A lot of his shows were post-war classics – Joe Orton's Loot, John Osborne's The Entertainer, Edward Bond's Saved – particularly during his time as an Oxford Stage Company associate.
Dominic Dromgoole hired him partly on personality: "We were, as I remember, in quite a vulnerable state at that time, and having an associate with broad shoulders, who was so entirely earthed, seemed a good, stabilising move." His shows, Dromgoole says, were "clean, Protestant, assured and human. He's gone in a variety of directions since, but never entirely lost that Shaker raw simplicity."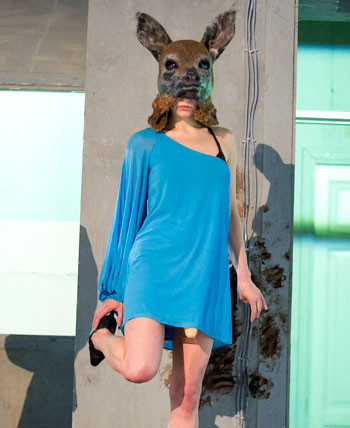 It's true: Holmes' work has always had heft. It's why he chose – and still chooses – such big, brassy plays. "Those writers felt theatre was important, that it meant something and challenged the status quo. They wrote in metaphor. They challenged actors. They weren't trying to please an audience."
Look down Holmes' CV and you can see him growing increasingly radical: textual fidelity gives way to devised work then on to director-led, European-style theatre. There's a sense of someone learning in public, discovering as he goes. He sees himself as "a slow developer – but I really like learning".
He was, at first, the sort of director to honour a writer's intentions. "The reason I liked being a director was sitting in the imagination of the writer. If you're sitting in Sarah Kane's or Shakespeare's imagination for six or seven weeks, that's a really extraordinary place to be." Looking back, he sees things slightly differently: "I've hidden behind the writer a bit too often; maybe not thought more broadly or more deeply about the dramaturgy of a play, because you're going, 'Well, I'm doing what the writer says'."
It was working with Filter Theatre, first on The Caucasian Chalk Circle in 2007, then on the revelry-filled – and revelatory – Twelfth Night, that triggered a change in Holmes. Matched to bring a devised company and a text-centric director together, the process rubbed off on both parties. "It felt like something clicked for me then," Holmes remembers. "You don't have to direct all the time." Put another way: let the actors play.
Another came in 2012. "I must be so boring talking about Three Kingdoms all the time," he apologies, "but it was fucking brilliant." Stephens' play, staged with freewheeling flair by the German director Sebastian Nubling, has become something of a landmark. It started slowly at the Lyric, with muted mainstream reviews and half-empty houses, before taking off. Bloggers raved. Twitter exploded. The building filled up with wide-eyed, theatre-savvy young punters, all cheering it to the rafters. Holmes saw it a dozen times. "I want to make work that has that effect."

Little more than a year later, with the Lyric about to undergo building work, he launched the aforementioned Secret Theatre, a kindly assault on British theatre, borrowing structures, practices and aesthetics from German theatre. It was an intervention, of sorts; an attempt to overhaul a model Holmes felt inhibited art and experimentation in this country. If it seemed to spring from nowhere, it didn't. In a 2003 Guardian Ones to Watch feature, Holmes can be found bemoaning "a lack of radicalism" and extolling the need for artistic homes "where actors, writers and directors can come together". Secret Theatre attempted to provide both.
It was a bold, brave gesture – not least for simply questioning the status quo. "The sensible, logical thing to do during that time would have been not to do Secret Theatre, but to keep our heads down and not do very much," Holmes says. "It put a massive strain on the organisation." Audiences were loyal, but not large – mostly because the schedule was, by necessity, unpredictable, slotting around building work.
The project grew into its own. The first shows – Woyzeck and A Streetcar Named Desire – felt like shots over the parapet: a bit derivative, a little stitched together, but bold, raw and exciting. The new writing – Caroline Bird's Orton-esque Chamber Piece, Hayley Squires' Glitterland, Mark Ravenhill's Show 6 – floundered somewhat, the product of a get-what-you're-given commissioning model. Secret Theatre's devised piece A Series of Increasingly Impossible Acts found a new language it could fully own: twisting Shakespeare with Forced Entertainment, European sensibilities with British wit, putting the emphasis on the performers as people.
"All of Secret Theatre was about one thing and one thing only, though I didn't know it at the time. It wasn't about being German and it wasn't about new approaches to new writing. It wasn't really about directing. It was about acting. It was about empowering the actors individually and collectively to reach their potential. Because the biggest thing that no one talks about is the deep conservativism in the choices British actors make, and the reasons – before they all come and kill me – are structural. It's not their fault. It's to do with economics." Actors fees, the precariousness of that existence, Holmes believes, leads towards television, film and safe, conservative choices. It stops actors being artists.
He sees Secret Theatre's second year – a result of building delays – as key, partly because it concretised the sense of company and partly because it reached other parts of the country. An additional Arts Council England grant enabled it to tour the country, with a stop in Edinburgh for the fringe. "Something that – partly through our own fault, though never by intention – was perceived as elitist or esoteric became something unignorable, open and in conversation."
It has lost the Lyric a lot of money. But it was always going to. The board agreed a deficit budget, happy to rest on healthy reserves to see the theatre through refurbishment. "We budgeted to a loss," says Holmes, "and we came in within that."
You'd be forgiven for thinking it explains the Lyric's next show, a four-month run of Bugsy Malone. Holmes is aware of the perception – the oddity of jumping from Euro-inspired avant-garde to a family-friendly musical – but he's never been one to shy away from a crowd-pleaser and there's a sense that this is the Lyric playing for the people.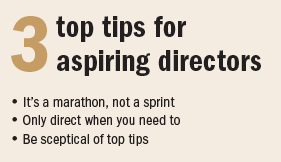 It's not, he insists, about the books. "We got the rights for Bugsy in my first year as artistic director." He arrived just as Spring Awakening was doing a roaring trade. Bugsy, when it sprang to mind, was a no-brainer. "All us oldies knew and liked it. It hadn't been done for a while, and it's got young people at its heart. It's not sentimental and cloying. It's witty, ironic and smart.
"The whole building is really excited about this. Everyone's waited to do it for years and it's every bit as Lyric as Three Kingdoms."