After founding the Union Theatre 20 years ago, the director juggles work on the London fringe with commercial tours. She tells Mark Shenton about the venue's £150,000 move and taking an all-male Mikado on the road
---
Last summer, Southwark's tiny but influential Union Theatre underwent a major upheaval. It was not a big geographical shift – it moved to new premises literally across the street – but it was a major leap, both financially and structurally. The rent may have quadrupled – but the regular leaks and flooding when it rains have happily stopped, too. Also replaced is the open-to-the-elements sandwiches-and-bagels coffee stall at the front, now instead a full service bar and restaurant that offers cooked meals as well as snacks and cakes. And the theatre now has a purpose-built, handsomely equipped rehearsal room upstairs, regularly hired by West End managements, which helps to offset that rent increase.
"I've had about four days off in nearly two years," says Sasha Regan, the theatre's indefatigable artistic director who founded the theatre nearly 20 years ago, transforming a derelict railway arch into a functioning theatre with a Prince's Trust loan, a bank loan and a personal credit card.
'If you learn your style on the fringe, where you can be more creative and intuitive, you can go out and be brave and bold'
"I was 23 and quite brave," she says today. Twenty years later, she has had to be even braver to make the move across the road: it cost £150,000 to do so. Some of that was offset by landlords Network Rail – "because they were evicting me, they had to help pay to go over to this one" – but her small theatre that thinks big is really on the map, in every sense.
'If you learn your style on the fringe, where you can be more creative and intuitive, you can go out and be brave and bold'
Its productions have transferred to Wilton's Music Hall in east London and central London's Arts Theatre; they have also toured both nationally and internationally, including a run that saw its all-male production of The Pirates of Penzance go to Australia in 2012. That production, directed by Regan, was born in Southwark three years earlier; it is one of five all-male Gilbert and Sullivan operettas she has now staged, which have become one of the Union's big calling cards.
They were born when Regan was working at the Union with another director, Thom Southerland (now artistic director at Charing Cross Theatre): "I remember we were sitting in Covent Garden having a lovely glass of wine and talking about shows to do, and Thom came up with Gilbert and Sullivan and I came up with the all-male thing. We worked on The Mikado together, then I took up the mantle and have carried on for years now."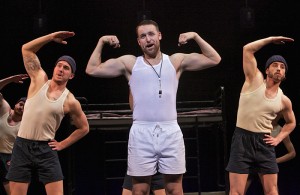 The titles she has tackled also include Iolanthe, Patience and HMS Pinafore; now she's giving another spin on The Mikado. They've become so popular that several of them have launched successful post-Union national tours; now The Mikado is being produced, not under the auspices of the Union itself, but as a separate commercial entity, produced by Regan De Wynter Williams Ltd, a company that comprises Regan, Ben De Wynter and Hilary and Stuart Williams.
It's the first show Regan has not premiered first at the Union, but launched instead at the 900-seat Theatre Royal Bath, before touring it across the country, from Edinburgh to Richmond in south-west London (until May 27) and beyond, to places as far afield as Exeter, Truro, Salford and Shrewsbury.
She has learned a hard lesson along the way: "I'm not ever not going to do it at the Union first again," she tells me. "The pressure is so immense of trying to do it in four weeks and launching it somewhere like Bath." But even if it's not a Union Theatre show as such, she says: "It is the Union Theatre at heart. I've got a good handful of people in the company who've been in something there. There's a real family feel to it – and I'm the mother hen, really." Her own family have played an intimate part: "When we opened in Bath, my children were down with me for the whole week and the designer, Ryan Dawson Laight, needed some buttons sewn on to the boy's shorts – so my daughter, who is nine, was shown how to do it and spent the whole day in wardrobe working. It's still a family business when we go on the road."
That is part of her theatrical ethos. "We still have a fringe mentality of begging, stealing and borrowing stuff, and using a lot of initiative – we source everything ourselves and build everyone ourselves. The designer went to Berlin for a week and found a five-storey thrift store where he could source all the hand-knitted jumpers and stuff; the wages for the actors and the company are more important than getting it made just for us."
The Mikado. Photos: Stewart McPherson
But it is not just about maintaining the scale, style and thrift of the fringe, but the inventiveness, too: "I think that what the tours prove is that if you learn your skills in a small venue, and you have that work ethic, when you go to a place like Theatre Royal Bath, which is a stunning three-tiered theatre, your work can still stand up against the best of companies with huge amounts of funding and development money. If you learn your style on the fringe, where you can afford to be more creative and intuitive with the work, then you can go out and still be brave and bold – this is us, we may only have three tents for a set, but that doesn't mean we can't tell the story in a really imaginative way."
In the case of the all-male G&S shows, that imagination means that she has presided over an entirely fresh way of presenting their work. Why does she think they respond so well to this approach?
"I think there's an innocence, a youthfulness, an energy and a playfulness to it, so that when we're in the rehearsal room you're not thinking about the tradition of G&S and what you should be doing and what has been done for such a long time, but attacking it from a really fresh point of view. We've set The Mikado in the 1950s in a little campsite and all the boys are in shorts and little knitted tank tops and ties – it's playful. And kids and teenagers are coming to see it and don't realise it was written in 1885. We bring a youthfulness to the show, which is what is needed."
And new, youthful audiences to it, too: "I meet people all the time who say they hate G&S and don't want to watch it – but the flip side is the reward when they come and say they thought that they'd hate it, it's not their cup of tea, and then they love it." She's also finding that casting them is easier now. "When we auditioned for the first one, it was hard to find boys to sing falsetto – now, we audition and all the boys are coming in and comfortable doing it."
'Knowing I can employ 25 people for six months makes me really proud'
Most importantly, the tours are paying their actors, plus subsistence and travel.
"Now the theatres know us, we're in a really fortunate position where we are getting guarantees, so we're not going out with huge risks and we can pay everyone. Knowing I can employ 25 people for six months makes me really proud."
That is still not always the case at the Union, which continues to operate on profit share and expenses for many shows, "but we're moving in the right direction," Regan insists. Meanwhile, the Union is also making strides in other ways: "We've got a youth theatre there now, which feels like our biggest achievement. I love it that every Sunday the building is full up with kids from the ages of four-and-a-quarter to 19. I started myself with the Young Vic youth theatre just up the road, so I'm really proud of that."
The theatre has regularly championed British musical theatre writers, and has lately been specialising in revivals of British musicals that have been neglected or forgotten, such as Moby Dick and Children of Eden. Next up is Tim Rice and Stephen Oliver's 1980s musical Blondel (originally premiered at the Old Vic down the road) in June, which Regan is directing, then Howard Goodall's The Hired Man in July.
The London fringe is full of dedicated personnel, such as Regan and Neil McPherson at the Finborough Theatre, who make their venues into their life's work. "When I started the Union, I thought I wouldn't be here when I was 40. But that's not how it has worked – and when they wanted to evict us, it broke my heart. My children grew up there, my friends and so much of my life is in it. It really is a second home. I suppose that is why I don't give up."
The Mikado tours the UK until July 29; Annie Get Your Gun is at the Union Theatre, London, until June 17. 
---
CV: Sasha Regan
Born: 1972, Woolwich, south-east London
Training: Degree in drama at St Mary's University, Twickenham
Landmark productions: Cabaret (2002); Sweeney Todd (2008); The Pirates of Penzance (2009), UK tour (2015); Iolanthe (2010); Patience (2012); HMS Pinafore (2013); Pipe Dream (2013); Love Story (2014)
Awards: Empty Space Peter Brook award for best up-and-coming studio theatre (2008); The Stage award for fringe theatre of the year (2013); Offies special achievement award "for her tireless campaign to save the theatre, negotiate with Network Rail and move the venue from one railway arch to two" (2017)
Agent: Global Artists