It's a funny thing about Rupert Goold: his work seems to inspire exhilaration and exasperation in critics in equal measure – sometimes in the same sentence. Take this, from Michael Billington's review in The Guardian for Goold's Royal Shakespeare Company Merchant of Venice in 2011: "Rupert Goold, as is his wont, goes for broke by transporting it wholesale to modern Las Vegas, where showbiz fantasy meets speculative capitalism; and the result is, by turns, brilliant, outrageous and excessive."
The same production, revived at London's Almeida in 2014 as part of Goold's opening season at the helm there, drew this withering appraisal from Dominic Cavendish in The Daily Telegraph: "Determined to have his pound of flash, Goold's glistering excess diminishes the pathos, plausibility and even the basic dramatic pathway of Shakespeare's problem play."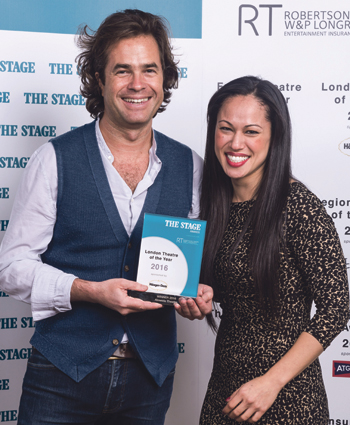 Then again, there's Charles Spencer in the Telegraph on Mike Bartlett's Earthquakes in London, the premiere of which Goold directed at the National Theatre (in a co-production with Headlong, the company Goold ran from 2005 to 2013): "Whoooosh! And indeed wow! Mike Bartlett's Earthquakes in London is the theatrical equivalent of a thrilling roller-coaster ride. It swoops and twists, rushes and soars, and provides a great shot of adrenalin-fuelled excitement. With a running time of more than three hours there are, as on a big dipper, moments when you wish the bloody thing would stop, and at the end exhilaration gives way to a slight feeling of anti-climax. But the sheer energy and ambition of the piece are irresistible, while Rupert Goold directs a brilliantly inventive, unashamedly flashy production that adds greatly to the excitement."
'Excessive', 'flashy' and 'inventive': these are words that seem to recur with almost frightening regularity in reviews of Goold's work. He's the first to admit it: "Perhaps five years ago people may have said of my work, there's a lack of detail but a lot of flash and bang. Bigger spaces may have seemed the more natural fit for me, but I was drawn to the Almeida to try to challenge that."
He had already run two companies – Northampton's Royal and Derngate and Headlong – when the job of artistic director at the Almeida came up. Headlong had already had an association at the venue, having co-presented three shows there – The Last Days of Judas Iscariot in 2008, Chimerica in May 2013 and American Psycho in December 2013, of which Goold directed the first and last respectively. So it was already, in a sense, one of Goold's homes. But so was the NT, where Headlong had co-presented Earthquakes in London, and the RSC, where he was an associate director. In fact, the jobs to run both of those came up at around the same time as the Almeida offer.
"It's that funny thing that happens in the theatre, and I was tapped up for some of them," he admits freely now. "I applied with 20 minutes to spare on the deadline for the RSC and withdrew it two days later. The RSC has a very good and persuasive chair, and I had pressure to apply, but I knew immediately it was not the right time."
He'd also thought long and hard about the NT, telling me that he and Jonathan Church "both talked quite actively about applying for it. But in the end, for different reasons, we didn't want to do it".
He considers Church to be his mentor, as the outgoing Chichester Festival Theatre artistic director nurtured Goold's young career while running Salisbury Playhouse in the late 1990s. Goold describes Church warmly as "a brilliant theatre man", and adds: "He's never had the heights of glamour or fashion or been part of the metropolitan thing, but he's brilliant."
They seem to be temperamental opposites. Church, in person as well as his work, is modest and self-effacing, whereas Goold has a brisk (though not brusque) confidence and starry allure. This appeal, like his RSC counterpart Gregory Doran, seems defined by his ample head of wavy, not yet greying, hair.
But Goold has a head, too, for the bigger picture of the British theatre ecology. He notes: "When Michael [Boyd] and Nick [Hytner] left, it felt like there was an experience drain, at a time when it was important to have advocates for the theatre. Maybe Rufus [Norris] will become that, but David Lan feels like he's the statesman of artistic directors now, though Josie [Rourke] is also politically astute."
Continues…
---
Q&A: Rupert Goold
What was your first theatre job? Interning at Compass, then run by Tim Pigott-Smith, when I was 18, on a production of Amadeus. I spent all my time in the green room trying to flirt with Helen Baxendale! My first paid job was at the Donmar Warehouse as resident assistant director.
What is your next job? I'm going to do a new James Graham play that's not been announced yet. And I'd like to do another big musical – I've been twice bitten, but I'm not shy yet.
What do you wish someone had told you when you were starting out? It's all right to be yourself, and not only is it all right, it is also necessary.
Who or what was your biggest influence? As an artistic director, Jonathan Church; as a director, probably Robert Lepage or Stanley Kubrick.
What's your best advice for auditions? I'm always staggered by how many actors don't know the text well enough. In America, senior actors will come in with 10 pages off book. So do the work.
If you hadn't been a director, what would you have been? I always wanted to be a director, but maybe politics at some level if not.
Do you have any theatrical superstitions or rituals? If I miss a press night, I feel like the building has collapsed.
---
Bringing himself to the Almeida answered an artistic need. "It's my local theatre and I don't regret it at all. It's a great thing." But he also wants to broaden its reach: "Like the Donmar, it felt very 'industry to industry', like it was in a conversation with the industry itself. That's not a bad thing – lots of other art forms have those spaces – but we should aspire to have at least half our work have a future life in whatever form we can find, whether it be broadcast or film."
He is currently making plans to make a TV film of King Charles III, and it has just been announced that Goold's current production of Richard III, starring Ralph Fiennes, will be the first in a new venture called Almeida Theatre Live, being broadcast to cinemas in partnership with Picturehouse Entertainment on July 21.
Ever pragmatic, when the RSC failed to give his production of The Merchant of Venice a further life, he revived it for himself at the Almeida. "It's really hard to do something good. So if you do, you want it be seen. In Europe they don't think twice about revisiting things – an opera house might keep a show in repertoire. There's lots of stuff I've done in the last 15 years that I'd like to revisit. With The Merchant of Venice, for various reasons we couldn't get it into the West End. Then Michael Boyd left and who is going to push for a show from someone else's regime? Greg [Doran] had one he wanted to do with Polly Findlay, so we slipped it in through a tiny window."
Goold is now directing his first Shakespeare since then. "I'd forgotten how much I love it and how comfortable I am with it," he says.
It's intriguing, though, that he comes to Richard III fresh from reviving American Psycho – the musical based on the 1991 Bret Easton Ellis novel – on Broadway: "I've obviously got a season of psychopaths. But Ralph [Fiennes] and I have been talking about working together for literally years. There was a time when we were looking at Othello, but Hytner's one opened [with Adrian Lester and Rory Kinnear], so we decided to keep away from that. It's often the way with Shakespeare: you programme in reaction to what everyone else is doing. Richard III was something [Fiennes] wanted to do – he'd been in the history cycle that Adrian Noble had done, and in which Anton Lesser had played Richard."
Goold did not have a special affinity for it. "It's not a play I knew particularly well, though one of my very first theatre memories was seeing Tony Sher do it [at the RSC] when I was a teenager. At Headlong, I conceived of a production I wanted to do about Boris Johnson, and was intrigued by what seemed like an Eton Conservative culture that would stop at nothing. I thought I could do it in a Brechtian way and have the Milibands as the princes in the tower. Matt Lucas would have been brilliant in it."
But as a project led by Fiennes, Richard III has a different set of priorities. "At Headlong, by and large everything was led by the writers, and to some extent by directors. The Almeida in my time has had some wonderful actors, but it still possibly felt like a directors' theatre sometimes. But it is an actor's space, too – so an actor who is ready for a role and wants to do it is reason enough to do it. It's in Ralph's remit as an actor; on screen, in particular, he's entered a phase of brilliant, quite comic character acting that is very different to The English Patient, say, that people know him for, and that energy is perfect for Richard III."
The day before we meet, the Broadway run of American Psycho had just posted closing notices for June 5, ahead of the Tony Awards the following weekend for which it failed to secure any major nominations and which duly doomed it.
Goold is sanguine about it now, but obviously disappointed. "I've had these three projects in the last five or six years that have utterly dominated my creative life," he says. "I'd signed to each of them when my star was newly ascendant, and you get to a point where the world seems to be your oyster."
These included his first feature film True Story, starring James Franco and Felicity Jones, and the musicals Made in Dagenham (in the West End) and American Psycho. "Each took the best part of the last five years. Though I'm proud of them, none achieved anything like the success of King Charles III, a fun piece I did for a friend [playwright Mike Bartlett]." That show moved from the Almeida to the West End and a national tour that also played in Australia.
Yet its Broadway outing, for which it has also been Tony nominated, failed to recoup its investment. "I'm a bit confused about that," he admits. "We couldn't have written those reviews ourselves."
But he notes admiringly Stephen Karam's The Humans, which has turned out to be the play of the year on Broadway. "It's a really textbook American play of family ritual and breakdown. It's beautifully directed and full of wonderful naturalistic acting that's led by relationships, not politics or argument or form. I really admire that work. But the stuff I do is much more interested in form, like a verse play with King Charles III, a carnivalesque financial thing like Enron, or even American Psycho, which, in terms of form, is a different kind of musical. Whether Broadway is the place for that I don't know."
Enron, too, failed to reach an audience in New York. "I've done four shows on Broadway now, and spent months and months there on other stuff as well. I'm beginning to understand how it works and the secular nature of momentum in New York that's got to do with how you open and how it builds. I was so proud of Enron, but I knew from the day we opened that it was not working with the audience. The momentum wasn't there and it wasn't the right time for that play. With American Psycho, I felt we had the momentum – but then the review came out and you could feel the confidence leak out like a balloon."
The review he is talking about is Ben Brantley's in The New York Times, in which the show was described as "neither scary nor sexy". Goold says that the impact of disappointing notices on audience figures "doesn't happen in London as it does there, and we needed that review".
But perhaps, too, Broadway has had the air sucked out of it this year by the success of Hamilton, and there's no oxygen left for anyone else. "American culture, and particularly Broadway, needs to have new musical theatre work to feel it is alive. Just as if we have a year when there is no great new play, we start to wonder what is happening to the state of British theatre. Then Jerusalem comes along and we know we're still alive."
Yet, having spent a lot of time on 45th Street in New York during the last year – American Psycho and King Charles III played at theatres opposite each other – he points out something incredibly healthy: "We had American Psycho, Hughie, The Color Purple, Eclipsed and a black lead in Les Miserables down the road. It's so diverse, as was the audience and the work. You felt there was a very different set of audiences coming in, and we haven't got that in the West End yet."
Continues…
---
Rupert Goold's top tips for aspiring directors
• Everybody gets at least two chances, so don't think there is only one. I got a break [a 1998 production of Romeo and Juliet] but it didn't really work – apart from meeting Kate [Fleetwood, his wife], that is. Trevor Nunn came to see it and it was not good enough. I thought, 'That's it, I've blown it.'
• It can be terribly tough financially to be an emerging director, and you're going to have to make your money doing something else. I stayed afloat for years teaching in drama schools. But don't be afraid to turn something down if you don't feel it is right for you.
• Don't think about your career, but about three pieces of work you want to do. The best piece of advice I ever got was to have the show you're doing, the show you're going to do and the show you want to do. Each time one finishes, you should have the next lined up. So many young directors have nothing up their sleeves. So read some plays, and present ideas.
---
He's also increasingly drawn to cinema, he says. "In some ways it suits my disposition as a director better than the theatre – you have to have great stamina and patience and calmness in film. Directing actors for camera is like trying to catch light in a bottle; you have to be much more economical with how you direct. You're just trying to stimulate something, and that is very exciting puppetry. In theatre, you're trying to build an architecture that will keep a performance going for potentially months – that's a very different thing."
But he also relishes, above all, the experience of working with writers. That's why he particularly likes doing new work. "I enjoy that process," he says. "There are only so many times you can find new ways of stimulating actors. Your ability as a director is to find detail, definition and structure to a performance, but you also become more aware that so much of it is in the casting."
Instead, his job is focused on realising the limitations as well as the good parts of a script.
"The job of a director is to lift, disguise, help and clarify the bad bits of a play. That's as true of Shakespeare as it is of new plays. If a scene is good and the actors are good, you have to just get out of the way. But the conceptual ideas I have for classical work have always been to make the bits that are normally boring or problematic work. That's why I choose those worlds [to set them in]."
Sometimes with new, complex plays such as Lucy Kirkwood's Chimerica (which Headlong produced at the Almeida, directed by Lyndsey Turner, and took nearly a decade to bring to the stage), his own production of Earthquakes in London, or the recent Almeida production of Leo Butler's Boy, it's about unlocking a design concept that makes it work.
"On the page, Earthquakes in London seemed undirectable. It was written like a film script, with so many locations and plot strands." But Goold and his designer Es Devlin staged it in the Cottesloe on a stage that snaked through the audience, and cross-cut from one side of the theatre to the other. And he says of Boy: "Sacha [Wares, its director] gave a life and identity to the text that was vivid but it was hard to imagine how it would be brought to the stage."
That's a technical challenge of directing, but there's also an emotional one. "It sounds awfully narcissistic in some ways, but you've got to be unafraid as a director to put yourself into the work. You're not a piece of glass, and that's to be celebrated. And the artists I've tried to invite here are exploring themselves at some level."
His last Almeida show, a new adaptation of Medea by Rachel Cusk, was doubly personal: for Cusk – "she literally wears her life in the words on the page in an incredibly brutal way" – and for Goold and his star Kate Fleetwood in the title role, who happen to be husband and wife with two children: a son aged 10 and a daughter aged five.
Do they take the job home with them? "We do two different jobs, but because we're in the same business we can really talk about each other's work. And I can hear about how other directors work!"
---
CV: Rupert Goold
Born: 1972, London
Training: Cambridge University; then resident assistant scheme at Donmar Warehouse
Landmark productions: Speaking Like Magpies (Royal Shakespeare Company, 2005), The Tempest (RSC, 2005), The Glass Menagerie (West End, 2007), Macbeth (Chichester Festival Theatre 2007; then West End and Broadway), The Last Days of Judas Iscariot (Headlong/Almeida, 2008), Six Characters in Search of an Author (Headlong/Chichester, then West End, 2008), No Man's Land (Dublin and West End, 2008), Enron (Headlong/Chichester in 2009; then Royal Court, West End's Noel Coward Theatre, and Broadway), Earthquakes in London (National Theatre, 2010), American Psycho (Headlong/Almeida in 2013; then Broadway 2016), King Charles III (Almeida, 2014; then West End/Broadway), Made in Dagenham (West End, 2014), Medea (Almeida, 2015)
Awards: Oliviers for best director for Macbeth (2008) and Enron (2010), Evening Standard awards for best director for Enron (2009) and Macbeth (2007)
Agent: Natasha Galloway at United Agents
---