After seven years as artistic director of the Traverse Theatre in Edinburgh, Orla O'Loughlin is moving on. She tells David Pollock about her swansong production and ambitions for her new role as Guildhall's director of drama
---
Class is on Orla O'Loughlin's mind. "We need to break down the stereotype that the arts are rarefied and only happen at an elite level for middle-class audiences," she says, during a break from rehearsing Mouthpiece, her swansong as artistic director of Edinburgh's Traverse Theatre. "If that's who's making and seeing work, then the arts are redundant, because what's the function of that? It's an exercise in massaging egos."
While playwright Kieran Hurley's new work – as they all are at the Traverse – is foremost in her mind ahead of its December run, O'Loughlin is at a turning point in her career. Behind her lie seven highly regarded years at the 'Trav' in which audiences rose – last year they were up 12% on the previous year which the theatre says reflects the general trend during her tenure –and her programming became known for its promotion of diversity and equality. Ahead, from January, is a new post as vice principal and director of drama at London's Guildhall School of Music and Drama.
She returns to the theme of class throughout our conversation. Of her own west London upbringing as the child of Irish migrants who arrived in the 1960s with nothing, to the themes of her final Traverse play as director – and from her hope that working-class voices be heard more on stage across the country, to how that can be facilitated through education.
O'Loughlin moved from her role as Pentabus artistic director in 2011, replacing Dominic Hill. During her term as joint chief executive and artistic director, the Traverse has led the way in putting plays by diverse and talented playwrights on stage. And before she left, she wanted to take a run at the class barrier.
"Mouthpiece became even more important – symbolic, really – as my final show," she says. "Kieran's play is a discussion about how the middle classes appropriate working-class experience and who has the right to tell those stories. It feels like a provocation to leave on, but if the Traverse has ever stood for anything it's promoting conversation about the state of things."
Coming from a family where performing at gatherings was a given, O'Loughlin's first defining experience in a theatre was far less edgy than the Traverse. "I saw Joseph and the Amazing Technicolor Dreamcoat at the local theatre and I cried for a week after," she says. "I felt the loss of it. If I was Dorothy I'd been living in black and white, then I saw Joseph and the world turned to colour."
With plans to act, O'Loughlin studied theatre and performance at the University of Warwick, but didn't engage with the course's theory elements. Disillusioned, she instead went into teacher training and taught throughout London in her 20s, but when friends in the business came to see school plays she'd directed, they remarked how good they were.
"I had a midlife crisis in my late 20s," she says. "I left teaching, sold my flat, moved back in with my parents and did a master's in directing at the Central School of Speech and Drama. This time I was a model student, because I really wanted and needed it. Then things happened very quickly for me; I won an award, trained at the National Theatre, then got a bursary to be at the Donmar Warehouse for 18 months as Sam Mendes' assistant director. Four years after leaving teaching I was an associate director at the Royal Court."
Continues…
---
Q&A: 

Orla O'Loughlin
What was your first  non-theatre job?
Saturday job in Saxon shoe shop in Ealing Broadway at the age of 14.
What was your first professional theatre job?
Resident assistant director at the Donmar Warehouse.
What do you wish someone had told you when you were starting out?
That there is no rule book.
Who or what was your biggest influence?
Complicite and MTV.
What's the best advice  you've been given?
It's a long game.
If you hadn't been a director, what would you have been?
A teacher.
Do you have any theatrical superstitions or rituals?
Just breathe.
---
Despite friends' disbelief at the move to rural Shropshire, O'Loughlin's time at Pentabus was successful and she remembers it fondly. Then it was suggested she apply for the Trav job when it came up. "It was an irresistible possibility, and because new writing is in my blood, where else better to do it?" she says. "The quality of the writers who have come up through the Traverse speaks for itself, so to be part of that was very exciting."
When she discusses new writing, her enthusiasm is infectious. "The play you go into the rehearsal room with is never the play that goes on, and because it's a world premiere there's no received wisdom about what it means or how it should be done. You're in a very live dialogue with the creative team all the way through."
There was no brief when she arrived, beyond preparing for the theatre's 50th anniversary in 2013 – the Traverse 50 was the resulting year-long mentoring scheme, yielding playwrights such as Frances Poet, Martin McCormack, James Ley and Sylvia Dow – and being ready for the Edinburgh Festival Fringe. "It's always in our minds, programming and managing it is a year-round job," says O'Loughlin. "As it gets closer to August, the tidal wave gets louder.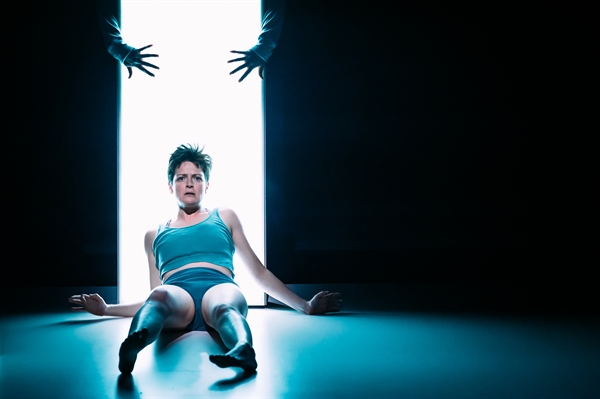 "It's overwhelming, because the weight of expectation placed on this venue during the festival is unlike any other, and because it's new writing you don't know until it's up on stage whether it works. The bar is open until 3am, then we open again at 8am for breakfast plays. It's like Vegas, there are no clocks down here and no natural light, so you lose track of whether it's morning or evening."
Her main pride, she says, is in the careers she's helped launch, citing playwrights such as Stef Smith (whose Swallow, directed by O'Loughlin, continues to tour the world), Morna Pearson, Gary McNair and Rob Drummond.
Were she to remain in the post, access would be the next hurdle. "Where are our theatres in Edinburgh? They're in the financial district. Who walks past, who knows we're here, how welcome do they feel to come in? That's why Leith is so exciting as a place, and what's happening with [the community redevelopment at] Leith Theatre. But change has to happen from grassroots level, not come from top down."
She refers to a "catastrophe in state funding for arts teaching" in schools, and strongly believes it's up to state-funded organisations such as the Traverse to take up some slack. Her move to the Guildhall – but not to London, because family life is in Edinburgh – is about many things, including a desire for change, but she also expresses admiration for the number of bursaries given to students from working-class backgrounds.
"Part of the Guildhall's interest in me, I think, is that I'm industry, I'm an artist," says O'Loughlin, "so I'll be bringing that experience to a training setting. I have education in my blood, and although this is more of a strategic position, I'll be re-imagining what it means to train as an actor, a playwright or a producer in the 21st century. There's some real evolution to be done, so I'm really keen to get in there and figure out how we're going to do this, and I'm also interested in learning from the teachers and students, because I don't have all the answers – I just have ambition."
O'Loughlin's plans include continuing her own freelance directing work once she's settled at Guildhall, so her connection with relevant and exciting work for the stage won't be lost. "Things have shifted so quickly in the cultural landscape in the last five years, and we need to find new ways of making work and being artists," she says.
"Guildhall has a really inspiring central tenet, which is about considering what it means to be an artist in society; you're not alone, you're in context, and you're training within that context, socially, politically and culturally. How often do we get to gather in large groups safely and just watch and listen, or have a laugh, or a cry? The power of a good night out is that it's also good for the soul, and you can't get that on an iPhone."
---
CV: Orla O'Loughlin
Born: 1973
Training: University of Warwick; University of Reading; Central School of Speech and Drama
Landmark productions:
• The Fire Raisers, Battersea Arts Centre, London (2001)
• A Dulditch Angel, Eastern Angles, UK tour (2005)
• How Much Is Your Iron?, Young Vic, London (2007)
• The Hound of the Baskervilles, West Yorkshire Playhouse; West End (2007)
• Kebab, Royal Court, London; Dublin International Theatre Festival (2008)
• For Once, Hampstead Theatre; UK tour (2011)
• The Artist Man and the Mother Woman, Traverse Theatre (2012)
• Swallow, Traverse Theatre (2015)
• Meet Me at Dawn, Traverse Theatre (2017)
• What Girls Are Made of, Traverse Theatre (2018)
Awards:
• James Menzies Kitchin directors award (2001)
• Carlton Bursary at the Donmar Warehouse (2002)
• Fringe Firsts: Ciara (2013); Spoiling (2014); Swallow (2015); What Girls Are  Made Of (2018)
• Herald Angels: Dream Plays (2012); Ciara (2013); Meet Me at Dawn (2017); What Girls Are Made of (2018)
• Scottish Arts Club award  for Swallow (2015)
• Listed as one of the key 50 cultural leaders in the Observer (2013)
• The List 'Hot 100' (2018)
Agent: None
---
Mouthpiece is at the Traverse Theatre in Edinburgh until December 22