Since her debut in BBC sitcom Dinnerladies in the late 1990s, the actor and writer has emerged as one of the UK's most sought-after talents. As her play Queens of the Coal Age premieres at Manchester's Royal Exchange, she talks to Natasha Tripney about her stellar career, future projects and her ambition to play Richard III
---
In 1993, a group of four women staged a sit-in at Parkside Colliery, the last working pit in Merseyside. As members of the Yorkshire branch of Women Against Pit Closures, they joined a delegation visiting the colliery and once they were underground, they refused to return to the surface. The story of this group of political, passionate, activist women – which included Anne Scargill, wife of Arthur Scargill, president of the National Union of Mineworkers – is the basis of Maxine Peake's third play for the stage: Queens of the Coal Age.
Peake remembers learning about the Parkland occupation a couple of years after the event. It had passed her by at the time, "because I was 20 and wasn't home watching the news". The story struck a chord with her, she explains over black coffee in the bar at Manchester's Royal Exchange, where she is playing Winnie in Beckett's Happy Days while Queens of the Coal Age is in rehearsal.
She's a lively and animated speaker – passionate, candid and funny – and says: "I thought it would make a brilliant film." The idea stayed with her and after she'd written her first radio play, Beryl – about the cyclist Beryl Burton – she was asked if she had any other stories she wanted to tell. Even though it was a few years after she encountered it, Peake knew this was one such story.
Originally written for radio in 2013, Peake has now adapted it for the stage, where it will be directed by the Royal Exchange's new associate artistic director, Bryony Shanahan. Peake originally played Anne, and Kate Anthony will play her on stage.
Effecting change
Like Beryl and Peake's most recent play, The Last Testament of Lillian Bilocca, which was about the women who campaigned for fishing industry reform in Hull during the 1960s, it's about women who speak out and seek change.
Peake didn't set out to become a writer – and it still catches her off guard when she sees herself described as an actor/writer – but she was inspired to start after "so many conversations with actresses who said they were finding it really difficult. That the roles weren't there or, if they were there, they weren't roles they related to or were interested in". Most of the roles they were being offered were very generic: mothers, wives.
"I wanted to write about the women I grew up with, women with a sense of humour," she says, which is something she believes gets neglected in roles written for women. It was one of the things that struck her when she met the women while researching her play: Scargill, Dot Kelly, Elaine Evans, and Lesley Lomas. "We laughed so much."
Peake wanted to capture that, as well as the strong sense of friendship and camaraderie between them.
The paucity of rich, complex, funny parts for women, particularly older women, is something that clearly frustrates her. "Progress is still very slow," she says.
Women are still often portrayed as victims, or there are questions about their mental health – that concerns me
Yes, it's true there are increasingly more shows with female leads, but that's not enough when the gaze remains predominantly male. "Women are still often portrayed as victims. Or there are questions about their mental health. That concerns me. When we see a successful woman on television, the question is always: why has she done that? She can't have just done it because she wants to, she has to be having a breakdown."
Peake adds: "There are still a lot of issues around violence towards women in dramas."
There was a time when she thought this was improving, but she feels things have moved backwards. There are too many "dramas full of women being mutilated and being sexually attacked". It's not that we shouldn't tell these stories, she says – violence towards women is a fact of life – it's how we tell these stories that matters.
Has the #MeToo movement changed things? "We're at a time when everyone's saying 'I'm a feminist', but what does that mean? You can't be attached to an '-ism' if you're not going to do something about this. It's about being proactive. You've got to carry that through, and not just when it feels comfortable. It's easier now. It wasn't for those women a generation before us, in the 1970s. But it's still a struggle. Things haven't been cured. They've just been highlighted."
 While she's glad these things are being talked about in the world of theatre and film, it's not enough, she says, especially given the high number of women in prison who have suffered abuse. She wants to see a recognition of how widespread the issue is.
Peake grew up in Bolton and became interested in the theatre when she was still at school. Her fascination was fuelled by school trips to the theatre. She remembers going to see A Streetcar Named Desire starring Susannah York. "We were in awe of the fact Susannah York was in Bolton," she says.
The actors she admired included Victoria Wood, Julie Walters, Marti Caine, Joyce Grenfell and Margaret Rutherford.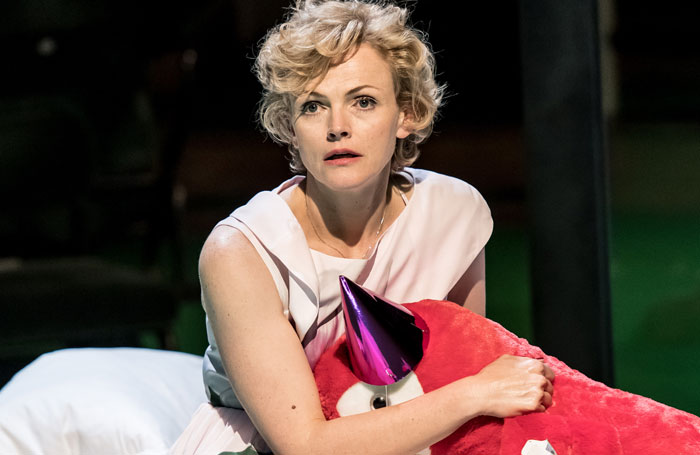 She performed in plays and pantos at the local Unitarian church in Bolton and even though drama was dropped from the curriculum midway through her time at school, she did not let this dampen her enthusiasm. "We started to do Pirates of Penzance," she says, "but then everyone realised they had to rehearse after school and there were only three of us left, and you can't do Pirates of Penzance with three people."
She enrolled in a performing arts course at Salford Tech, and after her A levels applied to RADA. In her final year she auditioned for Wood's sitcom Dinnerladies, though she didn't expect to get the part. "It was such a shock," she says of getting called back. She remembers thinking it was exciting, "but I never thought I would get it".
When she was indeed offered the part, it took a while for the reality to sink in. If she'd thought about it too much, it might have proved too overwhelming to be working with "all these people I'd grown up with: Celia Imrie, Duncan Preston, Anne Reid. I couldn't quite believe it," she says.
After Dinnerladies, people assumed her career would be set up. "But it doesn't work like that." She did some theatre, but it was several years before she was cast in her next major screen role, as Veronica in Paul Abbott's memorably irreverent TV series Shameless, set on a Manchester council estate.
Following Shameless, her screen roles have included Moors murderer Myra Hindley in See No Evil, Anne Lister and Martha Costello QC in the BBC drama Silk. Last year, she appeared in an episode of Black Mirror, and Mad Cow, directed by Adrian Shergold, in which she plays a comedian, was recently released in cinemas.
Creative relationship
She's forged a long and fruitful creative relationship with Sarah Frankcom, artistic director of Manchester's Royal Exchange. Peake is now an associate artist at the theatre she remembers visiting at the age of 16 and being blown away by Romeo and Juliet with a silk-shirted, whisky-drinking Michael Sheen.
Manchester Royal Exchange: 'How North West talent is going nuclear'
Claire Benedict's performance as Medea also made an impression. But Peake's first interaction with the theatre was a bit off-putting. When she was 23, she wrote to the venue's casting director and was invited in for a meeting. Afterwards she received a letter saying: "You're not quite ready to work here. Peake repeats the phrase questioningly – "not quite ready" – before adding that a young man in her year got a job straight away. "Every northern actor I used to know," she adds, "used to say the Royal Exchange, it's a very closed shop."
Peake lives in Salford now but was living in London at the time and explains: "There was then a tendency to look down on northern actors who still lived in the north, to presume that you can't be doing well enough because you can't afford to live in London, not just to have made that choice."
Her relationship with the Royal Exchange changed when she met Frankcom. Peake appeared in a production of Rutherford and Son in 2005, and a couple of years later she starred in the Exchange's production of The Children's Hour. After that, Frankcom asked her: "What would you like to do?"
Read our interview with Sarah Frankcom
In 2000, Peake starred in Michael Boyd's production of Miss Julie at Theatre Royal Haymarket. She played Kristin opposite Aisling O'Sullivan and Christopher Eccleston (she would later play Ophelia to Eccleston's Hamlet). She had a hankering to play the title role and suggested this to Frankcom, fully expecting her to say she was not Miss Julie. But Frankcom said yes.
They have gone on to form one of the great actor-director partnerships of our time. Why does she enjoy working with Frankcom so much? "We push each other. We go: 'What scares us? What do we think would be another leap up? What would be difficult?' Not: 'What would be easy and comfortable?' It's about challenging yourself."
This approach feeds into her work elsewhere, she says, adding: "It's given me confidence."  She talks about confidence a lot. Anne has a great speech in Queens of the Coal Age in which she states that a positive to come out of the miners' strike was how it gave women the confidence to speak up.
Continues…
---
Q&A: Maxine Peake
What was your first non-theatre job?
I was a lifeguard.
What was your first theatre job?
Theatre in education, before drama school. 
What is your next job?
Anne – about Hillsborough campaigner Anne Williams. 
What do you wish someone had told you when you were starting out?
You need to work, work, work.
Who or what was your biggest influence?
In life, my grandfather. In my career, Victoria Wood. 
Do you have any theatrical superstitions or rituals?
As long as I've cleaned my teeth before each show, things should be fine.
---
Peake clearly loves to stretch herself as an artist. This was evident during the 2013 Manchester International Festival, when she performed Shelley's poem The Masque of Anarchy in a Methodist meeting hall in Manchester, not far from the site of the Peterloo massacre. The hall was illuminated by candlelight. Peake stood amid the flames and delivered an extraordinarily stirring performance, incandescent, roof-raising, the words "Ye are many – they are few" reverberating around the room.
When Alexander Poots first put the idea to her, it was only meant to be a reading, a way of triggering debate rather than the piece of performance it became. "In my ignorance, having only heard the last couple of stanzas, I thought, it's only short," Peake says. "Then he showed me the 93 verses."
If you think about the pressures too much, you wouldn't do anything. I like to say yes and worry about things later
Frankcom, however, was adamant that a straightforward reading wouldn't cut it. "She said: you're going to learn this." Peake was filming Silk in London at the time and had to squeeze it into her already intense schedule. She ended up learning it on set. "I'd have The Masque of Anarchy hidden in my files," she says, and every time they said cut, she went back to reading the poem. "We look back and go: 'How did we manage that?' But if you thought about these things too much, you wouldn't do anything. I like to say yes and worry about things later."
She followed this by playing Hamlet in 2014, the first woman to do so on a major stage in 35 years. "When a man plays Hamlet, there's about seven others going on around the country. But there's this feeling of, oh, a woman's done it now, that's it for a bit," Peake says.
"Auditioning for drama school, it can be difficult to find a piece that speaks to you as a woman without feeling compromised. But now I hear young women saying: 'I auditioned and I did Richard II, or Hamlet', and I think, 'Brilliant.' Why weren't we doing this years ago?"
Things do seem to be shifting. This year Michelle Terry has played Hamlet at Shakespeare's Globe and Ruth Negga will do so at Dublin's Gate Theatre in September. "Hopefully it will become the norm," Peake says. But she worries that theatre can be quite "faddy" and that soon it will be a struggle again. "Look at diversity. In the 1990s it felt like we had a bit of a breakthrough, but it's like the tide goes back out again."
In its original form, Queens of the Coal Age was a "very white piece". It's not enough, she says, just to cast an actor of colour in a role. For this reason she's uncomfortable with terms like 'race-blind' casting. She rewrote the role of Lesley to make the character mixed heritage. "Obviously, an actor can play everyone's experience but let's not ignore it."
Working with Frankcom, she played the shape-shifting title role in Caryl Churchill's The Skriker and physically eloquent Blanche DuBois in a production of Streetcar that saw her shift from prim to drenched, howling mess.
Then there's Samuel Beckett's Happy Days, which just ended its run at the Royal Exchange. In it, Peake is buried waist deep in a mound of earth and debris in the middle of an oily black pool. During the production Winnie slowly rotates, her small world turning, and, in the second half, in which only her head is visible, her face is projected on to screens around the theatre. "Some people might say it's not how Beckett would have wanted it, but I'm sure he was a man who would have adapted with the times."
On the role, she says: "People keep saying you must be exhausted, but it's not physically demanding. I just stand there and occasionally move from foot to foot. But mentally, with the language, if you're not careful you can lose seven pages."
To Peake, the most exciting aspect of the play is the endless layers of meaning. "It's not about one thing. It's about life. It's a love story, a long-term relationship, about how companionship in the present is so important, how relationships wane, how people change," she says.
People respond to it in vastly different ways, she tells me, "especially women. Some say: 'It's about the menopause, isn't it?' Well, it is if you feel it is. Another woman was like: 'That's my life, I'm trapped.' Another woman couldn't stop crying. For a lot of women, my age and above, it reminds them of their mother. It speaks to people. It's about humanity."
One of the most resonant lines in Queens of the Coal Age is when Anne snaps at her friend Elaine, telling her that she can't understand everything she's been through because she doesn't have children of her own. Elaine takes her to task for this, explaining that not having children doesn't stop a person feeling empathy.
"I haven't got children and I've had people treat me differently," Peake says. "I've had actors going: 'You can't really play a mother until you've been a mother'."
She regards this as a failure of imagination. It is also, I'd wager, something that is rarely said to men playing fathers.
Continues…
---
Maxine Peake on…
… arts and education:
"I worry about what happens when you stop giving children opportunities to create. [Studying the arts] is about more than just a career, it runs deeper than that. It's what drama and the arts give to people. It's about confidence and connecting with people and the way you see the world. It's about giving people the opportunity to be able to tell their story. Everyone needs someone to witness them."
… Greater Manchester Law Centre, of which she is a patron:
"The work they do is extraordinary. Some of the clients who come through the door, their stories are heartbreaking. We're all just a sliver away from being in the system or on the street."
---
Social and financial barriers
Peake went into acting because she loved performing and figured she would find a way to make it happen. But she has frequently spoken about the social and financial barriers faced by working-class actors. For anyone starting in the industry now, she knows that it's tough. Acting is "a hard business to be brave in", she says.
This is especially true now. "You used to be able to survive, an episode of something here and there and you could get through the year. But now it's so much harder," she says. "I'm all right, I can pay my mortgage, but if you've not got that, it's hard. It's important to have fulfilment in life. It's important to hang in there – but it's getting harder and harder."
Peake, typically, has a number of projects in the pipeline, including a role in Mike Leigh's Peterloo. Is there any role she's keen to have a crack at? "I'd quite like to do Richard III, but a high-camp version," she says, only half-jokingly. "I've said to Sarah we should make it the Christmas show."
---
CV: Maxine Peake
Born: 1974, Bolton
Training: RADA
Landmark productions:
• Miss Julie, Theatre Royal Haymarket (2000)
• Hamlet, West Yorkshire Playhouse (2002)
• Rutherford and Sons, Royal Exchange (2005)
• The Children's Hour, Royal Exchange (2008)
• The Deep Blue Sea, West Yorkshire Playhouse (2011)
• Miss Julie, Royal Exchange (2012)
• The Masque of Anarchy, Manchester International Festival (2013)
• Hamlet, Royal Exchange (2014)
• The Skriker, Royal Exchange (2015)
• A Streetcar Named Desire, Royal Exchange (2016)
• Happy Days, Royal Exchange (2018)
As a writer:
• Beryl (2012)
• The Last Testament of Lillian Bilocca (2017)
Awards: Broadcasting Press Guild awards for The Street and Criminal Justice
Agent: Michael Duff at Troika
---
Queens of the Coal Age is at the Royal Exchange, Manchester from June 28 to July 28, before transferring to the New Vic, Stoke-on-Trent