Tyrone Huntley had ruled himself out of ever playing Judas in Jesus Christ Superstar.
The performer believed his own physicality – short and black, as he puts it – was something that would work against him.
It turns out, though, that the Open Air Theatre in Regent's Park didn't share that view, and this month he's preparing to take on the massive role from Andrew Lloyd Webber's seminal musical.
"In previous productions, he has been big, dark and broody," Huntley explains. "But Regent's Park has not gone for that stereotype, which is a shock. I am happy they took that chance."
The most recent high-profile production of Lloyd Webber's rock musical was a touring version that played in arenas around the UK.
Tim Minchin was the performer cast as Judas in that production. Minchin is big (ish), but not so dark and broody. Still, you can see where Huntley is coming from.
Most roles Huntley has played in musical theatre to date – including Memphis the Musical, Porgy and Bess and Hairspray – have seen him cast to fit a particular type, predominantly in roles that are written for black performers.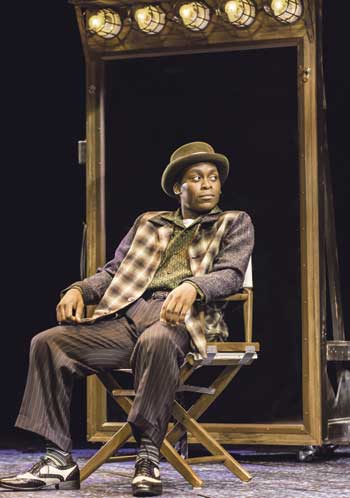 "The young one, the small guy, the quiet one," he elaborates, adding that in Memphis he played the role of Gator, who is mute for most of Act I.
He continues: "It's a big leap to go from Gator, who doesn't speak in the first act, to playing Judas who starts the show and sings pretty much all the way through, with these massive numbers."
They certainly are massive. It's Judas' epic Heaven on Their Minds that opens the musical.
The responsibility hasn't escaped Huntley, who admits that the role has been a challenge. "Usually, in terms of my own experience, you have time to warm into a role," he says. "In Memphis, I didn't sing until the end of the first act, but this one is straight in and it's not an easy number to begin with. But you have to throw yourself in at the deep end." He adds: "It's about building confidence. I feel like it's a challenge I can meet and do."
Huntley is not one to shy away from a challenge. When his agent Stuart Piper describes him, he claims to have rarely known such a "hard-working, high achiever" as Huntley.
It may sound like hyperbole, but when you delve into Huntley's background, you can see why Piper has come to this conclusion.
When Huntley was thinking about his options after A levels, he was considering either a career in law or theatre.
Theatre was the training path he eventually chose – because he thought he should do the more physically demanding course while he was able to cope with it, stamina-wise.
But his desire to learn about law never left him. So much so, that when he was appearing in The Book of Mormon in the West End a couple of years ago, he decided to start studying his other passion during the day, via a law conversion course.
"I started it as I got to a point when I was appearing in Mormon and I thought I had done what I set out to do," he says. "Studying law gave me another focus outside of work, making sure I didn't get complacent or bored."
Huntley studied law over two years, graduating with a distinction. But the study took its toll.
"It was challenging mentally," he says. "It was the first time since my A levels that I had done hardcore academic work. Not that drama school wasn't hard, but law was back to essay writing and a lot of reading. It was full on and there were times I hated it."
He adds: "I was doing rehearsals for Hairspray in Leicester in 2014 and had to hand coursework in while doing that. I was working 10am to 6pm rehearsing, then 6pm to midnight in my digs. It was difficult, but I am so glad I did it, as now I have something to fall back on if I need it."
For the foreseeable future, at least, it doesn't look likely that Huntley will need to draw on his legal skills.
Later this year, he joins the cast for the highly anticipated West End production of Dreamgirls, playing CC White and appearing alongside Glee's Amber Riley. CC White is reportedly based on Smokey Robinson.
"It's one of those dream roles," Huntley beams. "At the back of your mind you think: 'I could play that, but it's never going to come to London, it's been 35 years. There is no point even thinking about it.' "
He adds: "There have been rumours about it coming to London since 1981, but when they started auditioning and Sonia Friedman said it was definitely coming, it was something I wanted to be involved with."
He laughs, saying he doesn't know how he got an audition – let alone the job – but adds: "To be part of the generation that brings this groundbreaking musical to the West End is unbelievable."
Before then, there's the small matter of playing Judas at the Open Air Theatre.
The production takes the show back to the musical's roots and is about honouring the material, Huntley says.
Together with musical director Tom Deering, Huntley has spent hours going through the score to really gauge what Lloyd Webber and lyricist Tim Rice had intended when they penned it.
"We spent a lot of time trying to find the true melodies to everything," he says. "It's high and wordy, and if you have listened to other recordings you don't know the truth of the music, so it was nice to have that time to strip it all back."
The musical brings Huntley back to the stage of the Open Air Theatre, where he last appeared in the show Porgy and Bess in 2014. He's used to the added pressure of performing outside, and says the outdoor space adds something special to performances.
"There are sometimes helicopters flying over and cars driving by, and pigeons landing on the stage," he says. "But as long as you know that will happen and you can put it out of your mind, sometimes it adds a special element to it."
When Jesus Christ Superstar opens, it's likely that Huntley will have a large chunk of family spurring him on. There are, he says, usually around 10 family members who come to see him on opening night, and they have always supported him in his decision to perform.
Continues…
---
Q&A: Tyrone Huntley
What was your first non-theatre job? At Holland and Barrett, where I was a product adviser. I know all about vitamins.
What was your first professional theatre job? Angel City, in 2010, in-between my second and third year of Mountview.
What's your next job? Dreamgirls at the Savoy Theatre later this year.
What do you wish someone had told you when you were starting out? Don't worry as much. What is meant to happen will happen. Just work hard and trust your hard work will pay off.
Who or what was your biggest influence? My absolute hero is Giles Terera. We worked together on The Book of Mormon and he is one of the most talented people I've met. He plays all the instruments, he writes and is just amazing. If I could have even a little of his talent, I'd be happy.
What's your best advice for auditions? Don't worry. More often than not, the panel want you to do well. They don't want you to walk in and fall flat on your face.
If you hadn't been an actor, what would you have been? A lawyer. I was supposed to be starting work experience in law earlier this year, but I went back to Mormon instead. I am trying to keep it going, as this industry can be so unpredictable. Something drastic could happen – I could lose my voice, so it's nice to have that to fall back on.
Do you have any theatrical superstitions or rituals? I am a creature of habit, so it's about finding a routine for each show I am in. In Mormon, I always left the dressing room at the five and got to beginners at beginners. I sat in the same place every day. I don't know what Judas' will be yet. I will work that out in the park.
---
Huntley grew up one of three siblings in Lincoln and enjoyed appearing in plays at school. However, he hadn't contemplated a performing arts career until one of his teachers encouraged him.
Since he had mainly done straight acting at that point, he initially tried to get into RADA. But when he was rejected, he considered studying musical theatre at the Mountview Academy of Theatre Arts, after realising his singing skills could open other doors for him. He has, he says, always sung and tried his hand at songwriting, too.
"Initially I thought of doing straight acting, as that was where my comfort zone was," he says. "I had done some musicals at school but straight acting – focusing on one discipline – seemed like the most straightforward option."
He adds: "I am so glad I did end up studying musical theatre. It helped me get my way through a dance call, which I never thought I would do."
That said, he's keen to perform in a play, but expresses concern his musicals background may work against him.
In six years, he says, his only play has been in Edinburgh, in Sam Shepard's Angel City. He appeared in this when he was studying at Mountview in 2010.
"I feel, and it's the experience of my colleagues, too, that there is a stigma if you have not done a lot of plays and have not trained in straight acting," he says. "They will always go for who they trust more to be able to do the job. But it's crazy, as musical actors are disciplined in all three – singing, dancing and acting. You have to be skilled in each of those, so I don't see why it's an issue for musical actors to move into doing plays."
There's another matter he takes issue with, too: diversity.
Huntley says that, while the make-up of actors on stage is improving, there is a way to go. And he'd like to see actors cast in roles that don't specify the colour of a character's skin.
"Where race is not specified, then why not just cast the best actor?" he says. "It's definitely improving. But a lot more could be done."
---
CV: Tyrone Huntley
Born: 1989, Lincoln
Training: Mountview Academy of Theatre Arts
Landmark productions: The Book of Mormon, Prince of Wales Theatre, London (2013), Memphis the Musical, Shaftesbury Theatre, London (2015), Hairspray, Curve Theatre, Leicester (2015), Jesus Christ Superstar, Regent's Park Open Air Theatre, London (2016)
Agent: Stuart Piper, Cole Kitchenn
---
Jesus Christ Superstar runs at Regent's Park Open Air Theatre, London, until August 27
Dream Girls begins previews on November 19 at the Savoy Theatre, London