You couldn't wish for a more charming or amenable interviewee than Janie Dee. She talks openly and interestingly about her youthful passion for dance, her brush with the Moonies, her extraordinary career, moving seamlessly between glitzy musicals and dramatic roles in Shakespeare, Pinter and Chekhov, and her tricky juggling act as a wife and mother of two. Nothing is off limits.
Nothing, that is, except the very thing that prompted the interview in the first place – her latest play, Hand to God, transferred from Broadway, which leaves her unaccountably silent.
"I don't want to tell you about it," she says bluntly at the tail-end of an enjoyable interview. "For me, the joy of reading the play was that I didn't know anything about it. I don't want to spoil your freshness in coming to see it."
The New York Times called Hand to God, set in suburban Texas, a "darkly delightful black comedy about the divided human soul… a misfit both merry and scary". Variety described it as a "pitch-black comedy about a teenage boy whose rebellious thoughts and forbidden sexual urges cut loose and go on a bloody rampage after his father dies".
Dee plays Margery, the boy's sexually repressed mother who is assuaging her grief by organising Christian-themed puppet shows in the basement of her local church.
In the few minutes remaining, I ask Dee if she can please give me an inkling of insight into the character of Margery. This is what she says: "When I go to church, I don't go because I think I'm good. I go because I really want to be good. Margery has some history and she has been pushed already. She is doing her best to continue her personal journey of hopefully overcoming the difficulties she has experienced, but instead it just gets worse. That's all I can say."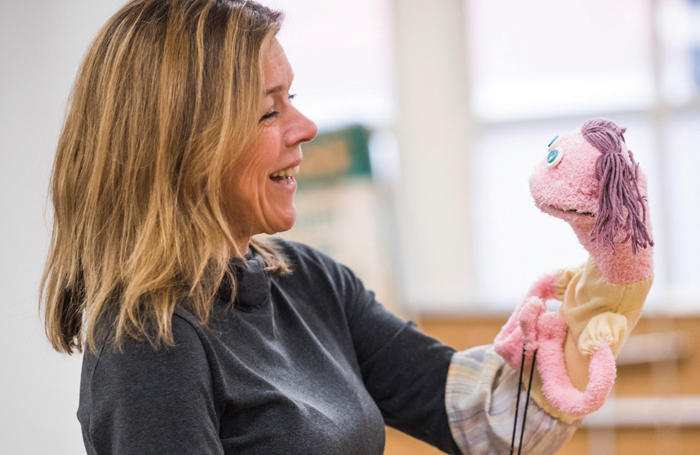 Whether or not the first bit about going to church refers to her (Dee) or Margery, I have no idea. Since Dee is a churchgoer, it could well be about her. I can only imagine her unwillingness to discuss the play and her character in it is due to its bracing and cynical view of Christianity. Maybe she is still trying to work out exactly what it's about.
Significantly perhaps, Dee has some form in the matter of spiritual inquisitiveness. At a low ebb in her youth, aged 18, she was recruited by the Unification Church, aka the Moonies, and came close to becoming one of their overseas missionaries.
Nothing in her safe, middle-class, ballet-loving childhood in Windsor hinted at any such turn of events. She went to Arts Educational Schools London at the Cripplegate Institute, joined one of Arlene Phillips' show-dance companies, the Trendsetters, a spin-off from the Young Generation, and did a summer season in Guernsey before returning to London.
"I didn't want to go back home, so I did a flatshare with a dancer friend in Kilburn. We hadn't been there long when she had to go back to her family home, and I was left on my own in Kilburn, jobless, friendless and getting fatter by the day. I met a girl on the street who asked if I'd like to come to a church meeting – 'You can eat with us and talk about God.' I'd always been attracted to the church and faith, so I said I'd love to. I was gullible, innocent and hungry. I didn't know anything about cults or the Moonies. I thought she was talking about the Unitarian Church, which I had heard of.
"I was in two minds when I went along to their meeting. They did seem a bit weird, but they were also very friendly and supportive. I went off for a country weekend with them. I started to think I'd like to become a missionary working overseas. Then one night I woke up to the sound of a girl sobbing. She told me she was trying to escape from her life, and this resonated with me.
"The next day they told me to go home to Windsor and pack my bags. My parents were waiting for me, knowing by this time what I'd got into. In my absence, they'd booked me into a 12-week secretarial course that started the next day. My dad sat me down and talked to me for seven hours. He said if it was really about God, he'd still be there for me when I completed the secretarial course.
"The next day my dad, who had just been made redundant, spent all day cycling round the neighbourhood libraries gathering up information about the Moonies and other religious cults, so I could see what I might be getting into. It was the biggest gesture of love I'd ever received from my dad, so I've never forgotten it."
She did the secretarial course and at the end of it got a job as a secretary in Neal Street, by now overweight and depressed at the way her life was going. A friend from Arts Ed told her about a dancing job at a Greek restaurant in Finchley. "I told my boss the next day that I was leaving to become a Greek dancer," she recalls. "He looked at me in total disbelief, as if I'd just made it up."
Continues…
---
Q&A: Janie Dee
What was your first non-theatre job? Working in a cake shop in Cippenham.
What was your first professional theatre job? A dancer at the Carlton Hotel in Guernsey.
What do you wish someone had told you when you were starting out? It wouldn't have mattered, because I wouldn't have listened.Who or what was your biggest influence? Ginger Rogers, Jane Fonda, Shirley Maclaine.
What's your best advice for auditions? I always think it's a good idea to say how much you like the piece you're auditioning for, but you have to mean it.
If you hadn't been an actor, what would you have been? A nurse. I'm a trained reflexologist.
Do you have any theatrical superstitions? No.
---
After a spell running a fish and chip shop in Tottenham with a Greek boyfriend – "people would fall over drunk on the pavement and I'd be inside the shop praying they wouldn't come in" – she took an end-of-the-pier job as a dancer in Blackpool with the Krankies.
The big turning point was taking a job in Rome as a jazz dance teacher (Phillips had always encouraged her to teach a class). "I wandered around feeling alien, yet loving it at the same time. I had singing lessons and learnt to speak Italian. I learnt a lot about glamour and style from Italian women. By the time I came back after 10 weeks I was like a racehorse, ready for any challenge.
I knew very early on that I didn't just want to do one thing
"I went to see 42nd Street in the West End, which reawakened my love of the theatre. I knew that was what I wanted to do. I got a job singing at the nightclub L'Hirondelle and I remember running down to Piccadilly Circus to catch my bus after a set, thinking London was the best place in the world."
However much she loved dancing, Dee was never in any doubt that it would not be enough, or rather that she needed to add to her skills for the sake of longevity. "I knew very early on that I didn't just want to do one thing. I was keenly aware that I'd probably have to give up dancing in my late 20s or 30s. The best option seemed to be to act, because you can carry on acting till you drop. The journey for me involved doing musicals, learning to sing and studying acting at places like the National Theatre Studio."
Nicholas Hytner cast her as Carrie, the second female lead, in his legendary 1992 revival of Carousel – a role that won her an Olivier award – then NT director Richard Eyre gave her the lead in Johnny on a Spot, less memorable but undoubtedly a turning point in her career. "To know he had faith in me was immense, and doing a big role on the Olivier stage is a massive learning curve for anyone."
The role that really put her on the map, certainly in terms of critical acclaim, was the sexy android Jacie Triplethree in Alan Ayckbourn's futuristic 1998 hit Comic Potential. Michael Billington hailed her "a bright, particular star", while The Observer said Ayckbourn had "made possible a phenomenally talented performance…chilling, disarming and ridiculously funny".
Bombarded with offers, Dee opted for the pilot of an American TV series that was never picked up. Instead, she went to Chichester Festival Theatre to do Gershwin's My One and Only and Chekhov's Three Sisters. Her agent said she shouldn't be doing musicals if she wanted to be taken seriously as an actress. She says now: "Sorry, but I worked my bollocks off doing my singing exercises to get a good voice. I'm very proud of all the work I've done to become that musical performer. I'm lucky to be able to sing, dance and act. If there haven't been any dramatic roles, I've done a musical or cabaret. I've always treated musicals as if I was doing Shakespeare."
Peter Hall wrote her a fan letter after seeing her knock-out performance in My One and Only and offered her the role of Beatrice in Much Ado About Nothing in his Theatre Royal Bath season, followed by Pinter's Betrayal, which later transferred to the West End. She went on to do Pinter's Old Times.
Through this frenzy of growth and development as an artist, she also managed to become a mother twice over to Matilda, 20, and Alfie, 12, with the support of her husband Rupert Wickham, who is an actor and barrister.
"Home is my rock, my real life, my priority, even if my passion for what I do sometimes takes over. Basically, I have two hats and the only time it's really difficult is when you've got one hat on and the other hat is saying: 'Put me on now.' That happened recently when I was performing and I had to stop for a while. It was very difficult."
Unusually, for someone so feted and adored as an onstage presence, Dee has largely failed to make the transition to screen presence.
She says: "I've backed away from jumping into that world. Initially, I was scared off by the idea of being recognised in the street. I always liked the idea of being free to become the thing you're meant to believe in, without the added complication of people knowing who you are, who the actor is. The theatre is a world in which I can explore things without fear, and I didn't feel that about TV.
I always thought, if I want something enough, it will come to me
"My agent says: 'If you say no [to theatre jobs], we can get you more TV work.' I did say no recently, and I did get three films, but I didn't get any theatre work for nine months. So by the time I was offered Putting It Together in Guildford in 2013, I was ready to pay them [the producers] to get back to the theatre. I can't wait to get back into the rehearsal room. I love the company of actors, that sense of people looking after each other."
Putting It Together – the best Sondheim compilation show since Side by Side by Sondheim in the 1970s – later transferred to the St James Theatre in Victoria, but not alas to the West End per se. Dee's combination of middle-aged world-weariness, feisty resilience and come-hither allure put her in the Bernadette Peters/Maria Friedman league of sassy Sondheim interpreters, and she was rightly lauded in all the reviews.
Last year, she won further acclaim for her exasperated, impish Madame Arkadina in a striking, open-air reinvention of The Seagull at Regent's Park. My colleague Paul Vale, in his review for The Stage, said she displayed "the gleeful mischief of a spoiled child constantly craving attention".
Behind the 150-watt smile and irresistible charm, one senses that time-honoured actor's insecurity that may have prevented Dee from stepping out of her comfort zone in terms of TV and film work. Her recently acquired agent, Stuart Piper, is convinced that is all about to change. "My mission is to find opportunities for Janie to do on screen what she's been doing so magnificently on stage for years," he tells me.
Clearly it would be ludicrous to suggest that someone who can go from playing the feline editor of a women's magazine in Lucy Kirkwood's waspishly funny play NSFW at the Royal Court, London, to barnstorming Dolly Levi in a glitzy revival of Hello, Dolly! at the Leicester Curve in the same year (2012), was lacking a sense of adventure.
"I'm an eternal student," she says. You might add that she is also an eternal optimist. Growing up in Windsor, she remembers lying in bed thinking: "How can I get from being the dancer I am now, to dancing at the Royal Opera House with Nureyev?" Her dreams of stage success were never constrained by her imagination. "I always thought, if I want something enough, it will come to me."
---
CV: Janie Dee
Born: 1962, Windsor
Training: Arts Educational Schools London
Landmark productions: Carousel (1993), Comic Potential (1998), Betrayal (2003), Much Ado About Nothing (2005), Shadowlands (2007), Woman in Mind (2009), Hello Dolly (2012), Putting It Together (2013)
Awards: Olivier award for best supporting performance in a musical for Carousel (1993), Evening Standard award for best actress for Comic Potential (1999), Critics' Circle award for best actress for Comic Potential (1999) Olivier award for best actress for Comic Potential (2000), Obie award for Comic Potential in New York (2001), UK Theatre award for best performance in a musical for Hello, Dolly! (2013)
Agent: Stuart Piper, Cole Kitchenn
---
Hand to God runs at the Vaudeville Theatre, London, until June 11