Fortified by several hefty mugs of tea against a working day that threatens to extend far into the evening, Janet McTeer is more vibrant and more cheerful than anybody has a right to be at this unearthly hour.
Thanks to a Tony award for her performance as Nora in A Doll's House and two Oscar nominations for Tumbleweeds and Albert Nobbs, McTeer has a substantial presence in the US. As a result, we tend to see her on this side of the Atlantic only in such prestigious dramas as The White Queen, or as a haughty spymistress in The Honourable Woman with Maggie Gyllenhaal. To her frustration, she has been absent from our stage for far too long, having last appeared in London as one of the pressurised parents in God of Carnage in the heavyweight company of Ralph Fiennes, Tamsin Greig and Ken Stott. That was seven years ago. Now she has been tempted back to the Donmar Warehouse where she scored one of her greatest stage successes in the title role of Friedrich Schiller's Mary Stuart.
"When the offer came to play Merteuil in Les Liaisons Dangereuses it was what my husband likes to call a 'no-brainer'. I said yes with almost visceral excitement. I'd been gagging to do a play in London and this seemed to be a feasible option. I love the way we do theatre in London: I love the fact that everybody is trained."
The object of McTeer's enthusiasm is Christopher Hampton's adroit rendering of Cholderlos de Laclos' 1782 epistolary novel, set among the decadent French aristocracy seven years before the French Revolution. Former lovers the Marquise de Merteuil and the Vicomte de Valmont hatch a complex plot to lure the virtuous Madame de Tourvel into an affaire de coeur with the caddish Vicomte with unforeseen complications for them both.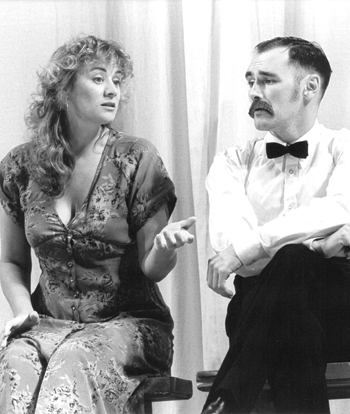 In Josie Rourke's revival, Elaine Cassidy now plays Madame de Tourvel and Dominic West appears as Valmont. The celebrated 1980s Royal Shakespeare Company production, skilfully directed by Howard Davies, had a stellar cast including Lindsay Duncan, Fiona Shaw, Juliet Stevenson and, in his breakthrough performance, Alan Rickman as the seducer. The production's success both in London and New York led to an unseemly race between two film versions, with Stephen Frears' Oscar-winning movie outpacing Milos Forman's interpretation. With John Malkovich, Glenn Close, Michelle Pfeiffer and a fresh-faced Keanu Reeves heading the cast, Hampton duly collected the best screenplay Oscar. There is therefore a considerable weight of past achievement hanging over any new production, as McTeer can personally attest.
"I was still at RADA when the show opened and I think I saw it four times. It was certainly a long time ago. I absolutely worshipped Lindsay Duncan. I remember Lindsay's performance vividly and it would be harder to escape it if I were younger. But I think there comes a point in rehearsal when you begin to make the part your own."
Part of the merit of Davies' production was the vivid sense of moral decay which it engendered. These were the beautiful people with a moral vacuum where their consciences were supposed to be found. They simultaneously both repelled and attracted us and the actor has a tricky balancing act to master. Do you faithfully represent the character to the best of your ability? Or do you make a judgement in your playing, subjecting the character's actions to a searching scrutiny?
"Do I judge Merteuil?," ponders McTeer. "It's not in any sense an excuse for her behaviour but I think that there is anger in what she does, anger at the position and the treatment of women in France at the end of the 18th century. Young girls would be taken from their families and placed in a convent. Then at the age of 15 or so they'd be married off, often to much older men, without any sexual experiences. They were chattels, effectively. The important thing was to get married. After that, it seems that you could more or less get away with anything you wanted. Merteuil has money, looks, intelligence and sensuality and these are her weapons which have enabled her to survive in what is a very cruel world. Merteuil and Valmont are like attractively naughty children whom we enjoy watching until their moral corruption is revealed. It is like a dance: it is deceptively gentle. And as far as my job is concerned, it is to get inside the character and look at the world through her eyes."
McTeer has generous praise for Hampton's version: "The more I read the Laclos source, the more I admire what Chris has done with what is after all a collection of letters. He has taken everything that is unspoken in the book and put it in the play. It appears like a period drama, but it is one with modern resonance."
McTeer has been conscientiously doing her research, even taking Rousseau to bed with her and polishing off a chapter a night.
"When you're working on a part, you absorb everything that feeds your imagination," she says. "For example, a historian of the period came into rehearsals to give us a talk and she corrected the impression we had that the aristocracy behaved in the way they did because they had nothing to do. They were bored. In fact, life was a perpetual round of parties and entertainments which you had to attend. You were forever changing your clothes and having your hair done before you could appear in public. It was a rock-star lifestyle."
McTeer is also delighted to be appearing back at the Donmar: "If I had my way, every play I did would be on this scale. We have removed the fourth wall and have a much more direct relationship with the audience, which is both exciting and terrifying. There's nowhere you can hide."
Born in Newcastle, McTeer grew up slightly further down the main train line in York. There was no trace of any acting interest in the family and it was in search of other excitements that she first entered a theatre, as she recalls.
"Some of us who attended a very proper girls' school in York decided to meet for our coffee at the Theatre Royal's coffee shop because we'd heard that this was where the lads from the boys' school were supposed to hang out. I got a job selling coffee and I was then invited into the auditorium to see the show. The minute I walked in, I felt at home. This was a world, I decided, where I belonged."
With no family interest in or knowledge of the theatre, McTeer had to look elsewhere for advice.
"Two wonderful English teachers at school helped me find a couple of audition speeches. I did Juliet in five-inch heels – can you imagine? But what got me into RADA was Beattie's speech from Arnold Wesker's Roots. It's a speech in which she realises that she is acquiring her voice – and in a sense, that was also what I was doing. I too felt clumsy and self-conscious, and I think that it can be helpful to choose an audition speech that in some way corresponds to what is happening in your life and which suits your personality. I loved my time at drama school. I had come down from my proper girls' school in York and I was living in a bedsit in Belsize Park trying out different hair styles as I went from punk to Goth to dreadlocks, looking for who I was."
Continues…
---
Janet McTeer: Q&A
What was your first non-theatre job? The coffee stall at York's Theatre Royal.
What was your first theatrical job? Walking on with Hugh Grant in Lady Windermere's Fan at the Nottingham Playhouse.
What's your next job? My lips are sealed.
What do you wish you'd known when you started out as an actor? I wish somebody had told me that this is a business and you have to learn how to manage money. Learn early and it's so easy. I also think that the hardest part of this business is making decisions, if you are lucky enough to have a choice, that is.
Who or what has most influenced you? Uta Hagen and the teachers at RADA.
What would you have been, if you hadn't been an actor? Something to do with books.
Do you have any advice for for auditions? Write on a post-it note: someone's going to make it and it could be you! And audition the person. If you get a recall, demonstrate all the hard work you have put in between the first audition and the recall. They are looking for raw talent and they will remember you.
---
McTeer's mention of her somewhat redundant heels as Juliet reminds us that she is unusually tall – at 6ft 1in – for a leading lady. Has her height proved to be an asset or an encumbrance to her career?
"I suppose that there might have been leading men who were put off from casting me as the ingenue because I was taller than they were, but I've no idea that this ever happened. When I did Much Ado About Nothing opposite Mark Rylance in the West End, we used the difference in our heights as part of their relationship. Let's embrace it, we said. However, when I was cast as Nora in A Doll's House, it did occur to me that it might seem odd to an audience for my husband in the play to call me his 'little sparrow'. I mentioned my reservations to [producer] Thelma Holt who told me to get over myself. Because of my height I tend to get cast as queens or authority figures and in such cases my height is an advantage in that it tells the audience about my character and status. It means that a good deal of my job is done for me by my physical appearance."
It is precisely the slight incongruity of McTeer as Nora that made her success in the part all the more praiseworthy.
"It struck me that there was a through-line which I could follow, from Nora as the perfect wife and mother to Nora standing on the verge of leaving her husband and children without any idea of where she is going."
It was in that production of A Doll's House, which opened in the West End in 1996 before transferring to Broadway, that McTeer was spotted by the director of Tumbleweeds, which led to an Academy Award nomination.
McTeer may argue that it took her some time to realise the importance of awards in an actor's career, but the body of her work suggests that doors have swung open to her in London, New York and Los Angeles, encouraged by her Tony and Olivier awards and her Oscar nominations.
It seems to demonstrate the need for versatility in today's leading actors and a willingness to experiment with different genres and tones.
"You have to capitalise on any success you have and keep doing what you do as well as you can." says McTeer. "But how do you define success? In my book, it's to be playing those parts you saw your idols – Judi Dench, Maggie Smith, Helen Mirren, Vanessa Redgrave – playing when they were the age you are now."
In many ways, McTeer began in traditional mode, leaving RADA and gaining early experience with the RSC and at the Royal Court, where The Grace of Mary Traverse introduced critics to the willowy Ms McTeer. At the same time early television exposure in Juliet Bravo led eventually to the leading role in ITV's The Governor, created by Lynda La Plante.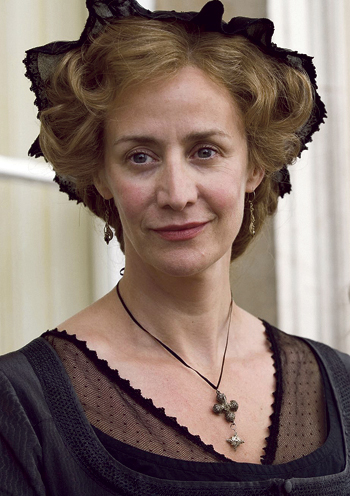 In this way we see how classical theatre and popular television drama so often combine in an actor's CV. As discussed, McTeer's height makes her ideal casting for royal personages, and she has played both Elizabeth I and Mary, Queen of Scots as well as Clementine Churchill in Into the Storm. She is as comfortable in period as she is in contemporary work. Few other actors could move so seamlessly from The Duchess of Malfi at the National to playing Mary Jo in Tumbleweeds, a lost middle-aged woman drifting with her young daughter from town to town and from man to man.
It's regrettable that she has appeared in relatively little Shakespeare. Having given a Petruchio at Shakespeare's Globe in 2013, surely a Lady Macbeth or perhaps the Thane himself awaits her, conceivably in another all-female Shakespeare at the Donmar? As an authoritative Vita Sackville-West in the dramatisation of Portrait of a Marriage, it marked a relatively small leap to Hubert Page in Albert Nobbs, once more in male attire and once again gaining an Academy Award nomination.
Were it still possible to see a 'breeches role' on the London stage, McTeer would be a natural choice to play it. And she is part of an increasing trend in which British actors appear comfortable in archetypal American roles. There were always Brits in Golden Age Hollywood, of course, but they tended to be hired for their very Britishness rather than for their ability to impersonate the natives.
"I'm always amazed when anybody remembers anything of my work, and even more so when I get nominated for something I've done. For many years I was like a horse wearing a pair of blinkers as far as using these awards or nominations in order to boost my career was concerned. At the same time, a career is often the sum of its parts and it's a mistake to think of jobs solely in terms of career advancement. Careers happen in all kinds of interesting ways. And I love going to the ceremonies; it's a bit like winning the lottery and it gives me a chance to say hello to people whose work I have always admired."
The conversation turns to the Donmar's recent exploration of all-female Shakespeare production. What is McTeer's take on the ongoing campaign to create a better deal for women in the theatre?
"I'm very optimistic," she says, "especially when I'm working in a theatre run by two remarkable women [artistic director Josie Rourke and executive producer Kate Pakenham). It wasn't that long ago – in the 1970s – that a member of my family, a female, said to me that as a woman you could either have a career or have a family. I think that it would be easy to get stuck in a place where you are always bitterly complaining about the situation. But it's clear to me that the more you have women running theatres, the better the range of parts for women there are at those theatres. I think what you have to do is to keep pushing forward. Use the frustration you feel in a positive way and do your best. I certainly fully intend to be a crinkly old dame, still acting at the age of 90."
---
CV: Janet McTeer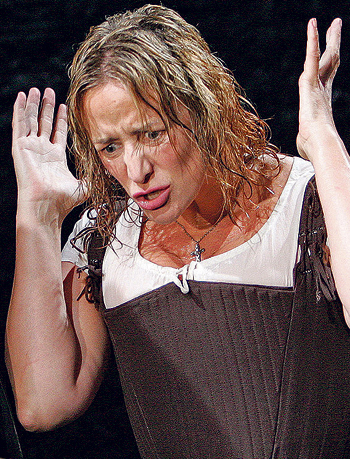 Born: Newcastle, 1961
Training: RADA
Landmark productions: The Grace of Mary Traverse by Timberlake Wertenbaker at London's Royal Court (1984), As You Like It, directed by Nicholas Hytner at the Manchester Royal Exchange (1986), Portrait of a Marriage (BBC, 1990), A Doll's House, directed by Anthony Page at the Playhouse Theatre (1996), Tumbleweeds (1999), Mary Stuart (right, directed by Phyllida Lloyd at Donmar Warehouse (2005)
Awards: London Critics' Circle award for best actress for Nora in A Doll's House (1996), Olivier awards for best newcomer (1986) and best actress in a play for Nora in A Doll's House (1997), Tony award for best actress for Nora in A Doll's House (1997), OBE for services to drama (2008)
Agent: Oriana Elia at Curtis Brown
---
Les Liaisons Dangereuses runs at London's Donmar Warehouse from December 17 to February 13, 2016. A National Theatre Live screening takes place on January 28