"It's nice to think people will take a punt on a little studio theatre outside of town," says Simon Reilly, for the past 10 years the artistic director of the popular Tabard Theatre, Chiswick, which chalks up its 30th anniversary this year.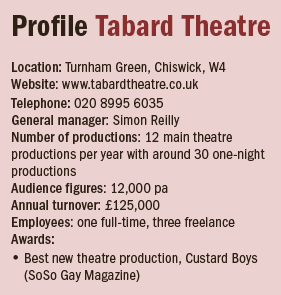 Reilly, a former marketing manager at the 1,300-seat Hackney Empire, took a massive punt himself when he and actor friend Fred Perry took over the run-down, 50-seat Tabard in 2005.
The room above the Tabard pub, next door to Turnham Green Tube station, had originally been used for functions and meetings of one sort or another, until it was converted into a performance space in 1985 by a group of playwrights, led by Sheila Dewey. They ran it as a try-out space for new work until 2003.
Luckily for Reilly and Perry, the Hackney Empire was undergoing a refurbishment at the time they took the Tabard on, so Reilly was able to blag some classy kit, including 94 red plush seats, for their bijou west London venue.
Despite its upmarket, middle-class credentials, Chiswick is poorly served by live theatre, which has benefited the Tabard in terms of audience attachment.
"Chiswick loves the Tabard," says Reilly, whose theatre receives no subsidy. "I get feedback when I'm out and about. I'd say about 50% of our audience comes from the locality, the others from further afield. We're right on top of Turnham Green station which helps enormously for those coming from outside the area. It seems a lot of people enjoy the intimacy of a smaller venue."
As for artistic policy, the Tabard under Reilly and Perry has always offered an eclectic bill of fare, from a musical about Liza Minnelli to a play about Marie Curie by the former star of M*A*S*H*, Alan Alda. The former was their own production, the latter an incoming show, but they also take in small-scale touring shows, and host various independent productions.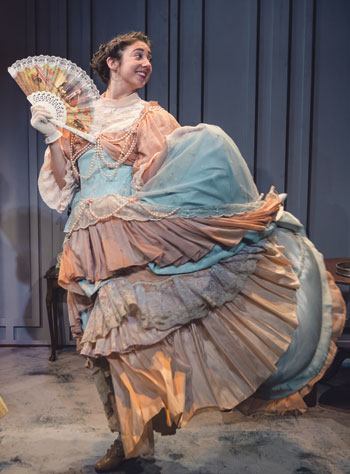 "We don't have a hard and fast artistic policy," says Reilly. "I didn't want to get pigeonholed into one particular kind of theatre, like all new writing or all musicals. I love the variety of what we do, it keeps it interesting for the audience and for me. I like to feel that anybody could come to us with a serious proposal and we'd take it, or not, on its own merits.
"We produce our own shows two or three times a year, then invite other companies to produce shows here the rest of the time. One of the hardest aspects of my job is deciding when to do our own work, and when to bring in other companies, and whether their work is right for the Tabard. Often the logistics alone are stressful, and it isn't getting any easier to persuade people to come and sit still in a theatre for two hours."
A frequent associate of the Tabard in recent years is American-born writer and producer Mark Giesser, who has premiered three of his own plays there, and earlier this year produced Alan Alda's play about Marie Curie, Radiance, with Cathy Tyson in the title role.
"Mark is a joy to work with and he understands the Tabard, what works for us and our audience," says Reilly. "He is producing Gigi, the play not the musical, which is the first time the play has been seen in London for over 50 years."
For his part, Giesser is delighted to have found a London outlet for his work: "I love this space, it's flexible enough to produce any show here that we can transfer to another space without radically changing the design. It's not a trader-client relationship, it's a genuine partnership, with Simon committing his time, knowledge and whatever else I might need."
Prior to Gigi, the Tabard hosted a new play about the sex trade, Bruises, by Nadia Cavelle, Sam Shepard's Simpatico and a revival of David Auburn's 2000 Pulitzer prize-winning play Proof.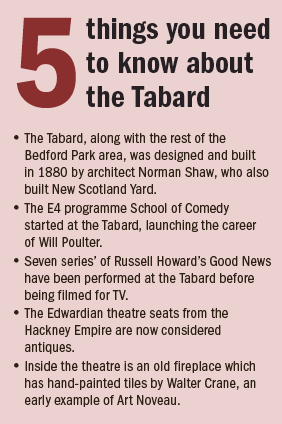 Like all non-subsidised fringe or studio theatres, balancing the books is a constant struggle, and the Tabard is helped enormously by the income it derives from photoshoots and letting out the space to comedy agents, so that comedians such as Al Murray, Chris Addison, Russell Howard, Dara O'Briain and Lee Mack can try out their new material.
"It is tough to keep going sometimes, but we're in a better position than some. You hear so many stories about companies going under because their arts council funding has been cut. At least we don't have that hanging over us.
"I believe we're sustainable in the long term because, if you've never been subsidised, it is easier to calculate what you can and cannot spend.
"Nobody is making buckets of money. I just want to be able to pay the bills, maintain the building, pay my assistants and take a small salary for myself."
For all his financial and logistical woes, Reilly is optimistic about the future of theatre in W4 to the degree that he has been talking to his local authorities about moving to a bigger space somewhere in the neighbourhood. "We would retain the Tabard, but it would be exciting to have a bigger space as there are limitations to what you can do in a 94-seat theatre."
Gigi is running at the Tabard Theatre, Chiswick, until November 21