This weekend, Ian McKellen will receive the UK Theatre award for outstanding contribution to British theatre at a ceremony on October 8 at Guildhall, London. The citation states that it is in recognition of his "tireless work both in championing diversity and for his commitment to theatre, including touring productions, across the country".
I meet him the day after his latest London show – a production of Harold Pinter's No Man's Land – has opened. It is 52 years after he made his West End debut and he is on the front page of the London Evening Standard with his co-star Patrick Stewart, with a rave five-star review of the play inside the paper. He's effusive of the attention.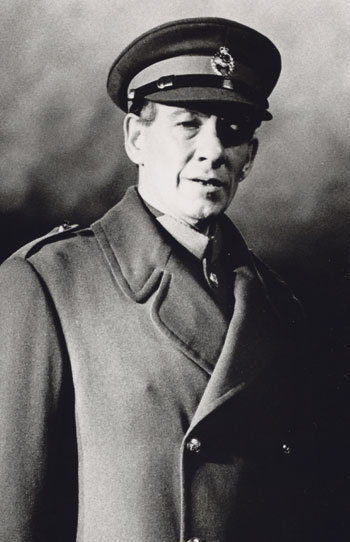 "The Standard is very good – it realises that London theatre is a big part of London's image of itself, and so it reflects that."
He's less effusive of the unwanted attentions of a paparazzi photographer, who starts shooting pictures unbidden of him as we sit at an outside cafe table next to Wyndham's Theatre's stage door. "I'm just doing my job," the photographer tries to protest, to which he replies: "I didn't appoint you to the job. Just because I'm in a public place doesn't mean I can be photographed."
The photographer apologises after this flare-up and they shake hands – "That's all I want, bye bye," he says, sending him on his way.
But he mellows as he sips on his coffee and eats a slice of cake he has brought with him from Patisserie Valerie. He's come a very long way from his Lancashire origins to being a star actor for the National Theatre and Royal Shakespeare Company, in the West End and on Broadway and these days on film as well, most notably as Gandalf in The Lord of the Rings trilogy and (also opposite Stewart) in the X-Men series.
But when I call him a bankable film star now, he demurs politely: "I don't think I'm bankable – I've just been in a lot of very successful films, but nobody says: 'Oh good, we've got Ian McKellen – we'll be all right for money.' I'm not a film star like that."
It is in the theatre, in any case, that he has always been most at home, and it has provided him with the base of his entire career.
"You didn't grow up in the north of England in the 1950s imagining that you would ever be a film star, unless you were a total fantasist. I had no idea about films and how they were organised, but I knew about the theatre. There was a professional theatre company in my little town and I saw the actors in the high street – that wasn't a far, distant world at all. If I'd ended up just acting in regional theatre I would have been very happy, but the opportunities don't exist now as they used to. One had to come to London, where there's a lot of theatre. It marks one out as being British – in America, the cinema is dominant in terms of acting; here you can be a very respected and reasonably paid actor in London and not appear much on the screen."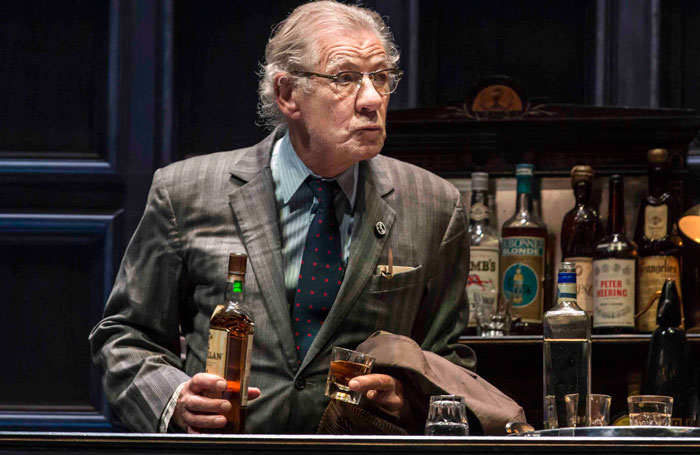 Not that he's unaware that film had its own allure. "My friends tell me I was always bellyaching about actors of my age group who were in films, but I don't remember it like that – deep down, I couldn't imagine not going on to a stage. Going on to a set has its own excitement, but its not as special as this," he says, tilting his head towards the stage door.
Another part of the attraction is working with old friends. He used to be partnered with Sean Mathias, and they lived together. "Now, I've done nine productions for Sean, so it's very much a family," he says. "And I've known Patrick [Stewart] on and off for 40 years. Sean came on stage for a bow at the end with us, which was very pleasing to me – we're three friends who've been lucky to be allowed to get on with it. The other two actors are also beautifully cast and confident. I did [Strindberg's] Dance of Death with Owen Teale in the West End and in Australia, and Damien Molony is very special, too – I recognise in him my own early enthusiasms. It's his West End debut and he's not 30 yet. And the designer Stephen Brimson Lewis is an old mate as well, so what you are getting is people with years of experience getting together and landing on a play."
Continues…
---
Q&A: Ian McKellen
What was your first job? As an undergraduate, we did a musical of Love's Labour's Lost, called Love's Labours. We brought it to the Lyric Hammersmith for a week and got paid £12. That was my first paid acting job. Later we brought a new play to the Arts Theatre that I was also paid for – how lucky I was. I didn't have to go to drama school to get any attention.
What do you wish someone had told you when you were starting out? I always think that if we [actors] had worked a little bit harder collectively, at a time when our union was being destroyed by Margaret Thatcher, that we might have been able to preserve the regional theatres where we all used to get our training. That's the biggest regret I have and I wish I'd known what was going to happen. We didn't see what a huge change that would bring about.
Who or what was your biggest influence? There have been different people at different points. But Laurence Olivier's matchless career is what people of my generation not only aspire to but are in awe of and honour.
What's your best advice for auditions? Try to avoid them! I suppose having attended other people's auditions, I know it is true that the minute the actor walks on to the stage you know whether they're appropriate or not. So don't be too depressed when you finish if you don't hear from them again – would you want to be in a production where you weren't welcome, anyway?
If you hadn't been an actor, what would you have been? Probably a teacher, it's a very honourable job. When I was a kid, the adults who impressed me most beyond the family were the people I came into contact with most, which were teachers.
Do you have any theatrical superstitions or rituals? I do find that the random, chance way I get dressed into costume turns out to be the way I'm stuck with to the end of the run.
---
Mathias, Stewart and McKellen first staged the show on Broadway in 2013, in rep with a production of Waiting for Godot that they'd first produced in the West End in 2009. "It always felt as if Pinter and Beckett were like brothers, with Beckett the senior and the young, cheeky Pinter trying to catch up with him, of whom he was a huge admirer. But doing this play on its own and in London now feels like this is where it belongs. If you're going to see it, you should see it in London, where you can get the tube up to Hampstead Heath or the bus to Hackney – the world of the play still exists."
McKellen, who previously appeared in an undergraduate production of Pinter's The Birthday Party when he was at the University of Cambridge, had initially resisted the call to appear in No Man's Land.
"I'd seen the original production and couldn't imagine anyone else doing it unless they were copying John Gielgud – that fluting voice was very suitable for the text. There's a bit of Gielgud in what I do, but I've managed to make it my own, and it's been very rewarding. I'm so grateful that I was persuaded to do it. Last night was our 252nd performance, after doing it in America and touring here, and I promise you, I've only just, I think, got it right in the last week since we came here. I'm always poking around, checking that the decisions we made early on in rehearsals still apply or don't. That's why I like doing plays, you have the possibility of eventually getting it right, or as right as you can."
Acting is a constant journey for him, and he has relished (almost) every opportunity he's had to do it.
"You just hope you'll have a career. There'll be high points and not-so-high points, of course. The thing I am most proud of at the end of the day is that there is only one production I regret doing – it was a Brecht play for the Royal Shakespeare Company. I was out of sympathy with the play and the production, it was misery. But everything else there has been some point to it – learning something or meeting someone. But I also see bits of myself acting, even 10 years ago, and I wince.
"I know quite a lot of people don't like my acting, and if they happen to be a critic, they say so – some say I'm mannered, and yeah, they're right: my excuse is that if you're working in a very large theatre and you're trying to reach the people right at the back, you don't give a performance that really suits the people in the posh seats. But when you get into a nice little theatre like this [Wyndham's], there's no need for that display; you try to bring the audience to the play rather than having to shove it out there, it's not a pantomime."
Not that he's sniffy, at all, about panto: in 2004, he starred as Widow Twankey in Aladdin at London's Old Vic. "Panto is at the heart of British life. In a good pantomime, the audience has an experience of such immensity. They can be moved, they can be roaring with laugher, they can be shouting out, they can be frightened, they can join in – it's theatre par excellence.
"That's why the Brits are rather good on theatre, and it means a lot to them – they've had that positive experience of theatre as a youngster and want more of it. So for me to do a pantomime was almost inevitable. Why should it be the preserve of stand-up comics and dancers only? I'd love to do it again, before I stop."
He's also ticked other career aspirations in the last few years, such as appearing in Coronation Street. "It's every actor's dream to be in a soap, but not get stuck in it." Another dream fulfilled was running a company at the National with his old RSC friend Edward Petherbridge in the 1980s that staged a play in each of the three auditoria. "All the actors' faces and names were on our poster, which had not been done before or since – and Sheila Hancock, who directed one of the plays, was the first woman to direct at the Olivier."
But he's not been tempted to repeat it, or to run a theatre himself. "It was suggested that I apply for the National, but I couldn't imagine doing it. To hire people is one thing, but to fire them is another, and you have to be prepared to do both. It's not in my temperament. But working in a group is another matter."
Continues…
---
Ian McKellen's top tips for an aspiring actor
• Go and see other people act – you can sit on the front row here for £10. There's also a lot of acting on television for free. And do it in the company of a mate, so afterwards you can work out together why something was good or not.
• Record your own radio play or film yourself doing something, look at it back and see what you look like.
• Don't expect to be discovered – most people who are discovered have been working at it for years. When I did Richard II and everyone thought I was an unknown, I'd been in the West End, on Broadway and worked with Laurence Olivier and Tyrone Guthrie.
---
He regrets that long-term opportunity is no longer available at the National: "I had a dream, which Judi Dench shared, that we would just be under contract to the National Theatre for a lifetime, and cast – like Michael Bryant was through the years – in large parts, medium parts and small parts, just there in the company and watching it all go on. But there isn't a National company anymore."
He still considers it a responsibility to tour to the regions, as No Man's Land did. "It's not just important, but also rewarding. We sold every single ticket. And it's fun and keeps you on your toes, meeting different audiences and going to different theatres – it's energising."
As was, for him, coming out as gay, which he did publicly in 1988. "I don't think anyone in public life has a responsibility to do so beyond their own lives, but if people note it, it can be very positive. People get the impression that I personally ran Stonewall – I was just one of 20 people who helped found it, but I've not done anything special. Each person does what they can."
Rupert Everett once said in an interview that he regrets coming out, as it hindered his film career. "I think Rupert is wishing the world were a little bit different, but it's not possible these days to be an actor of his standing, talent and temperament and lie about himself. It would be so inappropriate in this day and age. He's just saying he wishes he was accepted for what he is – an openly gay man as well as a terrifically good actor. There are some parts he'd have liked to have played which he feels he was not allowed to – well, join the club.
"I don't think it's very helpful to other people, especially younger people, that someone of his standing should propagate that point of view, which doesn't really hold water. There also isn't a single professional soccer player in the country who is brave enough to say he's gay, and it is in that context it's not helpful if openly gay people say they wish they had never come out."
What's next for McKellen?
"At 77, how many more plays will I be able to do? So I'm not just going to do anything – it's got to be something that I really want to do, and if it isn't around, I won't work and will just enjoy myself doing other things and seeing other people's work. But a dream would be that Simon Stephens or AN Other would write something for me."
---
CV: Ian McKellen
Born: 1939, Burnley, Lancashire
Training: University of Cambridge
Landmark productions:
A Scent of Flowers, Duke of York's Theatre, London (1964)
Richard II, Prospect Theatre Company (1968)
Romeo and Juliet, Royal Shakespeare Company (1976)
Bent, Royal Court Theatre, London, (1979), then National Theatre (1990)
Amadeus, Broadhurst Theatre, New York (1980)
Richard III, National Theatre (1990), then world tour
Dance of Death, Broadhurst Theatre, New York (2001), then Lyric Theatre, London (2003)
Aladdin, Old Vic Theatre, London (2004)
Waiting for Godot, Theatre Royal Haymarket, London (2009), then Cort Theatre, New York (2013)
No Man's Land, Cort Theatre, New York (2013), then Wyndham's Theatre, London (2016)
Awards:
Olivier award for Pillars of the Community (1977)
Olivier award for The Alchemist (1978)
Olivier award for Bent (1979)
Tony award for Amadeus (1981)
Olivier award for Wild Honey (1984)
Evening Standard award for Coriolanus (1984)
Evening Standard award for Othello (1989)
Olivier award for Richard III (1991)
UK Theatre award for outstanding contribution to British theatre (2016)
Agent: Paul Lyon-Maris at Independent Talent Group Ltd
---
No Man's Land runs at Wyndham's Theatre, London, until December 17; mckellen.com