Other than Joan Collins, Freddie Fox probably gets asked about dynasty more than most. He laughs when I try this line out on him in the cafe of the Menier Chocolate Factory, where he's rehearsing Simon Evans' 90-minute staging of A Midsummer Night's Dream for Southwark Playhouse. "Someone actually said that to me last week," he says. I try not to look deflated.
Fox comes from a family of well-known actors, from father Edward, mother Joanna David and older sister Emilia, to cousin Laurence. When the lack of diversity in the British acting industry is criticised, the 27-year-old Fox's background, private education and early success – he's had screen and stage roles since before graduating from Guildhall in 2010 – are easy targets.
Fox is pragmatic about perceptions of his origins. "It's my unique upbringing, the unique set of cards that I got dealt," he reflects. "I'm very proud of those cards, and happy to be a part of it. Of course, when you start out, most people expect you to be the apple that didn't fall too far from the tree."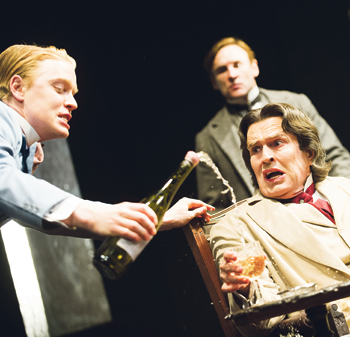 But after six years of undertaking diverse roles such as androgynous 1980s singer Marilyn in the Boy George biopic Worried About the Boy, he's "getting there", Fox believes. He feels he's living his career on his own terms. "Now, I don't think I'd particularly care if somebody criticised me for having got to a certain level of success because I'm Ed Fox's and Joanna David's son. I know that's not true."
Affirmation of his efforts recently came in the form of a 2015 Ian Charleson Award nomination for his performance as Romeo in Jonathan Humphreys' production of Shakespeare's tragedy at the Sheffield Crucible last year. While Fox lightheartedly calls this "a nice trip for the ego", he insists that it matters more that "the play was [a success] for the audience, and for the actors doing it".
Fox is funny, effortlessly courteous and gently self-deprecating, but he's extremely serious about the process of acting – and his career. He feels the weight of both. Romeo was challenging, "because it was the first 'lead' lead I'd played on stage", he explains. "I had a responsibility to the company, to the theatre and to myself."
For the 400th aniversary of Shakespeare's death, he's back with A Midsummer Night's Dream. In Evans' production, seven actors play 17 parts, with Fox switching between Demetrius and Bottom. "The key is to pair characters who would seemingly be very different," he says. "Also," he laughs, "they don't have much time on stage together."
Does Fox worry about audience fatigue? After all, Shakespeare's tale of magical mayhem is hardly under-performed. "What's lovely is that the characters are all very specific colours," he says. "There are Caravaggian lights and darks." A fan of the play's humour, he hates versions where "everyone is roughly the same – all quite nice. It's so boring."
Evans' approach – "totally geared towards making the audience imagine everything" – chimes with Fox's love of exploring and paring back a character, "because you can then have so much fun with the different physicality, the different vocality". He talks of the cast's "troupe of actors" endearingly like someone in the early, heady throes of a relationship.
Continues…
---
Q&A: Freddie Fox
What was your first non-theatre job? Hatchards, the bookshop.
What was your first professional theatre job? Technically, when I was four, in my sister's production of Rebecca, but probably a Miss Marple while I was at drama school.
What's your next job? Another play in London, but I can't say more than that.
What do you wish someone had told you when you were starting out? You can relax a bit more.
Who or what was your biggest influence? My family.
What's your best advice for auditions? If it's for a film, always learn the lines. If it's for a play, check whether you need to learn the lines.
If you hadn't been an actor, what would you have been? I wanted to be a director of photography for a while, because I'm fascinated by what they do. You're made to look good by them and you can learn so much from talking to them.
Do you have any theatrical superstitions or rituals? I do a fairly thorough physical and vocal warm-up – not necessarily because I need to, but because it will play on my mind during a performance if I don't.
---
Fox is fired up by the play of the rehearsal room. He's full of talk about finding character in movement – about "corralling, teasing, provoking" audiences. And from Lord Alfred 'Bosie' Douglas in The Judas Kiss to the sexually omnivorous Freddie in TV series Cucumber, he's played several provocative characters.
Sitting opposite me, mid-rehearsal, blond hair scruffy, a bit beardy, Fox is still strikingly handsome. He's "very aware" that he's played "lots of objects of desire" and considers this a rite of passage. But, he stresses: "There's another step, then another, then another." He's skilled at finding the depth in those characters, the cracks in their brittle facade.
Several reviews of his Romeo praised the exceptional physicality of his performance – something he's having fun exploring more in A Midsummer Night's Dream. And with a part in Guy Ritchie's upcoming film, Knights of the Roundtable: King Arthur, Fox wonders if he's entering a new phase of his career, "perhaps more physically diverse roles".
Variety is important to Fox. "That's why I wanted to be an actor – to be everybody. Through all those different people I can learn about myself," he says, then laughs, castigating himself for sounding "naff". A voyage of self-discovery was not his aim, but "that's what's ended up happening, the more parts I play".
Fox's favoured word is "chameleon-like" – he'd like it to define his career. "The joy of being a chameleon on stage is that you can be anything, and yet you're not any of those things as well," he says. This ethos embraces his desire "to try to maintain a private life at the same time".
Last year, while promoting Cucumber, Fox made comments in a Telegraph interview that sparked headlines about his sexuality. "It's a microcosmic example of the problem facing the world," he says. "That people have to be one thing, or whatever, to be understood – which, as we know, is not the case."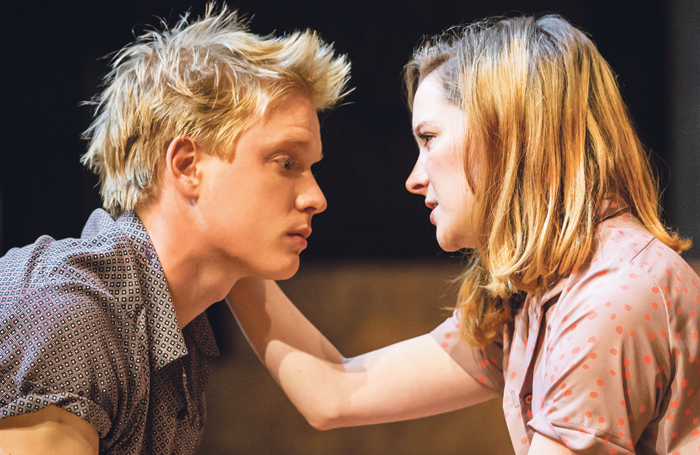 He believes actors are particularly susceptible to being pigeonholed. "If you're going to get the career you want, you have to be proactive in playing against that," Fox says, "by showing your full potential." Becoming the headline exasperates someone who relishes disappearing into each character he plays – who wants it just to be about the work.
"That's a lesson you learn throughout your career – how everything you say can become incredibly loaded on the page. You have to learn to be slightly more selective in how you approach your saying of things. Which is frustrating, because you don't want to have to do that," Fox says.
"And you're not taught that in drama school, because, of course, you can't be, until you're learning it on the job," he continues. That's why he considers himself fortunate: "I have a family of actors that I can go to for advice. Because, otherwise, it's like, 'I don't know where I fit in here'."
Fox is happy with where his career is going, and he's keen to improve, learning from people like his stage hero, Mark Rylance. "He's an incredibly inventive character actor, who's played huge chameleonic shifts," he says. "You can watch him being totally simple and present, and he completely sucks you in."
Fox believes that experience of film can be useful in cultivating this stillness on stage – in bringing an audience into a performance. "The camera is doing a lot for you. It's seeing every little thing. So you need to genuinely believe what you're doing."
In terms of Fox's work, playing Romeo was clearly liberating for the future. "Overcoming the angst of doing that was quite tough," he reflects, as he finishes his tea and the interview draws to a close. But what about Shakespeare's other iconic characters? Hamlet?
Fox laughs. "Hamlet's a wonderful play about the dysfunction of a family, so I thought it would be interesting to do a production starring all of mine – a real family playing a family."
A bit like a theatrical version of the Osbornes? Fox looks delighted. "Yes! But there'd be a fight over which of the young men would play Hamlet. That's what would thwart that."
---
CV: Freddie Fox
Born: 1989, London
Training: Guildhall School of Music and Drama
Landmark productions: Theatre: The Judas Kiss (Hampstead Theatre, 2012), Romeo and Juliet (Crucible, Sheffield, 2015). Film and TV: Worried About the Boy (2010), The Mystery of Edwin Drood (2012), Parade's End (2012), Pride (2014), Cucumber (2015)
Agent: Angharad Wood and Charles Collier at Tavistock Wood
---
A Midsummer Night's Dream runs at the Southwark Playhouse, London, from May 31 to July 1