Less than a year ago, the Bunker was a storage space beneath the Menier Chocolate Factory in London. It held occasional one-off performances, but mostly it contained tatty chairs and old sofas. Two years earlier, it had been knee-deep in water: a disused underground car park with a flooding problem. On the day I meet its founders, the 110-seat studio opens the fourth and final show of its inaugural season. A new fringe theatre is up and running. Just.
It has been a remarkably swift turnaround: a permanent year-round auditorium established, more or less from scratch, in the space of nine months. Joel Fisher and Joshua McTaggart, now executive and artistic director respectively, stepped into the space for the very first time on January 31 last year. The Bunker officially opened in October.
Having met through the Young Vic's Genesis Foundation scheme for emerging directors, the two had no intention of running a venue. They were scouting around for an unconventional space to put on a show when Fisher happened on the concrete hull beneath the Menier. "When I walked in for the first time, it was obvious," he remembers. "There's a buzz about the space. There's a little bit of electricity to it, and you want to be here, you want to stay."
He's right. The Bunker definitely has something. It's a space that lets artists stretch out – rare in central London, where pub theatres and pop-ups alike tend to squish actors on top of their audiences. Certainly, it's a luxury for young artists and companies, who are used to making small-scale work that can shrink down to fit. The Bunker's thrust stage is roughly 6.5 metres by 5.5 metres, but, surrounded by three spacious banks of seating, it feels bigger than that. There was already a lighting rig installed and, being encased in thick concrete, there's no sound bleed.
That, arguably, is the space's big secret. It feels cut off from the outside world, still and focused. Walk down from street level, down a steep, car park ramp, and there's a sense of escape. Look past its rough edges, and the Bunker plays better than some fitted theatres. Mind you, there are plenty of rough edges.
It's hard to think of a more inexperienced artistic team in charge of a venue. McTaggart, 25, spent six months as HighTide's general manager. He's directed two shows; one, a new play at the Old Red Lion, another at Vault Festival. Fisher, 24, turned to producing only last year. He has one show, a Stage One course and a short stint at Kenwright Productions under his belt.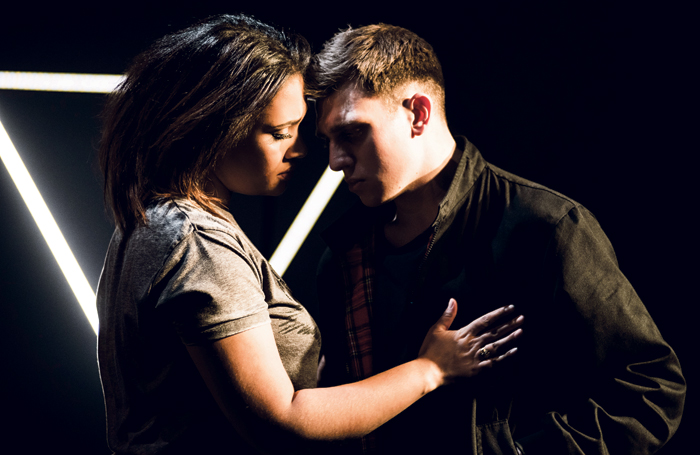 What they do have, undoubtedly, is drive. Having found the site, Fisher dug around for the landlord's details: New Zealand-born developer Don Riley. He is landlord to several Southwark developments, including the Menier, and, back in 2004, he handed that lease over to David Babani and Danielle Tarento. Then 27 and 32 respectively, they were allowed to run a theatre-restaurant as they saw fit. With the Bunker, Riley has done much the same.
"He really wanted to complete his philanthropic arm," says Fisher. "He wanted a space to complement the Menier, not more of the same. His brief was for something a little naughtier than the Menier, which is a wonderful thing to say."
The Bunker is part of something bigger. Riley has twice applied for planning permission on the plot of land adjacent to the Menier. He'd hoped to build a creative/residential complex called Gagarin Square, which would have included a new theatre, rehearsal rooms and a restaurant, as well as luxury flats. As of October, the proposal was being reworked, and Riley has spoken of wanting to increase the area's footfall. The Bunker will play a part in that.
"With us, he found a couple of people who are going to throw blood, sweat and tears into it," says McTaggart. "He took a risk with us: two people who were willing to put that time in and take the plunge."
And that is what they have done. Fisher and McTaggart tell stories of 18-hour days in the space, plus the occasional sleepover, to get it ready. They talk of dashing back from day jobs to crack on, and splashing flame-retardant paint everywhere to comply with fire regulations. "The build was the easy bit," Fisher assures me. "In comparison to the logistics, all the red tape, that was a walk in the park." They needed planning permission – both forward-looking and retrospective – premises licences, health and safety assessments, the works. "We were completely oblivious to all that."
McTaggart goes one further: "We didn't realise everything we'd need to do or everything that was going to get in our way. If we had, we'd probably never have done it."
Continues…
---
5 things you need to know about the Bunker
1. The theatre was transformed from an abandoned, underground car park into a 110-seat thrust theatre.
2. It took nine months to get the Bunker up and running. The artistic team first visited the space in January 2016. Their first show opened the following October.
3. The Bunker benefited from £80,000 of fundraising ahead of opening.
4. At every performance, 10 tickets are available for under-25s at £10.
5. The Bunker's bar transforms for every production. Its theme is tied to the show being performed.
---
Approaching the end of its first season, 100-odd performances in, the Bunker has achieved an audience of 4,800 – an average capacity of just over 40%. Its opening show, Isley Lynn's Skin a Cat, picked up from Vault Festival, sold well. Philip Ridley's Tonight With Donny Stixx and new musical Muted, less so. Next up is new writing – Fiona Doyle's Abigail – followed by a new version of Arthur Schnitzler's La Ronde, with the cast rotating roles by chance.
There's something of the old-school fringe about the Bunker – not just a 'make do and mend' aesthetic, but a 'make it up as you go' approach. "We've always said, there's no rulebook," says McTaggart, excitedly. "This has come out of nowhere. There's no set path." They are working out pitching processes and testing marketing strategies with each show, and the rates are still in flux: "It's a steep learning curve."
"Don't take this the wrong way," I say tentatively, "but do you guys know what you're doing?"
"Absolutely not," McTaggart replies, straight down the line. "We have no idea what we're doing."
Fisher interjects: "I don't think we ever will."
Already, inexperience and haste have led to hiccoughs. Abigail was originally due to run in a double bill with a one-act Conor McPherson play, Come on Over, but the rights fell through. Yet there's a sense that naivety could play to their advantage in terms of flexibility and ploughing on regardless.
Financially, the Bunker's model is self-contained. It is essentially a theatre-for-hire with a distinct producing arm that will invest in co-productions. Rates are currently in the order of £2,000-3,000 a week, in line with the Park and Southwark Playhouse, and 100% of box office goes to the production company. In theory, the theatre should cover its costs regardless of sales. "The Bunker is budgeted to make a substantial enough profit to cover for errors," says Fisher. "It will never go under because of a bad show."
There is, for the time being at least, a lot of goodwill towards the Bunker. If it succeeds, it presents a great opportunity for emerging artists and, in that, McTaggart's pitching the programme just right. "We'd like to see ourselves filling that gap between the pub theatres, which are brilliant launchpads, and the subsidised sector. We're a place that says, both to audiences and to artists: 'Come. Take a risk. Be adventurous.' "
---
The Bunker profile
Artistic director: Joshua McTaggart
Executive director: Joel Fisher
Performances: 95 (since October 2016)
Audience figures to date: 4,800
Employees: Four full-time, two part-time
Turnover: £150,000 (projected)
Funding: none
---
Abigail runs at the Bunker until February 4; La Ronde will run from February 11 to March 11. Full details: bunkertheatre.com