Sheridan Smith shares more than just a surname with Maggie Smith. Though Maggie has nearly half a century on her age-wise, Sheridan is already following in her footsteps in so many ways.
Both have careers that began in amateur theatre – Sheridan with the National Youth Music Theatre, Maggie with Oxford University Dramatic Society – and soon led them both to early careers as stage and television actors best known for their comic talents. Both have gone on to star in Henrik Ibsen plays at the Old Vic, London (Maggie in The Master Builder in 1964, Sheridan in Hedda Gabler in 2012 – a role that Maggie has also played); both have won BAFTAs (Maggie three times, Sheridan for Mrs Biggs); both have won Evening Standard Theatre awards (Maggie five times over, Sheridan for Flare Path); both have won Olivier awards (Maggie taking an honorary Olivier in 2011, Sheridan winning two years running, for best actress in a musical in 2011 for Legally Blonde and for best performance in a supporting role in 2012 for Flare Path). Maggie received a CBE in 1970, before being raised to a damehood in 1990; Sheridan received an OBE in 2015.
Those credentials are perhaps coincidental, but already established. Slightly more daunting, at least for Sheridan Smith, has been following in the footsteps of another iconic actress, Barbra Streisand, who created the title role of Funny Girl in the Broadway production of the Jule Styne musical in 1964, then in the West End in 1966 and finally in the 1968 film version.
Funny Girl. Photos: Marc Brenner
But such is Smith's popularity that when tickets went on sale for the Menier Chocolate Factory's production, in which she is now starring prior to a West End transfer to the Savoy Theatre in April, the entire run sold out in just over 10 hours. Meeting the impish, open and talkative Smith in the bar of the Menier before a recent performance, we talk about how no one dared revive the show until now – owing to the legacy of Streisand. So how did this one come about?
"Sonia Friedman, who I worked with on Legally Blonde seven years ago, had the rights and she mentioned it. She got in touch recently to say did I fancy doing it, and of course I jumped at the chance. It was only afterwards that I realised the enormity of it and that it hadn't been done for 50 years – and it's our Babs, the amazing Barbra Streisand, and of course then I panicked and thought: 'What am I thinking? There's a reason it has not been done in 50 years'."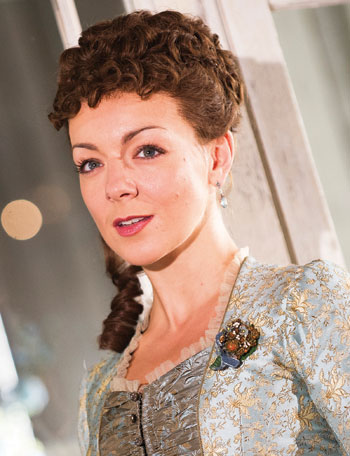 But Smith, despite a very open seam of insecurity and vulnerability, is made of altogether sterner mettle underneath, and never shies away from a challenge. "Then I thought the story is about Fanny Brice, and I started to research her. I discovered she was not the norm, but was someone who broke the mould by getting into the Ziegfeld Follies with all those gorgeous, leggy women around, but she did so by being the comedy turn and having funny bones. I love that – my idols have always been people like Kathy Burke and Julie Walters and Maggie Smith, who also do that. They have no vanity, and if you can leave your vanity at the door, you can laugh at yourself and people can laugh with you. There's a line in the show where Ziegfeld says: 'You're a comedian – people are supposed to laugh at you,' but she says: 'They laugh with me, not at me.' I grew up knowing that I wasn't normal-looking either, but always admired women who are quirky and gutsy and don't care."
She goes on: "So I focus on that, so I didn't panic about the Barbra thing – because, to be honest, there's only one Barbra Streisand and I'm miles off." Instead, as Michael Billington pointed out in his review for The Guardian of the Menier opening: "She brings to the role her own brand of exuberant mischief and spiritual warmth. Where audiences admired Streisand, they palpably adore Smith."
The result is a performance that is both funny and heartbreaking. "It's rare that parts come along like this," acknowledges Smith, "and that's why I jumped at the chance before I thought about the Barbra thing – it's not often a part where you get to be funny, yet also go on a journey with a woman you can connect with. By the end of Act I, she has become professionally successful, but the second act is a different show completely, when her life all falls apart around her, and she tries to balance her work and life and is hanging on to a man she doesn't think she deserves. It is heartbreaking, but also very current. That's something that still resonates a lot with people – and with me, I can relate to it myself."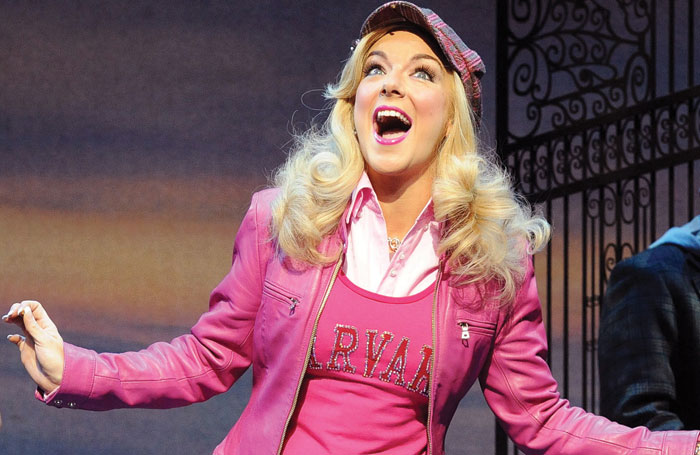 She takes a very personal turn now to admit: "As you know, I haven't really had that many relationships. Again there's a line in the show: 'I live on the stage', and it's true, I do – I love it – but it's hard to get a balance. It can be done – I've got friends who do – but it is hard, especially when you're a workaholic, and I'm so grateful for what I've been given. It's hard to give that up, and say: 'Now I'm going to settle down and have a family and be a little wifey!' Especially when you're constantly moving round or travelling about and you're either filming or on stage."
She reveals that, in-between the end of the Menier run in early March and its reopening at the Savoy in April, while other members of the company will take a well-earned holiday, she's off to Leeds to film a BBC1 TV drama. "I'm a lunatic," she suggests. "While everyone else is on holiday, I'll be there with a keep-warm coat on at 6am. But I also love it – it is like I'm married to the job. There's another line in Funny Girl about loving the audience, but you can't take the audience home with you. Honestly, the buzz I get every night from the theatre is amazing, and I love telly and film and am very lucky to have a go at all those genres, but there's something about being on stage with an audience and that one-off experience you all share that you can't beat. I'm getting tingles just thinking about it – and right now, I'm full of cold, but I don't care; I can't wait to get out there again. I know that the audience will give me such a boost, they laugh with you, they cry with you, and by the end you've gone through a washing machine of emotions."
Continues…
---
Q&A: Sheridan Smith
What was your first job? I worked on a burger van in Doncaster for a little while, in between Bugsy Malone and Into the Woods when I was 17. I loved it, chatting to everyone – I don't shut up, so I was good at it.
What do you wish someone had told you when you were starting out? Just enjoy every second.
Who or what was your biggest influence? Strong women like Julie Walters, Maggie Smith and Kathy Burke who do comedy and drama.
What's your best advice for auditions? I'm rubbish at auditions – people should be giving me advice, because I get so nervous. I always say go in and be yourself, they are looking at you as a person and how you're going to be to work with. And if you don't get a job, don't ever take it to heart. There are so many other brilliant people, you've got to keep supporting each other and don't take it personally and don't let it knock your confidence. Keep on and keep enjoying and doing what you love.
If you hadn't been an actor, what would you have been? I'd have worked with animals, a million percent. I love dogs.
Do you have any theatrical superstitions? I used to put on Defying Gravity [from Wicked] before every show, but I've stopped it now – we're all sharing a dressing room at the Menier, so the others might find it a bit weird.
---
These days, Smith does take some of her audience home with her, at least virtually: "I take them home through my phone – you couldn't do it then in Fanny Brice's day, but now you can, my social media family via Twitter." She currently has more than 666,000 Twitter followers, and tells me: "I always say to my Twitter followers to come to the stage door and meet me – and  what I love about being in the theatre, rather than filming, is that you get to meet your audience." She admits that she loves Twitter – "I live on my own with my three dogs, and I can't talk to them about things, so it's like I have a little cyberworld of family and friends. I don't know them, but I feel like I do."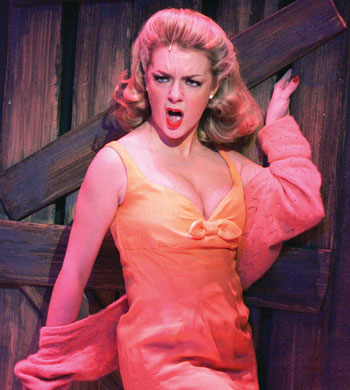 Theatre provides her with a sense of family – she speaks of returning to the Menier, where she previously played Audrey in Little Shop of Horrors nine years ago in a production that subsequently transferred to the West End. "It doesn't feel like I've really been away," she says. "I know everyone in the company – all the crew backstage are the same, so it's like coming back to a little family." Her real-life family – her mum and dad, who introduced her to the business when she sang with them in a country and western duo, and her brother Damian – still live in her home town Epworth, and she says: "I must thank them for looking after my dogs – Enid, Trish and Barry Manilow – while I've been rehearsing and doing this show. I'm going home in a couple of weeks to bring them back."
But theatre provides another happy home for her, and why she keeps returning to it. "I just love it, and it's where I started. Nothing was planned – I didn't do any training – but I came to London first to join the National Youth Music Theatre when I was 16 and I did Bugsy Malone in the West End. Then I did the premiere of Howard Goodall's The Kissing-Dance, in which I played Gina Beck's mother – wearing a grey wig! [Beck and Smith are the same age.]" She credits the NYMT, of which she is now a patron, with giving her her training: "What they do is brilliant – they give you an experience of what a professional production would be like."
She was also discovered by an agent as a result, and made her professional debut playing Little Red Riding Hood in the Donmar Warehouse's Into the Woods in 1998. "Damian Lewis was my wolf. It's another family theatre, small and raw and I was sharing a dressing room sat between Sophie Thompson and Jenna Russell. I remember that the Donmar thought I might be too young – I was only 17 – and rang around the directors of my NYMT shows to see if they thought I could do it. I learnt so much on that job."
She has always learnt on the job: when she graduated to TV roles in The Royle Family and then Two Pints of Lager and a Packet of Crisps, she says: "I learnt a lot along the way, and watching people like Caroline Aherne, Sue Johnston and Liz Smith work, I was like a sponge, taking it all in."
She has pulled off the rare feat of managing not to get pigeonholed in one particular kind of genre or medium. As well as musicals, she has also done plays, including the aforementioned Ibsen's Hedda Gabler – "I'd never heard of it and said: 'Hedda who?' when they suggested it. Some people said I shouldn't have admitted it, but I didn't know, and you may as well be honest. And you soon learn along the way – now I know about Hedda Gabler and more about Shakespeare as well, by working with the lovely Michael Grandage [on A Midsummer Night's Dream in 2013, opposite David Walliams]".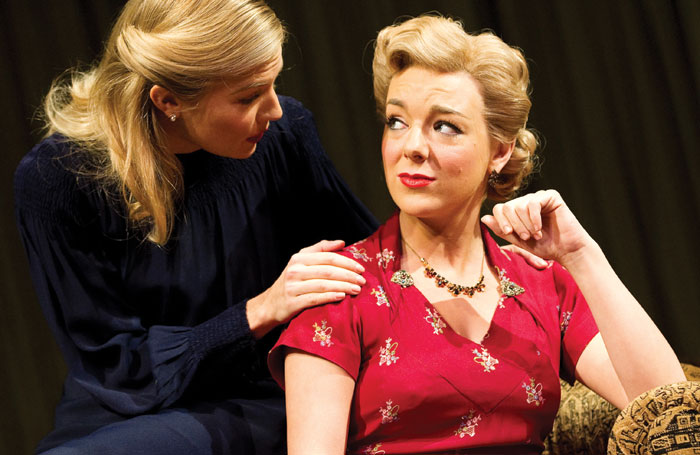 There was also Terence Rattigan's Flare Path, that won her a second consecutive Olivier award, directed by Trevor Nunn: "I was going to have a bit of time out from the theatre after doing Legally Blonde, but then Trevor Nunn got in touch while I was on holiday with my family and I read the script crying by the pool. So I hopped on a plane and came straight back to the theatre. It's nice to be trusted to go from doing such a camp, fun musical to doing such a serious part. I've just been very touched that people have given me these opportunities and believed in me – way more than I believe in myself."
Her natural state of insecurity reveals itself again, but she always overcomes it: "Until I get out there I never know if I'm going to pull it off, that's the terrifying thing, I go through the same process every time and drive myself mad panicking. Then Doctor Footlights kicks in and I do my best – that's all I can ever do. It will be good enough for some people, and not for others, but as long as you give it your all, that's all you can do."
She's tapped a particularly fruitful vein in musicals, but though now unquestionably a leading lady, she feels a bit outside of it. "There are many amazing musical theatre actors. I'm in awe of them all, going from show to show – I don't know how they do it, it is tough to keep doing it. With filming, you're doing something different every day, but with a show you have to find new things all the time to keep it fresh."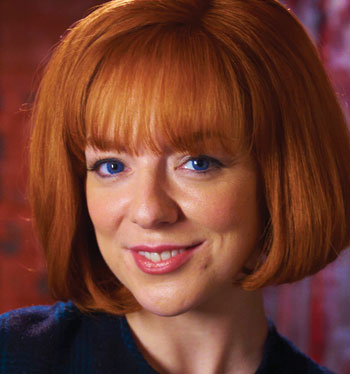 One way is by constantly looking inside herself as well as beyond herself. When she starred as Cilla Black in a three-part ITV drama series about the iconic star, she says: "I had singing lessons and researched and watched loads and loads of footage. My generation was more Blind Date and Surprise Surprise, but hers was an incredible story. What an era she lived through – if I could have been born at any point, that would have been it, but I got to recreate it, which was the next best thing. It was amazing to tell her story, and amazing for people to relive it and for a younger generation to see how incredible she was."
Black was herself on hand: "We all went to dinner before we started, and she told me I could call her at any time, but then she left us to it. She's so iconic." Smith may only be 34 years old now, but she's fast becoming an icon herself.
---
CV: Sheridan Smith
Born: 1981, Epworth, LincolnshireTraining: "I count my time with the National Youth Music Theatre as my training."
Landmark productions: Bugsy Malone, National Youth Music Theatre (1997), Into the Woods, Donmar Warehouse, London (1998), Little Shop of Horrors, Menier Chocolate Factory (2006) and Duke of York's Theatre, London (2007), Legally Blonde, Savoy Theatre, London (2009-11), Flare Path, Theatre Royal Haymarket (2011), Hedda Gabler (2012), A Midsummer Night's Dream, Noel Coward Theatre, London (2013), Funny Girl, Menier Chocolate Factory (2015-16), which will transfer to the Savoy Theatre, London
Awards: Olivier award for best actress in a musical for Legally Blonde (2011), Olivier award for best performance in a supporting role for Flare Path (2012), Evening Standard Theatre award for best actress for Flare Path (2011), BAFTA for best actress for Mrs Biggs (2013), National Television award for best drama performance for Cilla (2015)
Agent: Sarah Camlett at Independent Talent Group
---
Funny Girl runs at the Menier Chocolate Factory, London, until March 5. It then transfers to the Savoy Theatre, London, where it will run from April 8-September 10