When Paula Garfield was growing up as a deaf child, she believed that she would eventually become hearing, having rarely seen a deaf adult. "All the adults I ever saw seemed to be hearing, I didn't see deaf adults anywhere," she says. It was this lack of representation that led her, following an acting career, to co-found Deafinitely Theatre company in 2002.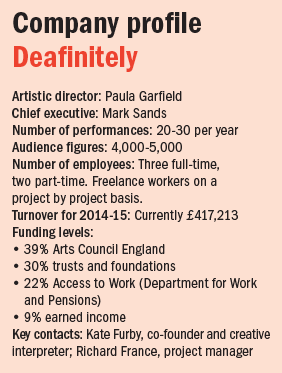 "I really noticed that there was no professional company that was representing theatre that was deaf-led or from a deaf perspective, or had that cultural element of deafness and sign language. That's what inspired me."
Deafinitely began life at a storytelling festival held at Notting Hill's Gate Theatre, after which audiences began asking when the company would perform again. A two-night, sold-out slot at Camden People's Theatre followed, after which the company began to develop. Its genesis coincided with the recognition by the UK government of British Sign Language as an official minority language in 2003. BSL is currently estimated to be the preferred language of between 50,000 and 70,000 people in the UK.
Deafinitely continues to be led by Garfield, alongside chief executive Mark Sands, who recently announced his departure from the company. He will leave later this year to pursue a career as a freelance producer.
The company's steady growth over the last 13 years belies a fiery ambition and a new vision for its future. Where it once prioritised putting deaf history and deaf stories on the stage, Garfield says that Deafinitely is taking a more "bilingual" approach to the stories it produces, staging well-known texts and performing for both deaf and hearing audiences.
"I had so much oppression in my own life, so I really wanted to show the deaf experience when I started the company," Garfield says. "I think now I'm older, more mature, and our audiences are more sophisticated. They want to see a more diverse range of work; classical plays, Shakespeare. I'd love to do some Pinter, and more modern playwrights."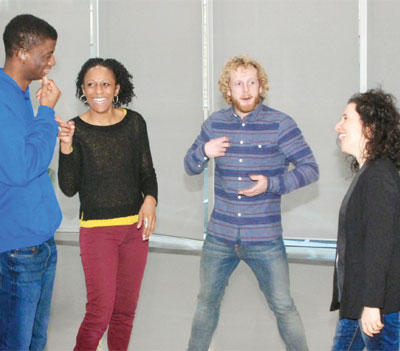 The company's latest work, Something Else, is its third children's show, a genre Sands says is integral in diversifying and broadening Deafinitely's appeal.
"What happened with our last children's show was that, because it was based on a well-known kids' book, people came because they knew the book. Many had no idea that it would be deaf actors performing or would include sign language. If we can get the children to come, they come with their parents and siblings and who will maybe come to an adult show. It's all about that connected approach."
Something Else, based on Kathryn Cave's children's story, enjoyed a sold-out run at London's Stratford Circus last month. The production is touring to Birmingham, Wolverhampton and Derby, but the regions, Sands says, are a different story.
"It's really hard for us to get into regional theatres, let alone get audiences. We get a feeling that theatres will have one or two disability slots in their programme, or they're less willing to take a chance on a range of companies, so they'll only pick one. We're finding it tricky to get into venues that programme Graeae, for example."
He explains a catch-22 that occurs when venues programme signed or captioned performances, which don't often attract large audiences, and they subsequently decide there isn't the demand for deaf-led theatre.
"That's why we are trying to sell it based on the quality of the work," he adds.
The introduction of more classic texts, and consequently more Shakespeare, has allowed the company to experiment with a more creative form of BSL, combining it with movement, music and spoken word to develop a richer and more appealing form. Garfield works closely with Deafinitely's creative interpreter Kate Furby, with whom she co-founded the company, to examine the language, meaning and context of the text before explaining it to the performers, who then take it away and develop character-appropriate sign language.
"We encourage the actors to be more creative and free doing something like Shakespeare. You've got everyday English, for example, and then Shakespearean English, which is very different. We want to show an everyday BSL but also a more artistic, poetic version," Garfield says.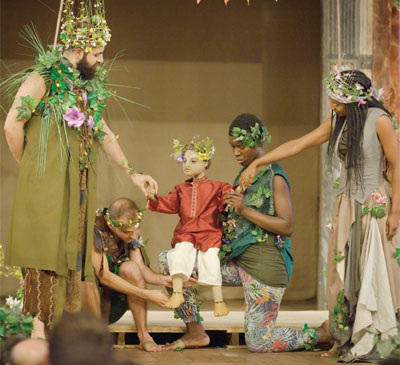 The company has twice performed at Shakespeare's Globe, first in 2012 with Love's Labour's Lost and more recently with a production of A Midsummer Night's Dream last year.
Love's Labour's Lost was staged as part of the Globe to Globe Festival – where all 39 Shakespeare plays are performed, each in a different language. It was performed entirely in BSL to fit the festival's requirements, but the company was invited back last year to perform its A Midsummer Night's Dream, which incorporated BSL, music and spoken word, and was seen by more than 4,000 people.
These two visits to the Globe have become the poster child for Deafinitely's theatrical ambition, but Garfield is quick to add that the original purpose of shifting attitudes towards deaf theatre remains a pertinent part of the work the company creates.
She goes on to say that the cultural climate in which Deafinitely, and the handful of other deaf-led theatre companies work, has been subject to frustratingly slow-moving change.
"I'm probably going to have to say that I don't think the climate is better if I'm honest. I still get approached by companies wanting us to advertise a BSL performance where they are bringing in an interpreter into the corner of the stage. That's not what we're aiming for. This kind of thing, it's been the same [for] 20, even 30 years."
Disability arts cuts, in particular those to the Access to Work scheme, are set to significantly impact the way that disability arts are made in the UK and will arguably hit deaf people, and users of BSL, the hardest.
Garfield may concede that her theatre is less political than it once was but it's clear that the fire still burns brightly when it comes to opportunities for deaf creatives, especially those who sign rather than speak.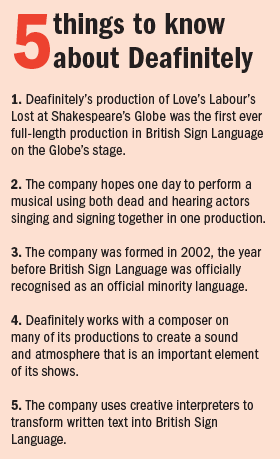 "For signing actors it's so difficult to go into other venues and companies because it's still the deaf actors that have good speech that get roles. Deaf people that don't voice as well don't seem to be getting those opportunities. People want to feel comfortable and they think, if I've got to bring an interpreter in it's too difficult. That attitude is still prevalent so we have a long way to go," she says.
Sands, who learnt BSL upon meeting his partner, who is deaf, explains that a typical rehearsal room includes at least two interpreters, often three, not to mention those needed to work during the translation process. Once a production is in the theatre, interpreters are still needed to communicate between performers, the director, backstage and technical staff.
Earlier this year, Deafinitely had an application for support turned down for the first time, a decision the company is appealing. Any changes to the support it receives are yet to take effect, but the concern occasionally rears its head in among the company's ambitious plans for the future.
"We are really worried about the kind of precedent these black and white decisions might set," Sands says, adding: "I guess what we need to do is lead by example so we can show how important this work is and we can prove that deaf actors can perform a whole range of material, most importantly, alongside hearing actors. If we can present that model of how it can work, then hopefully other people will pick it up."