For 21 years, Bradley Hemmings has presided over the Greenwich and Docklands International Festival. "We're on the crest of a rising tide of hunger for outdoor theatre and immersive experiences," he says. Earlier this year he received an MBE for services to culture and disability arts. This was a recognition of, among other things, his roles in co-directing the opening ceremony of the London 2012 Paralympic Games (with Jenny Sealey), and also producing the Mayor of London's Liberty Festival/National Paralympic Day, an annual disability arts showcase.
For the Olympic year, he found himself surrounded by a huge number of people. "It was amazing to work with such an incredible team. The scale of departments working across design, technical, scenic and costumes and the mass of volunteers meant there were legions of people doing what we wanted."
By contrast, for GDIF he is, for much of the time, a one-man band. "The Paralympics didn't spoil me – I was realistic enough to know that I wouldn't get that again. At GDIF, I'm the only permanent member of staff. I'm not just the artistic director and chief executive, but I also handle much of the fundraising and financial planning. At this time of the year we have an exceptional team of dedicated people and the office is buzzing, but the funding we receive is largely focused on delivery, meaning that we can't sustain this at other times of the year."
Continues…
---
Profile: Greenwich and docklands international festival
Artistic director: Bradley Hemmings
No. of performances: More than 190
Audience: 106,000 in 2015
No. of employees: one permanent full-time, six contract full/part-time
Turnover: £1.8 million
Key contacts: Matthew Jones (general manager), Jacqui Gavin (festivals manager), Ellie Dragonetti (marketing officer), Rosanna Lowton (administrator), Daniel McDermott-Roe (volunteer coordinator), Sally Atkins (producer)
---
There are, of course, also teams of project and production managers working at the various sites where events take place, and a team of more than 100 volunteers, whose work is sponsored by London City Airport, to help audiences navigate the festival. The paradox, though, is that so much is achieved with so few people on the staffing front, yet playing to such big audiences. Last year its programme reached a total audience of 106,000 people. And it also draws in new audiences – the holy grail of the arts.
"Outdoor festivals are a way of reaching new audiences in areas where the existing cultural infrastructure may be thinner on the ground," he observes.
But it also creates a unique sense of engagement among those audiences – it can be the ultimate kind of immersive theatrical experience.
"The most interesting and rewarding thing we have learnt is that outdoor cultural experiences are what people really love," Hemmings says. "As the recent Nutkhut production of Doctor Blighty with its stunning projections onto the Royal Pavilion in Brighton proved, or the Sultan's Elephant in 2006, people are hungry to do things outdoors, and love transformation and surprise. People love the spectacle but also the sense of awakening to things that they hadn't considered before."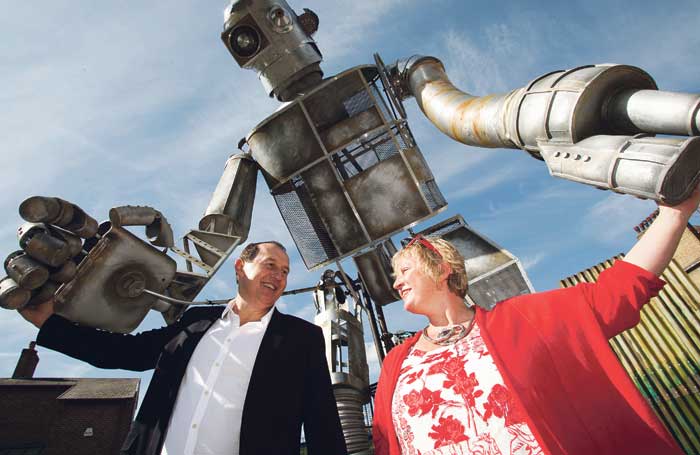 In addition to the Paralympic Opening Ceremony, Hemmings has had other large-scale outdoor commissions, including a spectacular on the River Tyne featuring Jill Halfpenny, Tim Healy, Mark Knopfler, Sting and La Fura dels Baus celebrating the millionth finish of the Great North Run in 2014. He also created the inaugural Heritage Flame Ceremony at Stoke Mandeville in the same year and is working on a new ceremony at the spiritual home of the Paralympics in the lead up to the Rio 2016 Paralympic Opening Ceremony. While these have grown out of the specifics of the places and contexts in which they've been created and regularly engage large casts of volunteer performers, international collaboration has often been a key ingredient in the mix.
"International collaboration has always been important to all my work and very much grows out of my experience at GDIF, and observing festivals in other parts of the world. Over the years, festival audiences have been treated to some of the best in the world. People often still talk about Compagnie Off's herd of life-sized crimson giraffes, the super-real sculpture of a sperm whale that appeared overnight on the banks of the Thames and last year's awe-inspiring flight by the Mexican women Voladoras [The Four Fridas]."
Continues…
---
Five things you need to know about the festival
• Everything is free (this year seated VIP tickets are available for two productions)
• This year's festival brochure cover image has been created by artist David Bray
• GDIF runs the UK's largest annual outdoor theatre showcase for visiting professionals in association with XTRAX
• Woolwich has some of the best outdoor spaces in London, hosting two events on July 2: Ignite! and The Clash of Drums
• GDIF presents the UK's largest annual outdoor dance programme, Dancing City at Canary Wharf
---
Hemmings is just as keen to emphasise the important things happening in British outdoor theatre and sings the praises of companies including Wired Aerial Theatre, Periplum, Motionhouse and Tangled Feet.
"The Arts Council has been a key agent in making the real renaissance in outdoor work happen, and it's an incredible way of reaching new audiences," Hemmings explains. He's also passionate about young artists and companies and this year's festival will showcase some of this work at GDIF's annual "festival within a festival", the Greenwich Fair, which takes place in Greenwich town centre featuring more than 30 companies in a single weekend over June 25-26.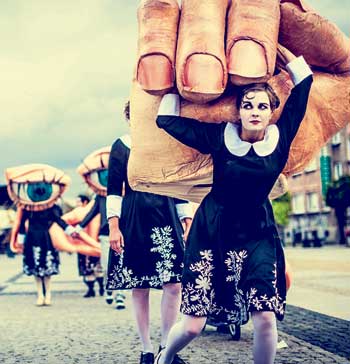 Historically, of course, there is nothing new to some of this: "There were some extraordinary companies like John Fox's Welfare State, Hilary Westlake's Lumiere and Son, Bow Gamelan, IOU Theatre and Footsbarn before they went to France, but though IOU is still going, some of it melted away. Now people are increasingly keen on the informality and conviviality of outdoor cultural experiences. There's a growing curve of interest, and I think we've played our part in that."
Outdoor theatre can genuinely claim to deliver unique experiences – even more so for frequently being one-offs, like this year's opening show headliner, The House, that Hemmings has written and is directing himself, on June 24.
"The Queen's House in Greenwich celebrates its 400th anniversary this year – it's even older than me. It was designed by Inigo Jones, the inventor of staging techniques we take for granted like the proscenium arch and moving scenery to create perspective. He created amazing masques with Ben Jonson in which members of the Stuart royal family took part. The National Maritime Museum was keen to work with us to mark the anniversary, and rather than go to a more traditional heritage exploration of the Queen's House, I've tried to do something rather different. Obviously there are contemporary references to the masque tradition, and Inigo Jones and the building can't help be in the middle of it, but I hope I've created a narrative that tells how this iconic building is for all people and for all time. It is, I hope, going to be deeply moving and it also connects with large audiences, which the festival is very much about."
On the day we meet, Hemmings has already spent the morning with Ian McKellen and Sharon D Clarke recording some narration for the performance and he is excited that "Sharon will also be singing live at one point in the show".
Continues…
---
Q&A: Bradley Hemmings
What was your first job? Barman in the Royal Pavilion Tavern in Brighton (then fondly known as Shades).
What is your next job? Directing the Rio 2016 Paralympic Flame Ceremony at Stoke Mandeville Stadium on September 2.
What do you wish someone had told you when you were starting out? The importance of not trying to do too much, a lesson that I'm somehow still stuck on.
Who or what was your biggest influence? Rose Fenton and Lucy Neal at London International Festival of Theatre.
If you hadn't been a theatre festival director, what would you have been? I originally wanted to be a violinist.
Do you have any theatrical superstitions or rituals? Ensuring that I thank each and every one of our volunteers.
---
Featuring video by BAFTA award-winning Tal Rosner, music by Dan Jones, and 20 dancers from Avant Garde Dance, it's a big show. "Audiences have come to expect a spectacular opening night – we can have an audience of 5,000. It's going to be a significant occasion, since it also forms part of the story of the reopening of the Queen's House in October later this year."
It will also occur the night after the referendum on our continued membership of the European Union.
"That'll put an interesting spin on the show," he says, highlighting that in his previous work on the Paralympics Opening ceremony "the sense in which we tried to connect to a national moment felt very important". This work speaks not just to a broader audience than a typical theatre one but to bigger subjects. It can sometimes lead the way: Hemmings set up the festival 21 years ago as the Greenwich and Docklands International Festival, out of the former Greenwich Festival, as he reminds me.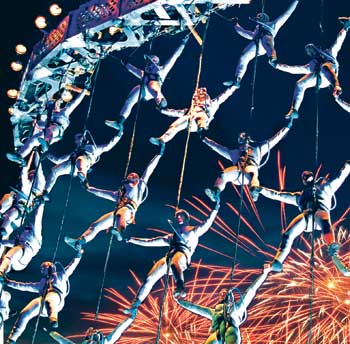 "It was a big bold move to cross the river. There was no DLR and the only way to go between the north and south was via the foot tunnel under the river. London was not connected as it is now, and it was a leap of faith to embrace the north of the river. But the Millennium Dome was just about to be dreamt up and there was a palpable sense of the infrastructure being developed. Where GDIF went, everyone else followed."
It was partly about revitalising cultural provision in the area: when he set the festival up, he'd been working in the arts office at Greenwich Council. Before that, he'd started off in music before moving into local authority arts management.
"It was a huge department at that time, but thanks to poll-tax capping, things were starting to shrink, so I took the opportunity to re-establish the festival as a separate charitable trust and entity, and we took the plunge." One of his founding partners was the London Docklands Development Corporation, which was then being wound down: "They wanted to secure the cultural legacy in east London from what they were doing. We were able to be that legacy."
Throughout the 21 years, one of the festival's key partners has been the Royal Borough of Greenwich, which has stayed the course through thick and thin. Hemmings talks passionately about the importance of local authority funding for the arts and is clearly impressed that Greenwich has prioritised and continued to support the arts at a time when many others have fallen by the wayside. "The festival is indivisible from where it takes place, and our partnership with the boroughs of Greenwich and Tower Hamlets helps cement that very important civic role for a festival such as ours."
Continues…
---
Bradley Hemmings' top tips for aspiring festival producers
• Always try to surprise people.
• Use creativity in engaging with and understanding your funders and partners – help them to understand you.
• Make sure you listen to everybody: artists, staff, audiences, friends, your production manager.
---
The festival began with 15-20 events spread over 10 days; this year's GDIF is the biggest yet, with well over 190 performances, including nine commissioned shows. As well as The House, other highlights include the world premiere of Silence from Poland's Teatr Biuro Podrozy, a sequel to its legendary street theatre production Carmen Funebre, that will run on June 30 and July 1 at Bethnal Green Gardens. It has been co-commissioned with Hull 2017 City of Culture and Freedom Festival, and, he says, "looks at the migration circus and how we respond to it".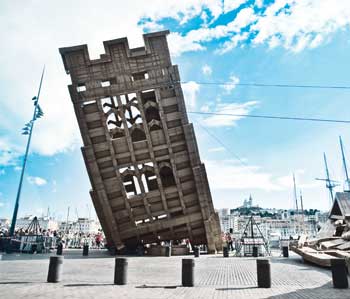 Another key event is The People Build, taking place in the Olympic Park on June 25-26. Hemmings says: "It's being created with the French artist Olivier Grossetete, and is an extraordinary temporary installation in which he will work with the public to assemble, then demolish, an ephemeral building." And at Canary Wharf, an outdoor programme of free outdoor dance will include Candoco Dance Company's You and I Know, choreographed by Arlene Phillips as well as a new production from Wired Aerial Theatre choreographed by Sharon Watson of Phoenix Dance Theatre and a new commission from up and coming hip hop dance company Far from the Norm.
"We're always keen to raise the bar in terms of quality and the demand the work makes," Hemmings concludes. "Audience understanding and appreciation of outdoor work is on the move. We get audiences who come back from year to year and are really critically engaged. But so too, increasingly, are audiences who may never go to the theatre – more and more we hear about how these free outdoor productions move and engage people and make them think differently, often with pride about familiar locations and places."
---
CV: Bradley Hemmings
Born: 1959, London
Training: Queen Mary College, City University
Awards: MBE for services to culture and disability arts
---
Landmark productions
2015 The Four Fridas, GDIF production (UK/Mexico)
2014 Kadogo, Child Soldier – La Patriotico Interesante (Chile)
2013 Whale Beaching – Captain Boomer (Belgium)
2012 Prometheus Awakes – Graeae, La Fura dels Baus (UK/Spain)
2011 As the World Tipped – Wired Aerial Theatre (UK)
2010 The Garden – Graeae (UK)
2009 Fous de Bassin – Ilotopie (France)
2008 Time is Like Water Flowing – Les Passagers, Huang Yan (France/China/UK)
2007 Mirage – Les Trottoirs De JoBurg, Oposito (France)
2006 The Dancing Sky – Studio Festi (Italy)
2005 Renaissance – Motionhouse (UK)
2004 Monsoon Mela – Red Earth (UK)
2003 Giraffes – Compagnie Off (France)
2002 Crossing Seas, Building Bridges – Bambuco, Walk the Plank (Australia/UK)
2001 The Tower of Tales – Sofie Layton (UK)
2000 Car Show – The Corn Exchange (Ireland)
1999 Take Me to the River – Rosemary Lee, Wendy Houstoun, Noel Wallace (UK)
1998 Manes – La Fura dels Baus (Spain)
1997 House of Delights – Edwards and Watton (UK)
1996 Gallery 37 – (UK/USA)
---
Greenwich and Docklands International Festival runs from June 24 to July 2