"Before I trained as an actor, I used to work in catering. In fact, I think I was better at that than I am as a theatre director or actor," David Lockwood says, laughing. "But the reason I was good at it was because of that personal desire to give somebody good service."
I'm sure he's being modest, but then he and his team at the Bike Shed Theatre in Exeter have just won the inaugural My Theatre Matters! most welcoming theatre award organised by The Stage, Equity and the Theatrical Management Association, so he can't be too off the mark.
The Bike Shed is an intimate bar and 60-seat performance space underground. The theatre itself is a stone and brick chamber with quirky touches including stained glass windows and huge cast iron doors. The bar area is shabby chic, the sort of retro design usually reserved for Shoreditch but with none of its pretensions. Within the bar and at the entrance of the theatre, a 'Stage Door' sign flickers, a doorway used by both actors and audience members in a typically egalitarian move for a venue that prides itself on equality between punters and performers. Cocktails and gastro pub food are served and indie music fills the air. This place is cool, cosy and – needless to say – very welcoming.
It's easy to see why it won the award and yet it is still an impressive achievement for a space in its infancy being run by such a fresh-faced artistic team. In 2010 Lockwood and Fin Irwin took over an abandoned Chinese restaurant and turned it into a pop-up theatre space for three weeks. Three years later and they're still there, with an annual turnover of £350,000 and a thriving audience base.
Lockwood attributes this to a lack of contemporary work in small studio spaces within the city.
"The reason I moved back to Exeter was because it was obvious to me there was a huge gap in the market," he says.
Audience figures certainly suggest this. Despite being in what some have termed the 'Triangle of Fear' – "the three nightclubs around us mean we're in the seedy part of town, which is kind of where arts organisations should be isn't it?" – the venue's audience is a varied bunch, ranging from "18 to 80 years old", and a loyal one at that.
Lockwood and his team programme through a residency scheme that sees companies perform past work in the evenings and workshop new pieces during the day.
"The Man in the Moone, which Rhum and Clay Theatre Company developed here last year, is in a double bill with another of their pieces, A Strange Wild Song, and while they're here they're also starting work on their new show," Lockwood explains. He says a funding bid will hopefully see them expand this.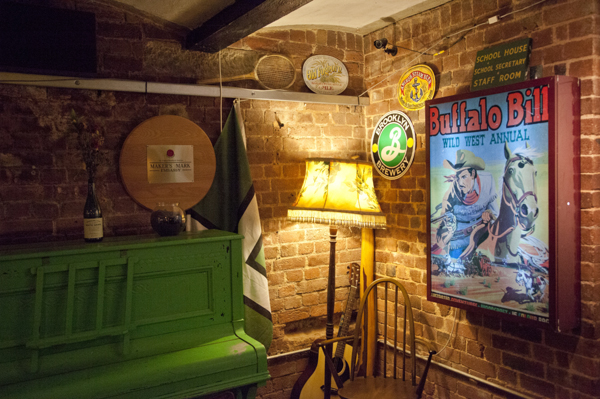 "The idea is that they will become Bike Shed productions and co-productions that will be shown here but can also be somewhere else. So that might be here and a rural tour, here and London, here and Edinburgh, here and New York" he says, laughing. "Well, who knows?"
It's a scheme that relies on companies wanting to come back, of course, but the Bike Shed's roster of returning companies is impressive. This seems the result of a practical decision to welcome and nurture artists. "Because I've worked as an actor, I know what it's like when you go in somewhere and you have a nice technician or a really horrible one," says Lockwood.
But it's also down to some ingenious creative thinking. "We name a cocktail after the company that's resident – we ask them what they drink and then we usually find a pun to put in the title," says Lockwood. "So [Rhum and Clay] are quite easy." What could be more welcoming than that?
Companies are also asked to come out at the end of performances to speak to audience members while Lockwood and his management team tear ticket stubs and muck in front of house.
For him, too much attention is placed on the top level of theatre management and not enough on the people serving theatre-goers. It's as important they get treated as well as the audience and artists do.
"We're talking about having two members of box office staff on shift, not because we need two but just so they can keep each other company – they're too often on their own. And we've moved the box office so they're more open to the bar area. It's about looking after them."
He reverts, somewhat charmingly, back to catering speak. "Giving someone good customer service covers everything – it covers the welcome as you come in, the way you're spoken to when you're buying something. It's about going further with everything."
But surely it's partly the venue's small size that allows them to give the audience members such personal service? In fact, Lockwood said as much when he accepted the award.
"Of course it's easier for us, but I'm not sure I agree with that comment I said," says Lockwood. "It gives bigger theatres an excuse."
There's a pause as he stops to think. "I think that a lot of theatres just don't [go far enough] and that's stupid, because it's such an easy thing to do."
• For information on the Bike Shed's Christmas Show, visit www.bikeshedtheatre.co.uk
• For more by Honour Bayes, visit www.thestage.co.uk/columns