Dep Arts, the Leeds-based production company with a strong track record of creating theatre and arts projects in the north of England, turns 10 this year and, as founder David Edmunds emphasises, a lot has changed since he first began to grow the organisation. "The touring model has changed dramatically over the last five years, let alone the last 10 years," he says.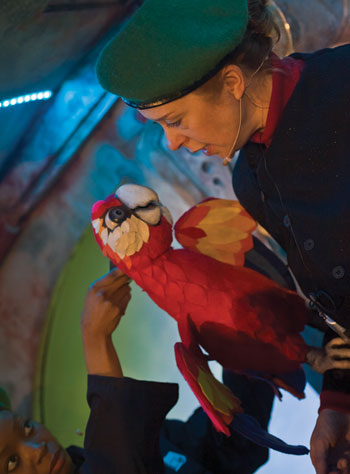 Edmunds trained to be a producer and worked at the Lyric Hammersmith before being appointed production coordinator during the building and opening of the Lowry in Salford, where he worked with Darshan Singh Bhuller. After leaving the Lowry, he spent a year as a freelancer. But he missed being part of a team and so set up an office in Leeds in 2005. Since then, he says, "Dep Arts has grown year on year to the point where there are seven full-timers and a host of people we bring in on a project-by-project basis."
To date, there have been three core strands to the Dep Arts model. The first of these concerns the work it does with companies and artists. "My team and I work with them on an individual basis, doing everything you would expect a producer to do in terms of tour booking, bid writing and trying to find audiences for the work."
The companies it works with range in scale from large, established companies such as Northern Ballet, Slung Low and Stan's Cafe, to emerging artists via its subsidised Incubate scheme. Dep Arts has been running this for five years now and it allows the team to work with "companies who we feel have some real potential, but maybe can't afford the full producing fees".
"So we offer discounted fees with the hope that we'll develop a longer-term relationship from that," he says. RashDash and Fine Chisel are both companies Edmunds says benefited from the scheme. "A lot of the companies who've come through have gone on to do some really exciting things."
Dep Arts also has a Projects strand that includes bigger commissions and audience development work. "We currently have two big Arts Council England strategic touring projects."
The first of these is New Realities, a partnership project with six Yorkshire venues interested in programming contemporary work and building an audience for it. "We've been working with these venues to take a bit of the risk out of the process. This is something we were hearing a lot of: that contemporary work is too much of a risk to programme," Edmunds says.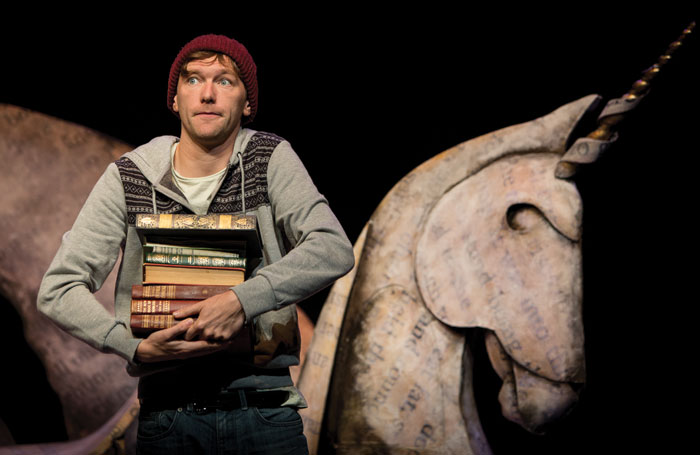 It also has a project called Reach, which in conjunction with ARC, Stockton Arts Centre, tours contemporary theatre to nine venues in the north-east of England.
"We were awarded just over £850,000 from the arts council to both programme and commission work from companies including Unlimited Theatre, Tangled Feet, and Hannah Jane Walker and Chris Thorpe – so that audiences in places like Hartlepool can have access to work of that calibre on their doorsteps," he says.
This year, Dep Arts partnered with Leeds City Council on TRY, a cultural programme designed to coincide with the Rugby World Cup in September. Slung Low created a piece called Rugby Songs, which played at rugby clubs across the city and was based on iconic rugby songs from around the world, including the Haka of New Zealand and Swing Low, Sweet Chariot.
Tangled Feet also made a large outdoor show called Collective Endeavour. Performed on Leeds' Millennium Square, the piece was created with an initial investment from Leeds City Council along with ACE funding and money from England Rugby. It attracted an audience of more than 2,000 and was a prime example of bringing high-quality work to new audiences who might not ordinarily visit the theatre.
Continues…
---
5 things you need to know about Dep Arts
1. The Leeds-based company has been producing and creating theatre and arts projects in the north of England for 10 years.
2. Over this time it has worked with companies including Slung Low, Northern Ballet and Third Angel.
3. In recent years it has also started to make work under the banner of Dep Arts Productions.
4. Its Incubate scheme has supported companies including RashDash and Fine Chisel.
5. Dep Arts partnered with Leeds City Council this year to run a cultural programme, TRY, to celebrate the 2015 Rugby World Cup.
---
In 2013, Dep Arts started to make its own productions. "We were talking to a lot of writers and they were saying it was increasingly difficult to get things made, to get scripts out of seed stage," says Edmunds.
The first production created under the banner of Dep Arts Productions was The Enough Project, by Emma Adams and Cathy Crab, created with support from the Theatre in the Mill in Bradford and the Lowry Studio. "We took the project on, found the money and brought in the creative team."
Last year it made The Emergency Story Penguin, a show for seven to nine-year-olds, which saw it working once more with Slung Low. "We try and have one show in development each year and one show we're in the process of making and touring."
Edmunds has noticed a number of shifts over the last decade. "There's less of a feeling that artists need to be based in London. There's more space in the north for their work to grow and develop, and it's so hard to secure funding in London. There's so much competition. The flipside of this is that you need to work harder for audiences."
Now the company is in the process of asking itself what happens next. It will be moving away from working directly with a roster of artists and focusing far more on large-scale projects and audience development. It feels like a natural progression for the company, says Edmunds: "Evolution, not revolution."
---
Profile: Dep arts
Address: 3rd Floor, Munro House, Duke Street, Leeds, LS9 8AG
Website: departsltd.com
Contact: admin@departsltd.com, 0113 234 6911
Director and executive producer: David Edmunds
Number of productions: 98 (produced, programmed, commissioned)
Total audience (estimated): 100,000
Core staff team: 7
Funding: £300,000 from Grants for the Arts for artists; £95,000 for TRY; £850,000 for REACH – a three-year strategic touring project with ARC, Stockton Arts Centre
Turnover: £400,000
---
Dep Arts' Emergency Story Penguin runs at Sheffield Theatres' Studio from December 12-January 2