Douglas Rintoul first directed a show aged seven – a devised one-hander starring classmate Susan and featuring a backdrop painted by the teaching assistant. Since then, Rintoul, now 41, has developed a directing career that has taken him to dozens of theatres in the UK and abroad. Now he has his own venue, having taken on the artistic directorship of the Queen's Theatre in Hornchurch at the end of last year.
It's still on the District line (just), but Hornchurch isn't quite London, and the Queen's isn't a London theatre. Rintoul admits the feel is distinctly regional, yet the fact he is able to cycle there from his home in east London means the theatre occupies an interesting place in both ecosystems.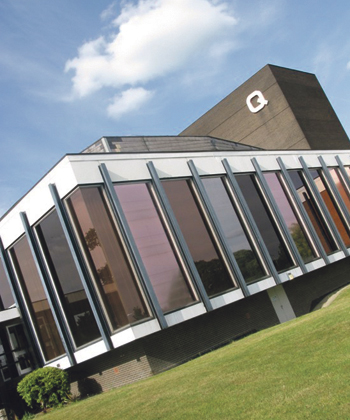 The preserve of just one artistic director, Bob Carlton, for the 17 years before Rintoul's appointment, the Queen's has a "very loyal" audience, he says. Its shows, a mixture of in-house and visiting productions, gather an above-average attendance of 63% (recent benchmarking data from UK Theatre set the average outside London at 59%). It's an audience he is proud to take on, but one you get the feeling he is itching to develop.
He had been thinking about running a building for a couple of years, he explains. Despite coming close to an artistic director job before – "somewhere north" – his arrival at the Queen's signals a desire for more permanence.
"Being a freelancer moved me from one building to another to another, and you never really see what the impact of your work is. A lot of my work has been in regional buildings, so I started to really think about how I might be able to support a community and be in a community."
Despite beginning his career at Salisbury Playhouse as part of the Regional Theatre Young Director Scheme, Rintoul has spent almost all his career to date as a freelancer. He is (and remains) artistic director of touring company Transport, whose audiences vary from theatre to theatre. Now, he must take on a responsibility not just to the people that will see his shows, but a whole community. It is, he concedes, a challenge.
Rintoul's first full season, yet to be announced, will open in September, but as his first public mark on the building he is directing a production of Much Ado About Nothing set in the immediate wake of the Second World War.
"I was keen to do a classic text to start off with for a number of reasons, including targeting local schools," he explains. "But I'm always keen to do Shakespeare as more contemporary – it frames it for audiences."
In 2005, Rintoul assisted Deborah Warner on her production of Julius Caesar at the Barbican, directing a community chorus of 100. He describes the experience as a "seminal job", one that instilled in him an understanding of the transformative powers of cultural participation and one whose influence does not go unnoticed in the way he talks about his plans for the Queen's.
Much Ado will have a community chorus, too, albeit a smaller one. By putting his audiences within his work, he explains, he is putting them at the centre of the organisation. "It's about asking, how can [the theatre] operate nationally, regionally and locally, and engage really directly with its own community."
It's no surprise, given his almost immediate commitment to this particular corner of Havering, that Rintoul is a local boy. The son of a cleaner and a hospital porter, he grew up in neighbouring Essex, but didn't regularly go to the theatre until his teens.
Continues…
---
Q&A: Douglas Rintoul
What was your first job? An usher at London's Royal Court Theatre around the time of Shopping and Fucking. My first professional gigs were at Salisbury Playhouse, while on the Regional Theatre Young Director Scheme.
What do you wish someone had told you when you were starting out? That most people feel like they're an imposter.
Who or what was your biggest influence? The work of directors Simon McBurney and Deborah Warner. I've seen most of their shows and I have worked with them.
What's your best advice for auditions? When an actor enters the room, the director is always willing them to be the person they are looking for.
If you hadn't been an actor, what would you have been? A humanitarian.
Do you have any theatrical superstitions? I generally have my hair cut just before opening night
---
"I just had amazing drama teachers," he says. "I suppose some of what I want to do here is ensure that those possibilities are there for young people here."
Rintoul credits Complicite – with whom he is an associate – as "blowing [him] away" during his own time as a student at the University of Birmingham.
"Birmingham was very conservative and wasn't doing any of that stuff, so I ended up directing and exploring things on my own," he says.
"Complicite is like a family now. I have lots of families, actually," he muses. "It's interesting coming to run a building in my early 40s, having worked in lots of buildings. You work in those that are not welcoming and those that really are. That sort of thing always comes from the top."
The New Wolsey Theatre and the Watermill Theatre top his bill, although he is wiser than to disclose those that have offered him a less than warm welcome. As an independent artist, getting access to buildings was difficult, he explains.
"I've often worked in buildings that have this stigma against local practitioners as well, as if they're a bad thing."
There is an excitement with which he talks about the local area, but, with form in running a national touring company and having worked in most corners of the UK, it's also clear he has designs on putting the 500-seat Queen's more firmly on the map in a wider sense. It is this sort of thinking that he hopes will see the organisation turn towards a new light.
"I came in and looked at the building and pitched exactly what I want to do with it. I knew it would feel quite different from what had gone before, so I am surprised they gave me the job, to be honest," he jokes. "Now I have to actually do all those things, that's the scary bit."
---
CV: Douglas Rintoul
Born: 1974, Bury St Edmunds
Training: Drama and theatre arts, University of Birmingham
Landmark productions: Europe, Barbican (2007), Elegy, Theatre503 (2012), All My Sons, Watermill Theatre (2014)
Awards: Royal National Theatre Foundation Playwright award for Elegy (2013)
Agent: Giles Smart, United Agents
---
Much Ado About Nothing runs at the Queen's Theatre, Hornchurch, until March 26