Success has clearly gone to Denise Gough's head; no one has ever ordered a coffee this spectacularly complicated. As we sit opposite each other in what could be the National Theatre's cosiest room, looking out on a fifth-floor view of the glistening Thames, a publicist is trying her hardest to keep up with the type of bean required, and whether the milk is hot or cold, and how many extra shots are needed. I'm totally lost – which is, of course, the point. She's joking. A natural clown, Gough trades in self-aware wit, the faux-diva demands helping keep an eyebrow raised to her new position as one of the biggest draws on the London stage.
People, Places and Things, her meteoric vehicle, has transferred from the NT, and impact to the West End is imminent. Gough is reprising the role of Emma: an actor addicted to, well, quite a lot, who checks herself into rehab in a last-ditch attempt to turn her life around.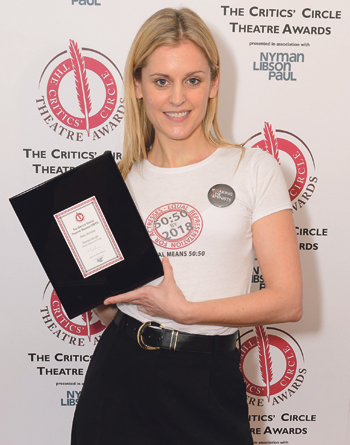 The play, a co-production between the NT and Headlong, bears all the whiz-bang hallmarks of the latter: one spectacular hallucination scene depicts at least 10 Emmas climbing out of the bed one after the other, throwing up, howling. But all eyes are on Gough, who rips through the effects in a positively radioactive performance: her control of human emotion dazzles as Emma's state of mind starts to decay. Critics and audiences alike raved.
"Because it tells the truth," Gough suggests immediately, when I ask her why. "And I think people really want to hear the truth when they go to the theatre. I've seen a lot of theatre recently where everything happens from the neck up. So everyone is doing wonderful performances, but… they're not really telling the truth."
Clocking my puzzled look, she elaborates. "People are concerned about what they look like on stage, and so performances stay up here" – she waves a hand in front of her face – "in the realm of, 'Don't worry, I'm not going to make you feel anything.' I don't want to say too much, because I go and see plays that, you know…" She pauses for a moment to realign her argument. "These are my people. They're still my people standing on stages and doing it, I have great admiration for anyone who gets on stage. But I just want to feel the heartbeat of something, you know?"
To make sure the show was rooted in truth, both cast and crew worked with an addiction treatment centre in Catford. "My God," Gough asides, "talk about a fucking eye-opener." The night before it opened at the NT, a number of the centre's residents came to see the show. "There's a moment in the play where my character makes a decision about her life," Gough explains. "And one of them shouted from the audience: 'Good girl!' And I just burst into tears. I thought: 'It doesn't matter what anyone says about this play if that happens.' Because that felt like my opening night, properly."
Later in the run, a young man walked up to Gough in the street and asked her if she was "the girl from the play". Tired, Gough rebuffed him. He then told her the day after watching the show he went to his first Alcoholics Anonymous meeting, and had been clean and sober ever since. "I mean…" – Gough's eyes boggle as she searches for the right words – "… what the fuck? That doesn't happen when you play Juliet, does it?"
It's not a wonder Gough was tired. The last time the London theatre burned with as much energy was during Imelda Staunton's terrifying turn in Gypsy. "I had a phone call with Imelda," Gough recalls with awe. Dropping her native Irish brogue for a plummy whisper, she adds: "Because now I'm very famous, darling." The pair chatted for about half an hour, discussing their all-consuming performances and the necessity of a comprehensive physiotherapy regime to stay healthy. Staunton's pep talk was clear and concise. "She just said: 'You're an athlete. You can't fuck about.' "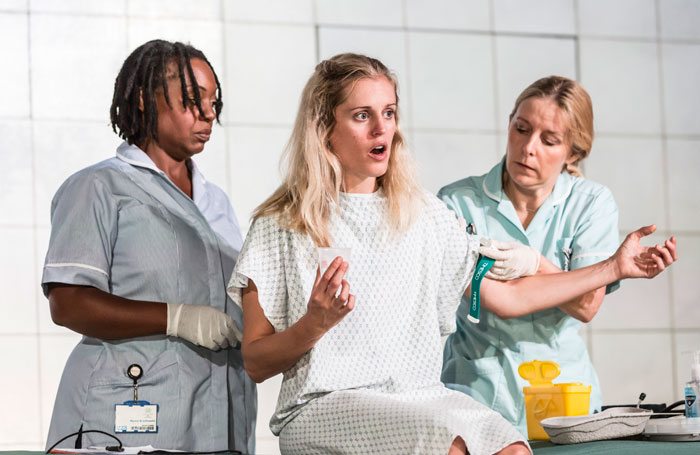 Even when she was performing the show in rep at the NT, Gough required the same level of aftercare. "Our bodies get destroyed," she says, entirely seriously. "If you were running marathons, you'd have physios looking after you, you know? So I will work with somebody every week on keeping my body from literally falling apart. Because she just whizzes through my body and spits me out at the end of it."
"She" is, of course, Emma, though Gough mentions her character by name only once. After a while, the habit takes on a near-spiritual quality. Gough believes the parts she plays choose her, not the other way around, and that when she's on stage they will themselves into existence. "Even if I, Denise, feel like I can't [act], she's like, 'Get the fuck on that stage so I can show everybody myself'." Smiling, she shrugs. "It's really kind of nothing to do with me."
We're discussing how much easier she'll find getting into Emma's skin eight shows a week – compared with the four days on, four days off she did before – when the publicist re-emerges with Gough's diva coffee. Taking the cup with a "thanks love", Gough takes one look down her nose at it, lets out a sigh of revulsion, and near enough bellows, "But it's not what I wanted!". It is to Gough's credit the publicist knows she is joking. "Oh my God," Gough laughs afterwards, sipping her coffee and beaming, "I love my status."
It's easy to see why she is taking full advantage of what she's dubbed her "purple patch" – even this time last year Gough's future as an actor was in serious doubt. A whole year of unsuccessful auditions had left her with rock-bottom self-esteem and no cash. With typical lightness, she refers to this period as her time "in Siberia". It's a reference, apparently, to a round-the-world trip made by actor Ewan McGregor on his motorbike.
"He went from Siberia to San Francisco, and when he was in Siberia he kept falling off the bike, and he was crying and saying, 'I can't believe I left my family to do this, this is awful, this is awful'," she explains. "Three months later, he's cruising down a highway in San Francisco. Out of nowhere a truck comes and clips him. And he manages to stay on the bike, pull himself out from under the truck, and get to the side of the road. His cameraman said, 'Jesus Christ, we thought you were going to die.' And McGregor said: 'Yeah, I would have, if it hadn't been for Siberia. Because in Siberia I learned how to stay on the bike.' "
During one of her biggest lows, Gough was talking to a friend when she simply broke down in tears. "I was in floods thinking: 'It's over. Fuck. It's over.' But she told me about Siberia, and I thought: 'Okay, this is where I'm learning to stay on the bike.' And now I'm cruising down the highway. You know, a truck could come out of nowhere at any moment." She looks me in the eye and I see the determination that got her this far. "But I won't fall off the bike."
Gough thinks all out-of-work actors suffer the same delusion that everyone else's career is flourishing but theirs. "But actually," she says, "we've all got little tents in Siberia, and if we were to just poke our heads out and talk to each other, we could have a party."
Desperate to be an actor without any real plan of how to do so, Gough moved to London when she was just 16 and immediately entered a world of financial and emotional hardship. She describes walking down Shaftesbury Avenue, wasted, picking up cigarette butts to smoke and begging people for money. "That was my life for a period of time," she says, soberly. "I was a crazy teenager, and I was here, and I didn't have anything."
But it's no direct parallel to her character in People, Places and Things – Gough was not an addict, and has never been through treatment. "I can't relate to that in the play, but I can certainly relate to taking the edge off. Because I fucking get it. It's just that now, in my 30s, it's more about Facebook and sugar, you know?"
As a teenager, she frittered away almost all the money she had borrowed from her parents for drama school auditions. "It's 35 fucking quid for the privilege of auditioning," she says. "I mean, it just makes me angry." But she had enough money left for one shot. With that, she auditioned for the Academy of Live and Recorded Arts, and ended up with a full scholarship.
While studying there, Gough was cast as Irina, the youngest and dullest of Chekhov's Three Sisters, "because I had long blonde hair and I'm" – she recoils and uses air quotes – " 'relatively pretty'." Needless to say, Gough didn't want to play Irina, but the school wouldn't let her play the dangerous, infinitely more interesting Natasha. "So I went home and shaved off all my hair. And I went in the next day and asked: 'Can I play Natasha?' And they let me play Natasha. And from that moment on I got fucking brilliant parts, because I showed that I don't care what I look like."
Gough returned to ALRA only weeks ago, but was saddened at the questions the young women there were asking her. "One girl asked: 'Do you think it stands in your favour to be blonde?' And I was like, 'Wow. That's your question? You poor darling'." She sighs, incredulous. "Why are we still teaching these girls that's what we have to talk about? The men were asking serious fucking 'how do you deal with getting rejected?' questions. I felt sad to hear what women have to think about. I think it's shit."
Gough rattles off some feedback she got from auditions during her year in the wilderness: she was "not conventionally pretty enough", "a bit scary", and, according to one director, looked "extreme". "I remember thinking: 'This is utter horseshit'," she spits. "Imagine being an architect and someone saying that about you. It's just a disgrace." A flash of real anger passes across her face. "Thank God I didn't get that part. Just thank God. Imagine me working with a director who would say something like that."
Some of that rage has been channelled into her support for campaigns for better representation of women in theatre. Last year she backed the Waking the Feminists protest against the Abbey Theatre in Dublin – which had only one play by a woman in its new season of 10 – and was papped picking up her Critics' Circle award this year in a T-shirt emblazoned with a campaign slogan calling for a 50:50 ratio of stage roles for men and women by 2018 (the National Theatre, incidentally, has since set a target for the same by 2021).
Continues…
---
Q&A: Denise Gough
What was your first job? A chambermaid in a hotel when I was 12.
What do you wish someone had told you when you were starting out? Be kind to yourself.
Who or what was your biggest influence? My five-year-old nephew.
What's your best advice for auditions? Be kind to yourself.
If you hadn't been an actor, what would you have been? I have no idea.
Do you have any theatrical superstitions? No.
---
"I think it's now at a point where it's ridiculous to be misrepresented and underrepresented as a woman in this industry,"  says Gough. "And when I sat in that meeting with the 50:50 women, I thought: the industry is terrified of this. Of all of us sitting together, talking to each other about our experiences, and supporting each other. Because what it relies on is us being pitted against each other, and I just refuse."
After years of flying under the radar, many of the reviews of People, Places and Things seemed to be willing Gough into wider success. Susannah Clapp wrote in The Observer that the part "will change her career". But success for Gough is not bigger, better-paid roles. "This is what I learned in Siberia: I can't get my self-esteem from being an actress anymore. If I'm relying on this business to give me love, in that way… you can't. For me, success is a sense of peace in myself."
She goes on: "That's what kept me, during that time in Siberia. It was my friends, other actors and actresses who shared their stories with me, and people who slipped £100 into my hand when I had no fucking money, and all of that. That happened because I've built up really nice relationships with people. I think you have to be really careful of success, because I've seen success ruin artists. So success for me," she explains, gesturing at her now empty coffee cup, "is managing not to be an arsehole in the middle of all of this."
Even with all the difficulties it has brought, even knowing that at one point she thought she literally had to, Gough still thinks she could never give up acting.
"When I showed up at the National on my first day, I was on the verge of tears for the whole day," she explains. "I was just saying, 'I'm so grateful, I'm so grateful', and somebody said at one point: 'Come on, you deserve to be here.' And I replied: 'No, don't mistake this for me thinking I haven't earned this. I'm absolutely fine with being here.' But I'm never going to stop being grateful. Ever. Because what we do for a living is what children do naturally." She looks lovingly around at the walls either side of us, outside of which the rest of the theatre continues to buzz. "I'm now getting paid, and put up in this room."
And brought obscenely complex coffees, I add.
"I'm going to get another one of those," she fires back, before flashing her wickedest grin. "I'm going to make her run up and down those stairs all day."
---
CV Denise Gough
Born: Ennis, Ireland, 1980
Training: Academy of Live and Recorded Arts (2000-2003)
Landmark productions: Six Characters in Search of an Author, Chichester Festival Theatre/Gielgud Theatre, London, 2008, The Plough and the Stars, Abbey Theatre, Dublin, 2010, The Painter, Arcola Theatre, London, 2011, Desire Under the Elms, Lyric Hammersmith, 2012, Adler and Gibb, Royal Court, London, 2014, People, Places and Things, National Theatre, 2015, then Wyndham's Theatre, 2016
Awards: Best newcomer, Critics' Circle Theatre Awards, 2012, Best actress, Critics' Circle Theatre Awards, 2016
Agent: Samira Higham at Independent Talent Group
---
People, Places and Things runs at Wyndham's Theatre, London, from March 15-June 18