The times they are a-changing at the National Theatre. This week, playwright David Hare's new play, The Red Barn, premiered in the Lyttelton; just two nights later, a new show devised and directed by Bryony Kimmings, a provocative and experimental theatremaker nearly half Hare's age, opened in the Dorfman called A Pacifist's Guide to the War on Cancer.
Kimmings is talking to me in the offices of Complicite, where the show was born and which is co-producing it with the National and Manchester's Home. She admits that just the other day she was talking to NT artistic director Rufus Norris, and told him: "I'm really sorry, but I've never heard of David Hare." And she adds as we speak: "I'm sure he's a really nice guy but that's not my scene – I just go to galleries and watch people bleed," referring to her background in performance art.
Kimmings began her working life as an arts administrator. She ran Chisenhale Dance Space for a time after graduating from Brunel University with a degree in modern drama studies. While working there, she stayed on after hours to make her own show in the studios.
"I was 30 and I made Sex Idiot [a show that charted her sexual history after she found out she had contracted an STI] in the evenings and took it to Edinburgh. It just so happened that people liked it, and I went from doing the books at Chisenhale to being reviewed in the Guardian. It was pretty intense."
That was just six years ago. Now she's not only knocking on the National's door, but putting a show on there, although she insists the result is "very loyal" to her background in experimenting. There's a refreshing combination of honesty, vulnerability and confidence to Kimmings' approach, and she says now of the jump from making fringe work to finding a home at the National: "It's fantastic and I wish it happened more. There is a problem going from the fringe to the mid-scale, especially for women; when you're just getting some notoriety, you have a kid and you have to put it on hold."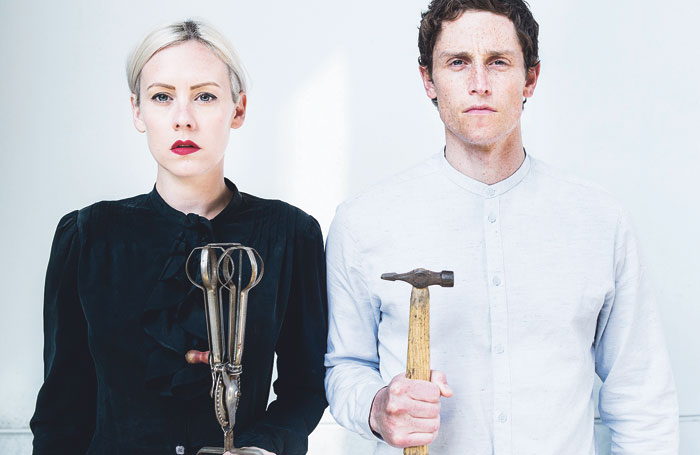 The fact the NT is now home to both Hare and Kimmings is proof of the changes that are happening under Norris and his deputy artistic director Ben Power. As Power told the Guardian earlier this year: "Bryony feels absolutely representative of the kind of theatremakers we want to engage with and this is exactly the kind of way we want to engage with her. She makes work that's formally inventive, challenging in content and form, and this piece is on a big scale; being able to offer her resources and one of our main stages is a move forward for her and us."
And Kimmings says Norris sent her an email after she was invited to do the show there, telling her: "If we can't get artists like you coming to work at the National, then we're failing as a theatre for the people." She says she felt reassured: "I needed someone who understands and knows who I am, and is still cool with me doing it; it's not going to be what they are used to."
It's a big step up for her in terms of scale – her work has previously been seen in London mainly at the Soho Theatre – and she's not unaware of the leap she's taking. When the National offered to take the show forward after Complicite had funded a series of workshops, her Complicite producer Judith Dimant was frankly worried. Kimmings says Dimant told her: " 'It's such a big deal, it's going to be really hard.' But I said, 'Nah, let's do it – when am I ever going to be asked to do a show at the National again?' "
Continues…
---
Q&A: Bryony Kimmings
What was your first job? I worked in a fish and chip shop when I was 15; it was called Fish 'n' Chicken. My first paid theatre job was a show my friend Alex and I put on together called Stick It In My Party Hole. We performed it at [Glasgow festival] Glasgay. It was like The Mighty Boosh, but rubbish.
What is your next job? I'm writing a film based on the time we went to live in Oxfordshire for a couple of years. Where we lived was quite Tory – there were jewel-wearing young mummies with wellington boots. They were absolutely lovely, but I'm just not that person. So it's about this Camden girl who goes to live in the sticks. In my head it's Sinead Matthews playing me – we're really similar and quite good friends.
What do you wish someone had told you when you were starting out? I wish I hadn't been obsessed with making sure I had the contacts in my diary and the website I thought I needed. I thought you needed them to be an artist, but I didn't look at the craft at all. I wish someone had said that what you need to do is make bits of work and show them to people – over and over again, until you understand the relationship between yourself and the audience. I spent a decade not even thinking about it. Now that's all I think about: 'How are they going to feel when I do that?'
Who or what is your biggest influence? Films are my biggest influence – Almodovar, John Waters and trashy sci-fi weird films.
What is your best piece of advice for auditions? I've never auditioned for anything, but I auditioned people for this and one thing I noticed was people trying to say what they think you want them to say. I loved the ones who were completely honest, and spoke from the heart.
If you hadn't been a theatremaker, what would you have been? A lawyer.
Do you have any theatrical superstitions or rituals? Tim said that I really did when we shared a dressing room in Fake It 'Til You Make It. I had to have my table all organised, and I did a very regimented vocal and physical warm-up.
---
The show is big in other ways, too, not least for its subject matter and the size of the cast (there are 12 people in it) – and the fact that it doesn't include Kimmings herself on stage, for the first time. "I've never stood outside of one of my shows before – and as we go into tech, Judith and I said the other day: 'We've been very ambitious.' "
Dimant herself is in the office today. She's actually just helped to change the nappy of Kimmings' baby son, Frank, and says: "We're such a multitasking office." She interjects to tell me: "Retrospectively, I've learnt a lot. Bryony has had to be fearless – to embrace not only making theatre but to do it and go into the National that is such an institution. I really struggled with it myself, and I know what it is about. So, fearless is an understatement."
Kimmings herself acknowledges: "I'm stealth – people don't expect me to do what I do."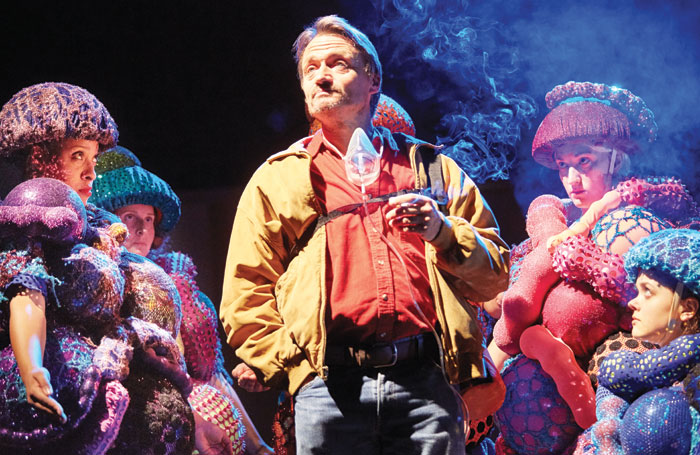 That extends right now to the way this show was both inspired and made. Previous shows have been largely autobiographical, using stories from her own life, such as her partner Tim Grayburn's depression that was the basis of her last show Fake It 'Til You Make It. The idea for A Pacifist's Guide to the War on Cancer came when she met Dimant, who'd shown an interest in her work and wanted to know if she had any ideas they could work on together.
Kimmings recalls: "I'd already done that thing where you go into a room with a director or producer and tell them what projects you've got planned, and they tell you they're not for them, and I hated it. I'd always just come up with an idea myself and then applied to the Arts Council and done it. Judith kept backing away from me. I thought she was really weird and stand-offish. Then she told me she didn't like any of the ideas I'd brought, but also that she had cancer so she was sorry if she'd seemed a bit weird and rude. I asked her if she'd thought about making a show about it and she said she'd never be in a show. But I said, could I come to your chemo with you, would it be an interesting start? So I started going to appointments with this woman I'd never met, and we became really close friends."
Dimant's story was only the launching pad, though, and not in the final show.
"I collected loads of stories, and met 15 patients and followed them around," explains Kimmings.
Continues…
---
Bryony Kimmings' top tip for an aspiring theatremaker
"I teach a lot of young artists, and the main thing I say to all that I work with is, 'Why does anyone care?' I see a lot of work where I do not give a shit about what they are talking about; I couldn't care less. They've not thought why that is relevant to me. People don't ask that question enough."
---
If the research was unconventional, so was her next bold decision: to turn it into what the publicity calls an all-singing, all-dancing musical. Or, as the National's website puts it: "Expect big anthems, shiny costumes, blood, tears and real cancer patients in this rip-roaring, heartbreaking celebration of ordinary life and death."
She tells me the form of her shows is often dictated by the subject matter. "Fake It 'Til You Make It was a show about depression, so I made it a stand-up show. For Cancer, I thought I'd like to make it into a musical, because musicals can take giant swipes at huge subjects. It's probably the boldest [form] in terms of the things you can say and the big stories you can tell about the world. There have also always been songs in my shows, and it also felt really lovely to be able to meet a person, follow their cancer journey and then write music as a gift back to them. Music feels like something tangible. If someone dedicates a song to you, it's a really gorgeous thing. And I just love singing and dancing and fannying about, so it's just perfect."
Not that she entirely knew what she was getting into: "I didn't really know anything about musicals. When they told me I'd need a choreographer, I had no idea. I've been dragging myself behind trying to get the skills I know I need. I don't know what I'm doing a lot of the time. Rufus has been mentoring me, and I've also had a dramaturg right there. But I have to be the first person in the room who says, 'I don't know what you are talking about – you have to tell me'."
---
CV: Bryony Kimmings
Born: 1981, Huntingdon, Cambridgeshire
Training: BA in modern drama studies, Brunel University
Awards: Total Theatre Award for Sex Idiot at the Edinburgh Fringe in 2010, Fringe First for Fake It 'Til You Make It at the Edinburgh Fringe in 2015
Landmark productions: Sex Idiot (2010), A Date With the Night (2011), Heartache Heartbreak (2012), Credible Likeable Superstar Role Model (2013), Fake It 'Til You Make It (2015), A Pacifist's Guide to the War on Cancer (2016)
Agent: Cath Gagon at Avalon
---
A Pacifist's Guide to the War on Cancer is at the Dorfman Theatre, London, until November 29